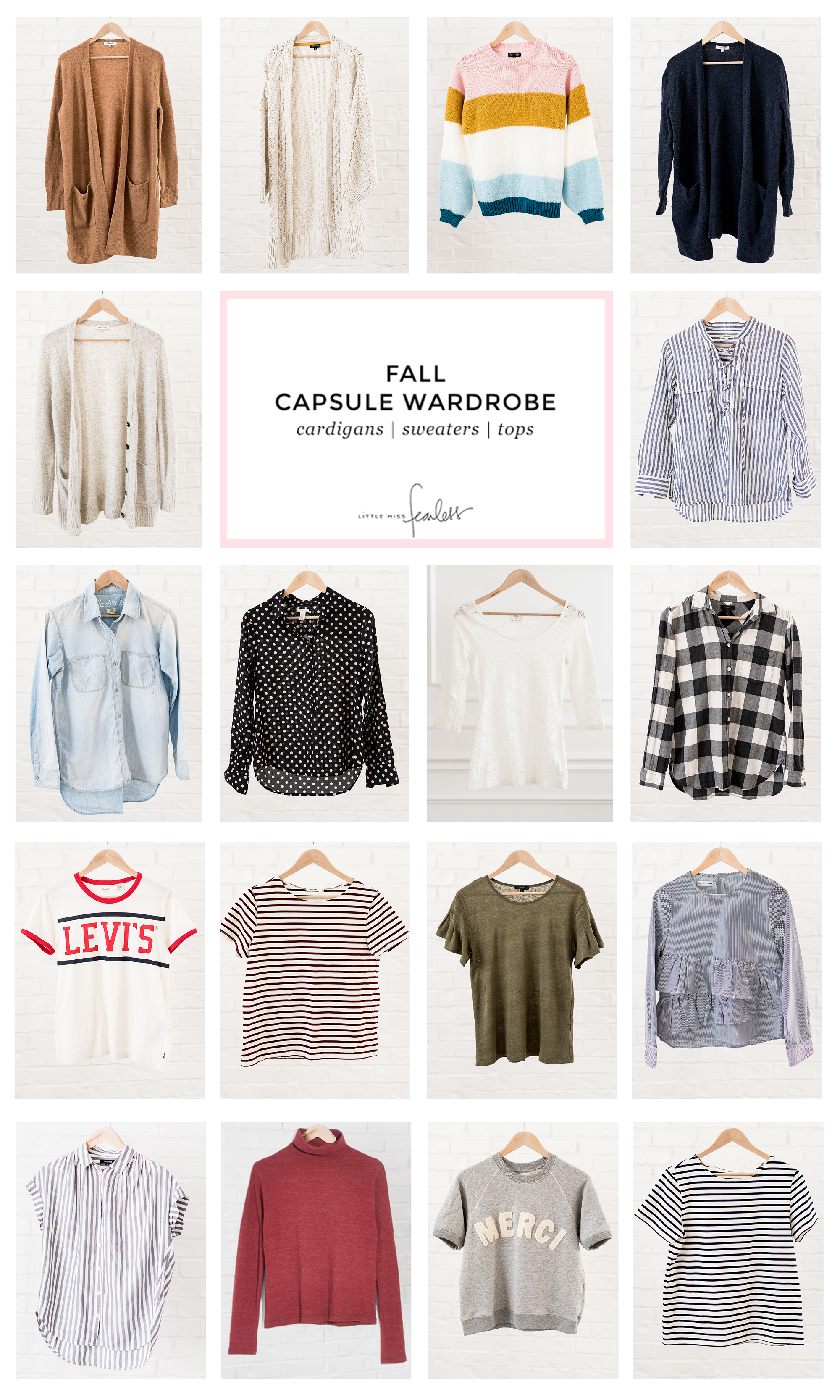 My Fall Capsule Wardrobe Themes
Well, it's no secret that cardigans and stripes are the leading trend in my Fall Capsule Wardrobe.
In fact, I'm constantly re-evaluating my various striped shirts.
For now, they're different enough that I justify keeping them because I can style them in various ways.
Most of my fall sweaters and tops are carry-overs from my 2017 Fall Capsule Wardrobe (when I first signed up for the capsule wardrobe lifestyle), but I have purchased a few new items that aren't pictured above.
They include: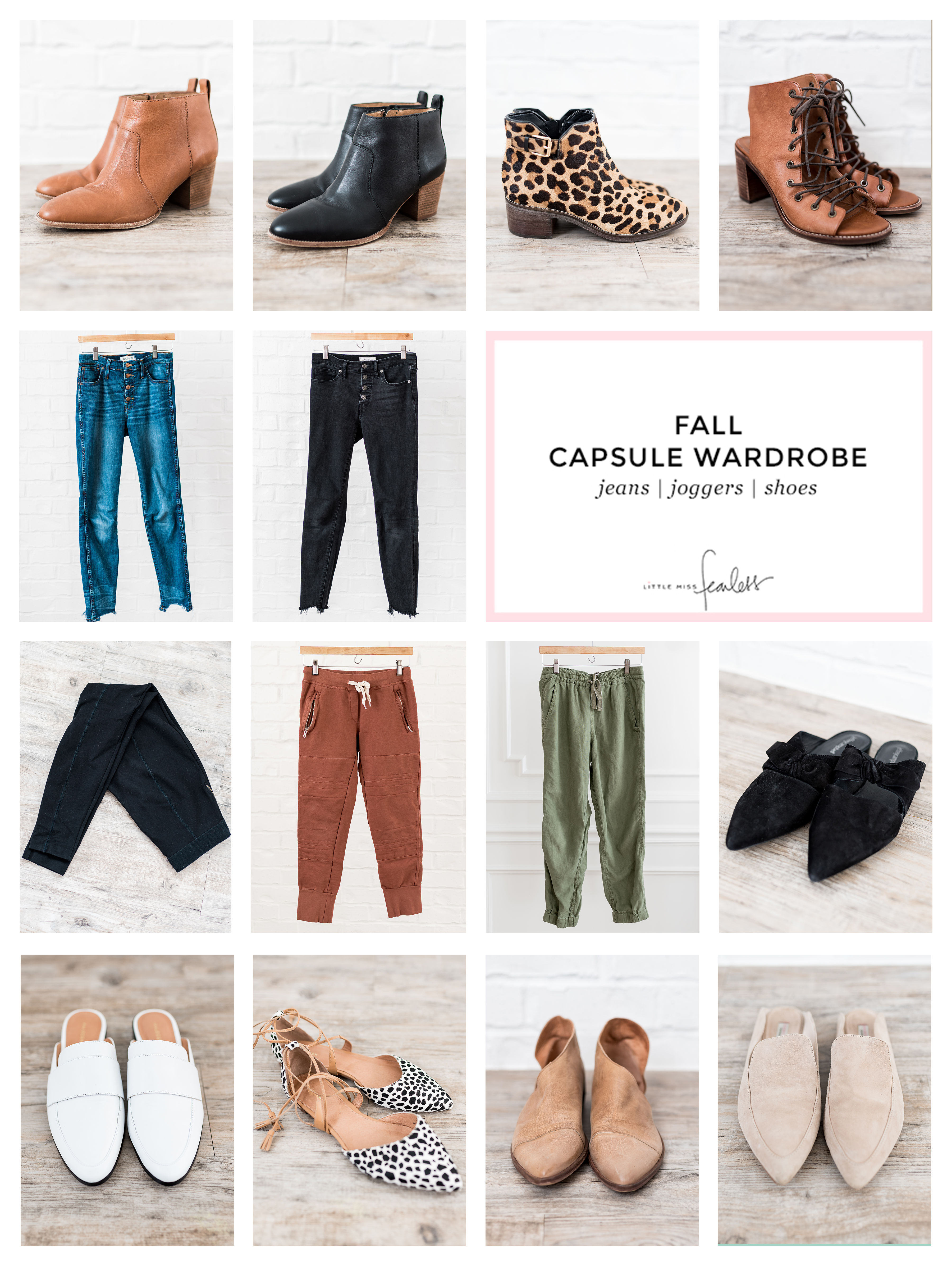 Why My Fall Capsule Wardrobe is My Favorite
I've been living the capsule wardrobe life for a year now.
Of all the seasons, my Fall Capsule is my favorite, followed by my Winter Capsule.
I had a much easier time narrowing down what to keep in my Fall Wardrobe than I did with Spring and Summer Wardrobes.
And all the layering options and variations of tops (e.g., short-sleeve, long-sleeve, turtleneck, stripes, polka dots, etc.) make mixing and matching way more fun because there are so many styles and textures to play with.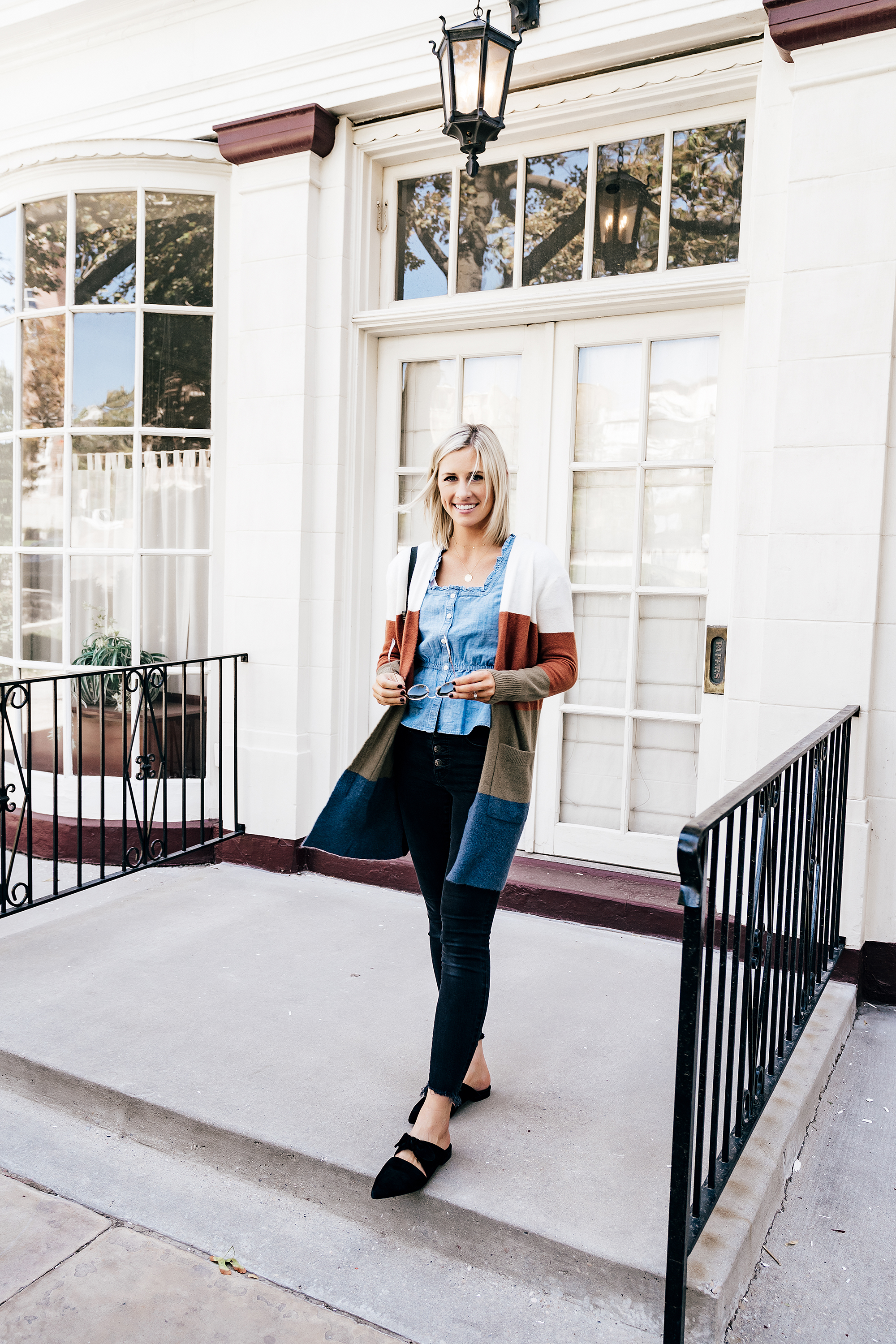 cardigan (back in stock in some sizes!) | top | jeans | flats | sunglasses | bag
Transitioning from a Fall Capsule Wardrobe to Winter
While it's still a bit early to start transitioning to my Winter Capsule Wardrobe, the temperatures are dropping in Utah.
That usually means two things:
Wearing more coats and scarfs (which I keep in a separate "Outerwear Capsule"); or
Borrowing chunky sweaters from my Winter Capsule Wardrobe as needed.
One of the best things I learned when researching (read my Capsule Wardrobe FAQ's) is the idea that you can still borrow from your other capsule seasons when you get bored of the items in your current season.
That hasn't happened too much for me, but I do tend to extend certain items a bit longer (such as this Eloise Ruffled Blouse from my Summer Capsule Wardrobe—similar style here).
My Fall Capsule Wardrobe always feels the most true to my personal style, so that inspires me to keep fine-tuning my other capsule seasons with the right pieces that I truly LOVE to wear.
How is your capsule wardrobe coming along? Have you fully transitioned, or are you easing into a simplified closet?
SHOP MY FALL CAPSULE WARDROBE