This post is sponsored by Specialty Retailers, Inc. All thoughts and opinions are my own.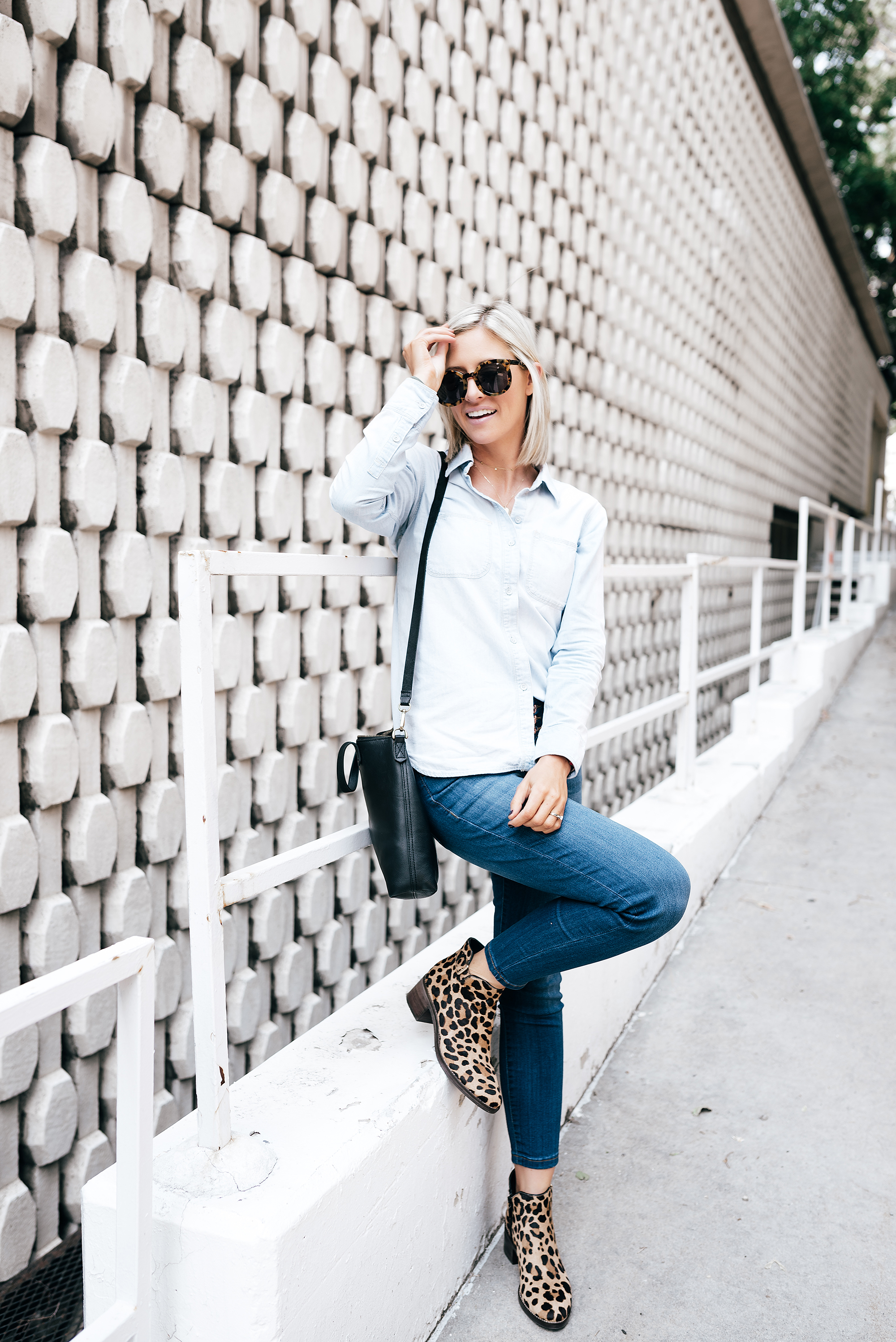 Denim for Days
Is it just me or does something in the crisp fall air make you excited to wear denim?
Even though denim has been a year-round staple in my capsule wardrobe collection, fall is my favorite time to find new ways to wear it. But perhaps even more thrilling is when I find a great deal on a style I really love. It's kinda like winning a little shopaholic lottery, don't you think?
Today I've partnered with Stage to share some of my favorite denim styles at ridiculously low prices and two simple ways you can wear denim for days this fall.
Let's Talk Affordable Denim
When I first browsed Stage's website, I instantly found an affordable version of my favorite jeans with the copper button-front style (they've become sooo popular) at a quarter of the price and I could not wait to tell you!
This pair in my first outfit above costs $50, but was part of Stage's daily deal when I purchased them so they were only $35. Such a steal! Keep an eye on those daily deals. This pair also comes in lighter and darker shades.
You might want to sit down for a second while I tell you that the jeans in my second outfit below were only $6! SIX. They're by Guess, a quality brand I trust, and they just happened to be on clearance in my size. I found a similar style by the same brand for you to check out here.
Stage has a great variety of affordable denim and a super helpful denim fit guide. Think of Stage as your stage — giving you style and value you love for all the stages you're on and all the stages you're in.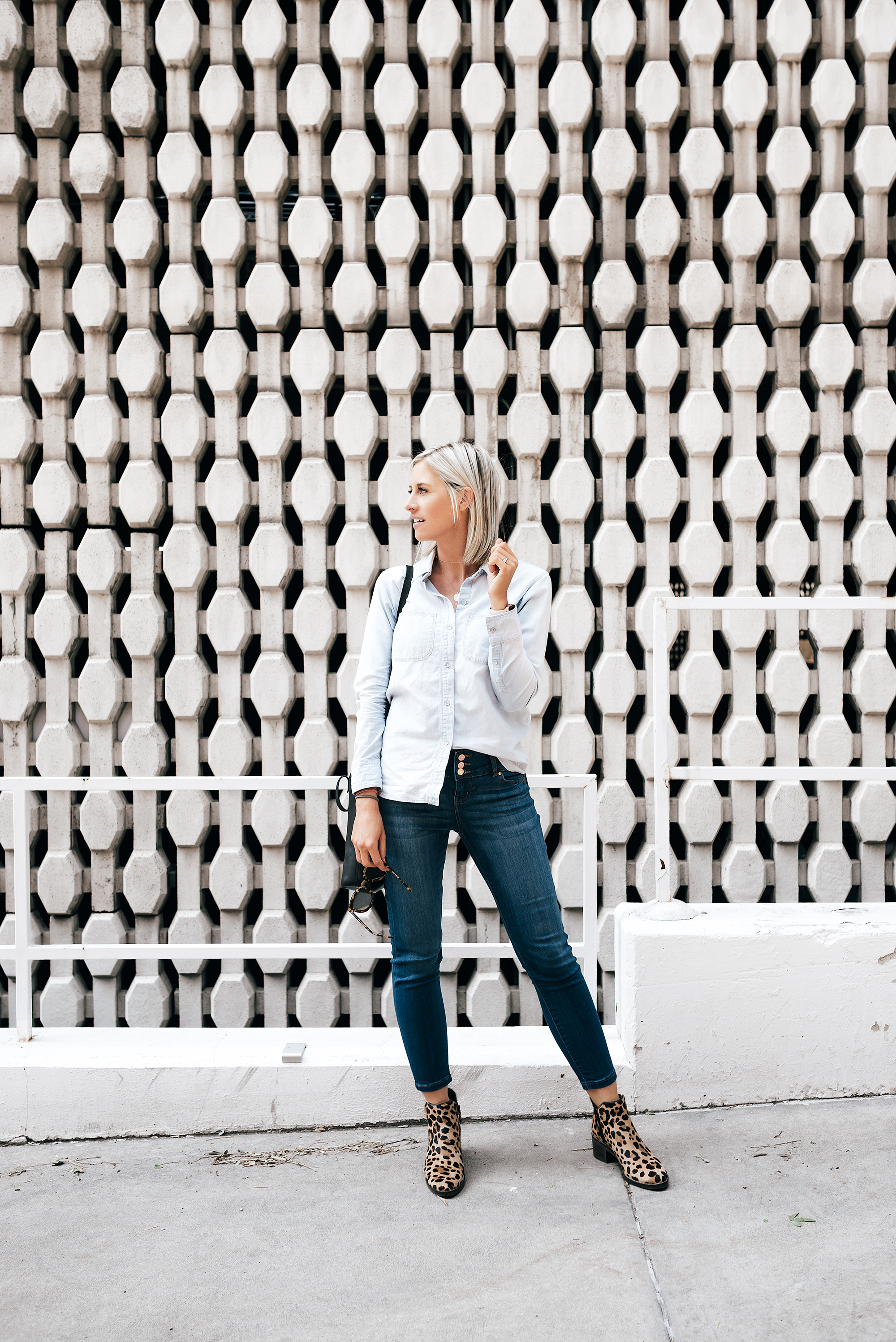 Is it Better to Invest in Denim?
I'm always on the lookout for affordable staples, even denim and jeans, which I'm typically more willing to invest in.
Here's why: I think it's important to have a good mix of investment pieces and more affordable pieces in a capsule wardrobe because you'll undoubtedly want to add new trends to your wardrobe each year.
If everything you purchase is an investment piece, it's harder to part with them when you're bringing new trends/styles in. A moderately revolving closet is what will allow you to avoid over-accumulating.
Just remember the first commandment of capsule wardrobes: Thou shalt TOTALLY LOVE TO WEAR the items thou keepest. ?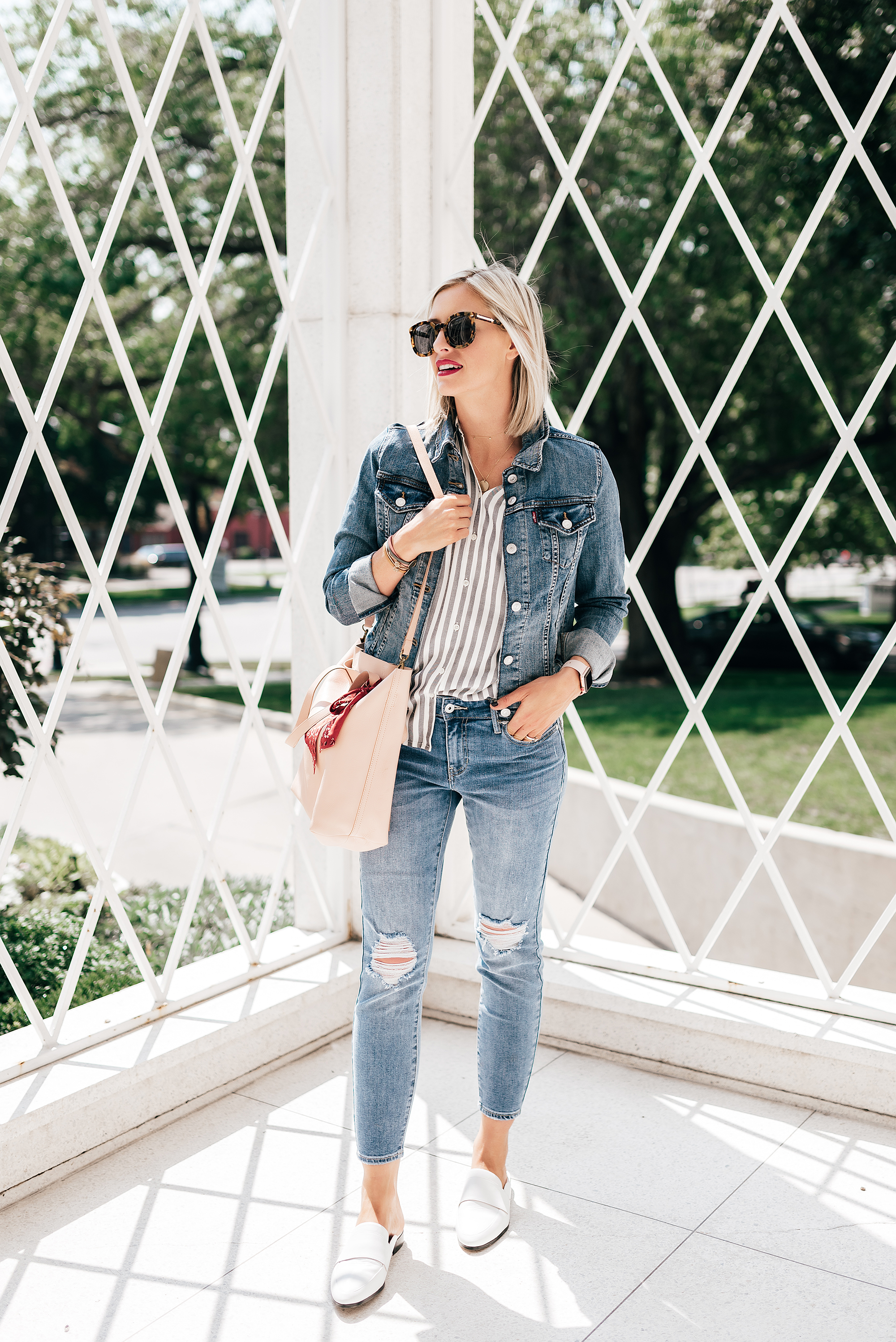 How to Wear All Denim
One style I've always loved — but less than confidently pulled off until now — is denim on denim.
I never knew if my jacket should be a different shade than my jeans or if it was possible to wear a chambray top with jeans and not feel like Jay Leno.
Take note: It is totally possible. Here's how I made it work…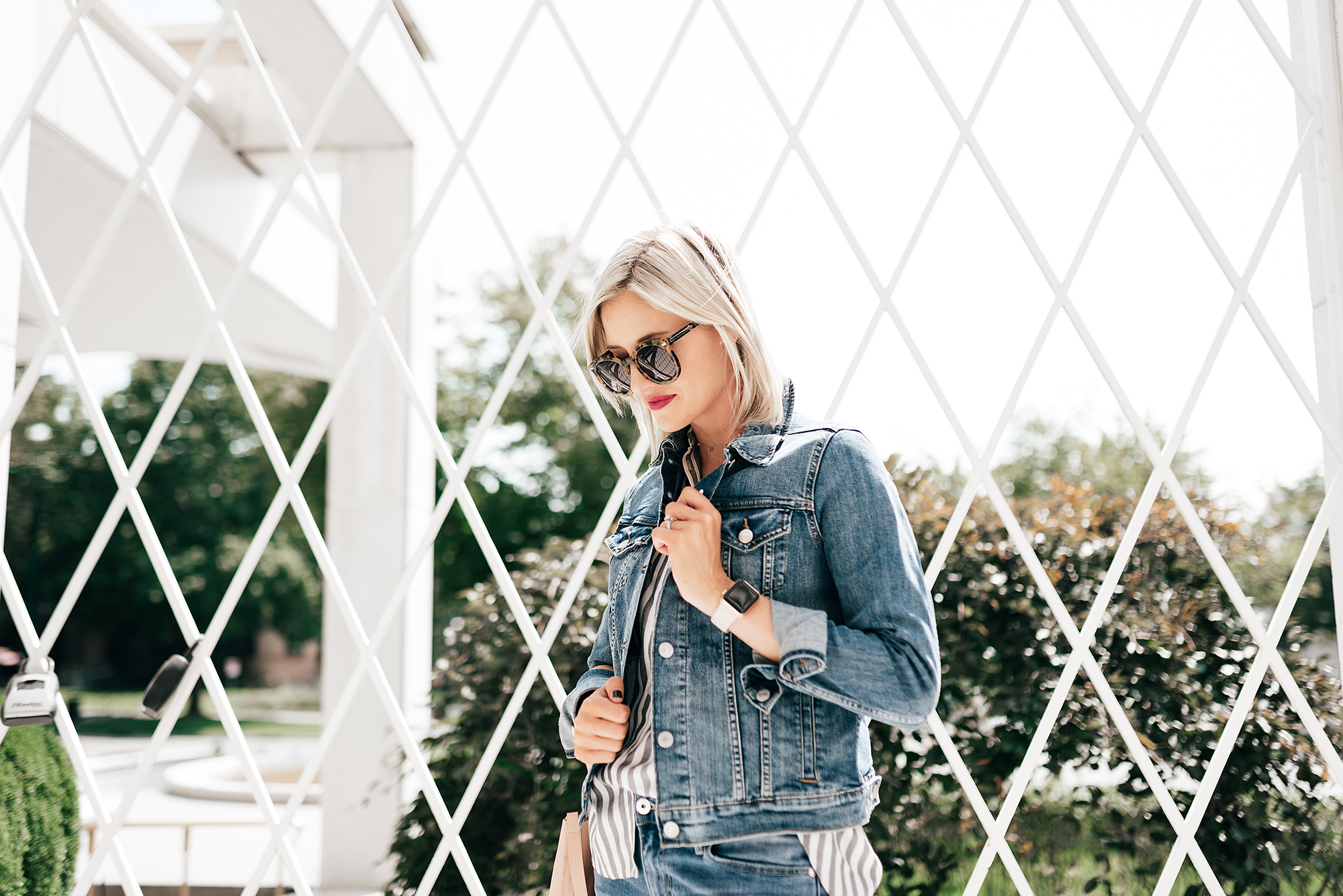 Outfit One
In outfit one, I purposefully went for the color contrast.
My favorite chambray top paired with dark-wash jeans allows each piece of denim to stand on its own, rather than blend together. Since there are no other textures or prints, I chose a leopard boot to add personality (a printed bag with solid shoes would have also been a good option).
The best part about an all-denim look is that you can treat it like an all-black outfit (it's neutral after all) and get creative with how you accessorize.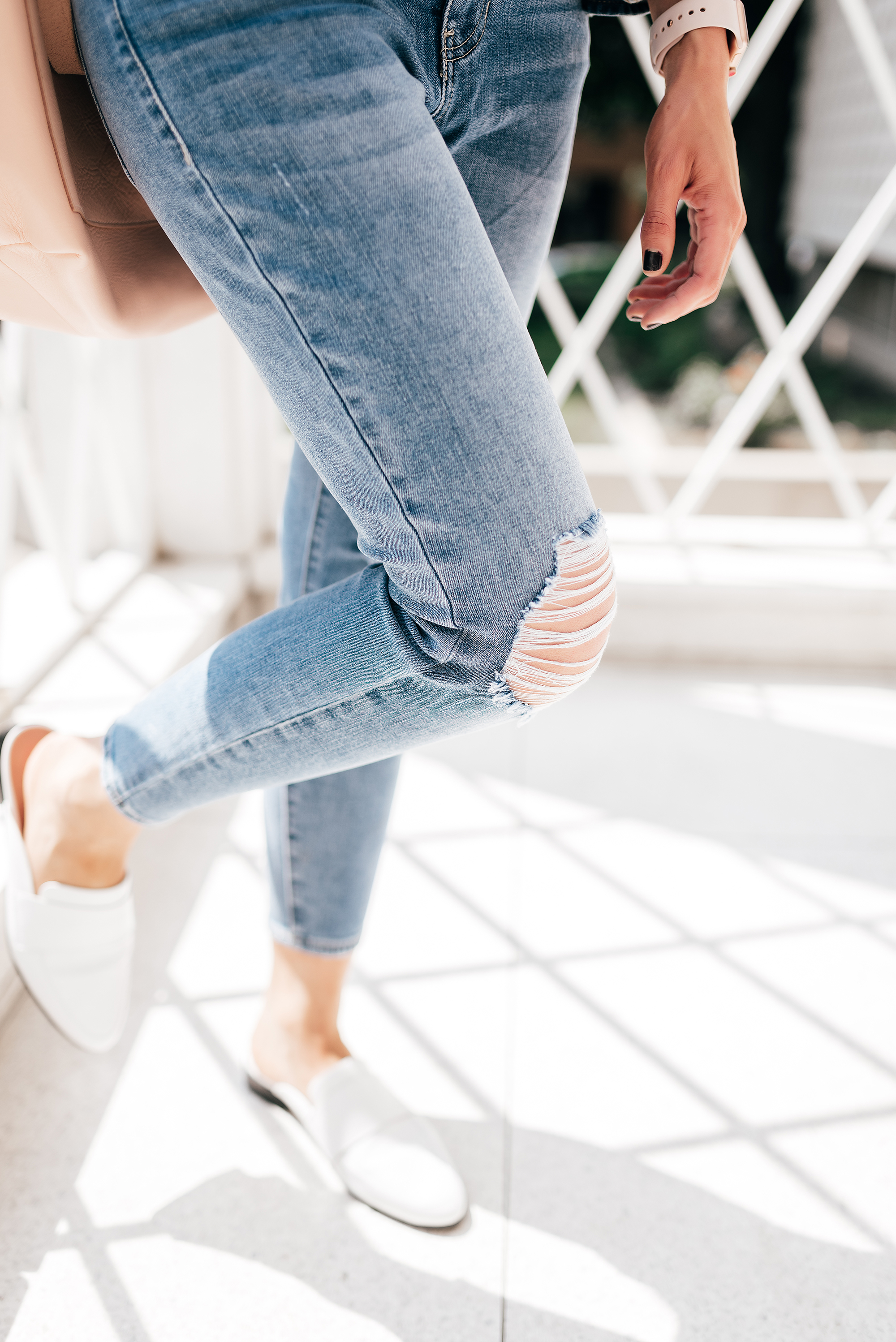 Outfit Two
In outfit two, I welcomed the challenge to pair a denim jacket and jeans in the same shade.
My jacket (a classic Levi's style from Stage) has more texture than a chambray shirt because of the buttons and seems. Those little details go a long way in giving the eye somewhere to focus.
Following a similar approach with my top and shoes, I connected the two pieces via matching colors. For example, my white shoes compliment the white stripes in my shirt. You could easily pair a black shirt with black shoes to get the same effect.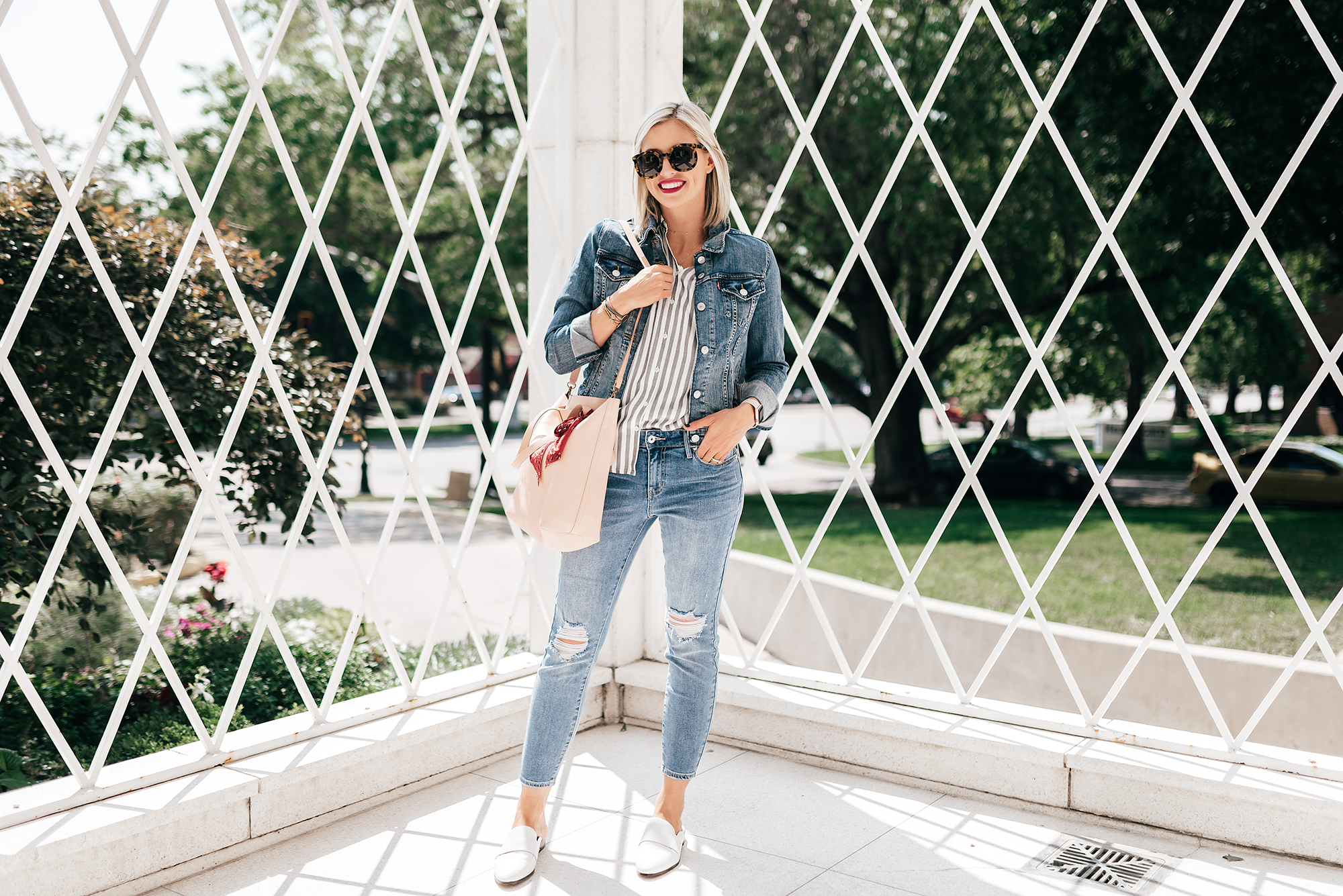 Since there's more going on in this second denim outfit, I chose a neutral bag so it wouldn't compete or add too much noise to my look. I'm also really into putting silk scarves on my bags and love how this rusty red scarf adds a little fall color.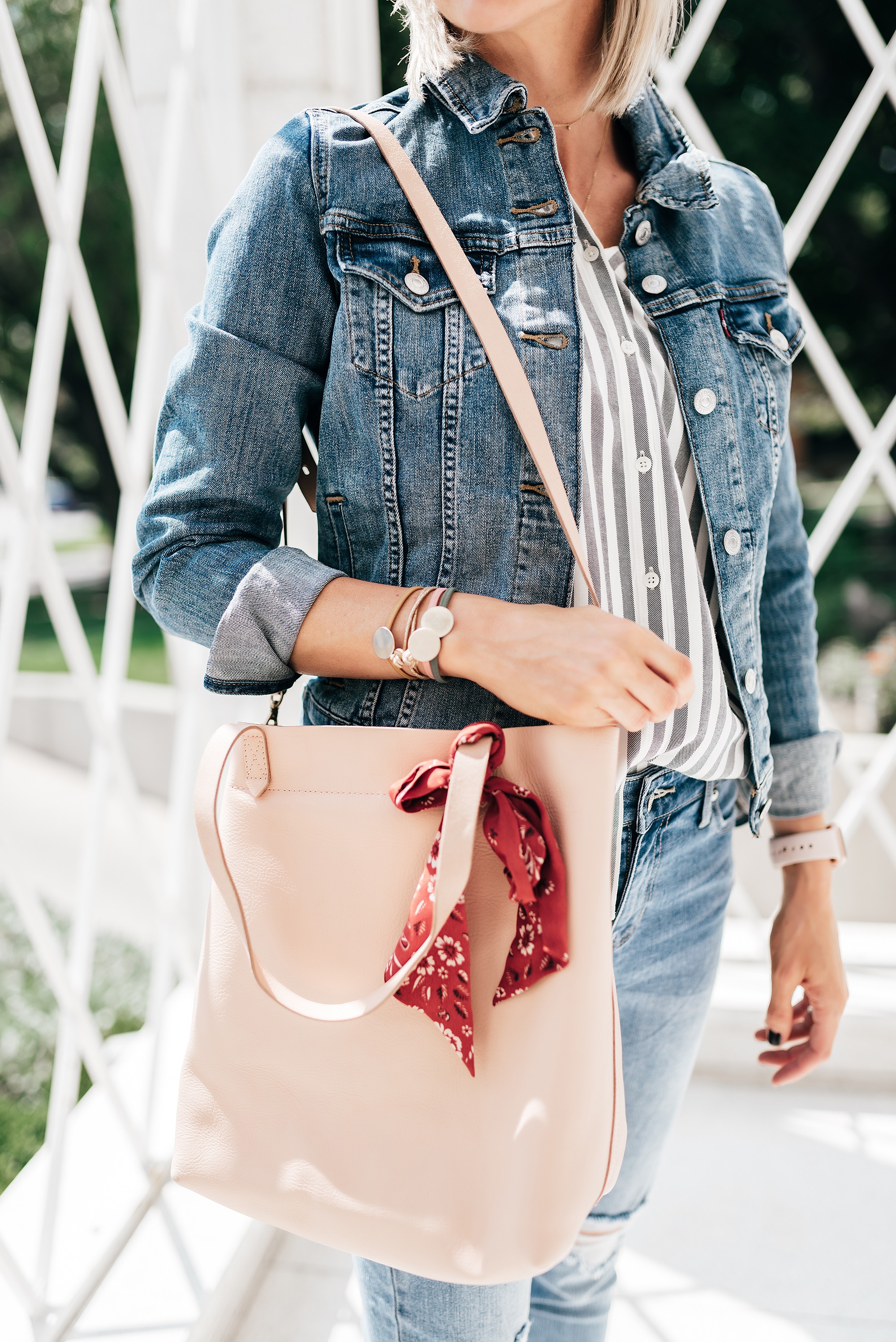 I'm already starting to make the transition from my summer capsule wardrobe to my fall capsule, and denim is my go-to for making the transition effortless.
Whether or not you have a capsule wardrobe, check out some of my favorite denim finds (all under $100) from Stage below. I can't make any promises, but you just might find a deal as good as my $6 jeans!
SHOP MY STAGE DENIM PICKS

What are your favorite ways to wear denim in the fall? Let's swap ideas in the comments.
Thanks for reading!
Photos by Paige Nicolle.