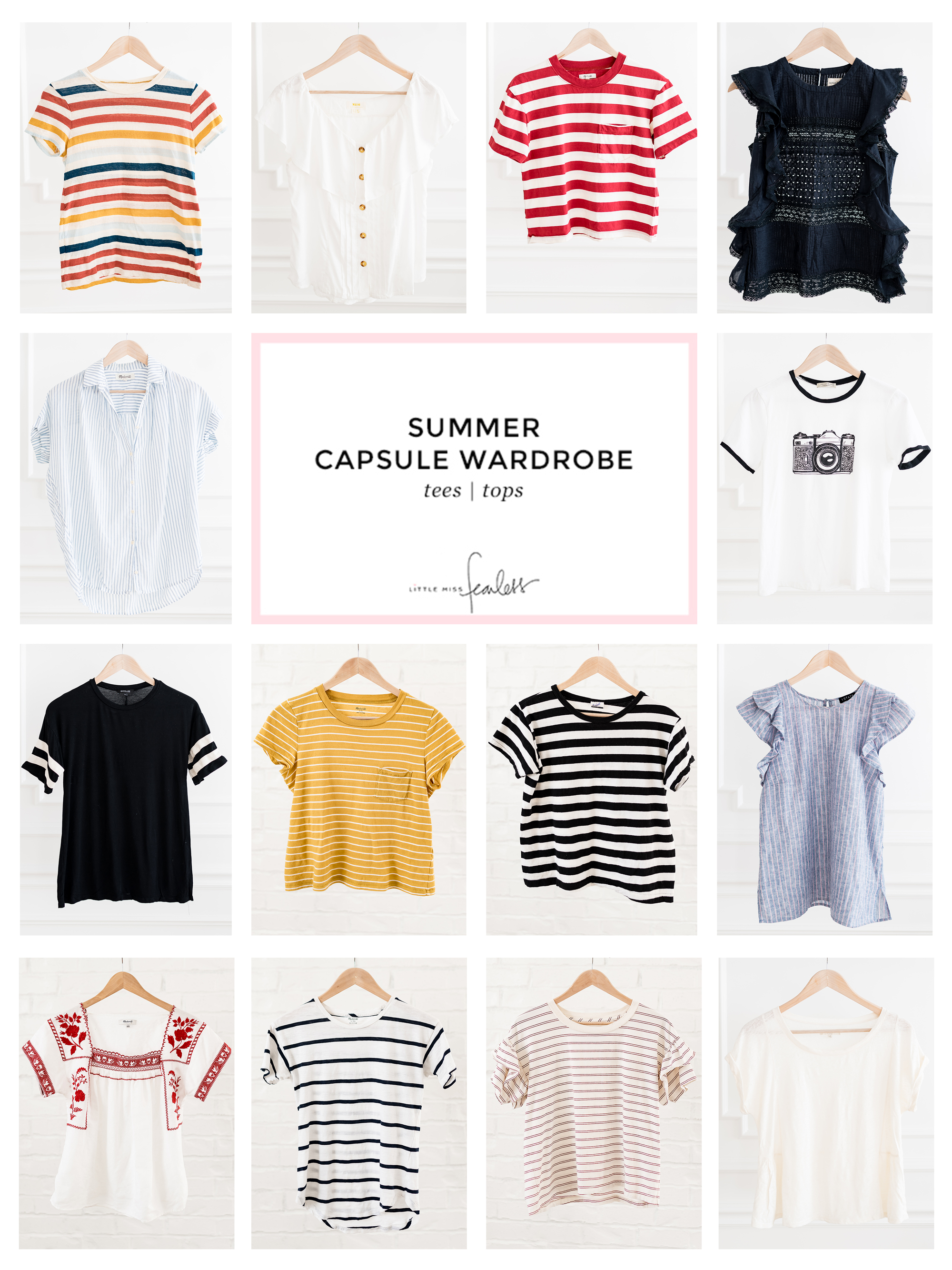 My Summer Capsule Wardrobe Themes
Hello t-shirts! Need I say more?
My Summer Capsule Wardrobe was kinda like potpourri. Since layering isn't really an option in these 90+ degree Utah temps, I didn't hesitate to lean heavy on tops and tees in multiple colors. Still, each piece somehow proved to be quite versatile. More on that below.
This summer was also unique because I had a 6-week sabbatical from work. I found myself grabbing for a t-shirt every. single. day. That's something I wouldn't have done had I been getting dressed for work. That said, about half of the tops above are still dressy enough for work, so my selection of tops pretty accurately reflects my lifestyle.
In a nutshell, these themes emerged:
Stripes continue to be the essential pattern of choice for my capsule collection.
Olive green always finds its way out of my closet in mid-late summer.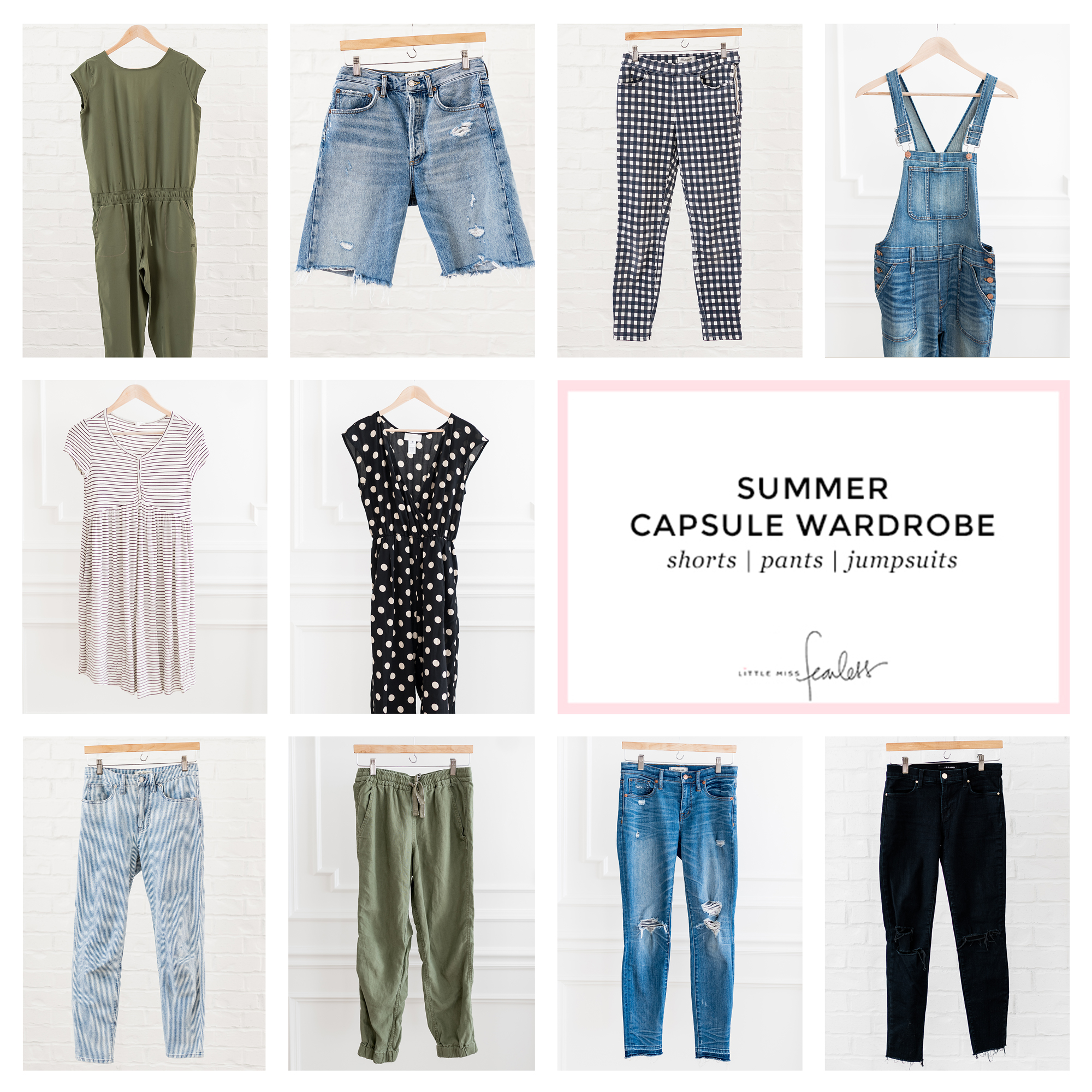 A Few Thoughts on Versatility
I basically mixed my bermuda shorts with a matching t-shirt all summer so that made mixing and matching easy peasy!
When I did wear pants, my green linen joggers (similar here) were first in the rotation. They transition nicely into fall, too — see here.
I also learned this summer that olive green is an incredibly versatile color. I wore my olive joggers with nearly every top above.
I rarely wear red, except for in small doses in July and December. I found that a top with subtle red details (like my embroidered top in the bottom left corner above) paired with olive green and tan sandals is a dreamy combo for warm summer days!
I didn't play with pattern mixing as much as I could have (maybe because everything is striped?), but loved mixing and matching different colors.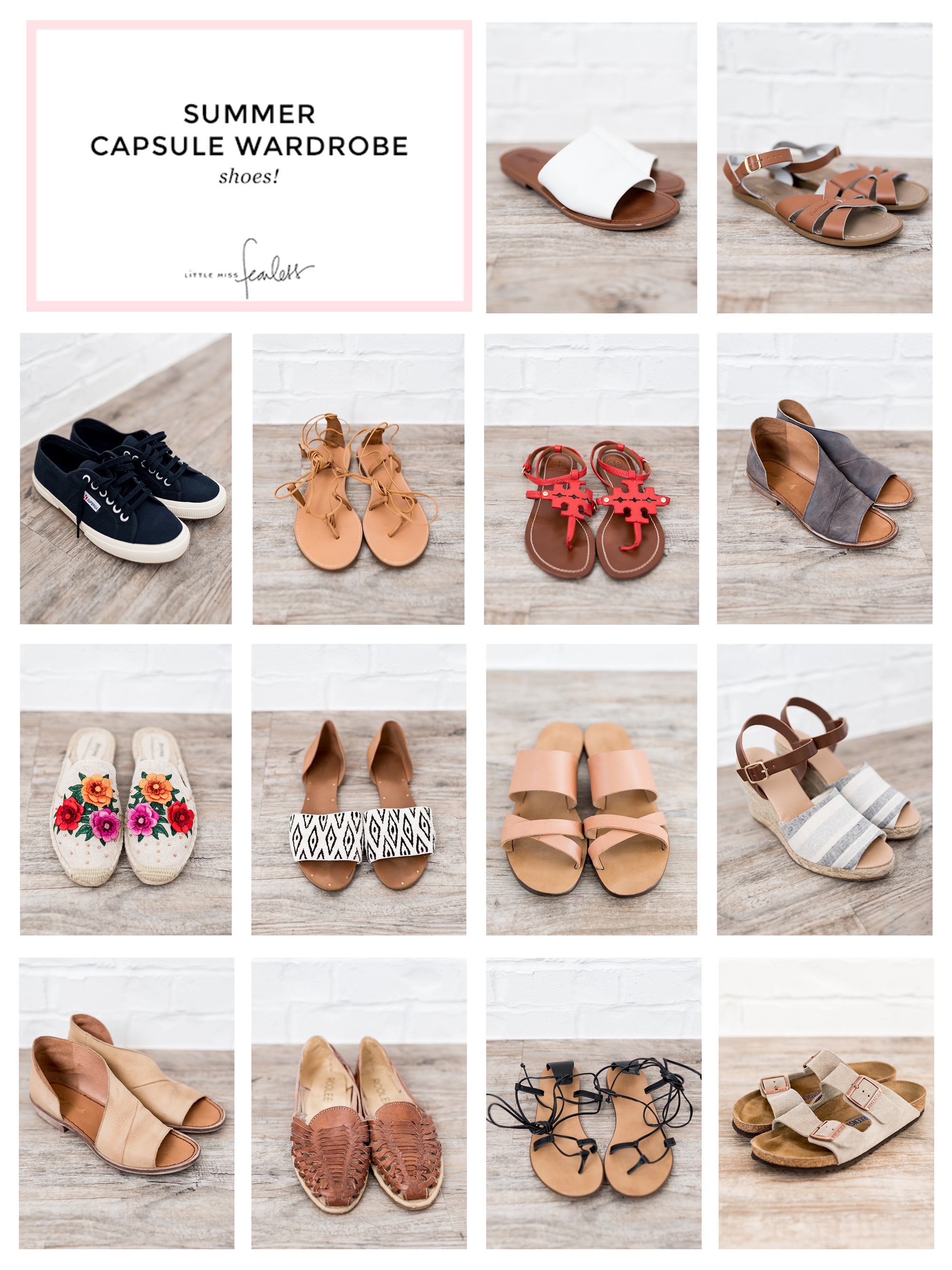 My Summer Capsule Shoe Game
Remember, last fall was my first attempt at the capsule wardrobe so this summer felt like the culminating event for making final decisions on what stays in my closet and what has to go. It was somewhat terrifying but mostly liberating.
I parted with loads of clothes—but saved the best pieces for you (be sure to sign up for my newsletter to be among the first to shop my new eBay listings!).
But know what was surprisingly easy to part with?
Shoes!
I didn't realize how many heels I had that I never wore, and frankly, probably purchased just to style them on my blog, which ironically never happened.
But hey, sometimes you don't know your style until you know what your style is not.
Overall, I love the variety of colors and textures in my summer shoe collection, but they're still a work in progress. (Also, not pictured: white Birks and flip flops).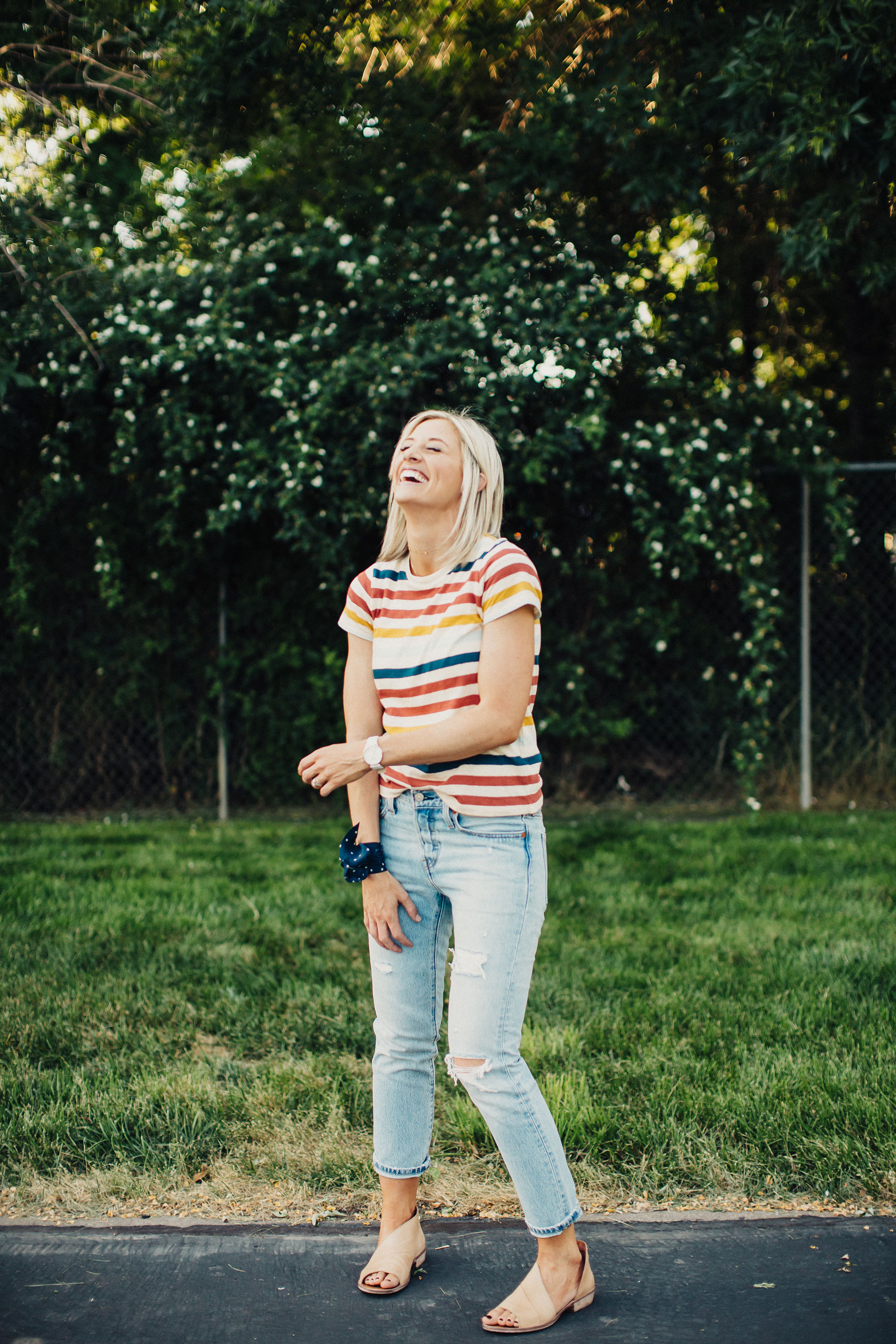 tee | jeans (from my spring capsule wardrobe) | shoes | scarf | watch
Transitioning from a Summer Capsule Wardrobe to Fall
My summer felt like it ended when I went back at work. I'm no longer wearing shorts and tees everyday and have been bringing a jacket or cardigan to the office because it gets a little chilly in our big air-conditioned building or when traveling to San Francisco.
Transitioning from a summer capsule to fall is practically effortless — all you need is a sweater. Also, jumpsuits have become my best friend since I stopped wearing shorts so I'm hoping to work a couple of those (namely this Albion Fit beauty) into my fall capsule this year.
And speaking of my fall capsule, stay tuned for an upcoming post with everything in my fall capsule from last year + the on-trend items I've added for 2018. It'll be the first time I've shared what's in my closet ahead of the season!
SHOP MY SUMMER CAPSULE WARDROBE

Have I convinced you to start a capsule wardrobe yet?
What more would you like to know? I have several (previously promised) posts in the works and I'm still so happy I made this life-changing transition. Hit me up in the comments with questions.
Thanks for reading!