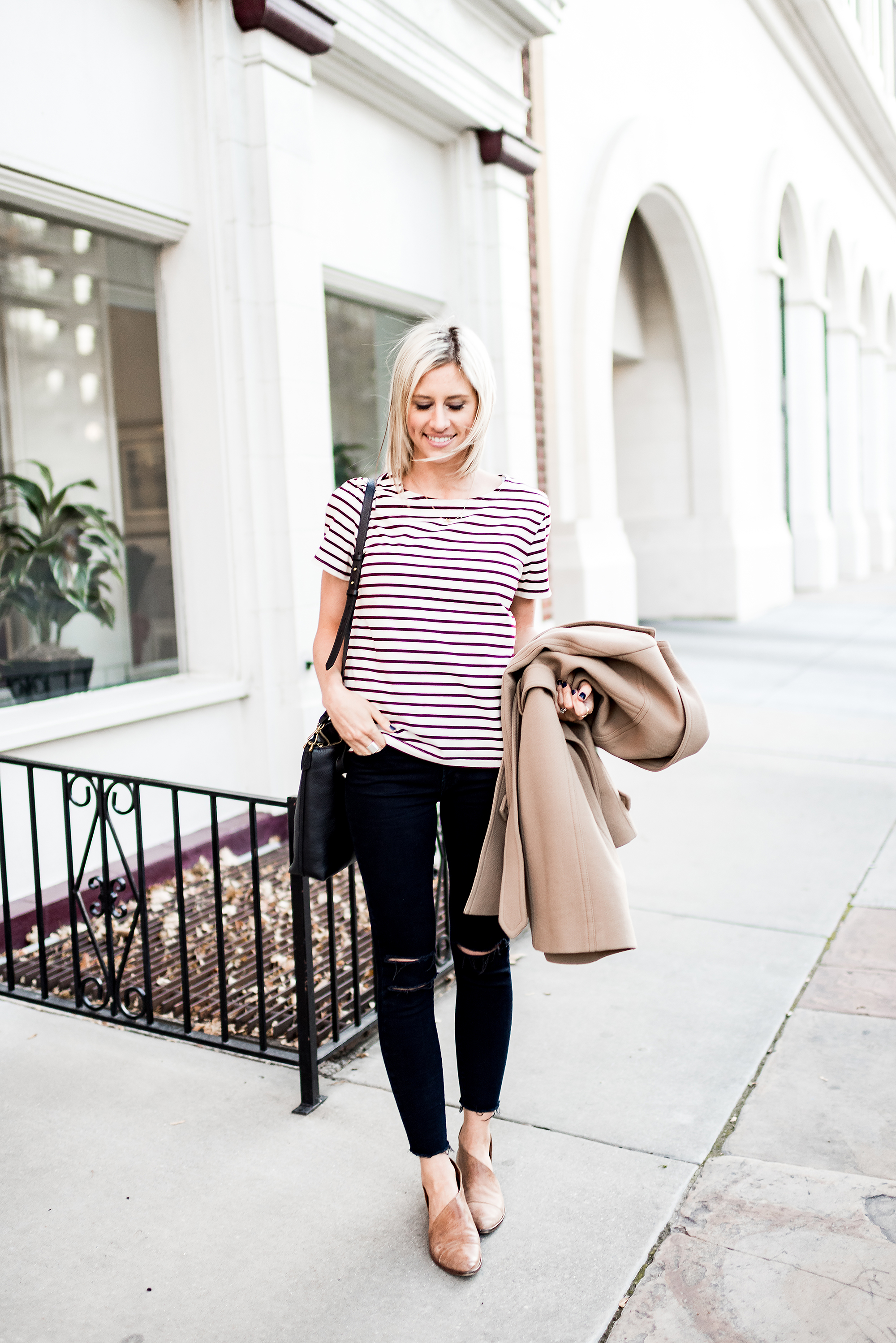 SHOP THE POST

Since starting my capsule wardrobe last fall, I've received a ton of questions about what a capsule wardrobe is, how I created a process for narrowing down my closet, how long it takes, etc. I decided to compile them and provide all of the answers in one place to easily reference. So, here are answers to 25 of the most frequently asked questions I've received about starting a capsule wardrobe…
1.What IS a capsule wardrobe?
Inspired by the minimalist lifestyle, Who What Wear explains the capsule wardrobe as "a mini wardrobe made up of really versatile pieces that you totally love to wear." Each season (spring, summer, fall, and winter), you clear your closet except for a set number of pieces to be in your capsule wardrobe.
For most, the golden number is between 30-40 items, but it varies by season.
Your capsule collection is made up of a combination of items you already own and love to wear, as well as new, quality items that you can shop for once a season.
2. Why did you start a capsule wardrobe?
I was hoping you'd ask! I did a quick blog post on why I'm finally adopting the capsule wardrobe (after years of being a clothes hoarder).
3. When cleaning out your closet, how do you decide what goes and what stays?
I started by noticing the clothes I kept wearing over and over. I have a closet (and spare bedroom closet) full of clothes I've collected over the years, but every day, I'd grab the same pair of jeans or leggings and the same handful of sweaters. Read more about how to let go of clothes you don't wear in this post.
Another key tip I recommend to everyone, is giving the clothes in your "maybe / I just can't decide yet" bin a second chance. So as you create your capsule for the season, you're trying to incorporate the clothes you can't seem to let go of to ensure they're actually versatile and LOVED enough to keep in your capsule.
4. Do you do laundry more with less clothes or worry they'll get worn out faster?
I don't do laundry more often (and that's coming from a toddler mom) because my capsule wardrobe has about 5 pairs of pants that I cycle through. And on days when I work from home, I often stay in my workout clothes, so the only difference I've seen is that when I work out more, I do laundry more frequently.
I do think the quality of your clothes could impact how long they last after wash and wear. Most of my items are from Madewell, J.Crew (or J.Crew Factory), H&M and Nordstrom.
5. What's the difference between a capsule collection and a capsule wardrobe?
Your capsule collection is your overall clothing collection for an entire year. Your capsule wardrobe is a collection of approximately 30-40 items per season.
6. What items does a capsule wardrobe consist of?
The typical 30-40-item capsule consists of tees, sweaters, blouses, pants, skirts and shoes.
I do not count outerwear, bags or accessories/jewelry as part of my capsule, although, I have narrowed down all of my bags, coats, Hunter boots and jewelry to include only things I wear. (Be sure to sign up for my newsletter to be among the first to know when my clothes are available to shop on eBay!)
7. What containers do you use for clothing storage?
I purchased 5 of these clear storage bins at Target. I recommend clear bins because you can always see what's in them.
8. Did you sell or donate your clothing?
The items that were lower quality, worn or not re-sellable, I donated. Everything else that is name-brand and lightly worn will be sold on eBay. Sign up for my newsletter to be notified when they're available to shop!
9. Do you sell something old if you buy something new?
Yes. I think this is a great approach. It forces us to be intentional about our decisions. And if you sell the old thing first, you can use the money to buy the new thing!
10. How did you choose jewelry and handbags?
Handbags were fairly easy for me. I kept only the bags that I actually wear out. Believe it or not, I had bags that I ONLY wore in blog posts, so those will go because they're no longer part of my style. I'm in the process of narrowing down jewelry as well. I have a lot of statement necklaces I never wear so they'll be the first to go.
11. Where can I find the items in your capsule wardrobe?
My fall capsule is shoppable in this blog post and via my Instagram. I'm still in the process of narrowing down my winter capsule, so you can expect a blog post soon on what items made the cut.
12. Have you read the Life Changing Magic of Tidying Up?
I have read it. But decided to go about my purging process in a way that worked for me. I basically piled all of my clothes in my closet on my bed, set my 6 bins out, turned on some music and started sorting by season, a "maybe" bin, and a "definite no" pile.
13. Where do I begin? How do I start?
Start by taking a week or two to notice what you wear the most. Observe your daily routine. Are you working? Are you a stay-at-home mom? Are you mostly at the gym or running errands? How does your lifestyle influence what you wear?
Once you have a sense for the things you wear most, then sort through your closet using my tips from this post: How to Let Go of Clothes You Never Wear + Find Your Most Authentic Personal Style.
If you need some inspiration, browse your favorite online clothing store and save the images of outfits and clothes you like that are similar to things in your closet, or that inspire you to wear something in more than one way. I loove doing this every season to influence what I decide to keep.
14. Where do you keep your clothes that are not in your current capsule? 
I keep the previous capsule's bin on the floor of my closet. For example, my winter capsule is hanging right now, so my fall capsule bin is on the floor beneath it.
One of the best ways to freshen up your current capsule (if you get bored of it) is to borrow items from your other seasons. Purchasing something new is a last resort, but of course, this is your life so do what works for you.
15. What if you have a shirt you like to wear all year?
Count it as part of each season's capsule. I did this with several items from my fall capsule that I wanted to continue wearing in the winter. You can either feel good about the fact that you'll have fewer items in your overall capsule collection this way, or you can make up for it by adding an additional item to the capsule(s) you're carrying it over to.
16. How did you start going through your closet and how long did it take?
See my answer to question 3 and then read my post on how to get rid of clothes you never wear. It took me a couple weeks of thinking about it and noticing patterns in what I repeatedly wear, and then one night (3-4 hours) of sorting and putting everything into bins.
I still have a few things I'm going through, like workout clothes and special occasion wear. I'm planning to create mini capsules for those since I need dresses and skirts for church and special occasions, but not in my everyday capsule wardrobe.
17. How do you find quality but affordable capsule items?
One of my favorite affordable places to get  tops and sweaters for my capsule is H&M. I also love ASOS, Old Navy and occassionally J.Crew Factory.
Since my closet was full of brand-name clothes I collected during my early fashion blogging years, I had an easier start on quality items that are pricier, but that I had already paid for. I do also love affordable brands like BP at Nordstrom, and will continue to share ideas with you in future blog posts.
18. How often do you shop for new things now? How do you fight the urge to shop?
I try to limit my shopping to 5 items per season, however, I also sold a few things on Instagram stories and used that money toward some of my new fall items. All of my spring clothes are still sitting in a bin right now and haven't been narrowed down yet to create my 40-item spring capsule. So once I get to that, I'll likely purchase a few new things and maybe carry over some sweaters from my fall capsule as well.
MOST IMPORTANTLY, remember when you feel overwhelmed by the process that you don't have to figure out and finalize ALL of your seasonal capsules at once. You need to allow yourself time to wear some of the items you've kept to ensure you'll really keep wearing them. So just focus on one season at a time, starting with the one you're currently in.
I used to shop A LOT. So watching all of my purchases go unused in my closet (other than styling for blog posts) started to make me feel sick. I avoid the temptation now by simply being honest with myself. For example, when I see someone wearing something really cute, I pause and ask myself, would I REALLY wear that, though? If not, I still admire how cute it is on that person, but remember that I feel cute in other things. I also don't browse online as much, other than to see different ways for wearing a striped shirt, for example. 🙂
19. How did you figure out your process for creating a capsule wardrobe?
It really started with some self-work I was doing with my therapist, identifying my core values and the lifestyle change I wanted to make. Once I had committed to doing it, then I started enjoying the process of saving outfit inspiration from my favorite stores, like Madewell, and sorting through my closet by season just made so much sense to me. Read more about my guideposts for creating a capsule wardrobe.
20. Do you feel limited with a capsule? What if you love lots of items in your closet?
I don't feel limited because the capsule wardrobe was just another aspect of some lifestyle changes I was already making. The way I see it, you should make the capsule wardrobe WORK FOR YOU. So if that means you have 50 items in your capsule wardrobe because you love all of your shoes, then create a 50-item capsule wardrobe! This doesn't mean you're doing it wrong. It's all about your goals and intentions, and if you wear (and LOVE) all 50 items, more power to ya. Whatever you do, do it and OWN it.
21. How many items are in your capsule?
My fall capsule had about 42 items. I'm still wearing some of my old sweaters and determining what to keep in my winter capsule, but I'm wearing all the same pants from fall. So I won't hesitate to have a few additional tops for winter, if needed.
22. Do you keep any items that aren't neutral, striped or basic? 
My fall capsule was pretty neutral and "basic" I guess, but I seriously loved everything in it. And that's all that matters to me. If you want to mix yours up with a few loud prints or bright florals, DO IT. Remember, all that matters is that you wear them and love them. It won't kill you to have a couple items that don't mix and match as well as others.
23. Do you do a warm or cold capsule, or all four seasons?
I do a capsule for each of the four seasons. But I'm also creating a workout capsule, special occasion capsule (see my answer to question 16), maternity capsule and even a home capsule. I've also heard of people doing toy capsules with their kids to simplify all the "stuff."
24. How many pants and skirts are in your capsule?
I NEVER wear skirts anymore, except in the spring and mostly summer. I do wear skirts and dresses to church, weddings and special events, so I'm in the process of creating a mini "special occasion capsule" for that (more to come). My fall capsule had 5 pairs of jeans (black, blue, distressed and not distressed) and 1 pair of leggings. I also had my denim overalls in my fall capsule and will likely make them part of my spring capsule, too.
25. How do you let go of items that you have too many of but that are each unique?
I would go with the ones that are the most versatile and can be worn with the MOST combinations of outfits. You could also consider spreading them out across each season so you can keep most of them. Just make sure you actually wear them all.
That's a wrap! Did I miss something? Ask away in the comments.
You may also love learning about capsule wardrobes from these lovely ladies: