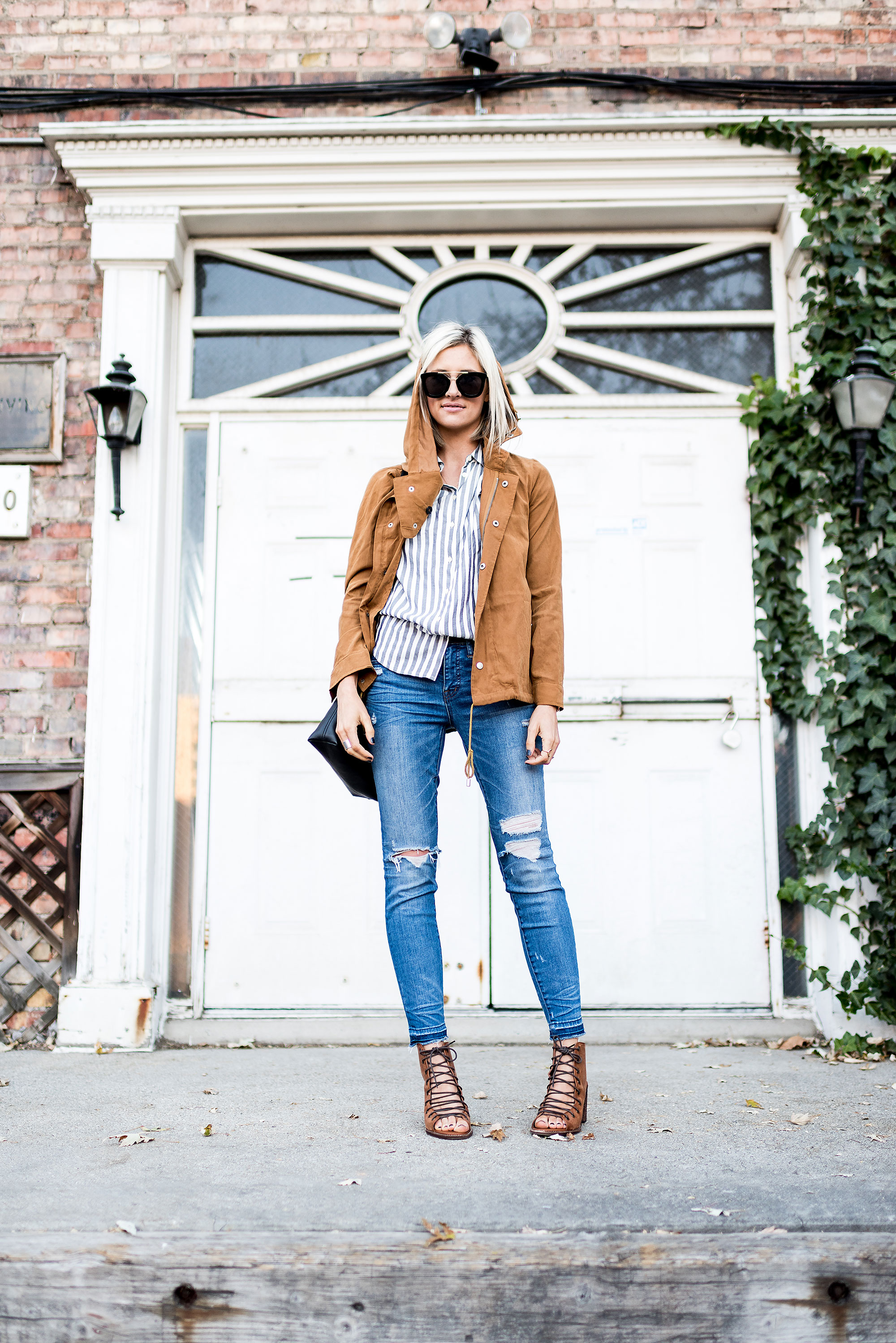 First Impressions
When I first learned about capsule wardrobes, I thought, "I could never do a capsule wardrobe as long as I'm still blogging." Narrowing my enormous clothing collection down to 30-40 items per season seemed impossible.
Most of my fashion blogging career I believed that, in order to stay fresh and relevant, I had to be purchasing new clothes constantly. That's what I saw other bloggers doing and, to be honest, I enjoyed having an excuse to regularly purchase new things.
As soon as I decided to be honest with myself about why I felt the need to spend so much on clothes in the first place, I realized I was ready to simplify and let it all go.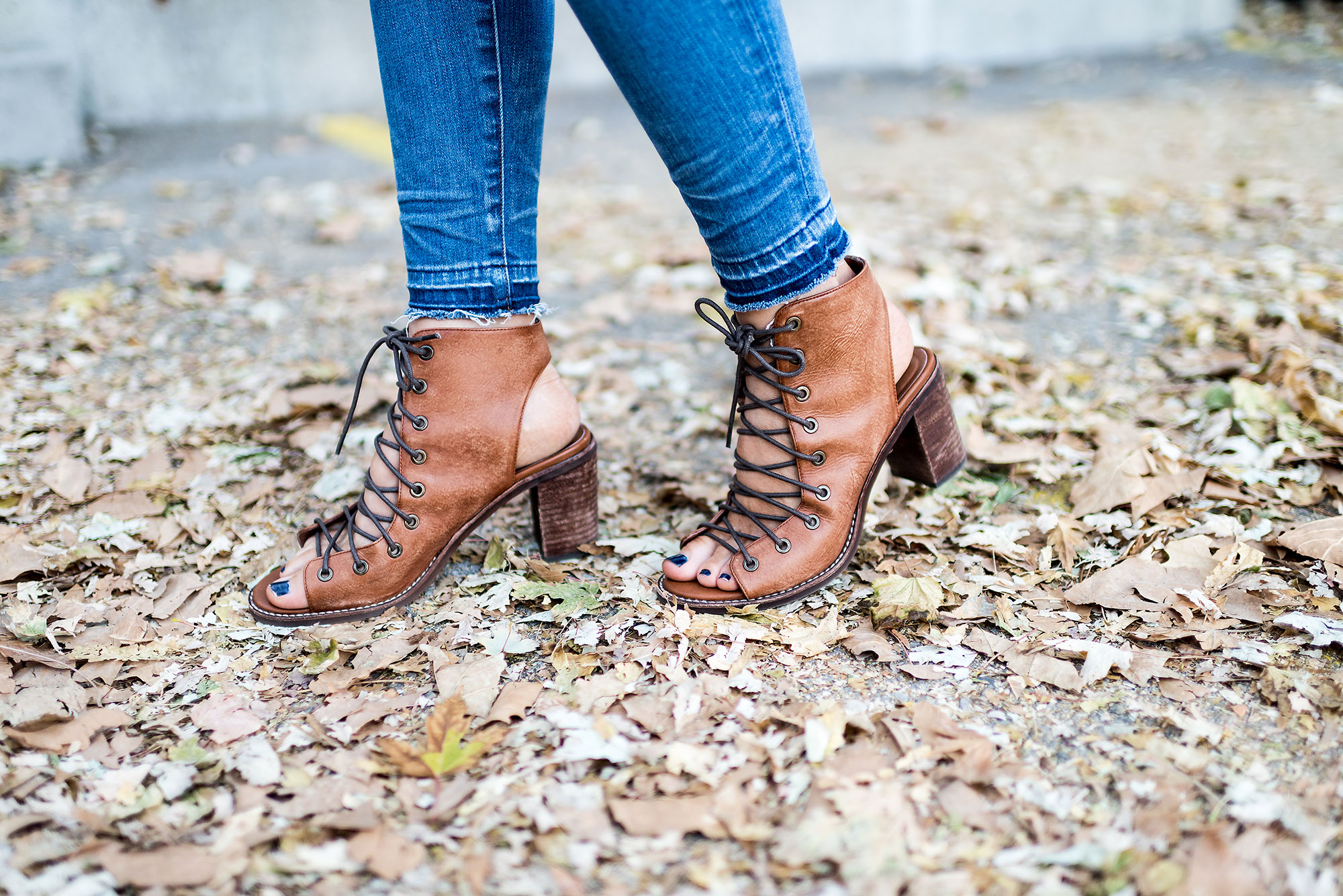 Cultivating Authenticity
This fall I've been rediscovering myself (what I value most, what I like, what I don't like) and have started letting go of who I thought I was supposed to be as a blogger. Finally learning how to cultivate authenticity, required me to let go of what people think—including my need to control other's perceptions of me—and allow my imperfect self to shine.
Now the authenticity bug is crawling into every arena in my life. It's one of my top 5 values.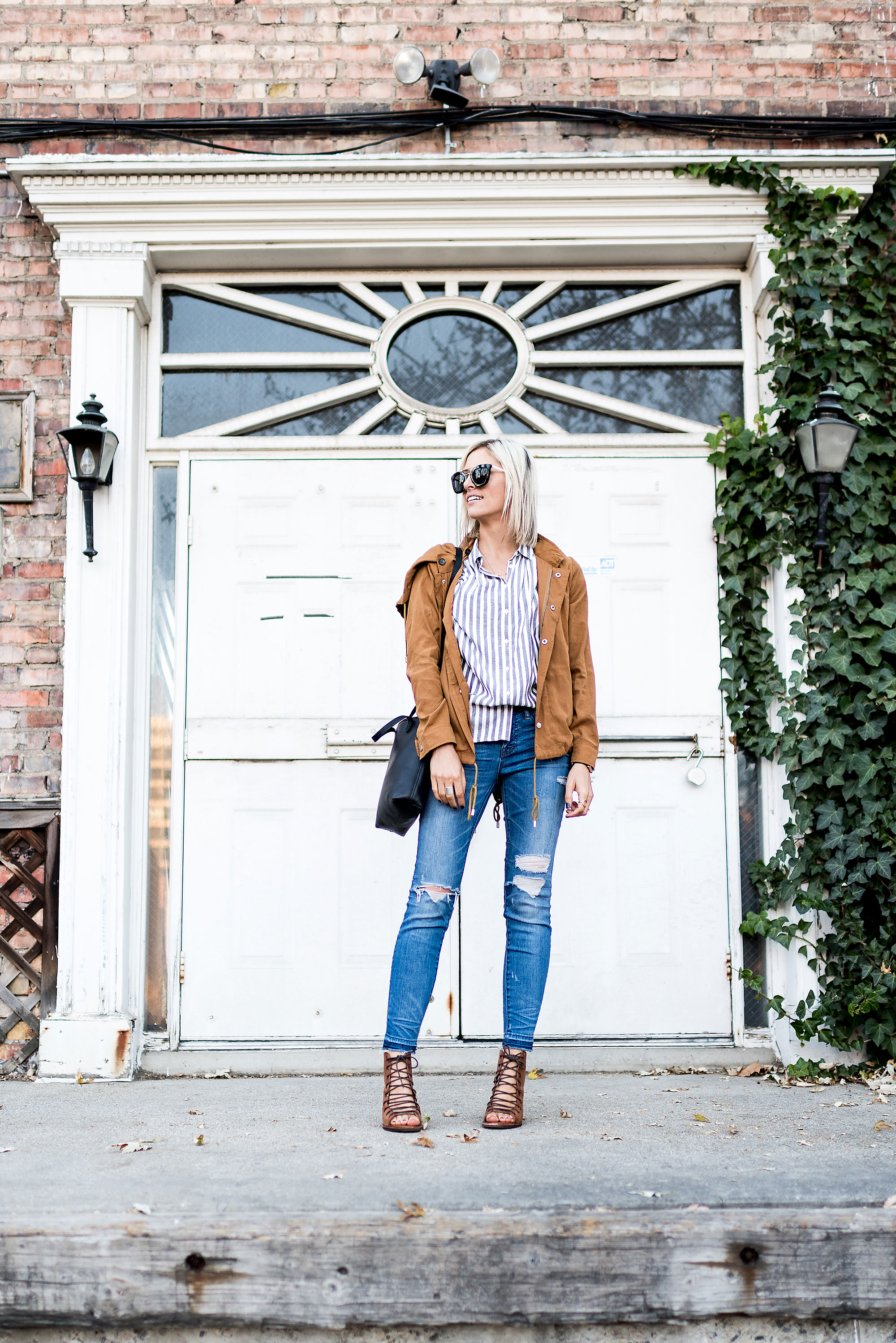 Cultivating My Capsule Collection
As it relates to my wardrobe, I started paying close attention to the choices I was making about the clothes I was wearing the most.
I took mental notes of the pants I'd wear multiple times a week—Why do I always wear these?
I noticed the same thing with my shoes. (I have an entirely separate DIY shoe closet in our spare bedroom and hardly ever wear all the shoes that sit inside of it.)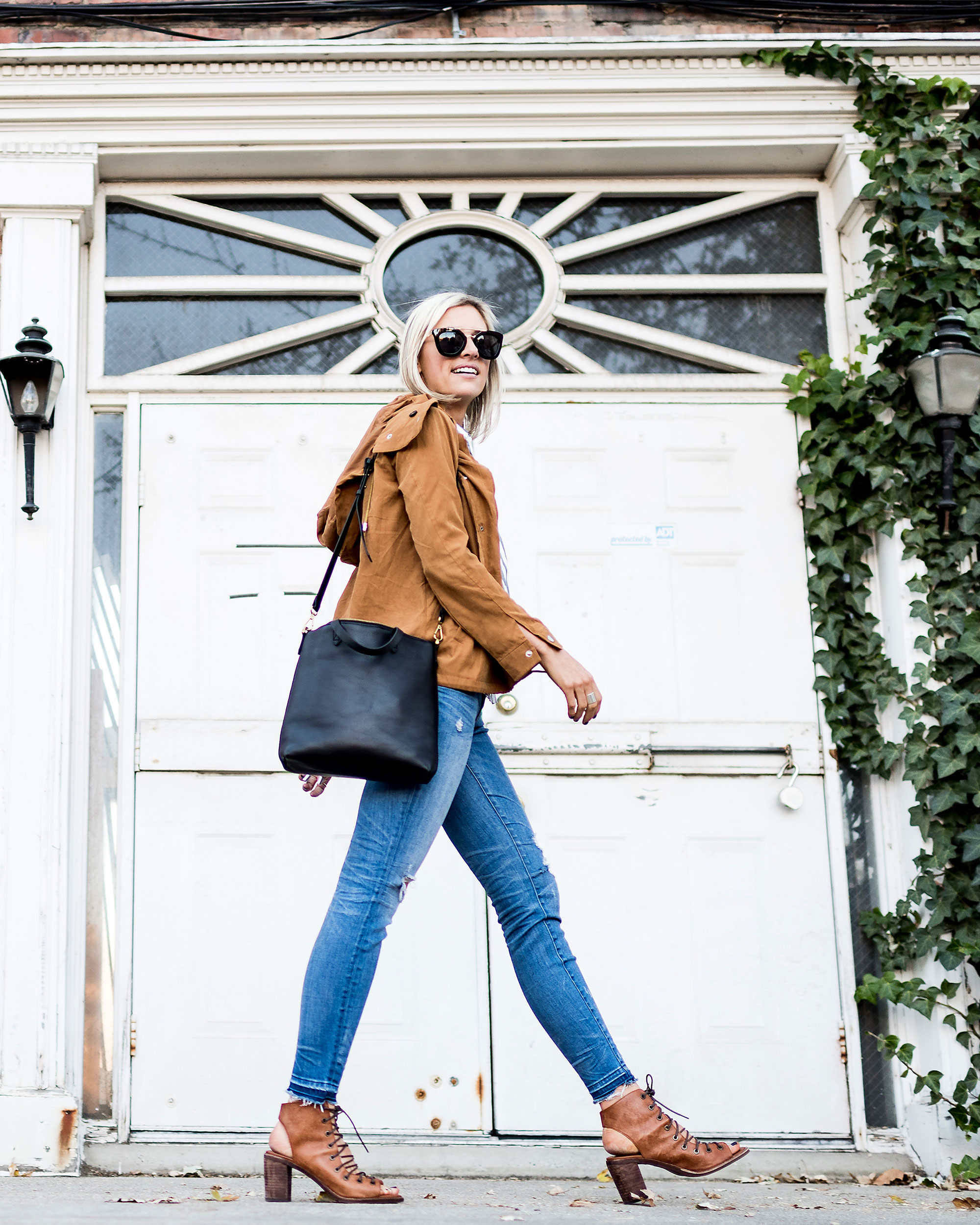 I began noticing patterns in what I wear every day—to work, on weekends, on errands, traveling, etc.—and found they had these things in common:
They were comfortable;
I felt confident in them, even if I wasn't loving my body at the time;
They were neutral colors I could wear in several combinations;
They were colors that complimented my skin and hair color; and
The patterns were classics, not necessarily trends.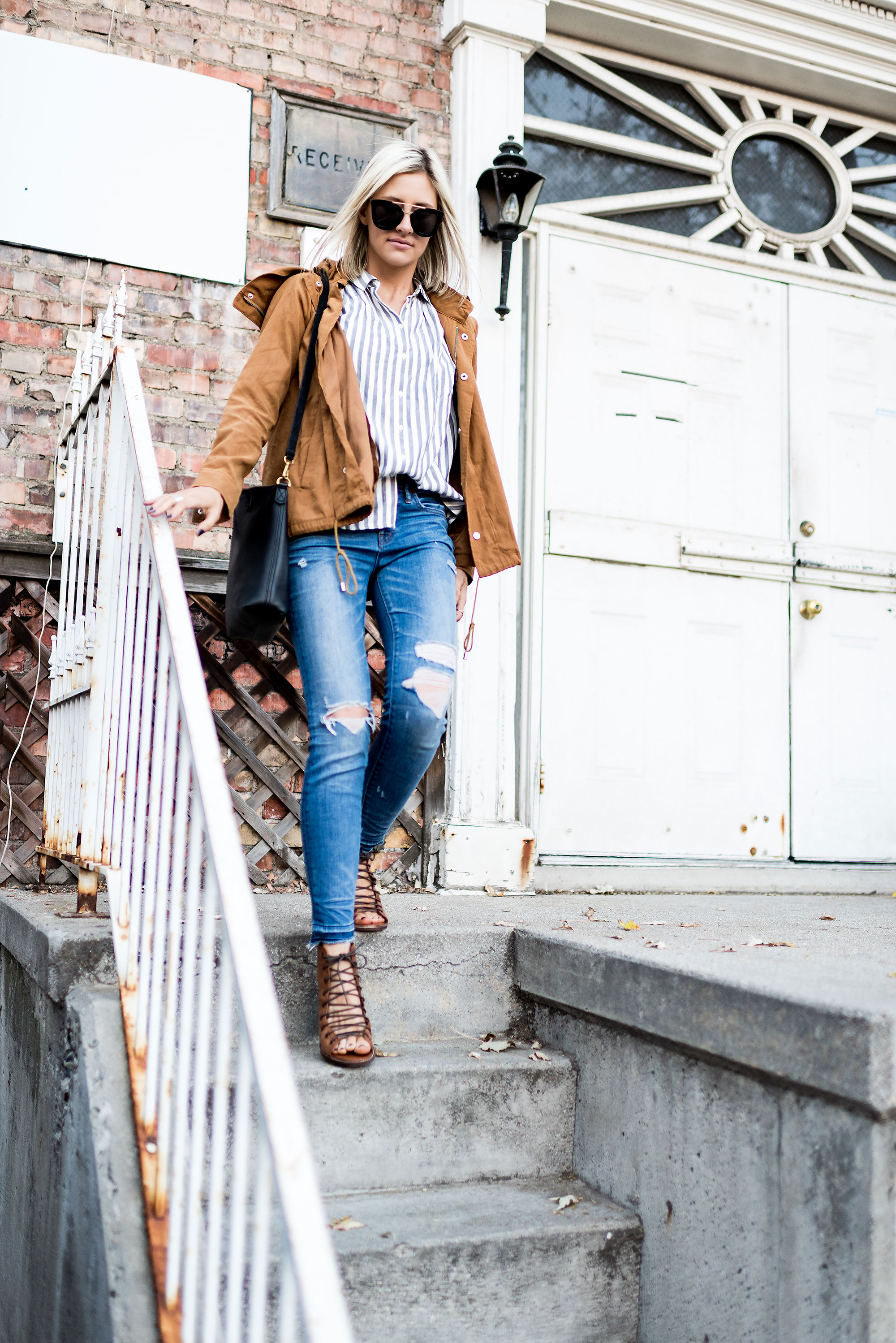 Once I realized I was, in many ways, already wearing a capsule wardrobe, I felt confident in the idea that I could actually make this a part of my lifestyle—and let go of ALL THE THINGS I had been afraid to part with in my closet all these years.
With my self-work as the instigator, my mind was primed for the capsule wardrobe lifestyle and in sync with my efforts to let go of perfectionism (the driver behind many of my impulsive clothing decisions).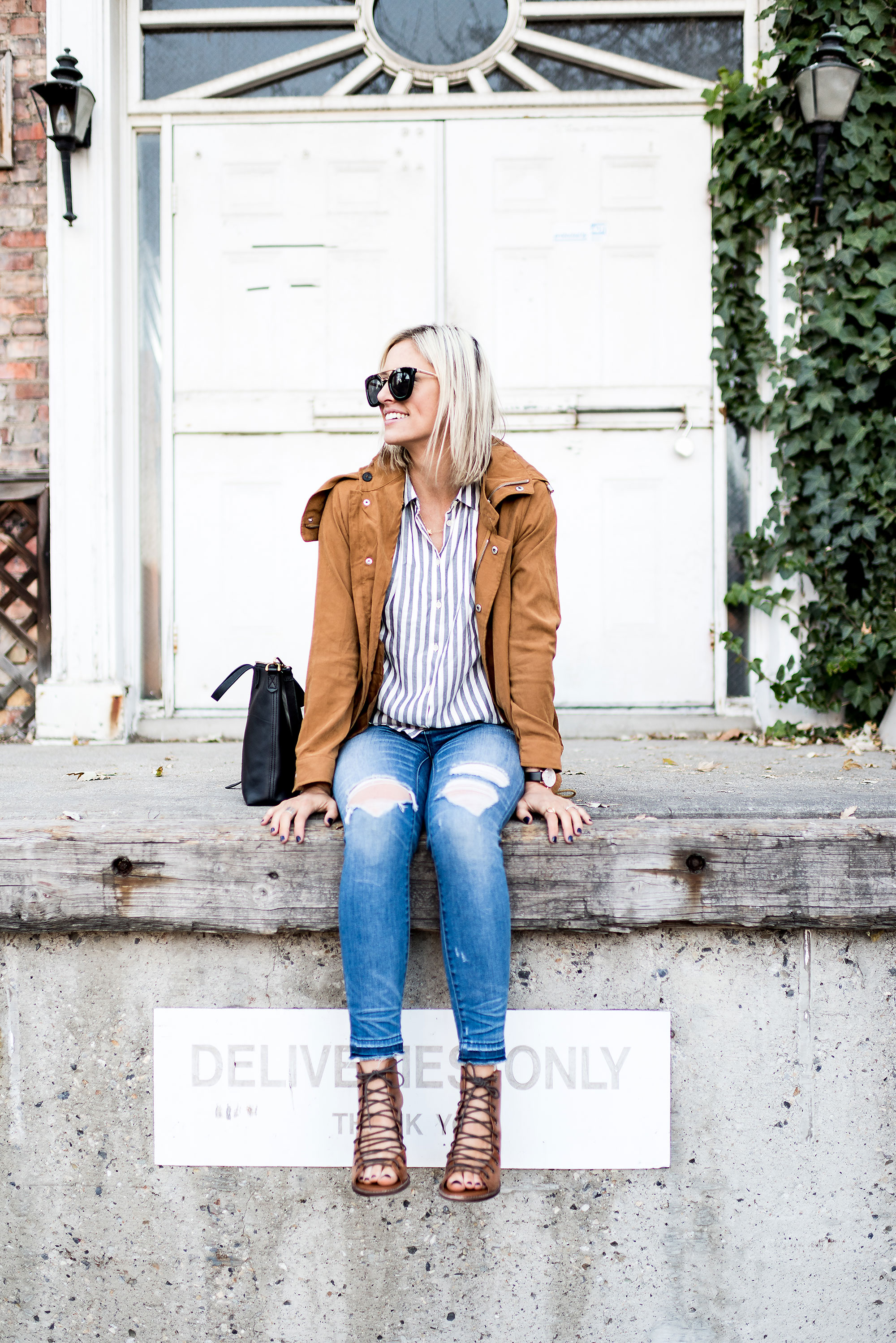 Guideposts for Creating a Capsule Wardrobe
With authenticity as the foundation, here are the 7 guideposts I came up with when creating my Fall capsule wardrobe, followed by the 36 pieces* I chose to include in it:
Ensure each seasonal capsule has a mix of simple basics and items with feminine details for variety.
Choose varying prints, but it's ok to have repeat prints if you know you'll wear them all.

I love striped shirts so I try to mix up the shirt style, i.e., striped tee vs striped turtleneck.

Pay attention to textures and use texture as a tiebreaker when needed.
Choose colors that compliment each other—this is crucial for mixing and matching.
Choose colors that are seasonally appropriate.

i.e., I no longer wear neon in the fall.

Choose items you feel good in every time you wear them.

Seems like a no-brainer, but I had a breakthrough here! I love to wear skinny jeans, tees, cardigans and flats.

Omit items and colors you don't love to wear or simply aren't wearing.

I don't love to wear skirts and dresses or stilettos. Some occasions will require me to wear these, so I plan to create a mini "Special Events" capsule (more to come on this).

The Fine Print
*You may remember from my post about how to let go of clothes you never wear, that I have a bin of things I'm not yet ready to part with. I've been rotating some of these items into my fall capsule this past month to determine what should stay and what should go. I'm leaving space for 6-8 more items for a potential total of 42-45 items in my fall capsule (clothes and shoes only).
Am I cheating? Not at all. Let me explain my reasoning for that number.
I don't have a specific dress code for work, so my everyday wardrobe is the same as my work wardrobe. That said, I wouldn't wear a handful of items in my Fall capsule to work (e.g., distressed jeans, graphic tees, joggers, etc.) so I made space to ensure I added enough items that I can wear to work (i.e., simple, no-nonsense jeans), without sacrificing the core concept of the capsule wardrobe: a limited number of items.
I also plan to carry over several of my fall pieces into winter, so I'm technically being even more intentional with my overall capsule collection.
If you have a specific work dress code, I highly recommend creating a separate work capsule wardrobe, unless you're like me and the two blend together. If I worked at a bank, for example, and had to wear business attire every day, you better believe I'd count that as a separate capsule wardrobe. Make sense?
It all comes down to being honest with yourself about who you are, what your lifestyle requires of you and what YOU love to wear (not what you think you're supposed to love wearing).
What do you think of this process? Are you ready to try it for yourself?