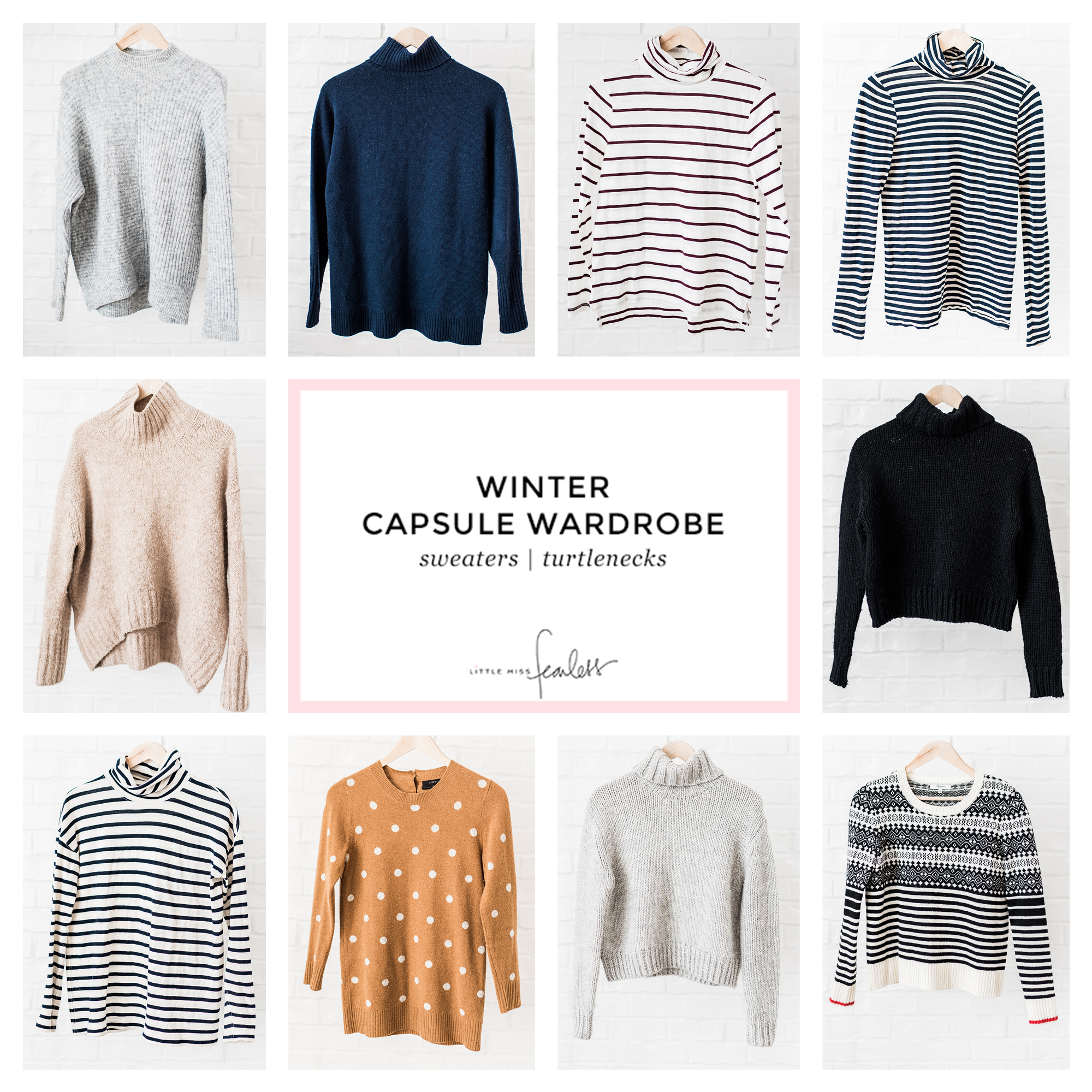 My Winter Capsule Wardrobe Themes
It's finally here! A look at the 34 pieces (+ one I forgot to photograph) in my Winter Capsule Wardrobe.
I really struggled with this season. I loved my Fall Capsule so much that I just kept wearing most of those pieces into winter and even carried some over. With the exception of my ankle boots, leopard loafers and a sweater or two, most of my winter clothes are from past seasons. So narrowing down my winter bin to the pieces I truly LOVE brought out my mad procrastination skills.
You'll see a few recurring themes here…
I love stripes
Chunky turtleneck sweaters are my jam
Neutrals make mixing and matching so much easier
Incorporating Holiday Tops in Your Winter Capsule Wardrobe
Because of the holidays, it can be challenging and tempting to keep several festive prints and items in your closet. Since the holidays only last for a few weeks, I didn't want to overdo it. I decided on two tops — one blouse and one sweater. Both are versatile enough to layer with some of my other tops and cardis, and pair well with all of my pants.
Keep in mind, I do have a mini "special occasion" capsule that I keep for weddings and big events. This allows space for more formal tops or dresses that I don't wear on a day-to-day (or even monthly) basis, but that are nice to to have on-hand when needed.
I highly recommend considering separate mini capsules if it suits your lifestyle. Remember my motto, if you're going to live the capsule life, make it work for YOU.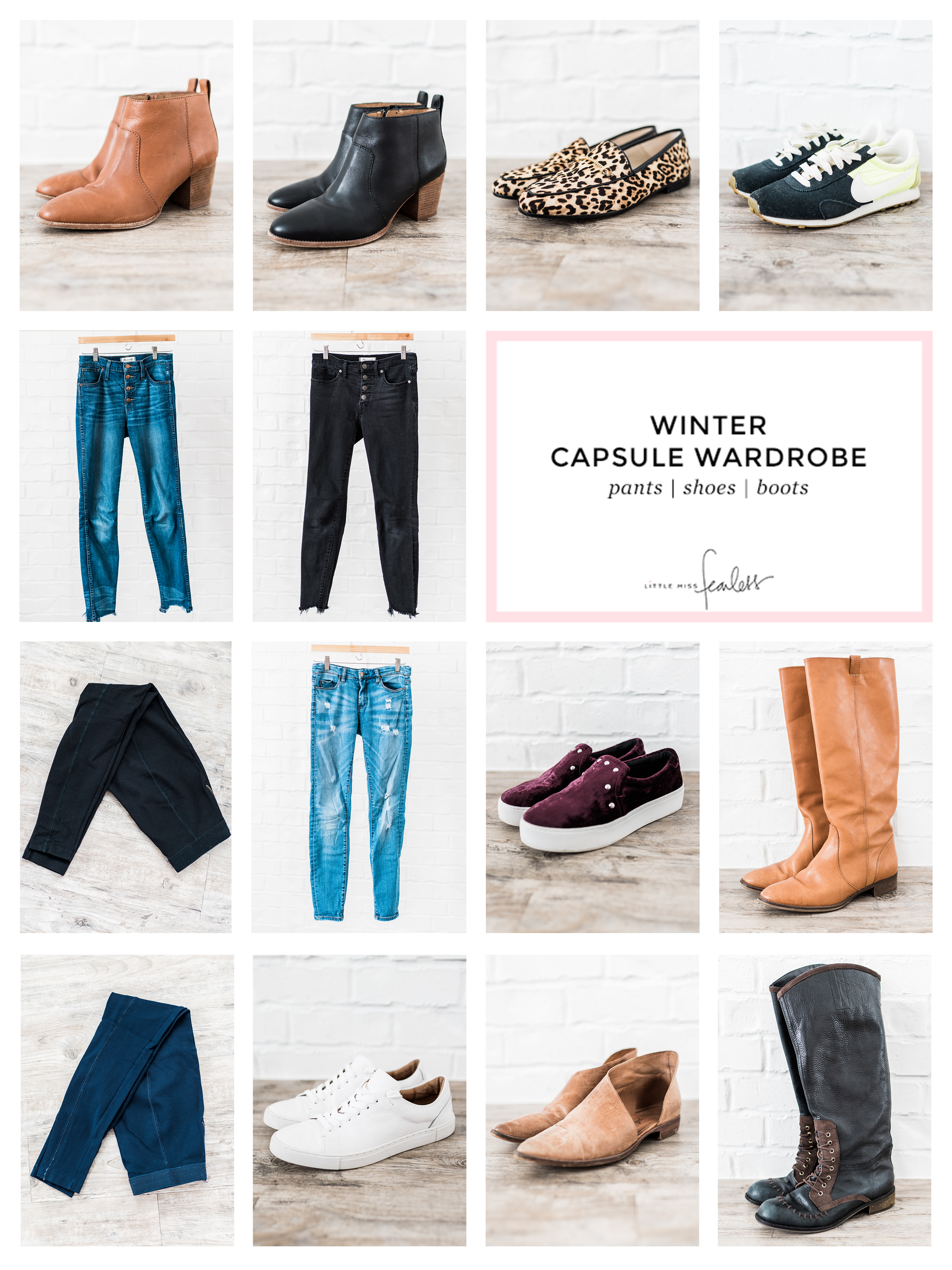 The Lowdown on Winter Capsule Wardrobe Pants and Shoes
Similar to my Fall Capsule, my pants consisted of my most-worn jeans (similar pair here + black pair here), along with some leggings. Utah winters are wet, so my shoe options were simple — boots.
I don't count my outerwear as part of my Winter Capsule Wardrobe. But I do try to keep those items to a minimum. My outerwear primarily includes: 6 coats, 3 pairs of Hunter Boots, and 1 pair of UGG Boots. If I'm wearing flats to work, I always wear my Hunters outside until I get to the office. (Let me know in the comments if you'd like to see a post on outerwear!)
The best part about keeping limited pants in your capsule is that you can have a party with all your different tops!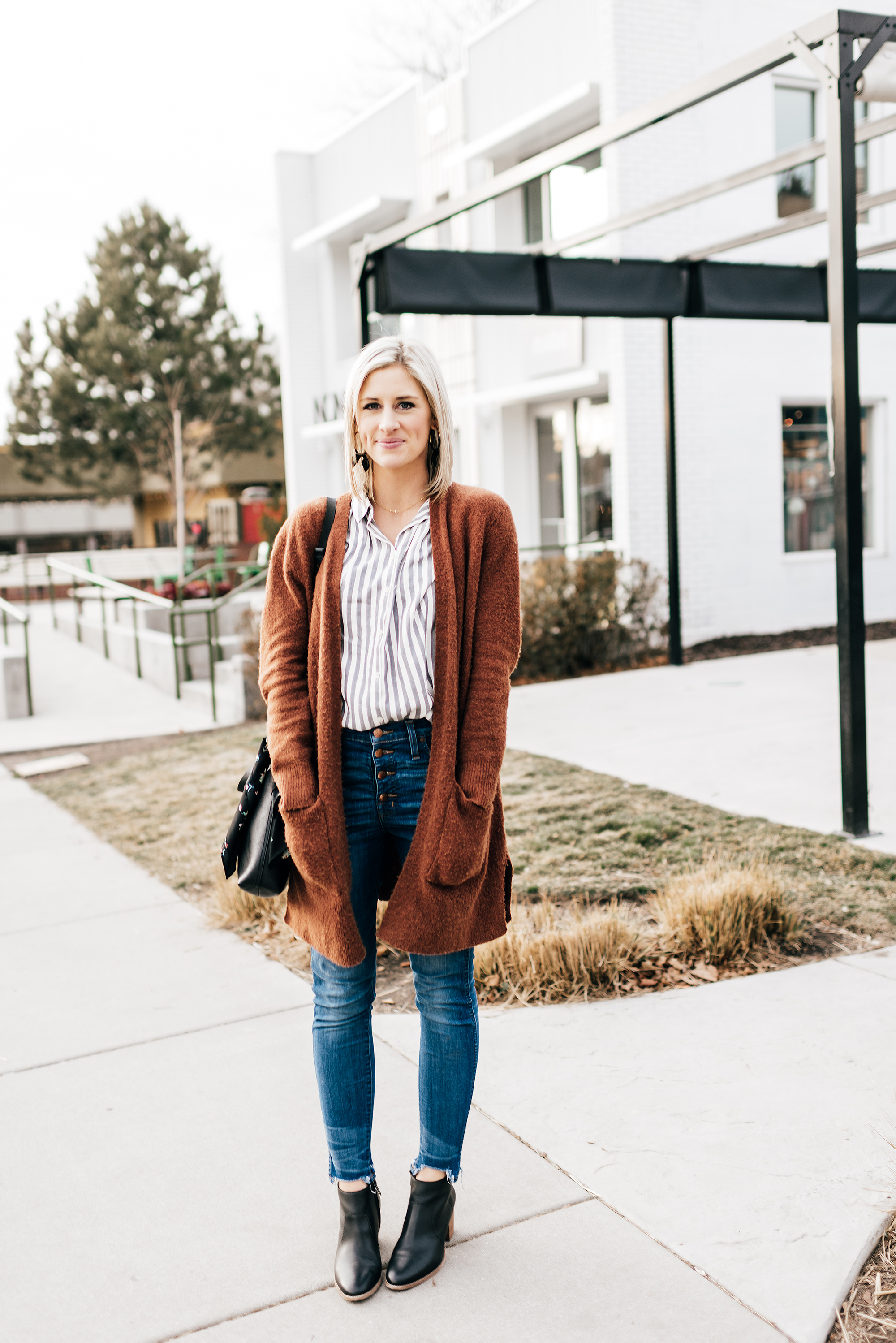 Transitioning from a Winter Capsule Wardrobe to Spring
Welp, it's mid-March and we're expecting snow this weekend. So as much as I'd like to move on to spring outfits, I'll keep wearing my boots and sweaters a little longer. Actually, my favorite winter-to-spring transition items are sweaters, cardis and sneakers, so it's not too bad after all.
Stay tuned for a preview of my Spring Capsule Wardrobe next week!
Was this post helpful? Any questions about why I chose certain pieces or how I narrowed everything down?
If you haven't read my posts on How to Let Go of Clothes You Never Wear or 25 FAQs + Answers About Capsule Wardrobes, you may find some answers there. Otherwise, I'd love to hear from you in the comments!
LASTLY, don't forget to sign up for my newsletter to be among the first to know when the brand-name clothes I'm letting go of are available to shop! (Hint: next week.)
SHOP MY WINTER CAPSULE WARDROBE