This post is sponsored by Stitch Fix. All thoughts and opinions are my own.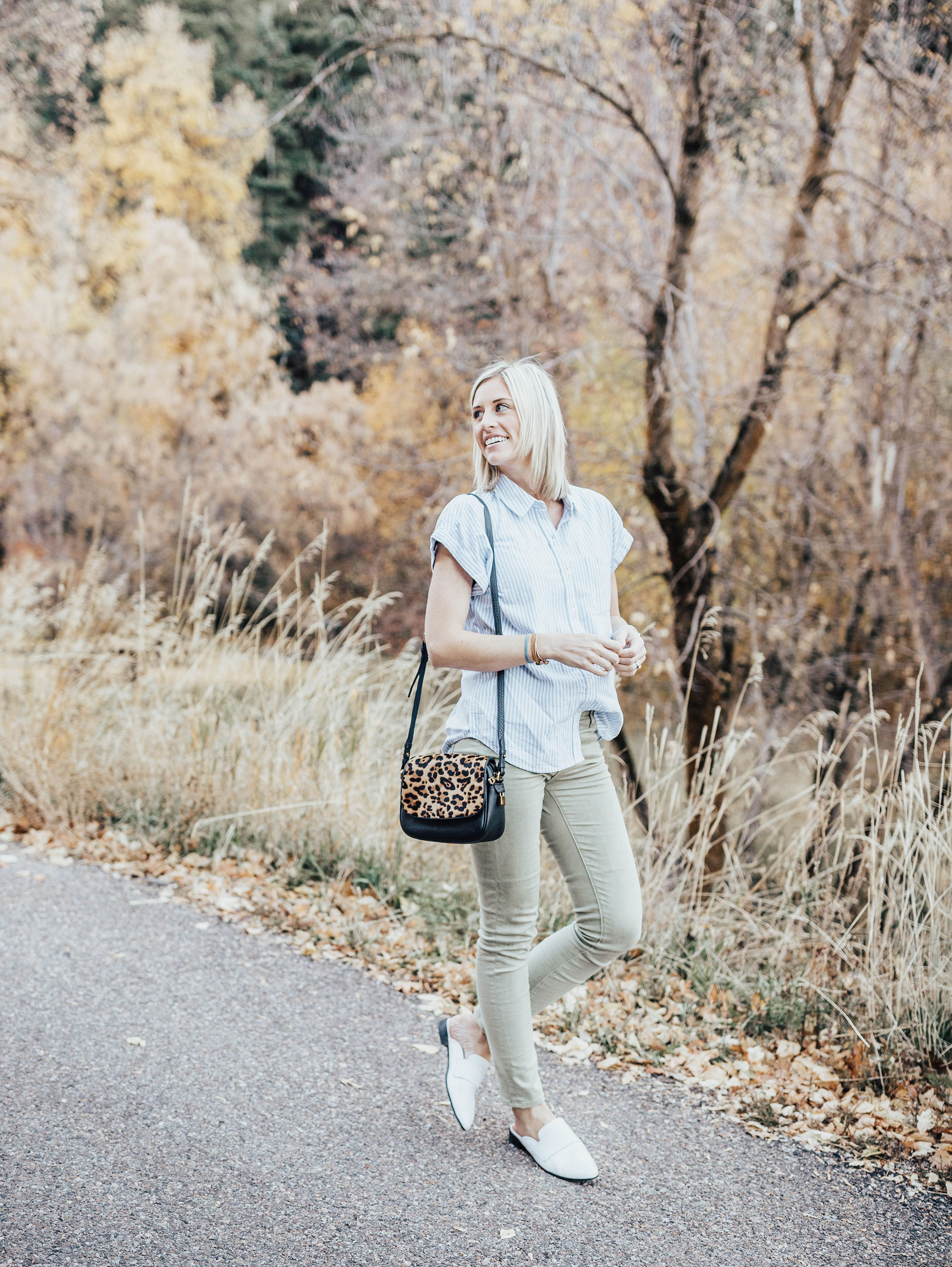 Fall Capsule Wardrobe Inspiration Unleashed
I have found the jackpot when it comes to capsule wardrobe outfit inspiration!
If you follow me on Instagram, you may recall my Instagram stories this past spring reviewing my first few months of trying Stitch Fix (have you tried it yet)?
I honestly wasn't sure what to expect because I was still transitioning to the Capsule Wardrobe and receiving new clothes every month just seemed like too much.
But then I got my first fix and I basically unlocked a Pandora's Box of inspiration!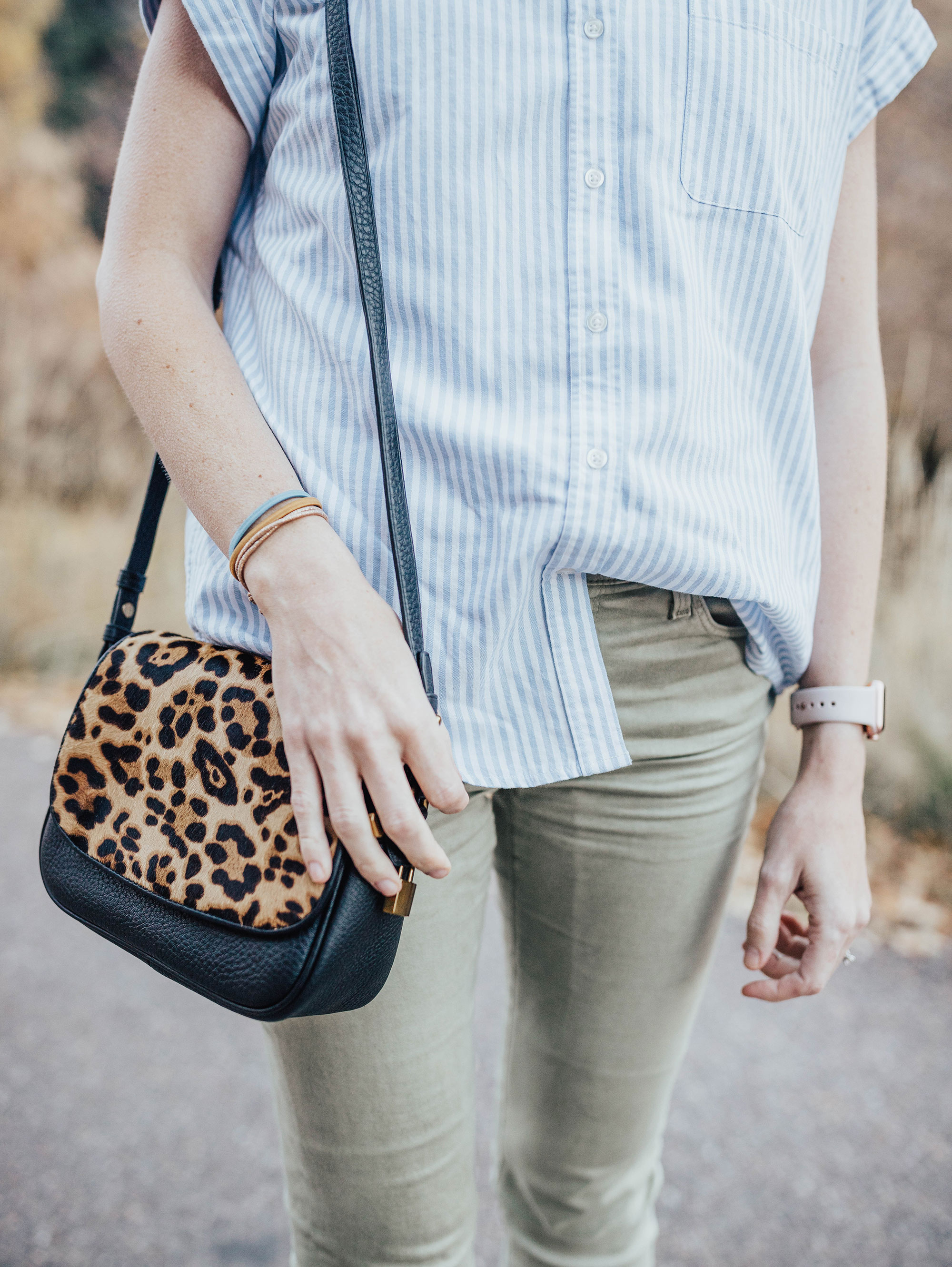 How Stitch Fix Inspires My Style
Let me call out five things, specifically, that have inspired me to keep my fixes coming each month:
I frequently find unexpected pieces (like the ones pictured above) in my fixes that really help me build and update my seasonal capsules with fresh styles.
I get so much inspiration from my fixes, even when I don't keep everything in them. For example, my October fix included two items that were similar to pieces I already own in my Fall Capsule, but have never worn together—instant outfit-inspiration lightbulb moment!
My stylist listens to my feedback and always acknowledges my seasonal capsules, which shows me she KNOWS my style.
My stylist suggests new items or trends for me to try each season and this saves me time from having to search out new trends/styles on my own.
Stitch Fix carries Madewell jeans!!!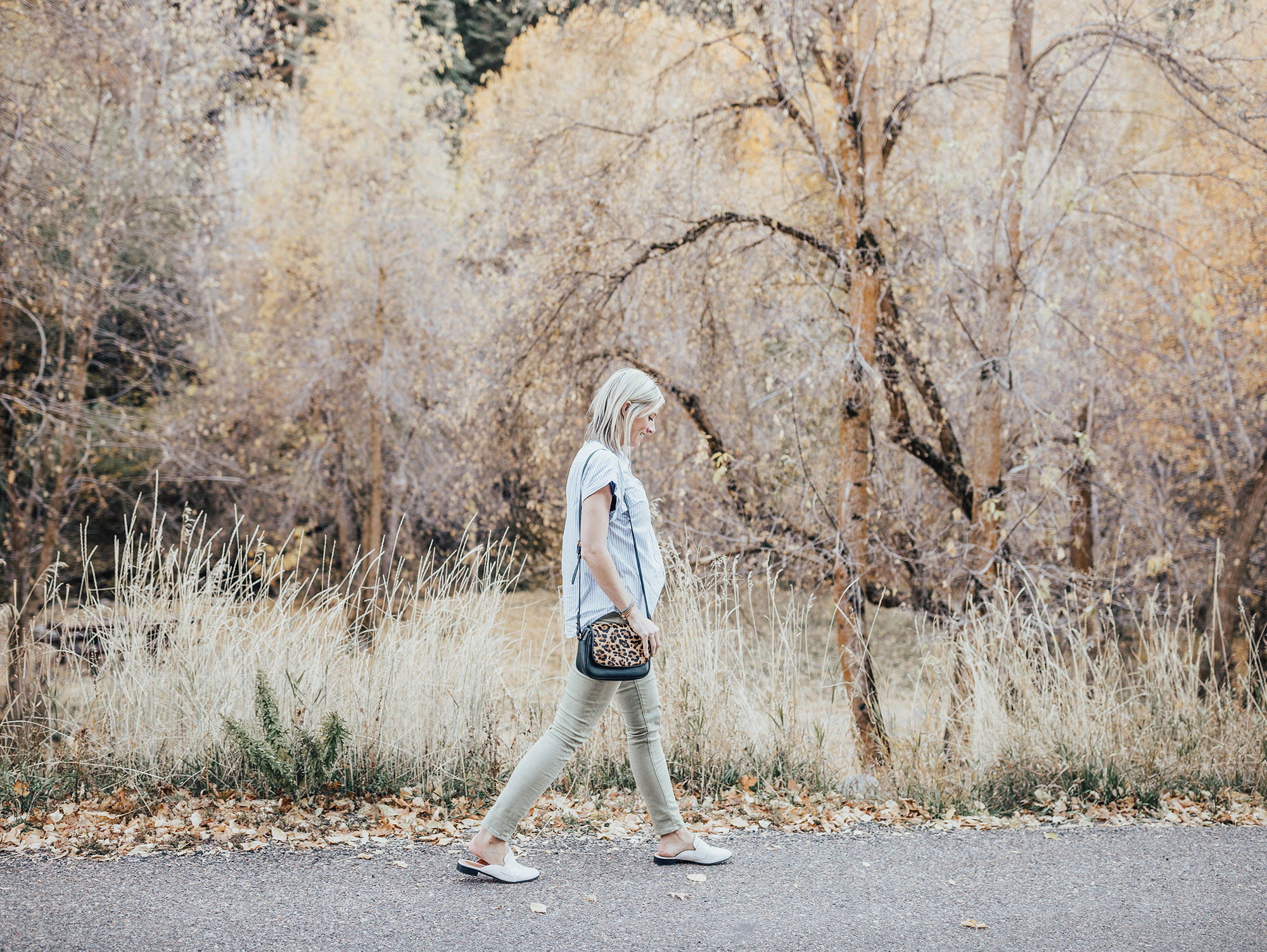 A Few Favorite Fall Transition Items
I've been wanting a new pair of olive jeans (as noted in this IG post), but didn't purchase any because I had linen olive joggers in my Summer Capsule.
Then I received these olive jeans in my August fix—just in time for fall!—and I knew they'd become a staple item in my Fall Capsule forevermore.
I can't get over how easy they are to mix-and-match with everything else in my fall wardrobe.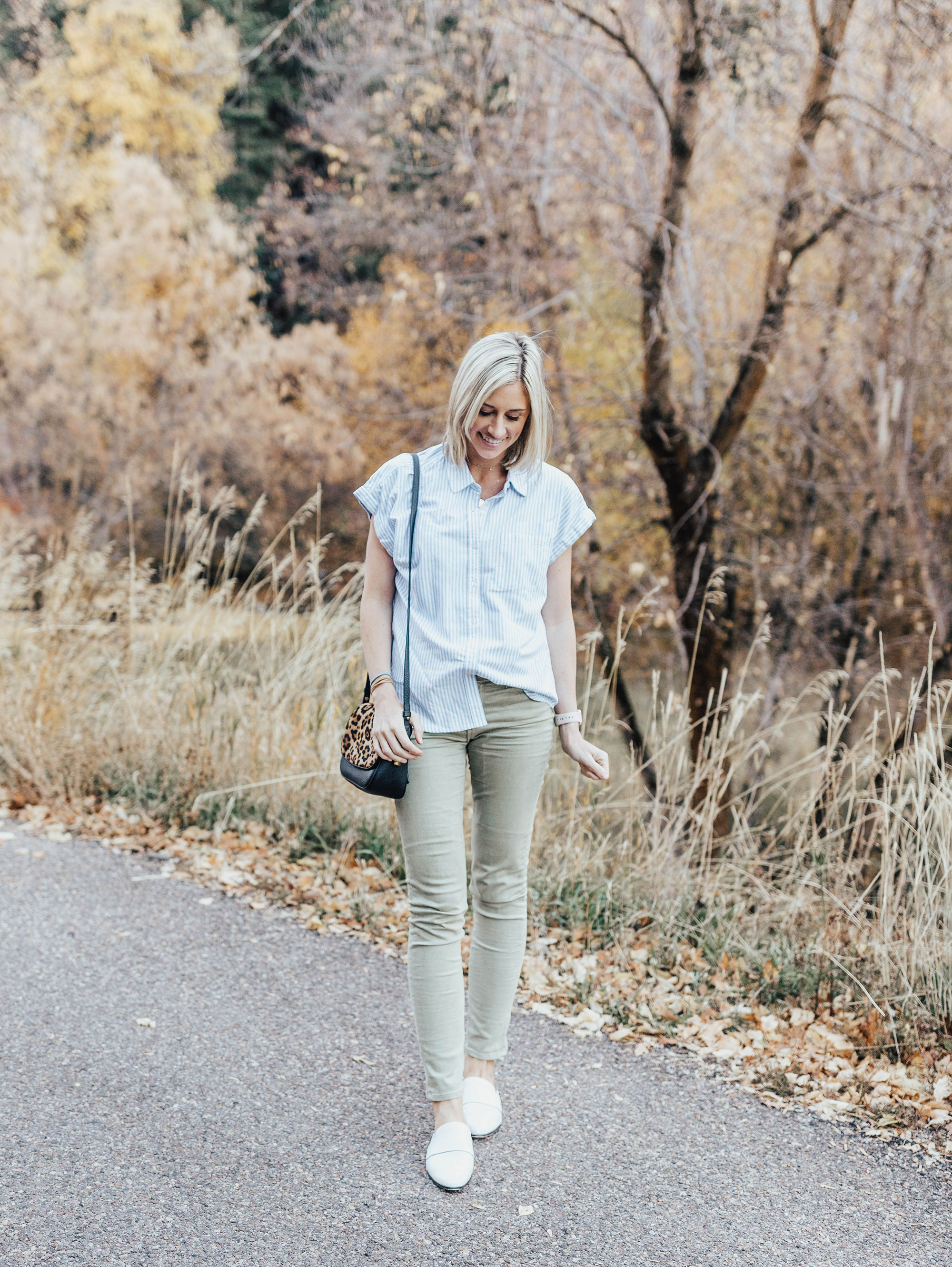 jeans: AG via Stitch Fix c/0 (similar) | top: via Stitch Fix (similar) | bag: j.crew | shoes: halogen via nordstrom (similar)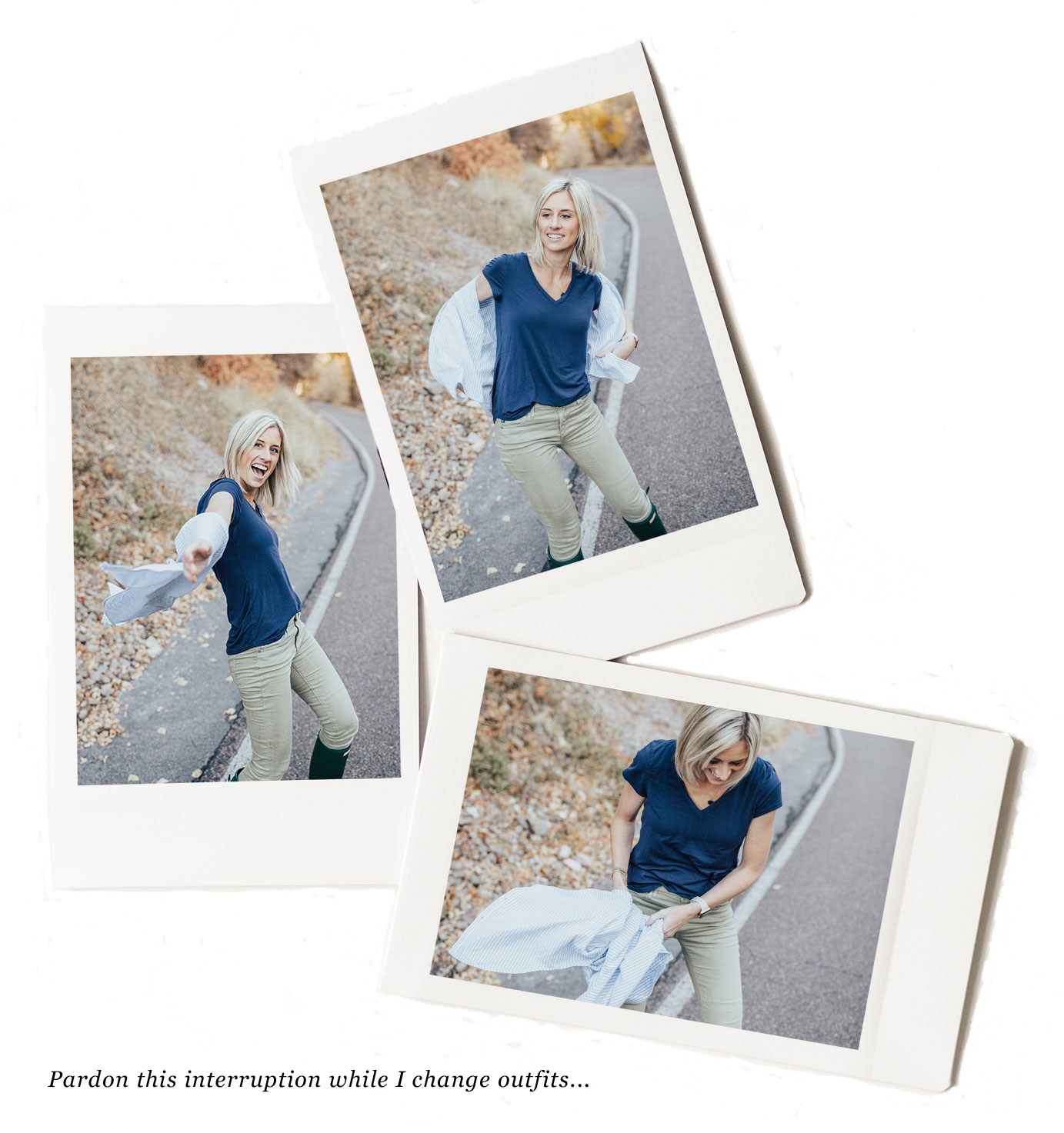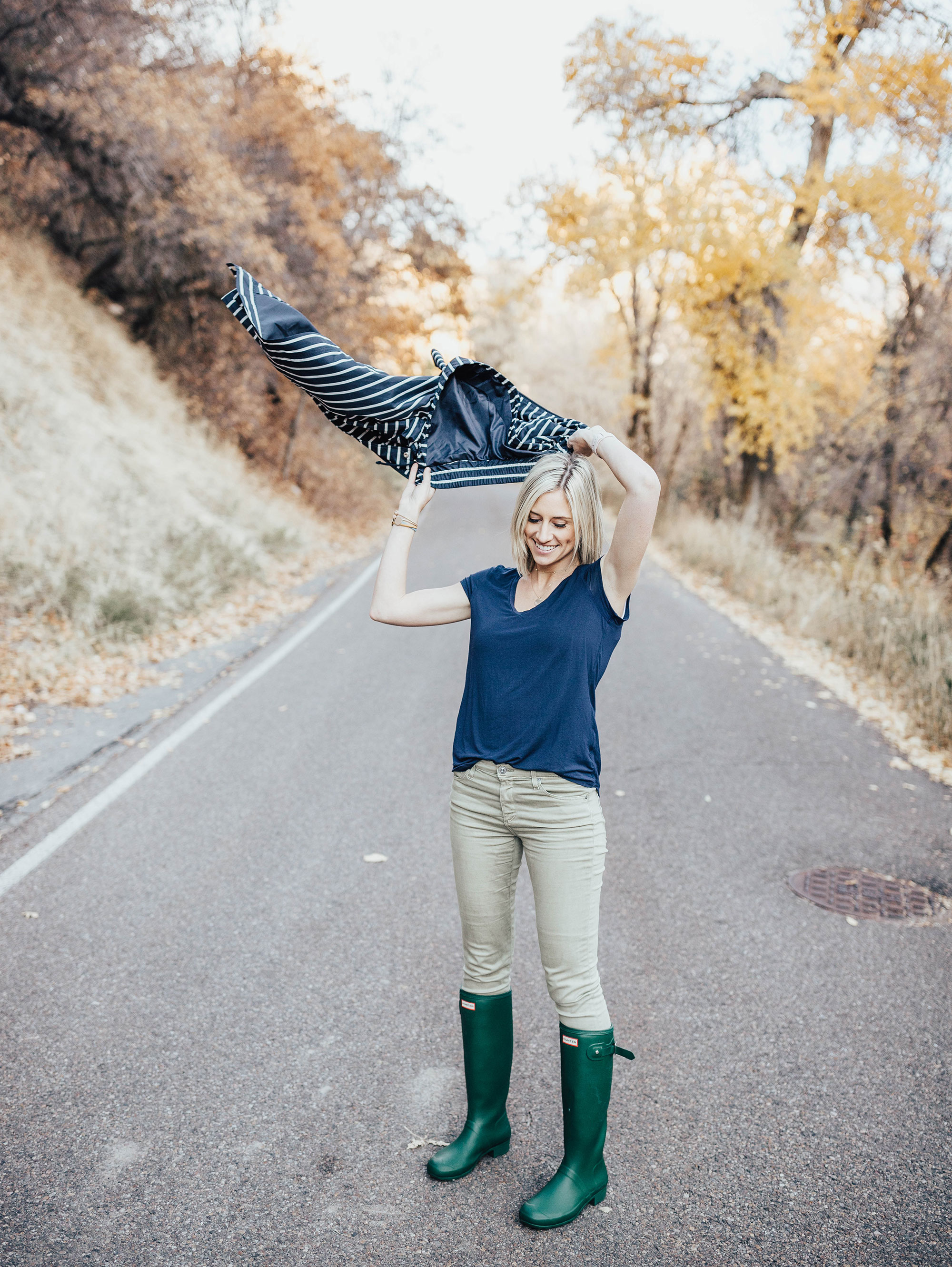 Finding Unexpected Fall Staples
You know those staple items in your closet, like tees and jeans?
Finding just the right styles can be so hard sometimes. For example, I love browsing tees online, but my decision to purchase always comes down to fit and feel.
With my Stitch Fix stylist, I can tell her this in advance and she'll do all the work of finding me a buttery soft v-neck tee with just the right stretch (describing exact v-neck tee pictured above–see brand info below!).
A tee like this is so great for transitioning from summer to fall as well as for layering throughout the season.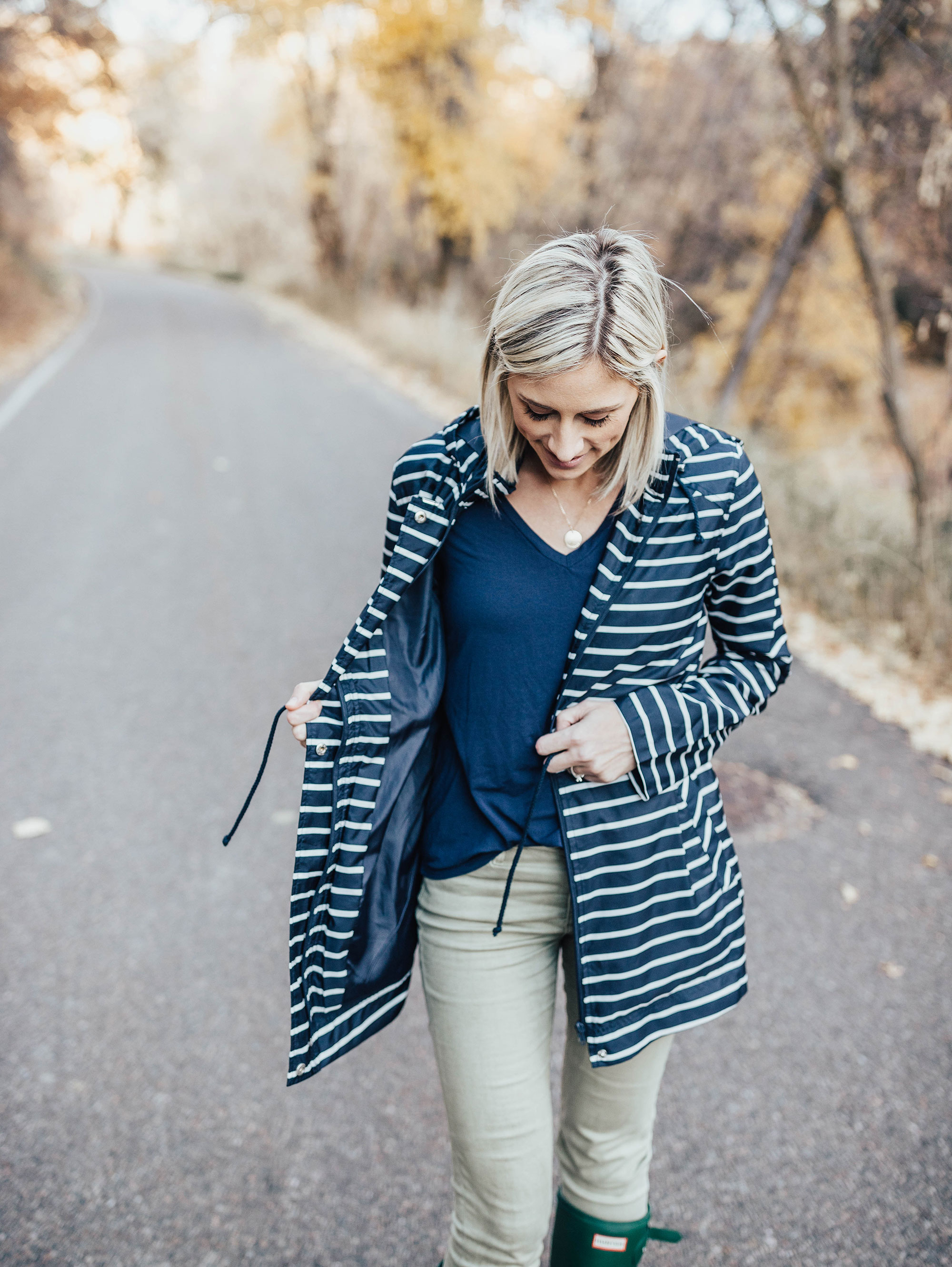 This cute, lightweight striped rain jacket came in one of my fixes this summer.
Because most of my Outerwear Capsule consists of heavy winter coats, I decided to keep this rain jacket for those can't-decide-what-temperature-it-wants-to-be months (like right meeow).
I would never have built my Fall Capsule with such intentional staples had these items not been suggested for my by my Stitch Fix stylist.
And confession: When I find something I like, I tend to buy the same styles in several colors (like this cardi #sorrynotsorry).
Stitch Fix helps me stay "fearless" in a way—suggesting new ideas and new styles to try so I don't get stuck in a "same-old, same-old" style rut.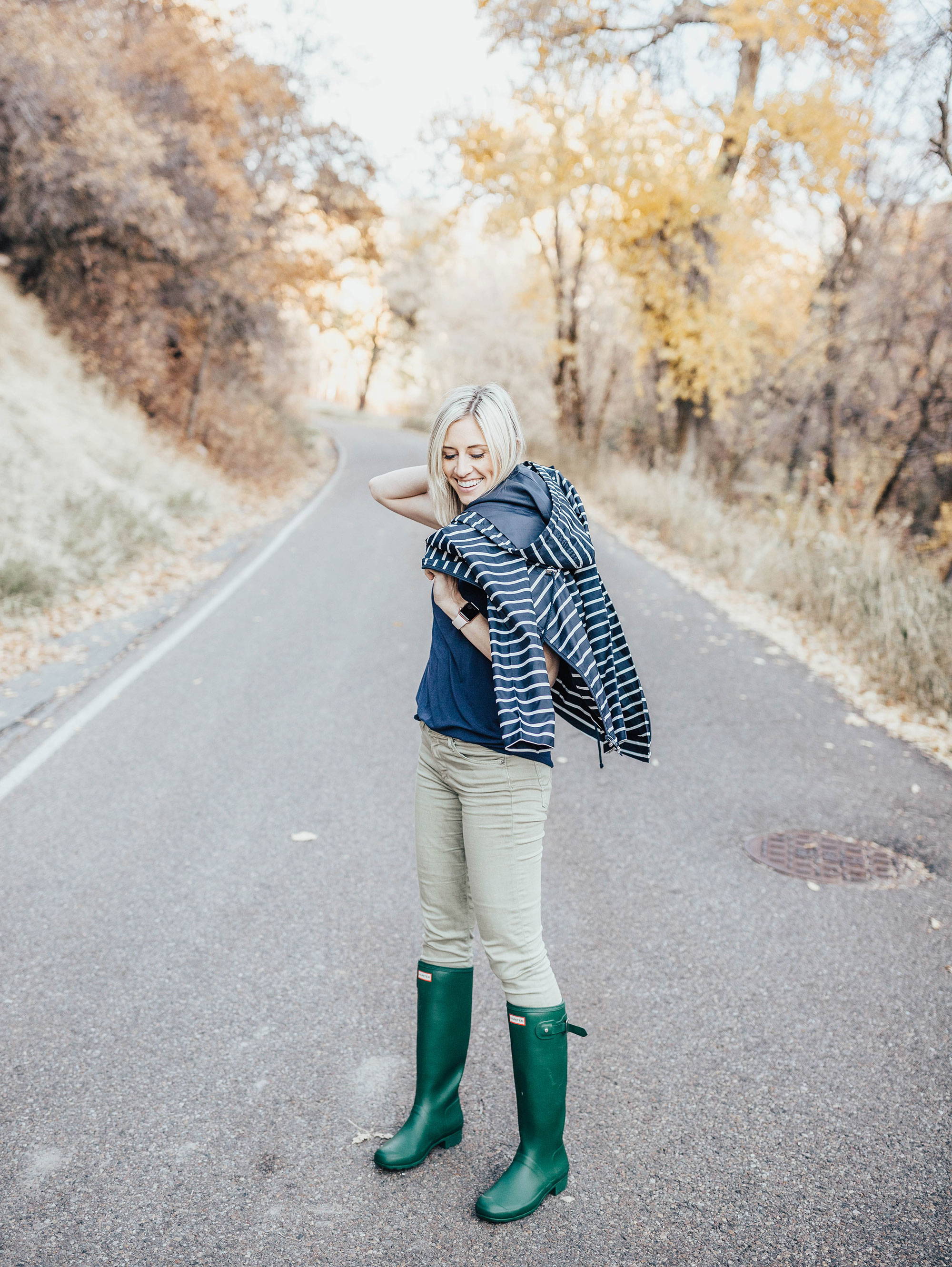 jeans: AG via Stitch Fix c/o (similar) | v-neck tee: MIX via Stitch Fix c/0 | striped rain jacket: RD Style via Stitch Fix c/0 | boots: Hunter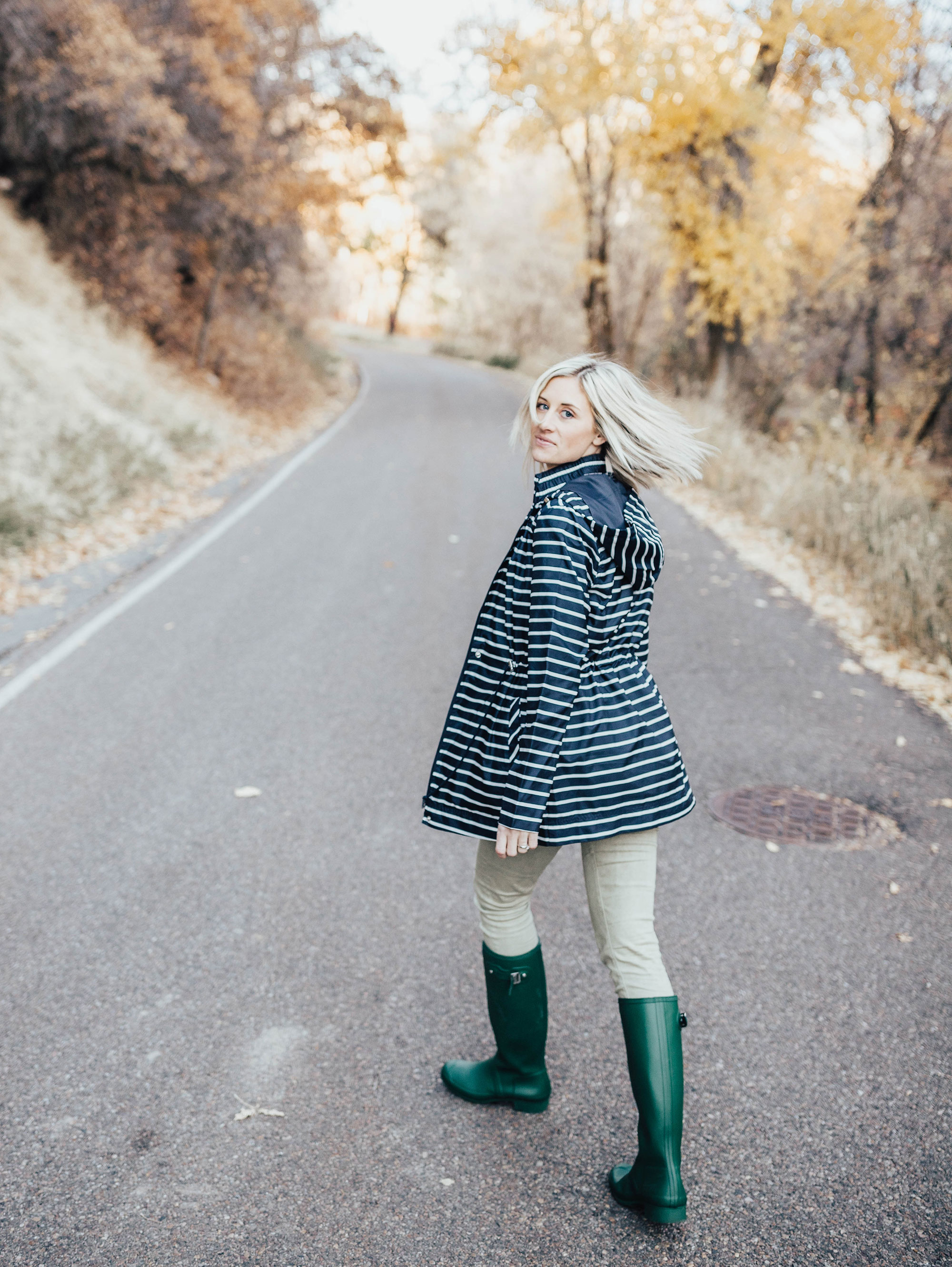 How Stitch Fix Works
If you've never heard of Stitch Fix or tried it yet, here's the quick rundown…
Stitch Fix has basically re-invented shopping.
You can keep your wardrobe up-to-date without having to work so hard at it.
You give Stitch Fix your size and style preferences (yes, via Pinterest inspiration board if you have one), and your stylist sends you a selection of 5 items picked just for you.
You have the convenience of trying everything on at home (where I put my capsule wardrobe mixing-and-matching to the test) and only pay for what you keep.
Shipping is free BOTH ways and you receive a 25% discount when you buy all 5 items in your fix.
You can also customize how frequently you want to receive your fixes, for example, monthly, bi-monthly, etc.
Everything about it is personalized to you—your fit, your budget and your style.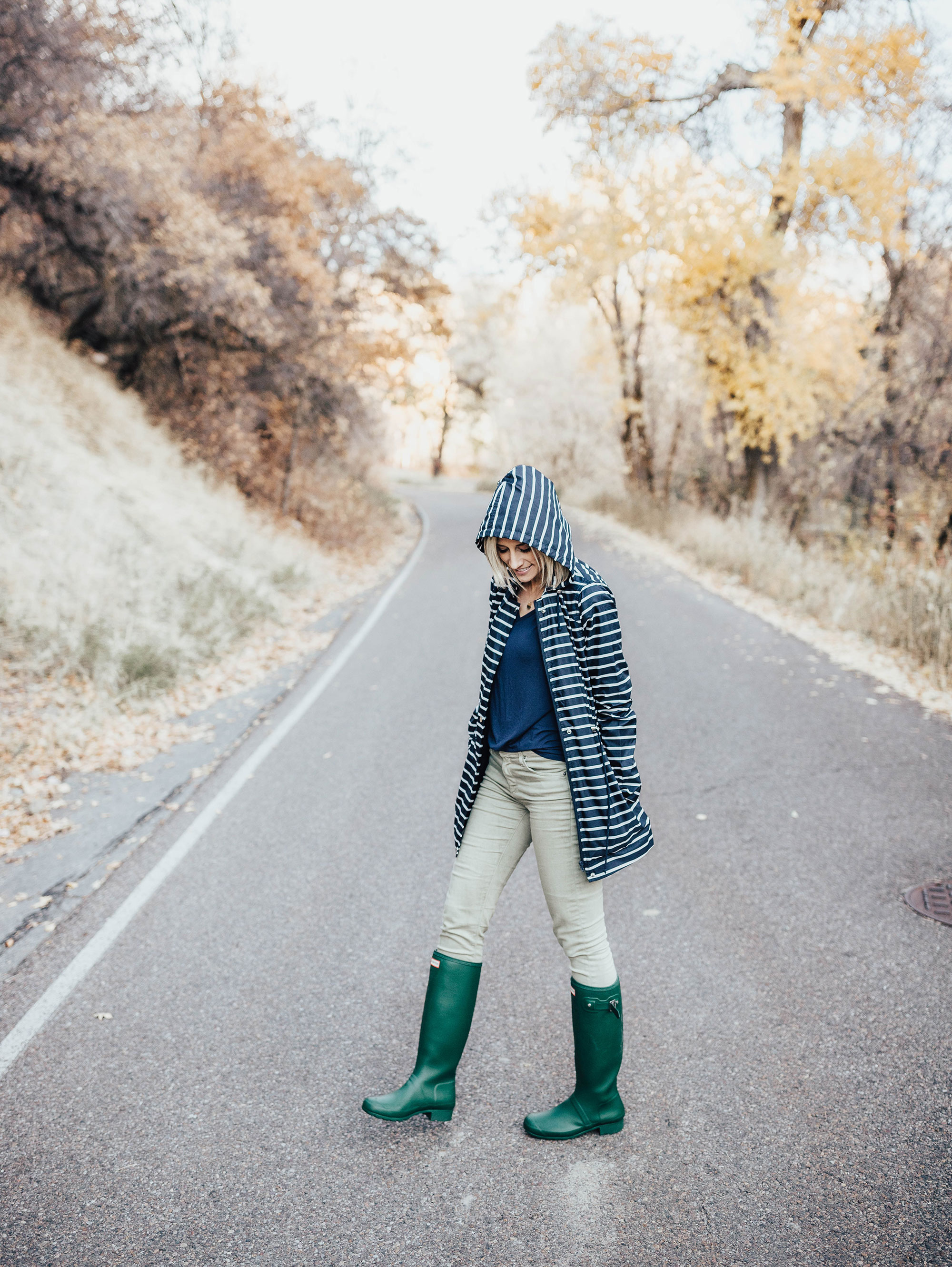 How do you find outfit inspiration these days?
I'd love to hear if you've tried Stitch Fix before or if you've been considering it.
It's become one of my favorite monthly discussion items with sisters and friends on the Marco Polo app!
It really has made shopping social and fun again.