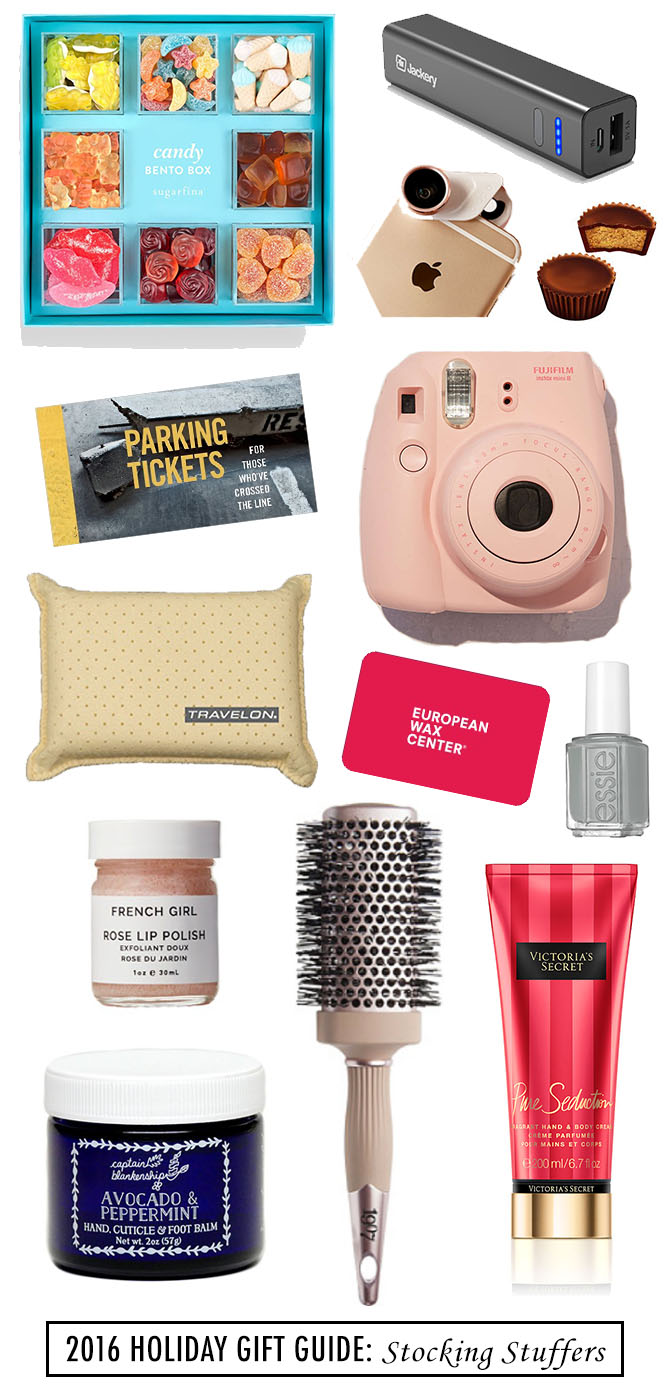 sugarfina candy bento box // portable phone charger // iphone camera lens kit // reeses peanut butter cups // parking tickets // fujifilm instax mini 8 instant camera // windshield defogger // ewc gift card // essie polish // follain rose lip polish // follain foot balm // fromm square thermal rounder brush // victorias secret body lotion
Stockings are something I look forward to every Christmas because I love coming up with random gifts for Matt. I try to do a few meaningful items and some necessities (like body care products or gift cards). We both like to give each other a few of our favorite treats (aka, candies) and these little custom books (he made me this one + I made him this one) that are fun to look back on over the years.
I always love getting grooming products in my stocking. I've been wanting to try this square thermal rounder brush by Fromm. You use it while blow drying your hair and you can straighten or curl with it. Plus it shortens the drying time, which is very needed in my life right now. If you wanted to give this as a gift outside of the stocking, I would recommend pairing with this liss luxe hair towel from Aquis (get 20% off your entire order until December 15! Just use code LITTLEMISSFEARLESSGIFT16 at checkout–code is good for a one-time use per person).
Matt and I have been trying to be better at giving each other massages like we used to in our newlywed years. I know he'll like this avocado and peppermint foot balm from Follain and I've been needing something to make giving the foot massage less taxing on my hands. I also love lip exfoliants this time of year because my lips get so dry! This rose lip polish from Follain would make the perfect stocking stuffer. You should check out their full "made for gifting" section on their site. All of the products are beautiful to look at as well as make great gifts.
Another thing we both like to get in our stockings are tech gadgets. Portable phone chargers are on my list again this year because I used my last one so much I decided we need them in multiple locations so there's always one available. These parking tickets are an old favorite. Click through to read a few. They are super funny and something entertaining to do on weekends when you're bored (or when you're out and about and see someone who's really terrible at parking). I've also purchased this windshield defogger from Eddie Bauer in the past and gave one to Matt, my dad and myself. They come in handy in the cold winter months.
I hope this stocking stuffer gift guide jump starts some ideas for you. For more holiday gift ideas, be sure to check out my gift guides for Baby, Him, Her, the Decor Lover and the Fitness Junkie, and stay tuned for more!

Special thanks to Follain and Fromm for partnering on this post. Select product samples provided by Follain and Fromm. All opinions are my own.