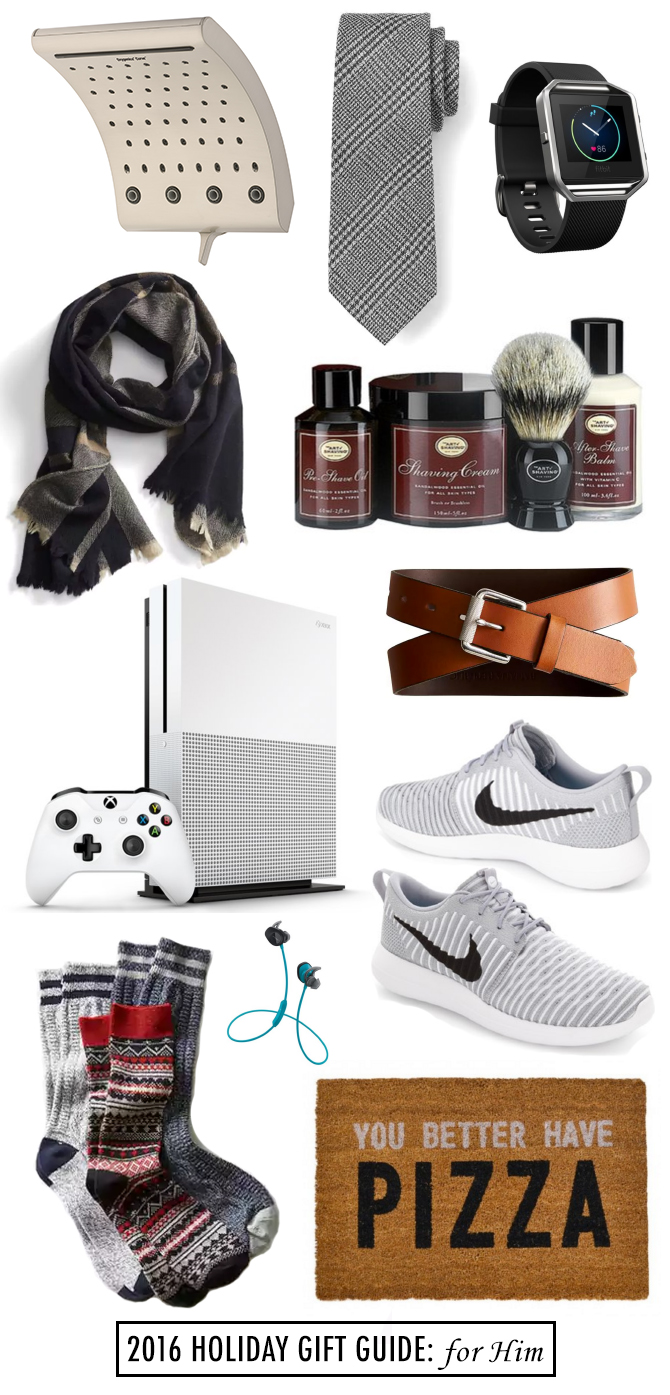 oxygenics shower head // plaid tie // fitbit // plaid scarf // shaving kit // cognac belt // xbox one s // nike runners // bluetooth headphones // socks // pizza doormat
Let's face it, buying for guys is hard. But each year that I am married, I tend to get a little more creative and better at gift-giving to Matt. He's still way better at the sentimental gifts than I am (fyi, people tend to give gifts they'd like to receive, which is why I always tend to buy him clothes), but I've come a long way since our first few holidays together.
We just got this Oxygenics shower head for our new house and it is a dream! It's like a luxury shower head, if that kind of thing even exists. And Matt is a big guy (6'5″) so he's always turning the water on full-blast in our current shower… but that's just because the shower head is tiny compared to him. You can get this amazing shower head at Lowe's in brushed nickel or chrome.
You've heard me rave about this Art of Shaving kit before, and I'm telling you, it is still in the top 5 gifts I've ever given to Matt. The first year I got it for him, I bought the starter kit so it wouldn't be a waste if he didn't end up liking it. But he loved it. So now I get him the regular size (lasts about 6+ months) and it's as much for him as it is for me (the Sandalwood scent is irresistible, no joke). Matt's favorite part of the kit is the brush and pre-shave oil that help lift his hairs for a closer shave, preventing in-grown hairs, which he hates. Totes recommend this gift for any guy who shaves!
Notice I didn't title this gift guide "gifts for men"–every guy still has a kid inside and mine loves to play Xbox with his friends. Luckily, he's not excessive about it, so I have no problem with him playing some Madden 17 or Call of Duty when he needs an outlet. It keeps him young. And yes, I consulted him on which Xbox is the "cool new one" for this gift guide–he recommended this Xbox One S. It's an investment so I'd get it if you aren't planning to go big on other things like tech gadgets or high-end clothes.
I always try to find at least one light-hearted gift that speaks to Matt's personality. This year, I got us this pizza doormat for our new house. I like that it's spunky yet design-friendly and he really likes pizza, so it's a win-win for both of us. In past years, I've gotten him books about pizza, shirts about pizza and even gift cards to new pizza restaurants we haven't tried. When you find something simple and personal, it's really easy to get creative, which makes gifting more fun.
Other ideas for sentimental gifts include a photo calendar (we make ours at Costco, and this was actually Matt's gift to me our first Christmas. He's done it ever since). Another favorite from Matt… bobblehead versions of ourselves. I don't know where he did this, but he found some place online where you send in your photos and they make you a custom bobblehead. This still tops the list for creativity. Lastly, tickets to concerts or comedy shows are always a favorite, especially now that we have a baby and don't go out on dates as much. Even if they were movie tickets I think we'd both be happy for the excuse to go on a date. 😉
Hope this makes your gift hunting for Him a little easier this year! Below are a few more gift ideas… (these have been winners for me in the past)
Happy Holidays!

Special thanks to Oxygenics for partnering on this post. Select product samples provided by Oxygenics. All opinions are my own.