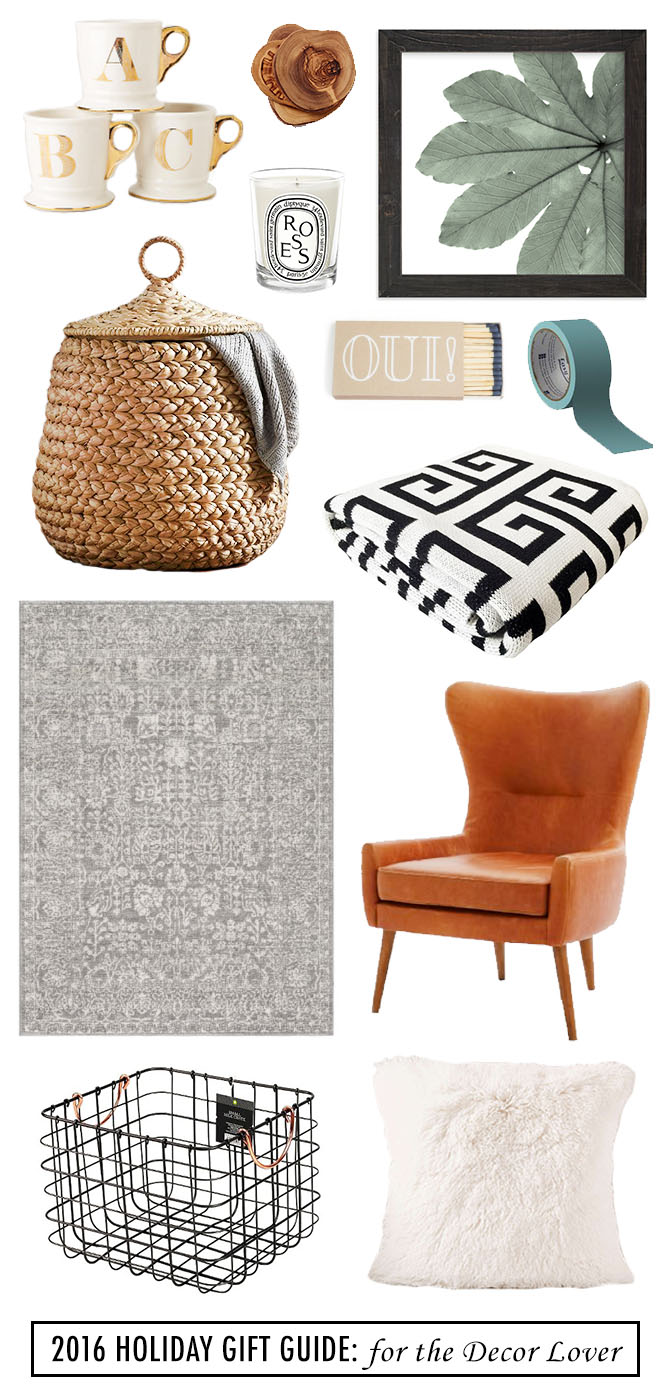 monogram mugs // wood coasters // candle // wall art // matches // walls need love easy stripe wallpaper // beachcomber basket // humble weave throw // gray rug // leather accent chair // wire milk crate // faux fur pillow
 I have had decor on my mind non-stop getting ready for our move. We don't have a huge space, so I'm even more mindful of choosing meaningful decor items, both functional and aesthetically pleasing. 😉 The above items are pieces I've either already purchased or am planning to, and I think would make great gifts this holiday.
I love my Anthro monogram mug (it's so photogenic!). I have this exact throw from Humble Weave and it's so luxurious and cozy. The knit fabric is really soft and the design would look perfect draped over a sofa or accent chair. I'm also researching these beachcomber baskets so we can store some of our cozy blankets in the living room for easy access on movie night.
I also own this versatile wire milk crate (I actually use it for diapers in Benjamin's nursery). Also used in Benjamin's nursery is this Walls Need Love Easy Stripe removable wallpaper (see my post on the nursery design here). I love Walls Need Love products because they're super easy to apply and they're not permanent, so you can switch up your wallpaper or wall decals anytime you want!
Lastly, I sleep with this faux fur pillow and it is a must-have!
If you have a friend or family member who loves home decor, I hope this gift guide gives you some fresh ideas to make your hunt for the perfect gift a little easier. For more gift ideas, see my gift guides for Baby, Him, Her, and stay tuned for more!
Additional favorite gift-able decor items below…

Special thanks to Humble Weave for partnering on this post. Select product samples provided by Humble Weave. All opinions are my own.