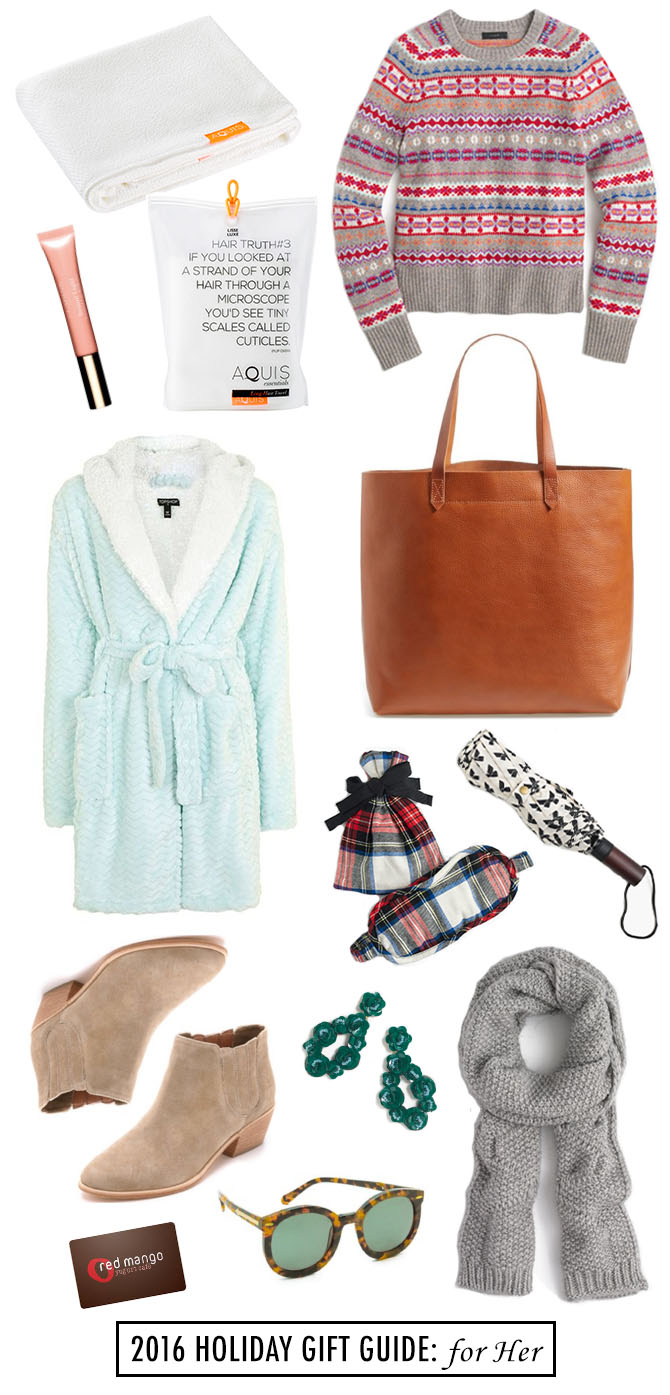 aquis hair towel (discount below!) // fair isle sweater // clarins lip gloss // hooded robe // classic leather tote bag // plaid eye mask // umbrella // joie boots (discount below!) // earrings // gray knit scarf // karen walker sunnies // red mango gift card
Gift ideas for Her are usually my favorite to pull together because I enjoy finding things that I would love to receive as gifts (hint hint! jk). They're also challenging because not all women (i.e., bff, sister, mom, co-worker) can be gifted the same way. However, I'm really proud of this year's roundup because I think it runs the gamut in terms of the different Hers you can gift to with these ideas!
At the top of the list is this Aquis hair towel. My hair stylist is always telling me that my hair is more fragile when wet, especially because I highlight it. In fact, she recommends I avoid combing it until it's dry to prevent breakage–have you ever noticed how your hair stretches when it's wet? Until I tried my own Aquis hair towel (the Liss Luxe towel), I had no idea the towel I had been using to dry my hair could've been adding to the damage. Aquis hair towels protect the natural integrity of your hair, keep your hair cuticles smooth to reduce frizz, and cut drying time in half. All in favor of more manageable hair, say I! Because I partnered with Aquis on this post, you can get 20% off your entire order until December 15! Just use code LITTLEMISSFEARLESSGIFT16 at checkout (code is good for a one-time use per person). I think this would make the perfect gift for any woman on your list, except maybe your co-workers. Depends on your relationship.
An easy gift that would be great for your female co-workers is this Clarins lip gloss. How do I know? Because my dear friend Lauren (member Lauren?), who was my co-worker before we became good friends, introduced this amazing lip gloss line to me and I am obsessed with it! I have #4 and I'm buying #1 (those are the color codes) for myself this week. It's substantial enough to stand on it's own as a gift and will make any girl feel glam. Tip: I paired mine with this lipstick today for a TV interview at work and I've never felt so confident in a nude lip (I usually look so washed out!).
The more bags I've purchased over the years, the more I just love a simple, timeless tote bag. Purchase one for yourself or go in on one as a together gift for someone. I'd be tempted to buy one for my mom, but it isn't really her style, so I'll stick to BFFs or sisters for this one. (Think of all the cute tulips they can carry inside come spring!)
These boots go without saying. I've had mine for a year now and wear them everywhere. Don't give these as a gift–they're too expensive. Just send your husband a link to this blog post. 😉 This gift idea is for YOU. Get 15% off with code GOBIG16 (ends Nov. 28 at 11:59pm PT).
Lastly, if you haven't yet experienced Red Mango (we call it "O Red" in our house because I thought the mango logo was an "O" the first time I tried it), promise me you'll try before the end of the year. They have locations around the world and the banana peanut butter protein smoothie is the most delicious smoothie on this earth. A gift card would go great with this scarf, earrings or umbrella for your bff, sister, mom or co-worker! And grab one for yourself. Matt gets me a $100 gift card for Christmas each year and it lasts me for months. Seriously one of my favorite gifts ever.
P.S. Don't forget the robe for yourself. Another reason to send your husband a link to this post! 😉
More of my favorite giftables below. And in case my gift guide has failed you, be sure to check out one of my all-time favorite resources for gift ideas.
Happy Thanksgiving Eve!

Special thanks to Aquis for partnering on this post. Select product samples provided by Aquis. All opinions are my own.