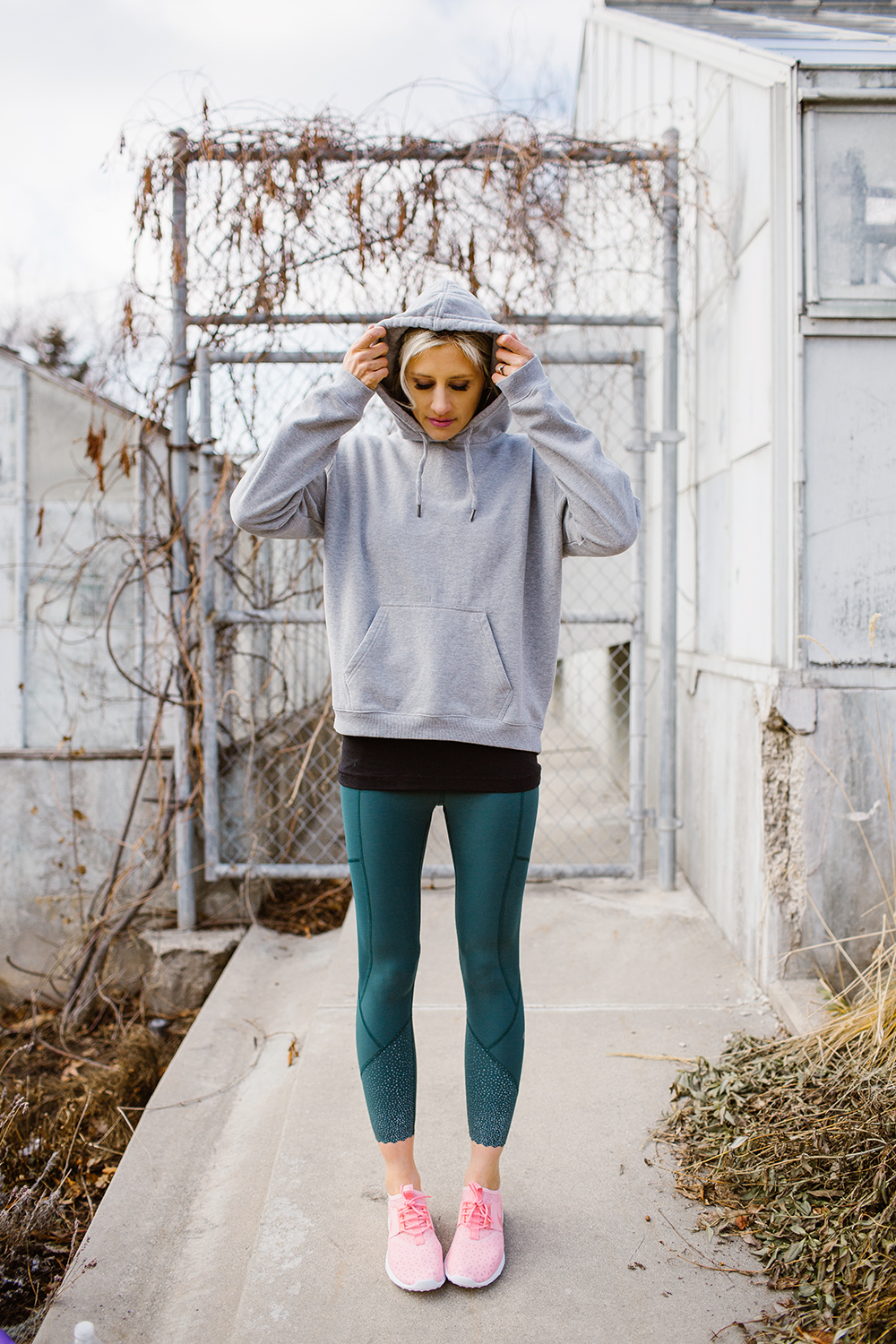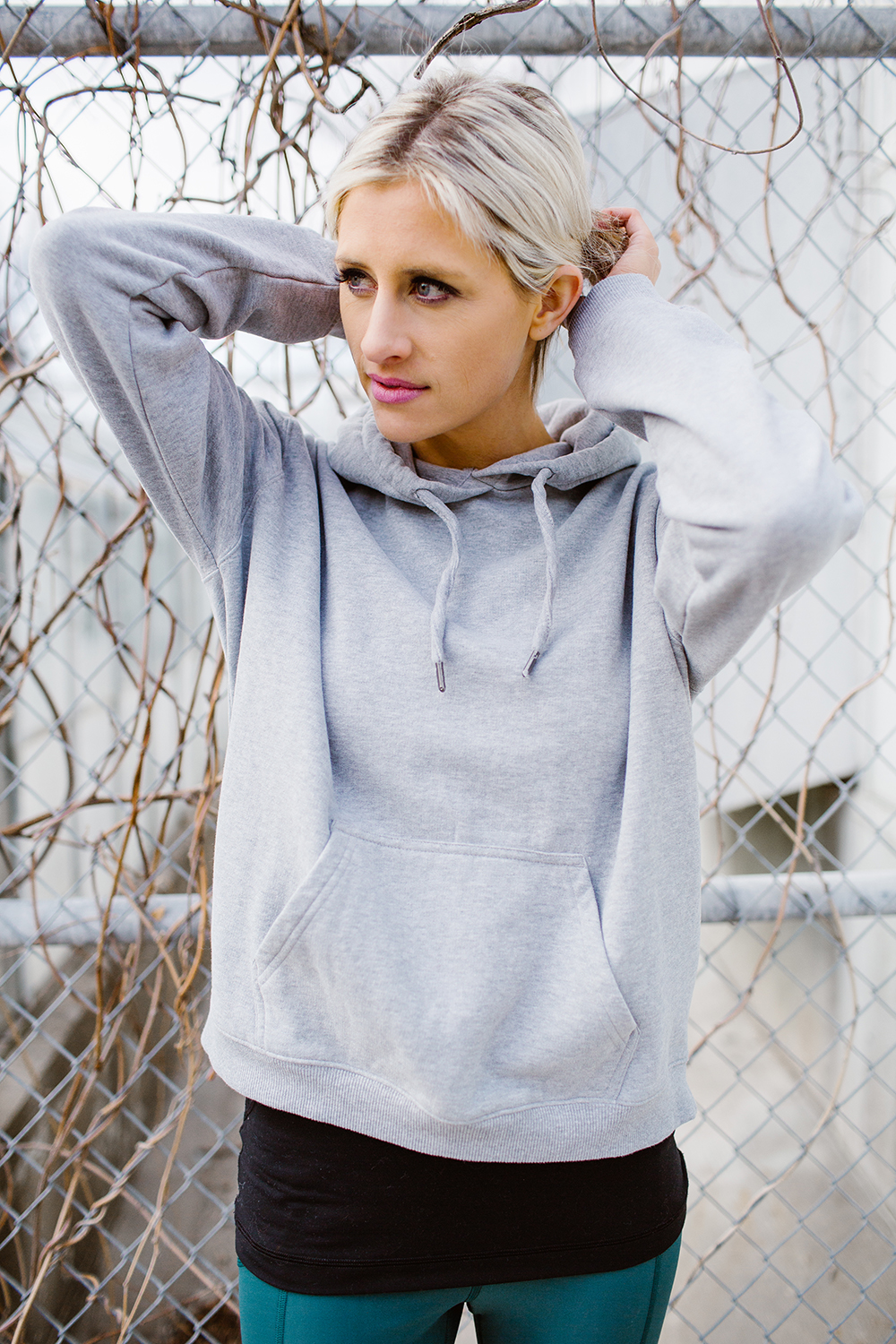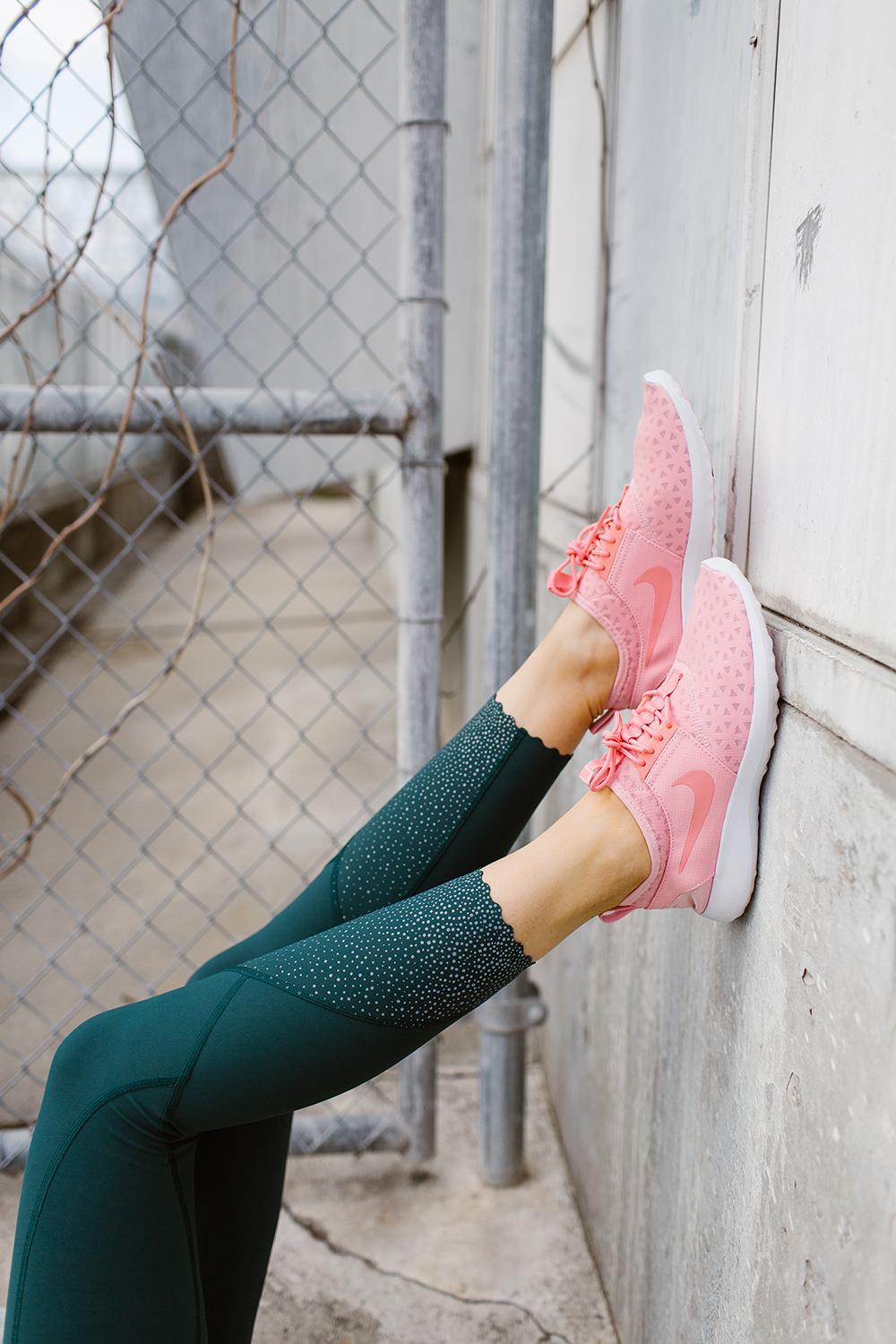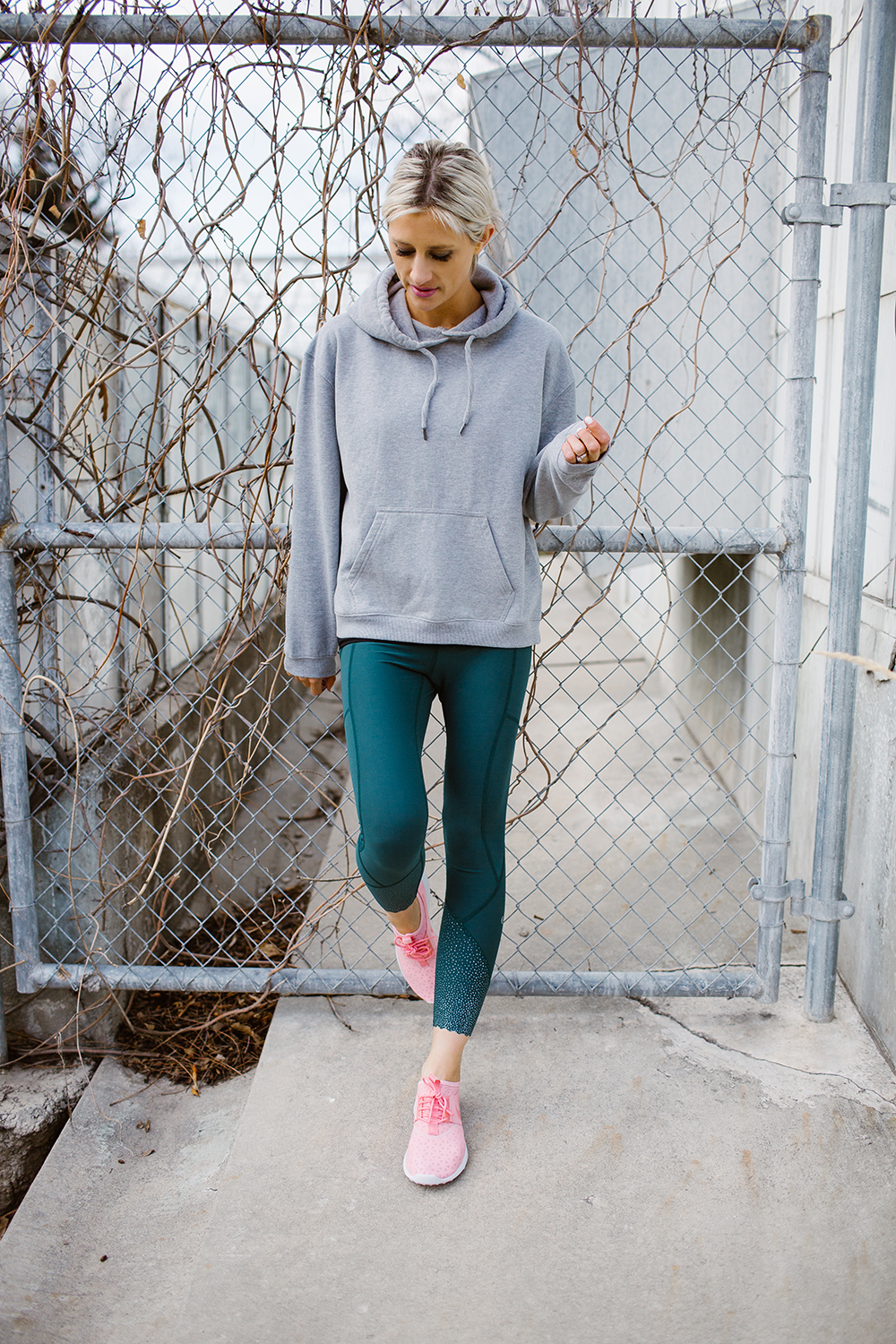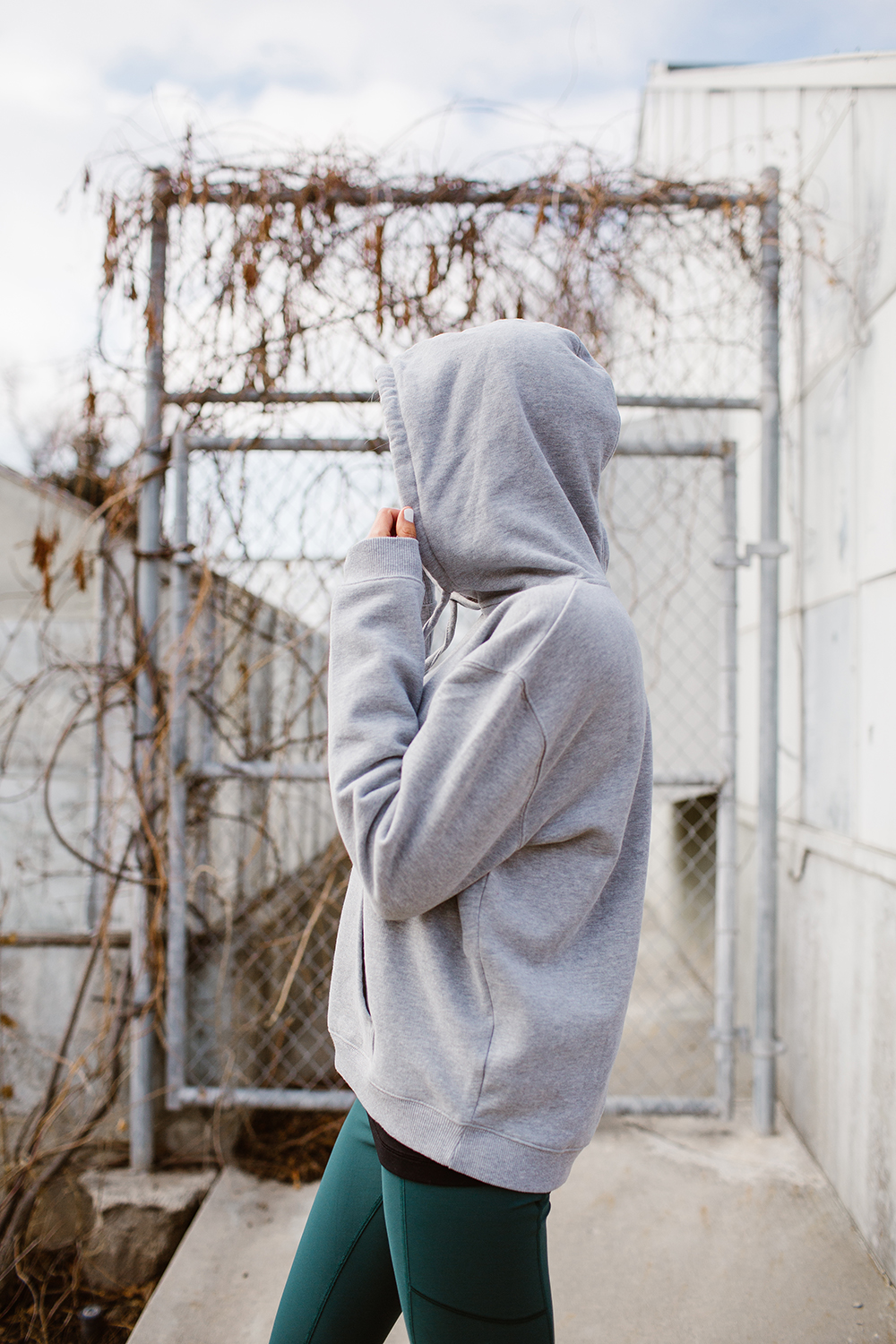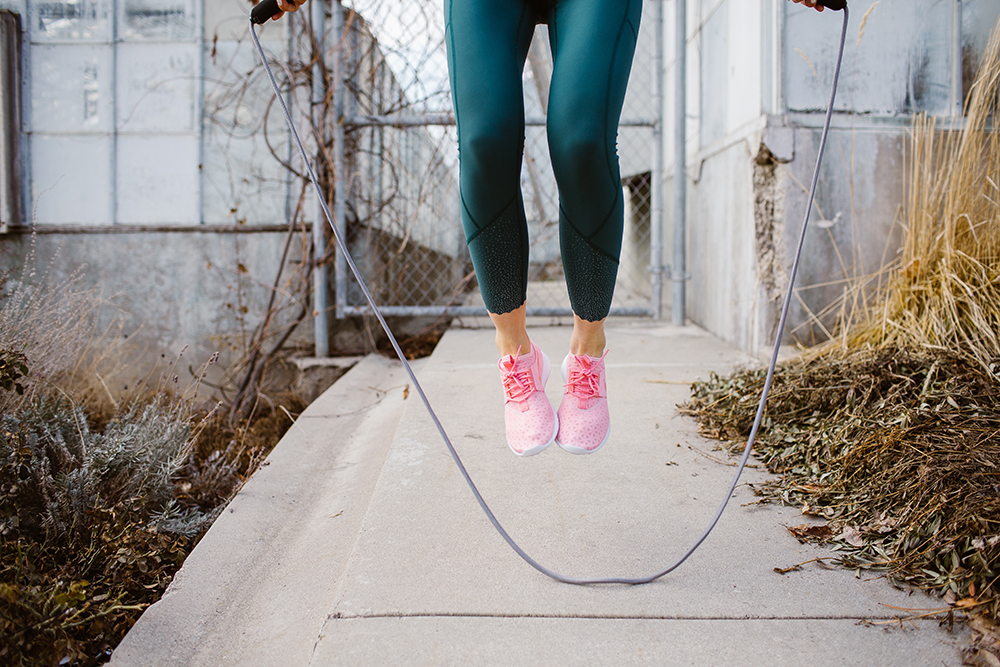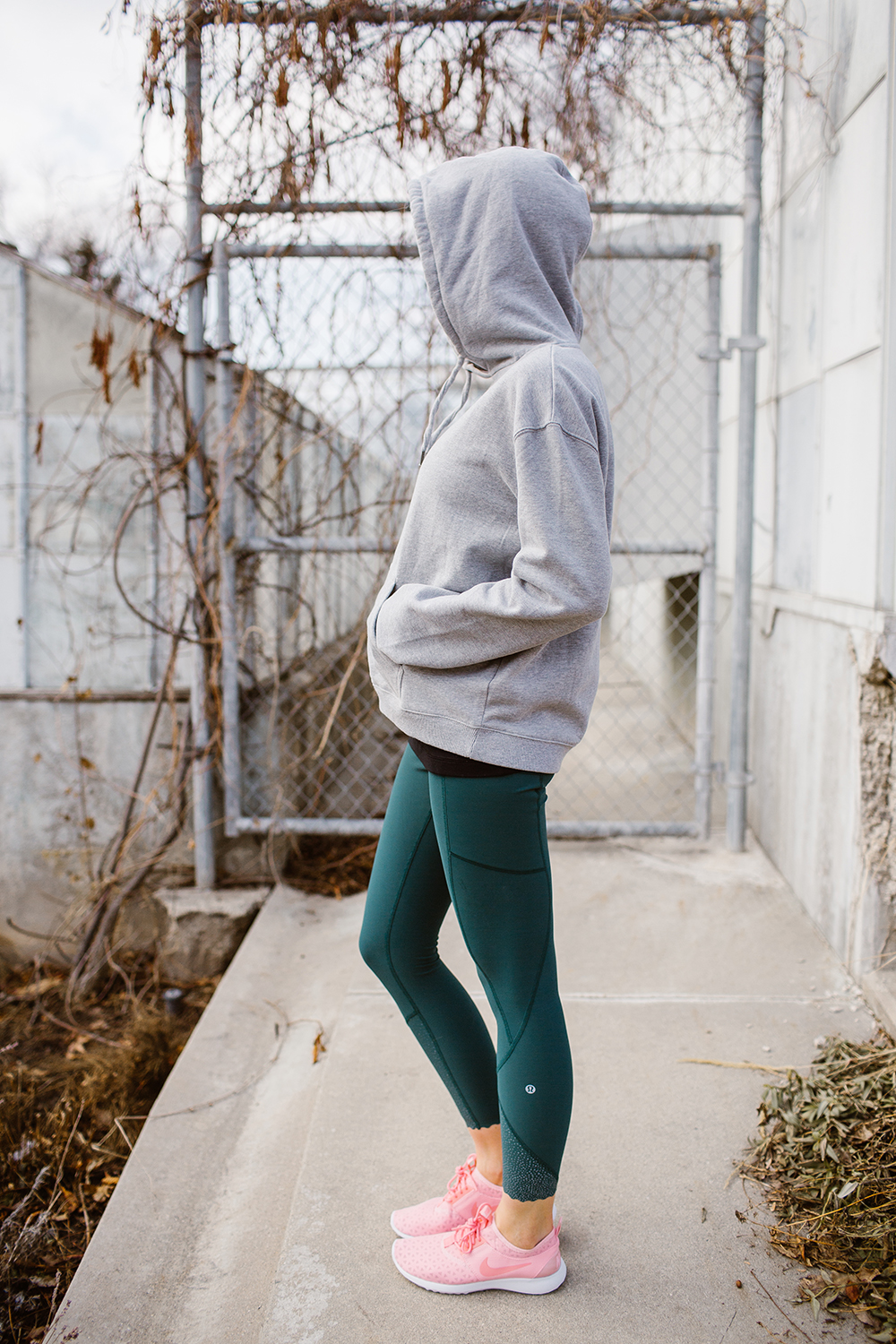 WHAT I'M WEARING
topshop oversized hoodie {similar grey style here} | zella tank top via nordstrom c/o | lululemon tight stuff leggings c/o {last seen here + here + similar green style} | nike juvenate sneakers {these are selling out fast! last seen here}

When it comes to fitness goals, I tend to go it alone. I've worked with trainers in the past and while they certainly help with the level of accountability, they also add to my perfectionist tendencies (my issues, not theirs) and I get burned out sooner because I try to follow the plans perfectly. The more experience I've had with following a workout or meal plan, the more I've learned about myself and what works for me. I need the accountability, but I also need the flexibility to mess up now and again without the fear of being reprimanded or punished (I'm hard enough on myself as it is).
Since starting Kayla Itsines' Bikini Body Guide, I have grown to love the flexibility of doing my workouts at home whenever it fits in my schedule, but I've also fallen in love with the community of likeminded #bbg women on Instagram. Here are 3 reasons why I think having a community will help you reach your fitness goals…
Someone to show up for – Depending on how much help you need in the accountability department, a community can keep you honest if you're willing to open up and share with them. For example, I started sharing Instagram stories after my BBG workouts and received feedback from those who watched that they looked forward to them. This encourages me to keep doing them, which then also encourages me to get my workouts in first. I feel like I have people waiting for me to show up each day.
A source for "real people" inspiration – Just because I've committed to a workout plan, doesn't mean I don't struggle. There are weeks where work and mom life (and blogging, whomp whomp) are so busy that I don't start the week's workouts until Thursday (like this week, for example). My friend Natalie (we've been friends long before BBG) sent me a direct message on Instagram the other day and we started talking about her BBG experience. She's currently a week ahead of me and said she's finally seeing results. Just hearing how excited she was made me feel motivated to keep pushing through it until I start seeing my own results and inspires me way more than the image of that supermodel I want to look like. Connecting with REAL people makes it all more REAL.
What goes around comes around – When I think of a community, I often think most about the support I'm getting from others. But the best part about sharing back with your community is that you may be inspiring someone who later will inspire you. It's a pretty cool thing to recognize. No one is 100% perfect or consistent all of the time but when you're feeling down, someone in your community may be on a motivational high (and vice versa). So don't give up because you never know who you're helping. Recognizing that you could be someone else's source for inspiration can take your motivation to a whole new level. It also gives you more purpose than just trying to reach a certain look or pant size.
Are you doing BBG or following a fitness plan?
What keeps you going? Where do you find support?
Photos by The High Pines.