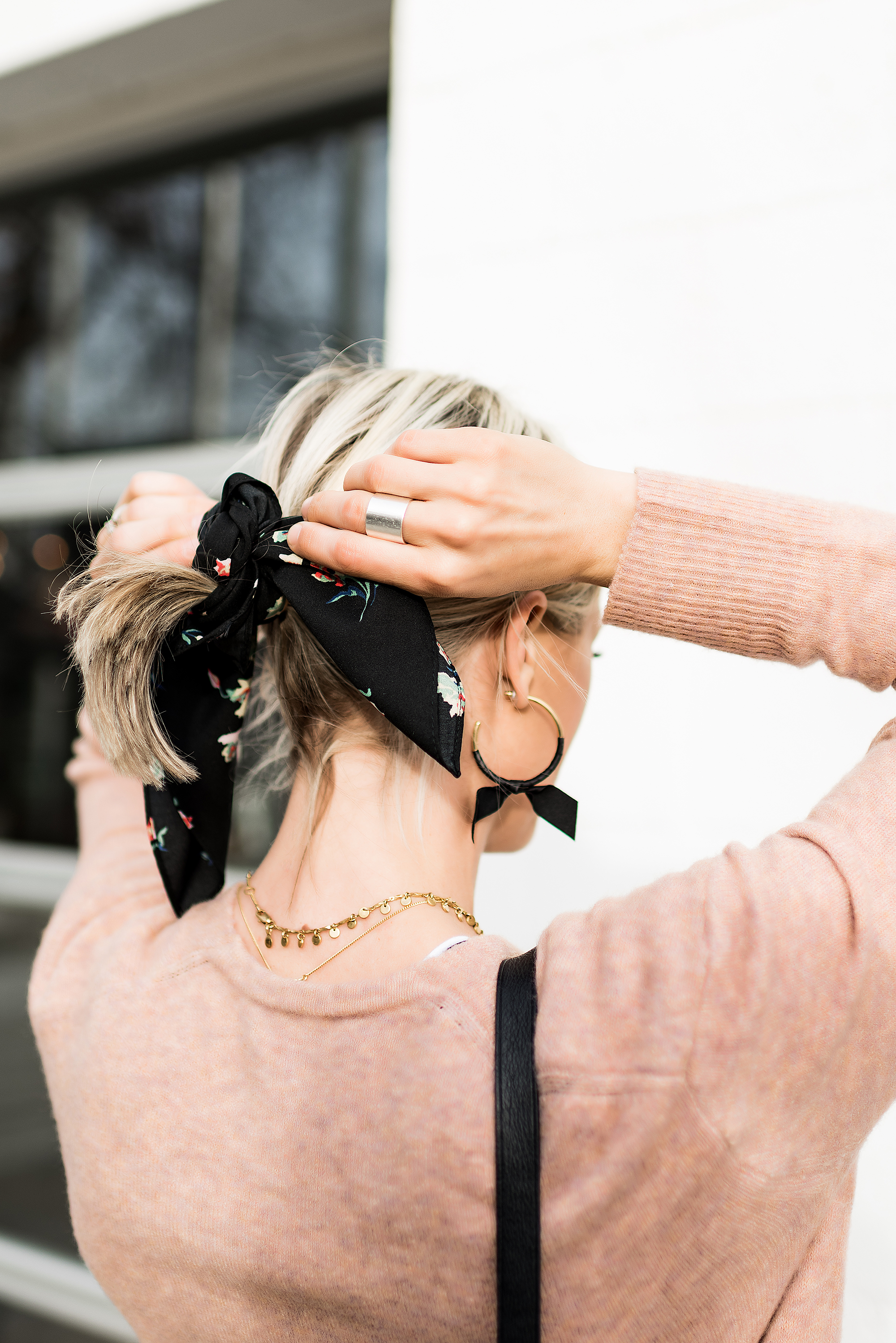 Let's say you're a new capsule wardrobe enthusiast, like me, and you're starting to get bored of how "simple" your wardrobe is. Need a new, affordable way to mix it up?
Enter: the bandana scarf trend.
I've been seeing this around for what feels like a couple years now, but I was slow to come around. Why? I honestly don't think the options for bandana scarf styles were as good as they are now. That's one benefit of waiting to adopt the newest trends — you may not be first, but at least you'll have a better selection to choose from for styles you really love.
Even if you're not into the whole capsule wardrobe thing, a bandana scarf is such a fun way update your look. See below for my compilation of 6 different ways to wear.

Shop the collage: 1 // 2 // 3 // 4
5. Wear a bandana scarf in your ponytail…
This silk skinny scarf is my favorite for wearing in my hair. It's not too bulky and works with any length, thickness or hairstyle. The silk scarf in the below photo is a standard bandana square and felt a little bulky for my small pony.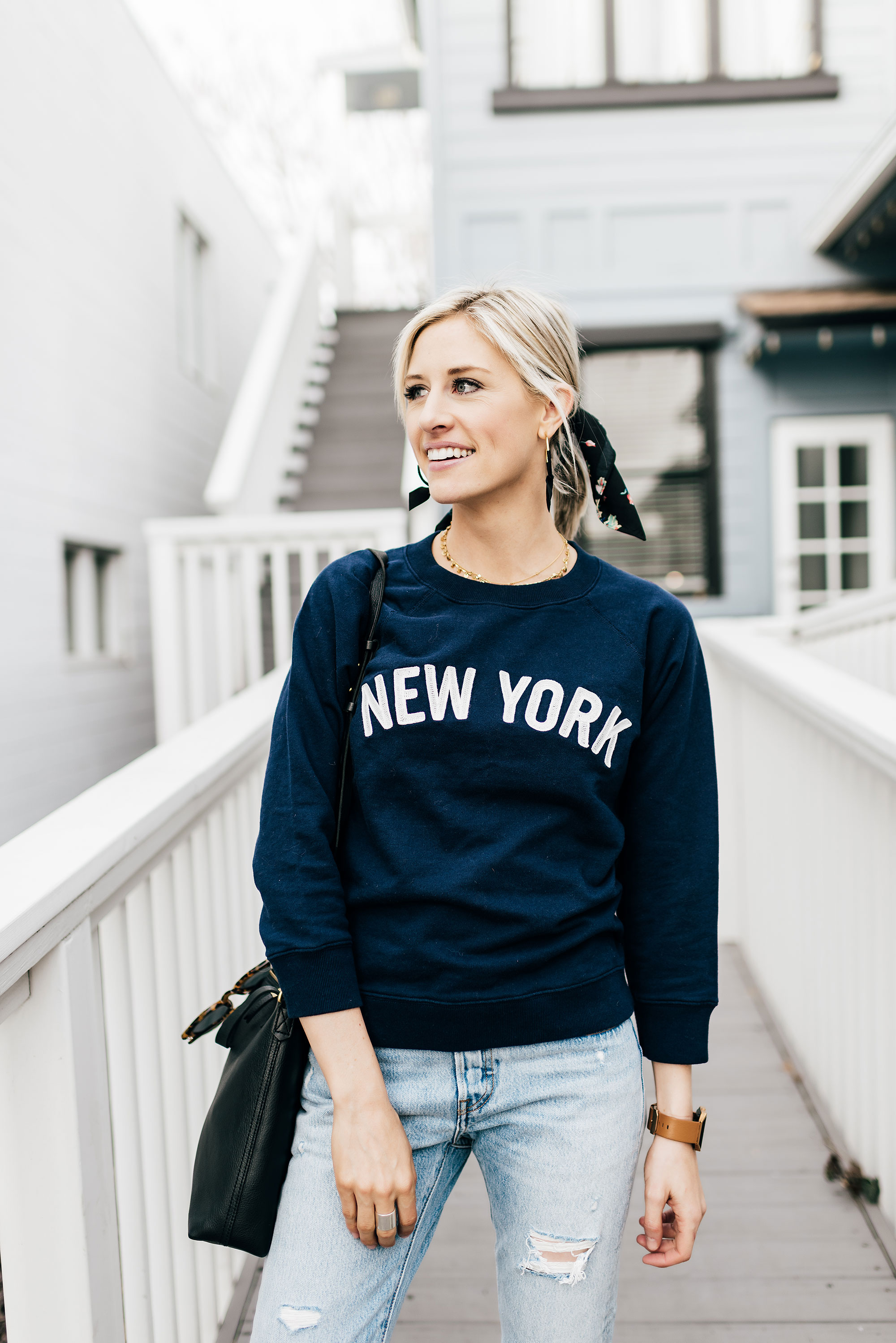 6. Wear a bandana scarf on your bag…
You can get away with any bandana style on a handbag, but I love the standard bandana square (as opposed to the skinny scarf used in my hair) because it makes more of a statement. Doesn't matter how big or small your bag is, either. Just tie a scarf on it.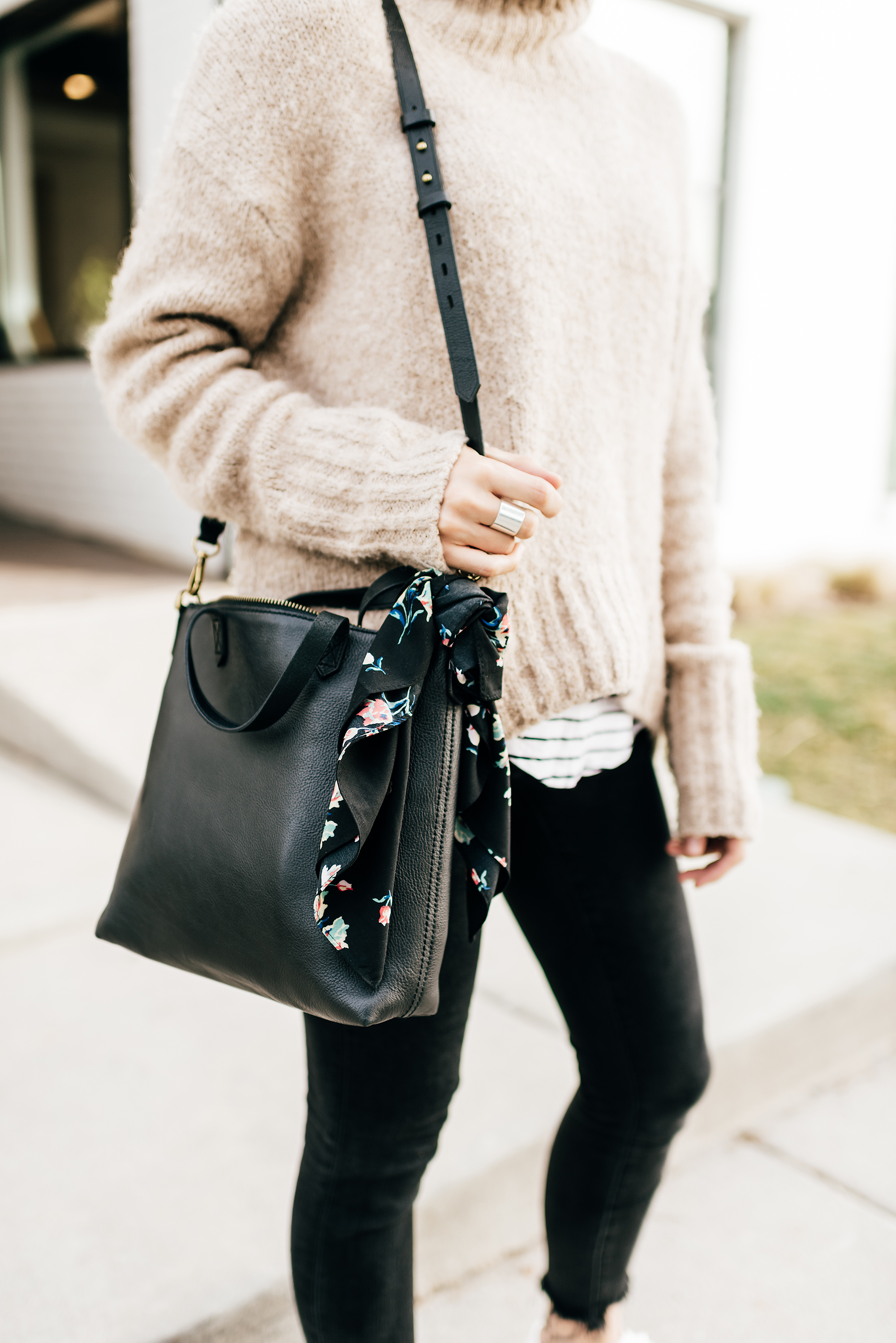 Why you'll love the bandana scarf trend
Ok, I'm just gonna say it — this trend will make your most basic and boring outfits more eye-catching. It also pairs effortlessly with dry shampoo (know what I mean?)!
With so many prints and styles to choose from these days, you can slowly work the bandana scarf trend into your wardrobe without feeling like a cowboy, hippie, biker or whatever it is that comes to mind for you when you see an old-fashioned bandana.
If you think you might like wearing it in your hair first, I highly recommend one of these silk skinny scarves. They're pretty subtle and feel almost more like a ribbon than a bandana.
Play around with the different ways to wear and you'll quickly realize how versatile this trend is. I'm enjoying it like a new favorite piece of jewelry that I can't stop wearing.
Now the important part: Where are the best places to buy quality bandana scarves?
SHOP MORE BANDANA SCARVES

What do you think of the bandana scarf trend? What's your favorite way to wear it?