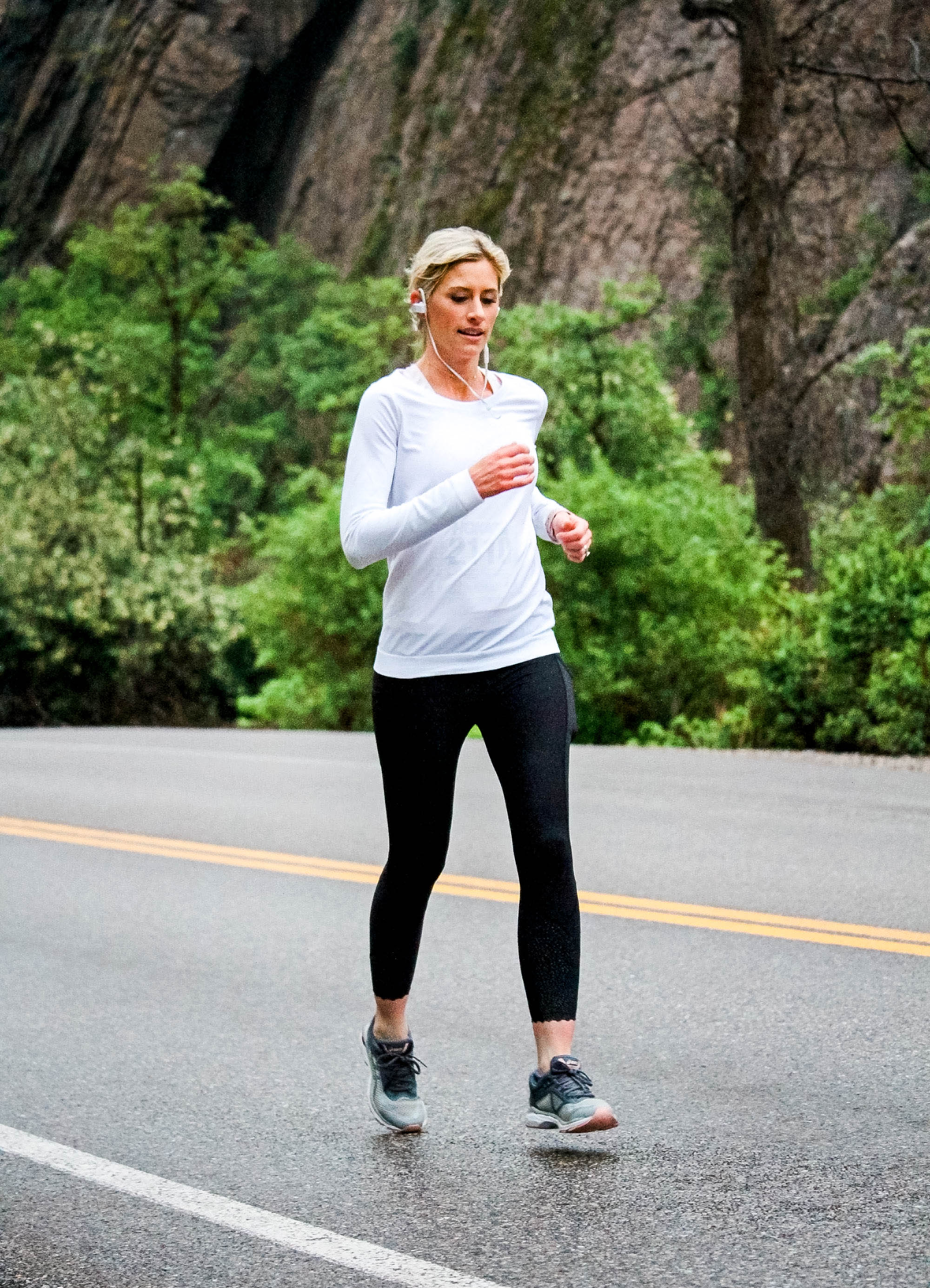 My first half marathon of the year was last Saturday and I decided the day before that I was going to run the 10k instead.
If you follow along on Instagram, you saw my updates that training wasn't going that great — primarily due to lack of time — and because of that, I developed some knee pain from a tight IT band (yes, my foam roller and I are good friends these days).
During my training process, I kept track of my distances and workouts and thought I'd share how my training actually went compared to my "ideal" half marathon training plan I shared back in February.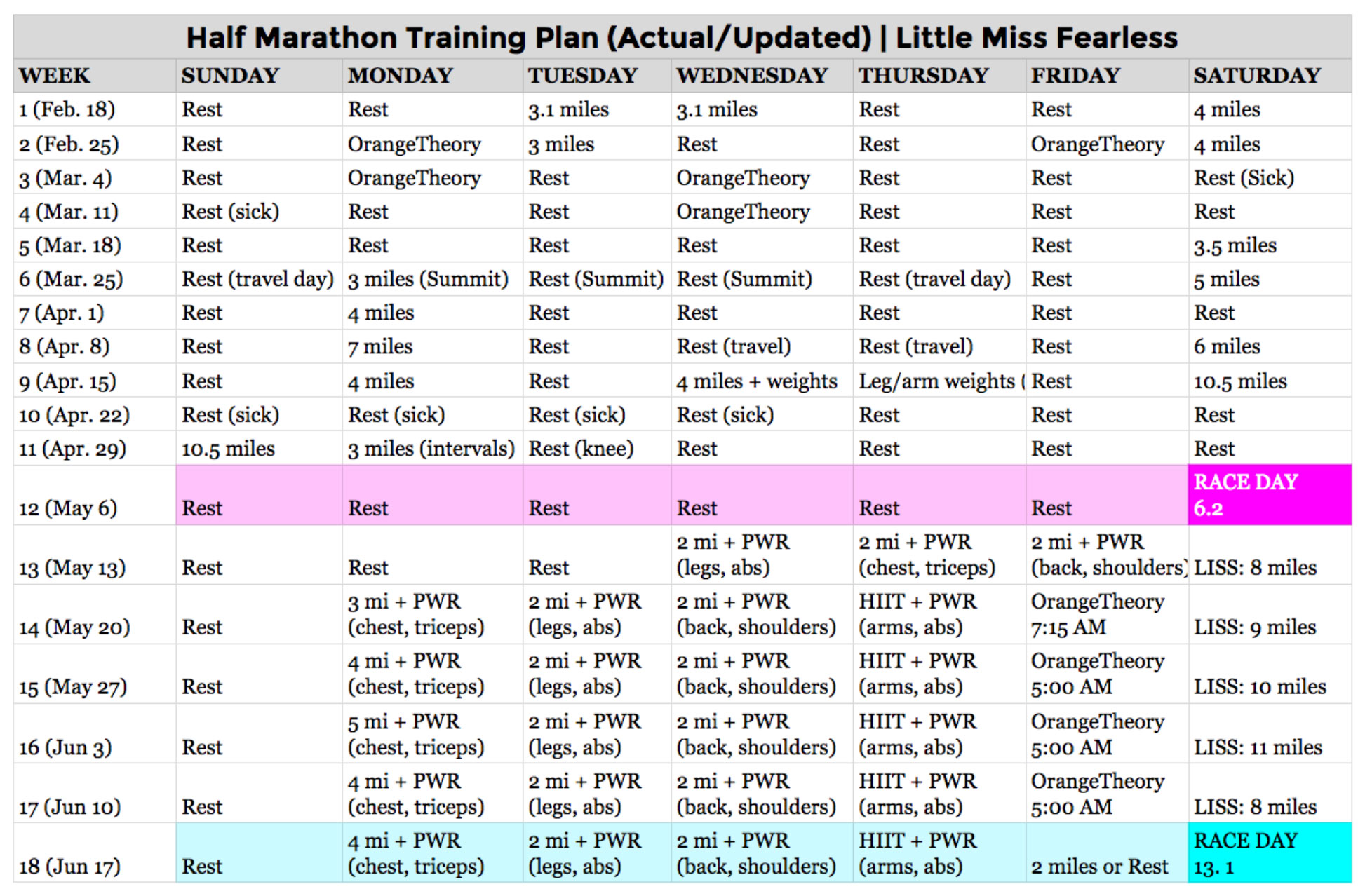 See all those rest days between week 1-12? REAL LIFE, people. That's all I can say. Real life happens.
What I learned from my failures
1.) I did my best. I had no intention of taking that many rest days when I started out. That felt like "failure" each time, but when I look back, I realize I was doing the best I could, given my circumstances.
2.) Races in the Fall may be a better fit for me. Spring is always my busiest season at work, with a major conference and lots of late nights and travel. Then you add in Benjamin's birthday, Benji and me getting sick twice in one month, me tweaking my neck lifting, and some days where I downright felt depressed and disinterested in running — and yeah. Not ideal training grounds.
3.) A short-distance run is better than a long-distance run that doesn't happen. I'm trying to get better at setting more realistic expectations with myself so that on days when I don't have time to run the 5-7 miles I prescribed in my plan, I can at least make time for 1-2 miles and feel just as good about it.
4.) Plans change. The entire two weeks before the race I struggled to make time for running. This completely crushed my confidence. I knew I could run 10-11 miles, but 13.1? I just didn't feel mentally prepared for that (or physically, given my knee pain). When I picked up my race packet the day before, I decided to defer my half marathon for a spot in the 10k (see #3 learning).
5.) One foot in front of the other on race day. Several times between my alarm going off at 4:20am, pulling into the parking lot at 5:15am and waiting in the rain for a port-a-potty at the start of the course, I thought about quitting. I didn't anticipate the freezing wet temps, I didn't dress appropriately for it (going forward I will always bring gloves), and I was running alone (my poor friend whom I signed up with got a stress fracture). I literally kept telling myself, maybe I'll just stay on the bus and have them drive me back down. But I just kept putting those doubts and fears off and took it one moment at a time. Then when the race started, I took it one step at a time.
6.) Run your own race. I didn't sign up for this race to set a PR, I did it for that feeling of working toward a goal and being a part of a bigger community (that's what I love most about race day). Because this course was completely downhill, my knee started acting up after the first two miles. I had to give myself permission to stop and stretch, walk if the road got too steep, and completely block out any negative self talk about how "real runners" don't walk, don't run slow, etc. I just did my thing, enjoyed the scenery and stayed present in the moment. This made the whole experience worth it.
7.) Get stronger. As I was working through my knee issues during the race, I noticed two things: 1. My cardiovascular system felt solid and strong; and 2. my hip and leg muscles felt weak. I decided before I crossed the finish line that I would spend the next several weeks before my June Half Marathon strengthening my muscles with weight lifting. And that's why you see the SWEAT PWR workouts as part of my updated plan going forward.
This little journey has been wild with lots of unexpected turns and challenges, but when I finished that 10k race on Saturday, all I felt was gratitude that my imperfect body is healthy enough to run and walk and move. I felt proud that I didn't quit and realized just how capable I really am. I'm excited to keep training for my half marathon in June.
American Fork Canyon Run Against Cancer
If you live in Utah and want to run with me on June 23rd, sign up for the AF Canyon half marathon, 10k or 5k (there's even a KidsK!) and get 10% off with code: LMFearless18. We don't even have to run together, I'm just happy to be able to offer you a discount. I've heard the course is beautiful and the best part is 100% of the race proceeds go to help local cancer patients. I'm so excited to run with this community and I'd love to see you there.
What are your feelings about running? Love? Hate? Also, are you interested in more posts on my running or PWR workouts? Let me know in the comments. Thanks for reading. 😉