Brought to you in partnership with Minted. Select products provided c/o Minted. All thoughts and opinions are my own.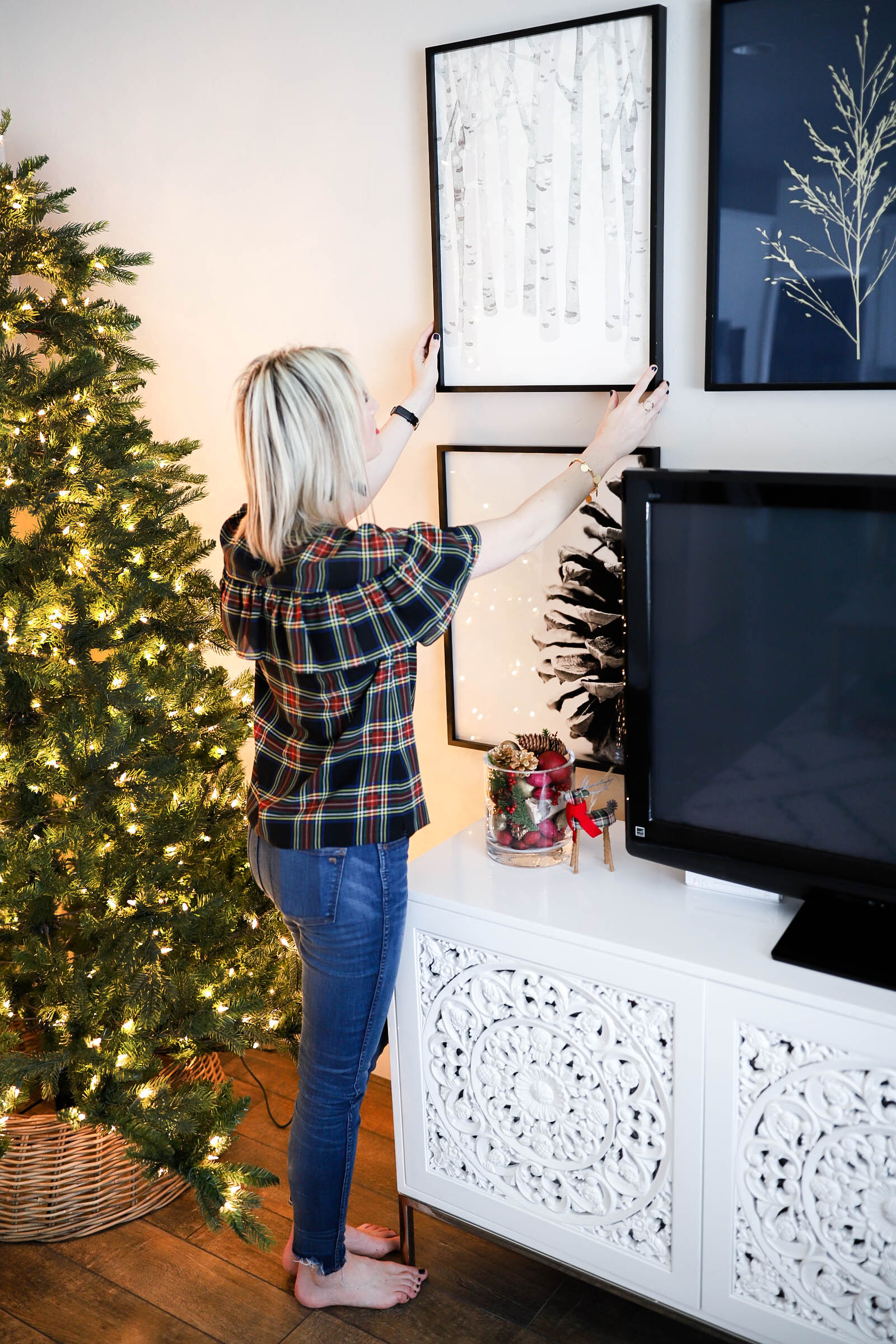 Growing up, my home at Christmas time felt like the coziest, most festive place on earth. I remember my siblings and I helping my mom bring all the holiday bins in from the attic and spending several days putting each Christmas decoration in its rightful place in the living room, dining room, kitchen and entryway. My mom put tape on the bottom of each object and marked its location with a sharpie. Some years I'd take photos just to help her remember how to decorate again the next year.
Decorations galore!
I loved everything about it. We'd play Christmas music, take hot cocoa breaks and dream about being out of school. We had at least two advent calendars to count down to Christmas and I loved being the first one to mark the date each morning.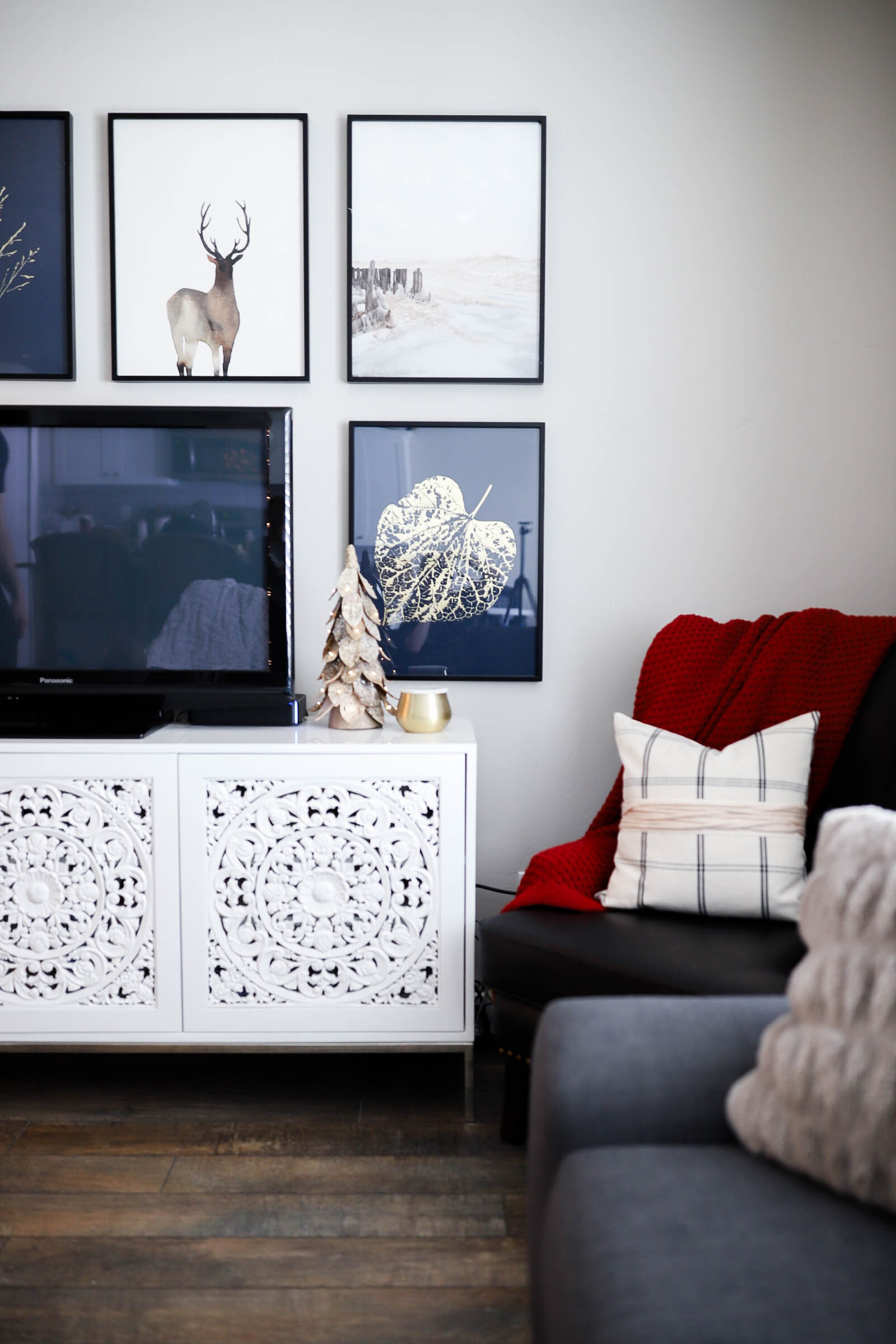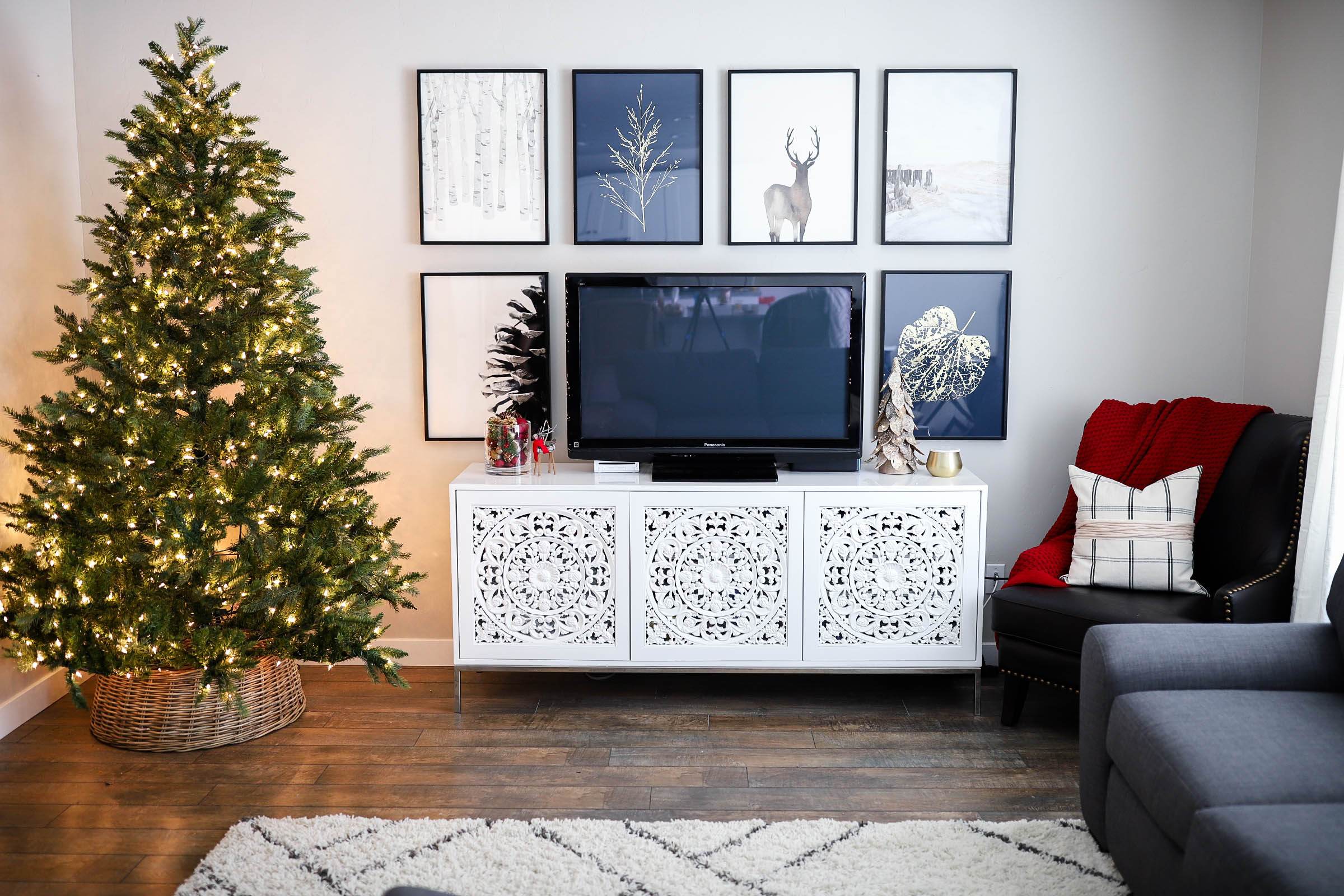 My mom definitely knew how to bring the spirit of Christmas to our home and it's something I hope I can recreate, in my own way, as my children grow.
That said, I have nowhere near the collection of decorations that my mom has accumulated over the years. And in our small space, I kind of prefer it that way. I like looking for simple ways to update my home for the holidays so I'm never overwhelmed by the task and always look forward to it.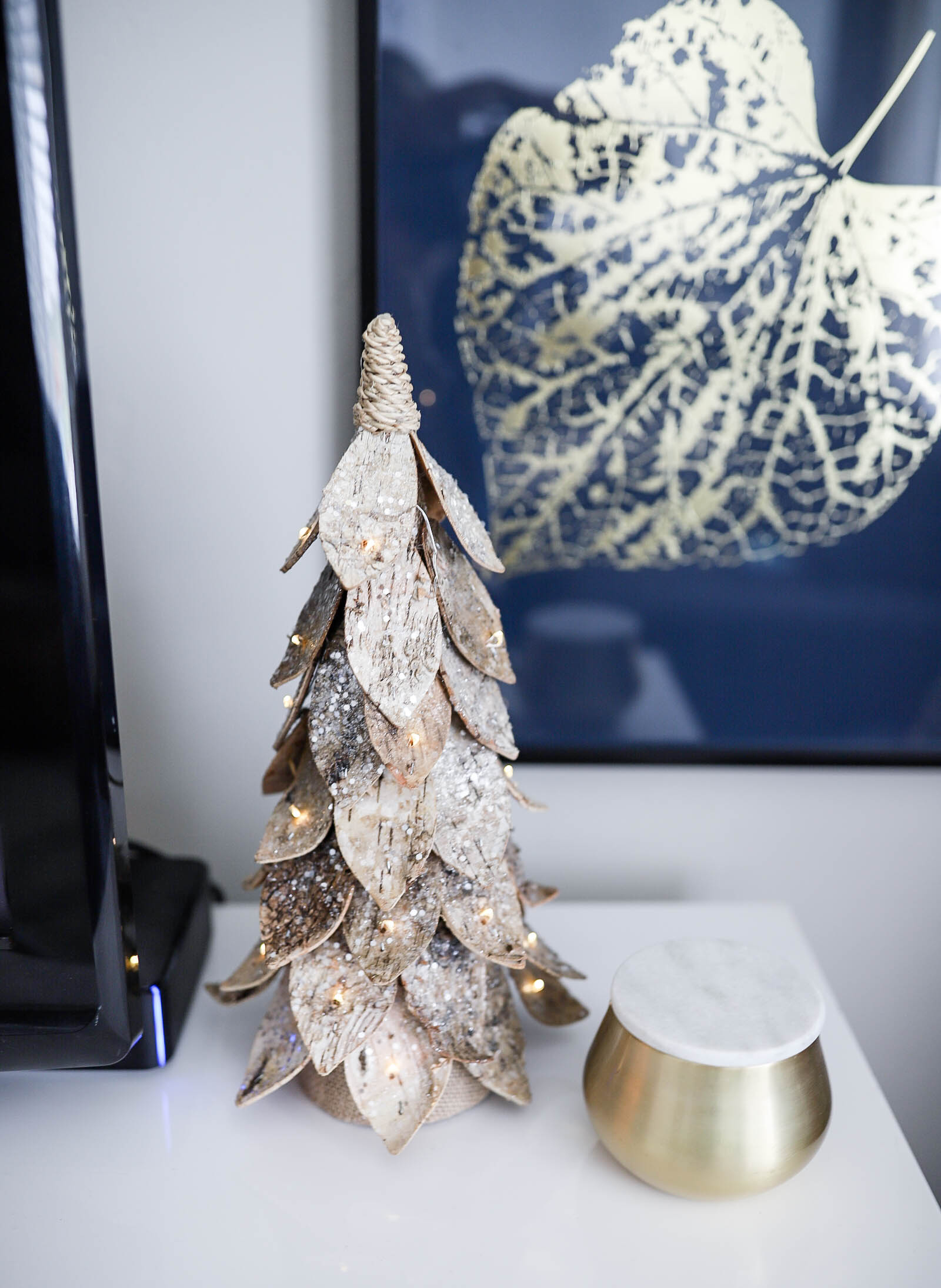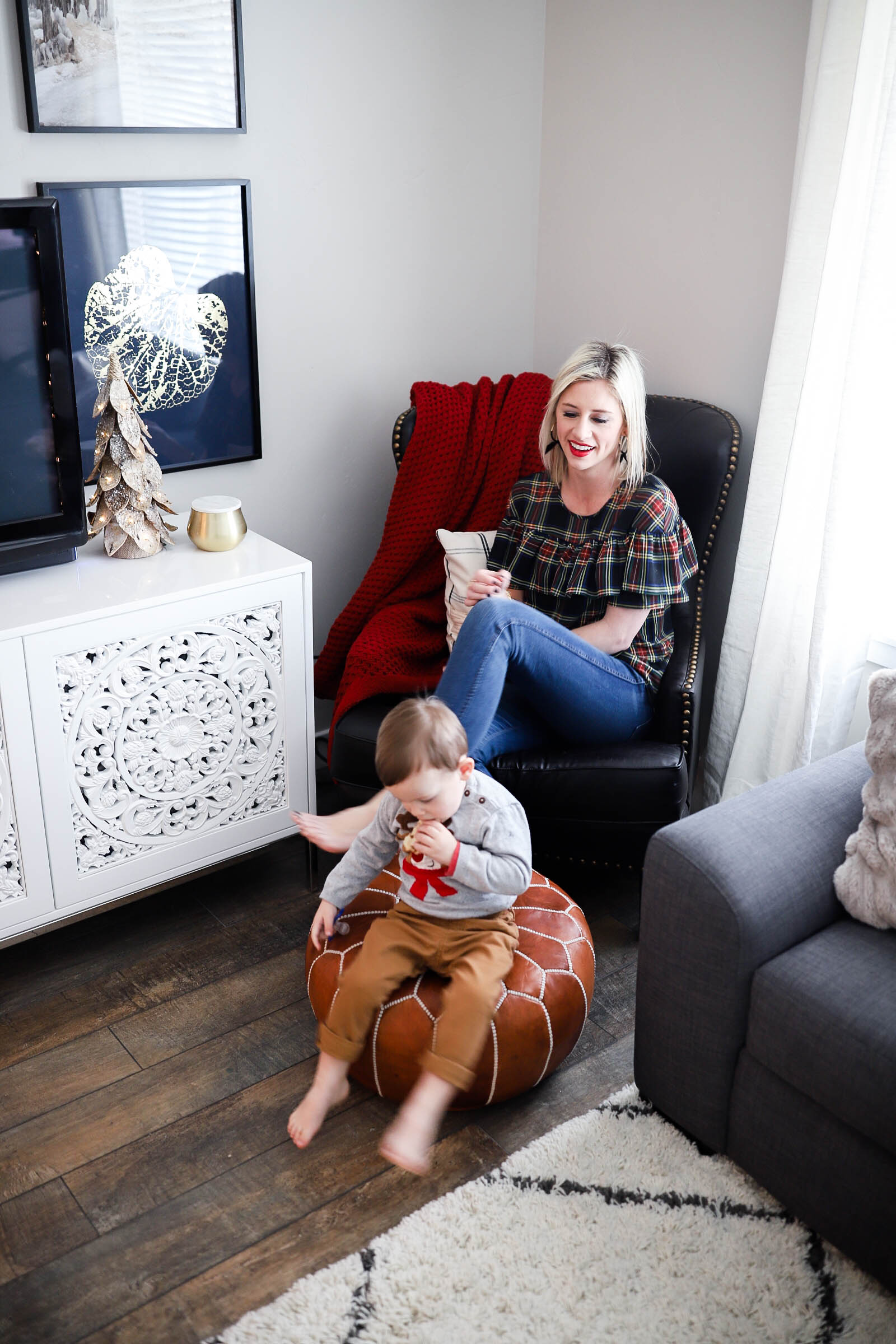 Last year, I designed a Christmas accent wall. This year (with our first life-sized Christmas tree), I decided to focus on the gallery wall in our living room instead. Here are 4 simple ways I updated our living space for Christmas…
1. Swap out your existing photos for holiday art prints from Minted.
I purchased the art styling service (the same amazing service that provided the initial layout and art for our existing gallery wall) and within two days had finalized the holiday art prints I wanted and shipped them out right away. Whatever photos you have on your walls, consider swapping them out for seasonal prints to bring that holiday feel to your walls.
If you have a lot of bare walls, like me, I can't recommend Minted's Art Styling Services enough. They'll help you design a gallery wall, or combination of walls and take care of every detail, down to the recommended frame and mounting style. I loved my first gallery wall we designed this summer so I didn't hesitate to reach out to Minted again to update my home for Christmas.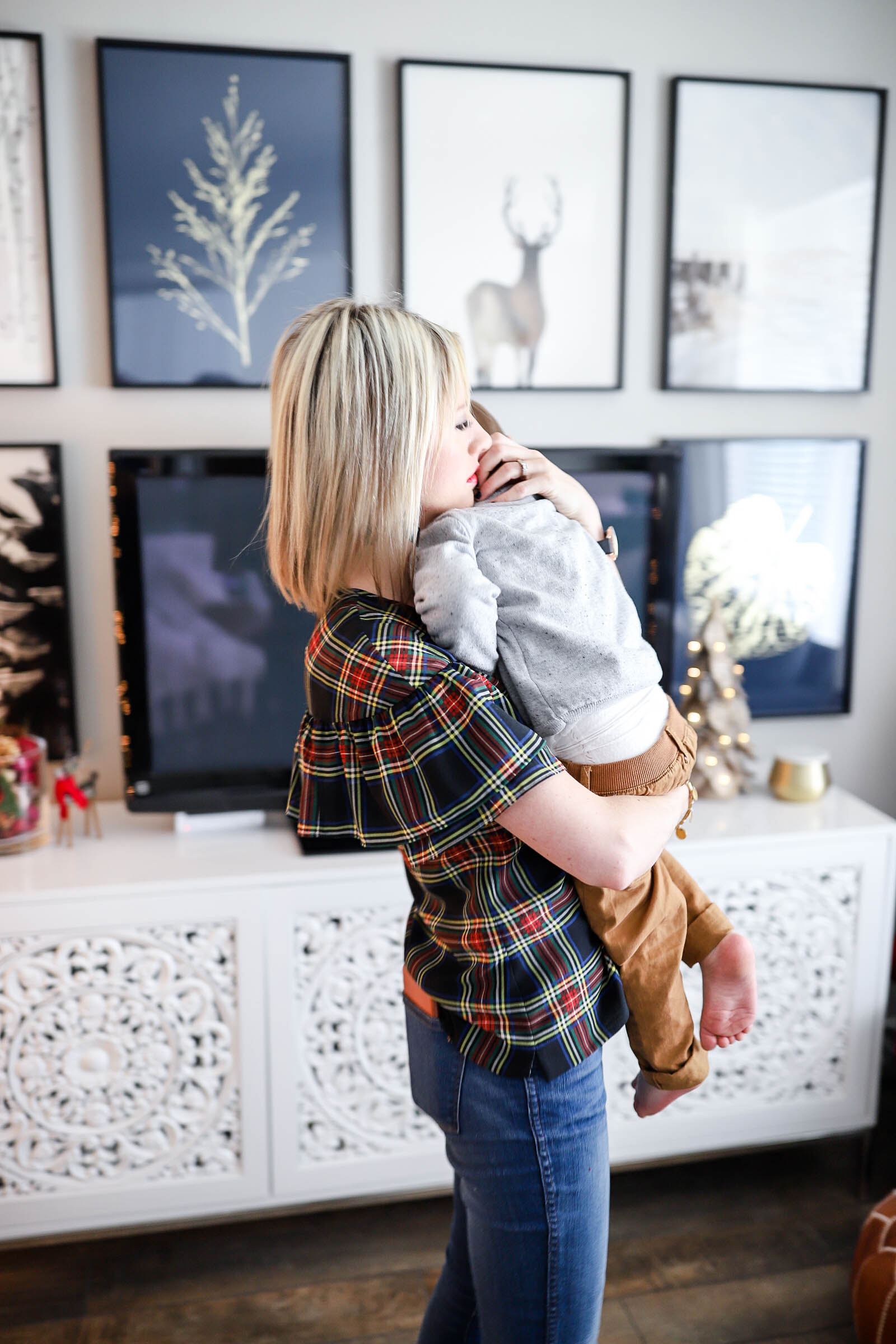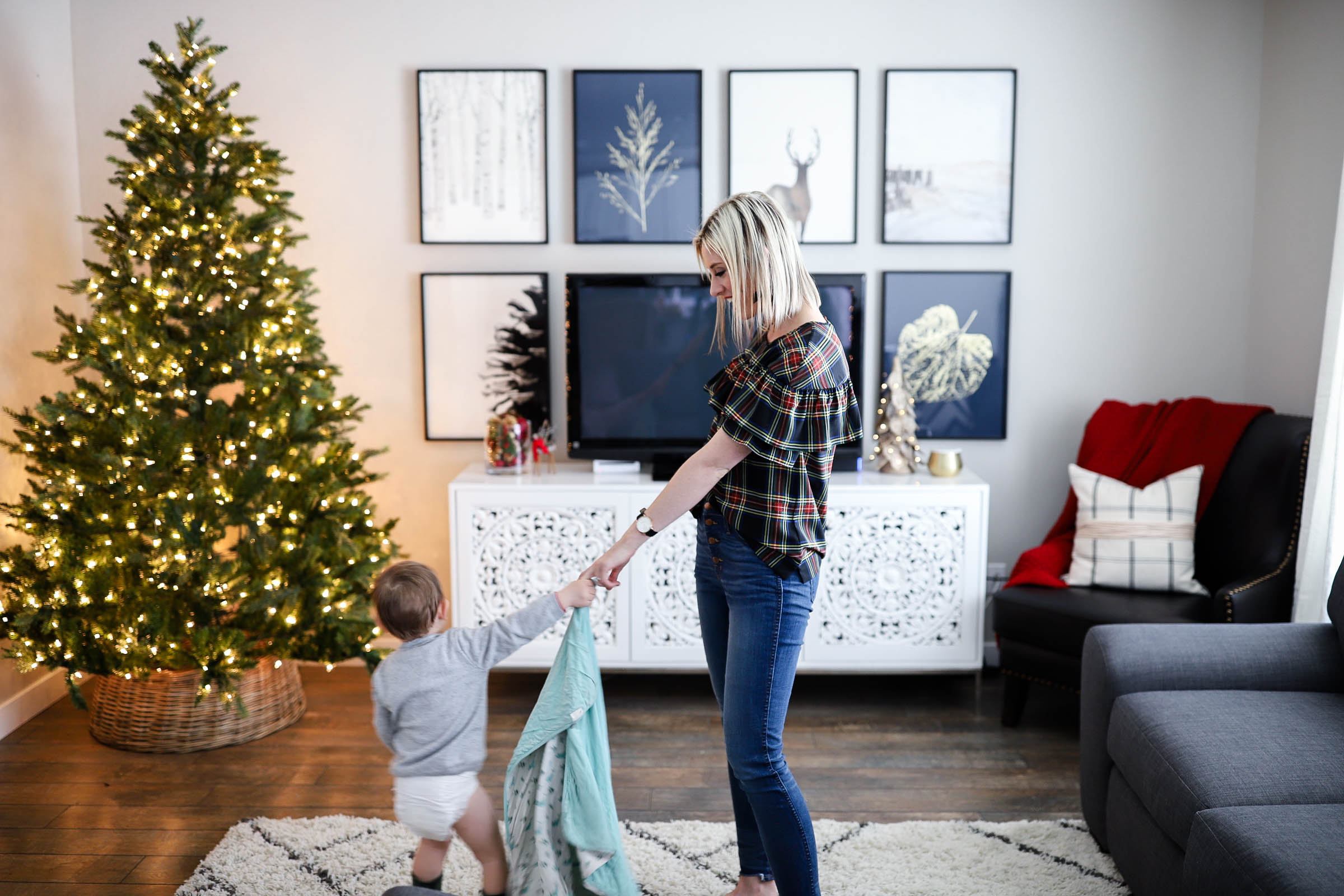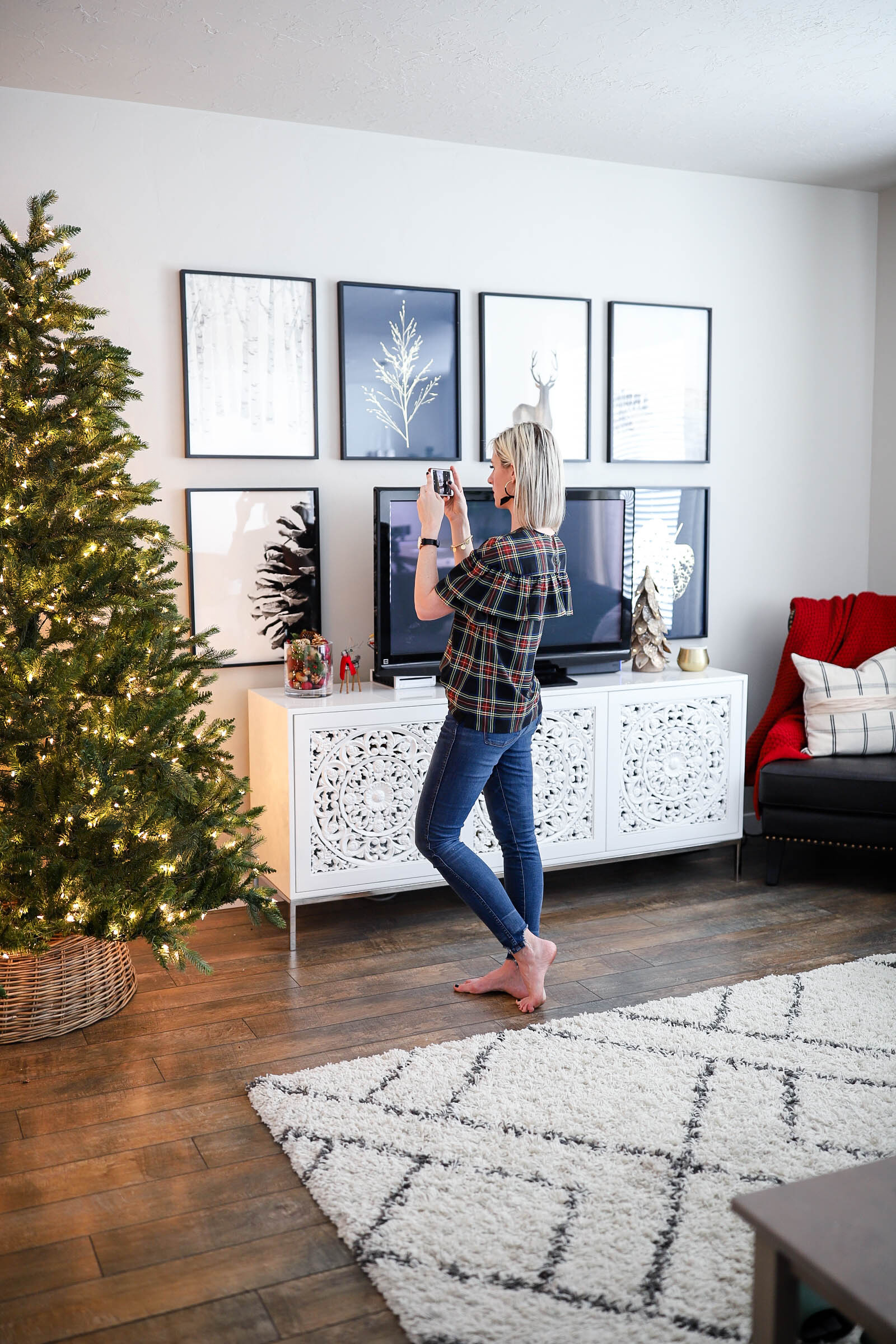 2. Swap out pillow shams
I love decorating with pillows! I could have purchased 100 holiday-print pillows this year, but decided to go with a more neutral theme so they can last through the whole winter (and not feel to Christmasy in January). One of my favorite pillow ladies is the amazing Kaeley from KaeKoo shop. Check her out (and the pillows I use the rest of the year).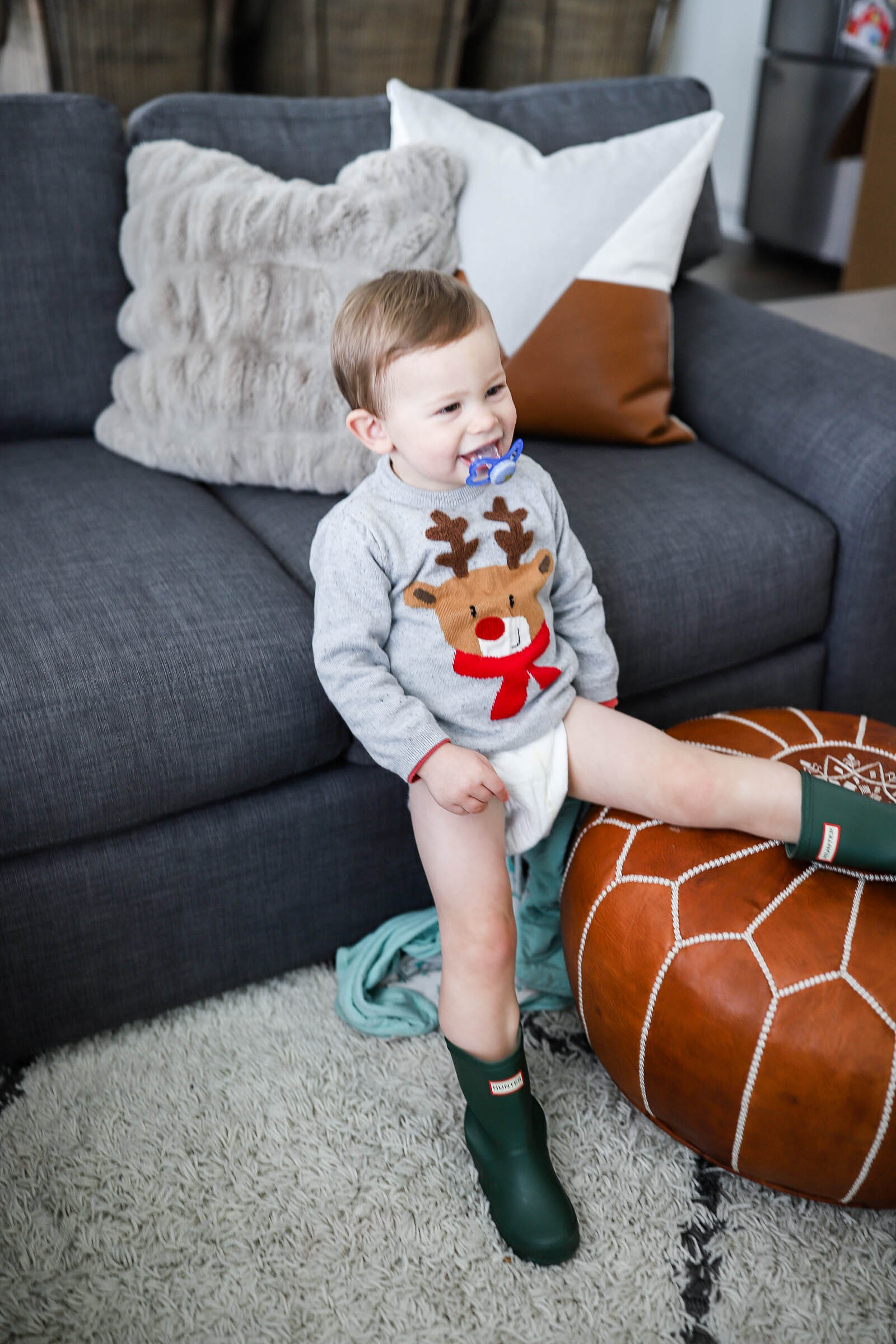 3. Drape cozy blankets over your chairs or couch corner
During the spring and summer months, we keep our blankets folded in a basket by the couch. Pulling them out during the fall and winter makes them more accessible and adds a cozy feel to our living room.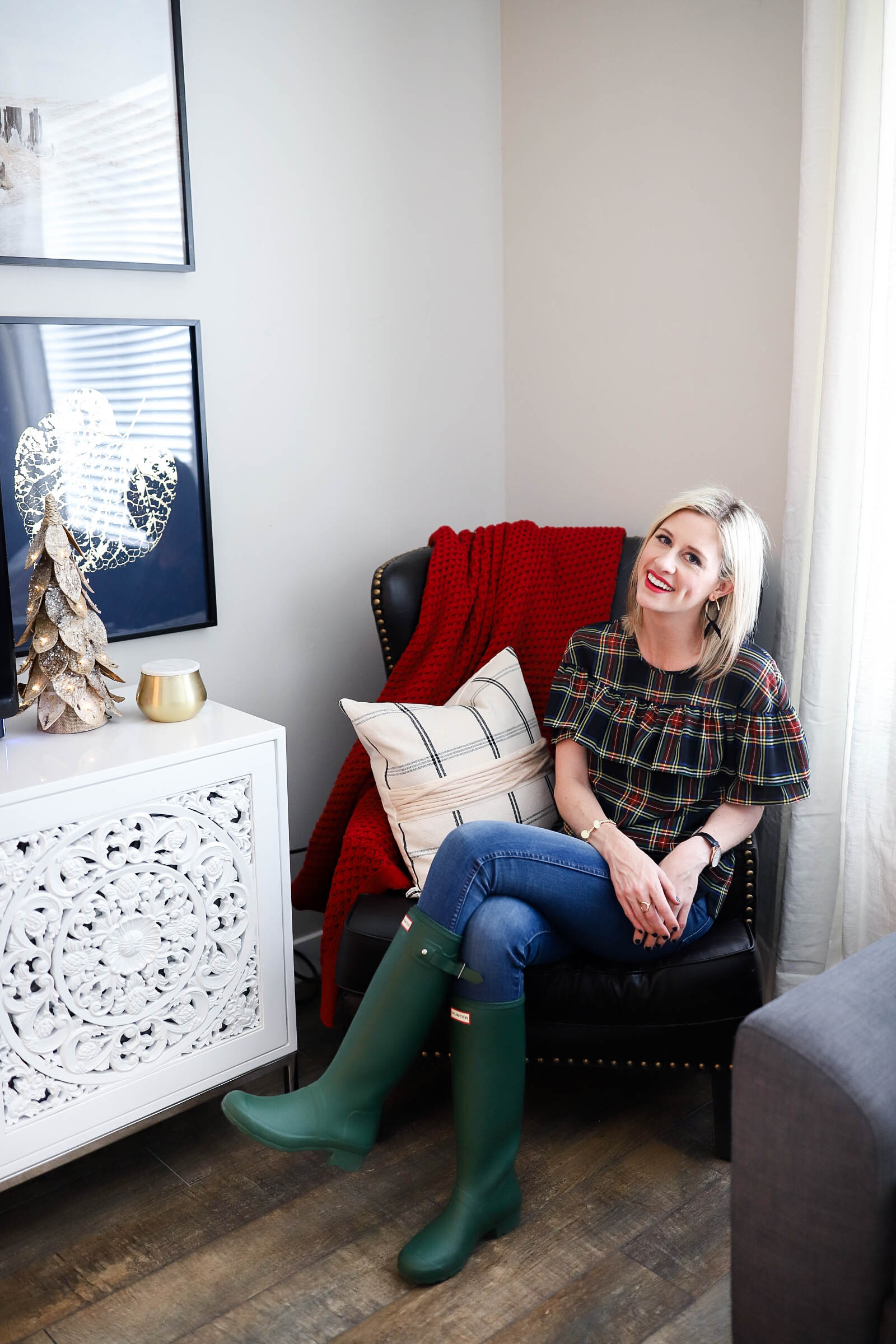 4. Avoid cluttering with objects
Since we don't have a lot of shelving or furniture in our space, I try to be very intentional about purchasing decor for our TV stand. I typically love garland, but I didn't want to add to the busy design of our console. When in doubt, simplify the amount and type of objects you use in your holiday decor and your space will feel more purposeful and less cluttered. In other words, embrace whitespace. Less is more. 😉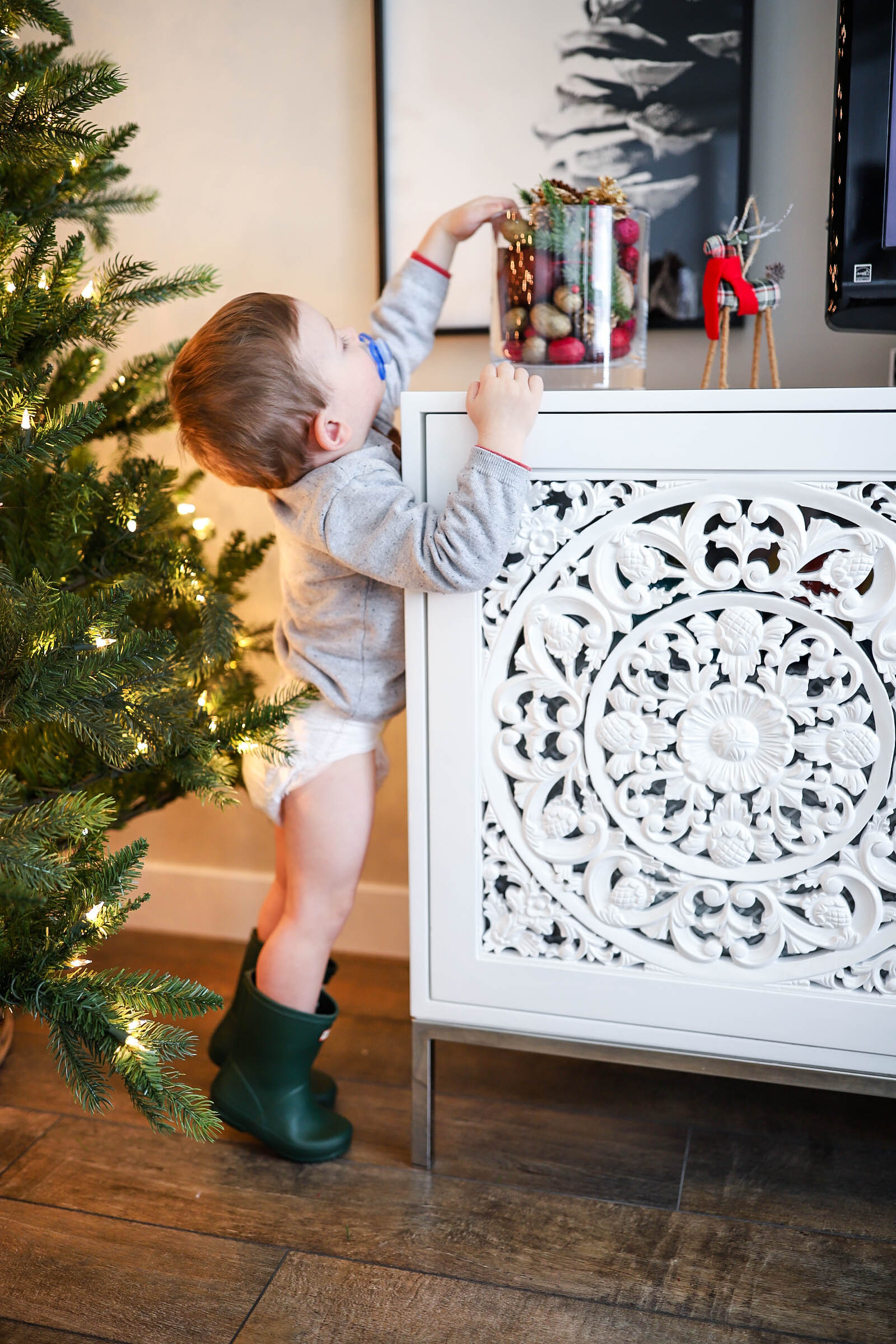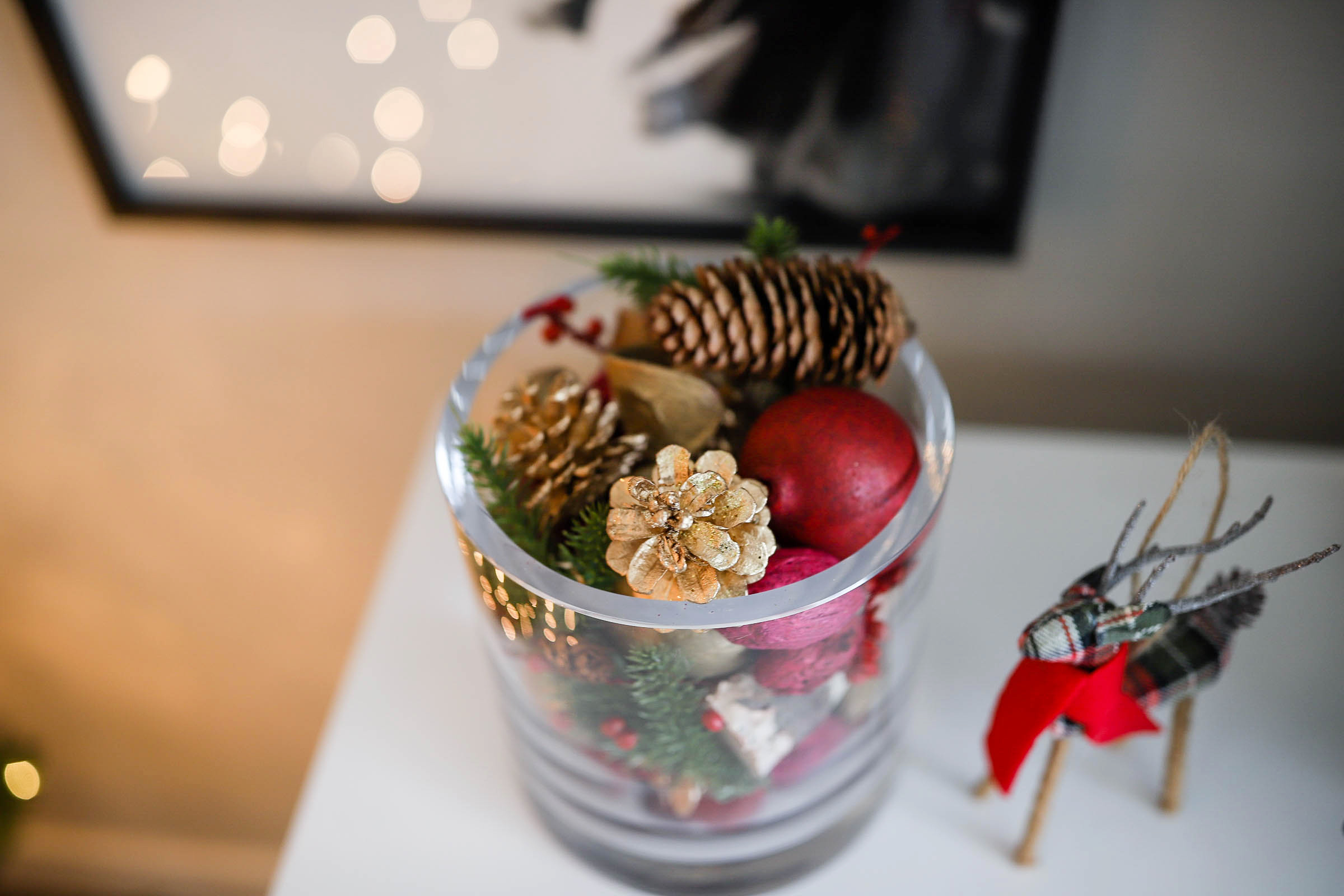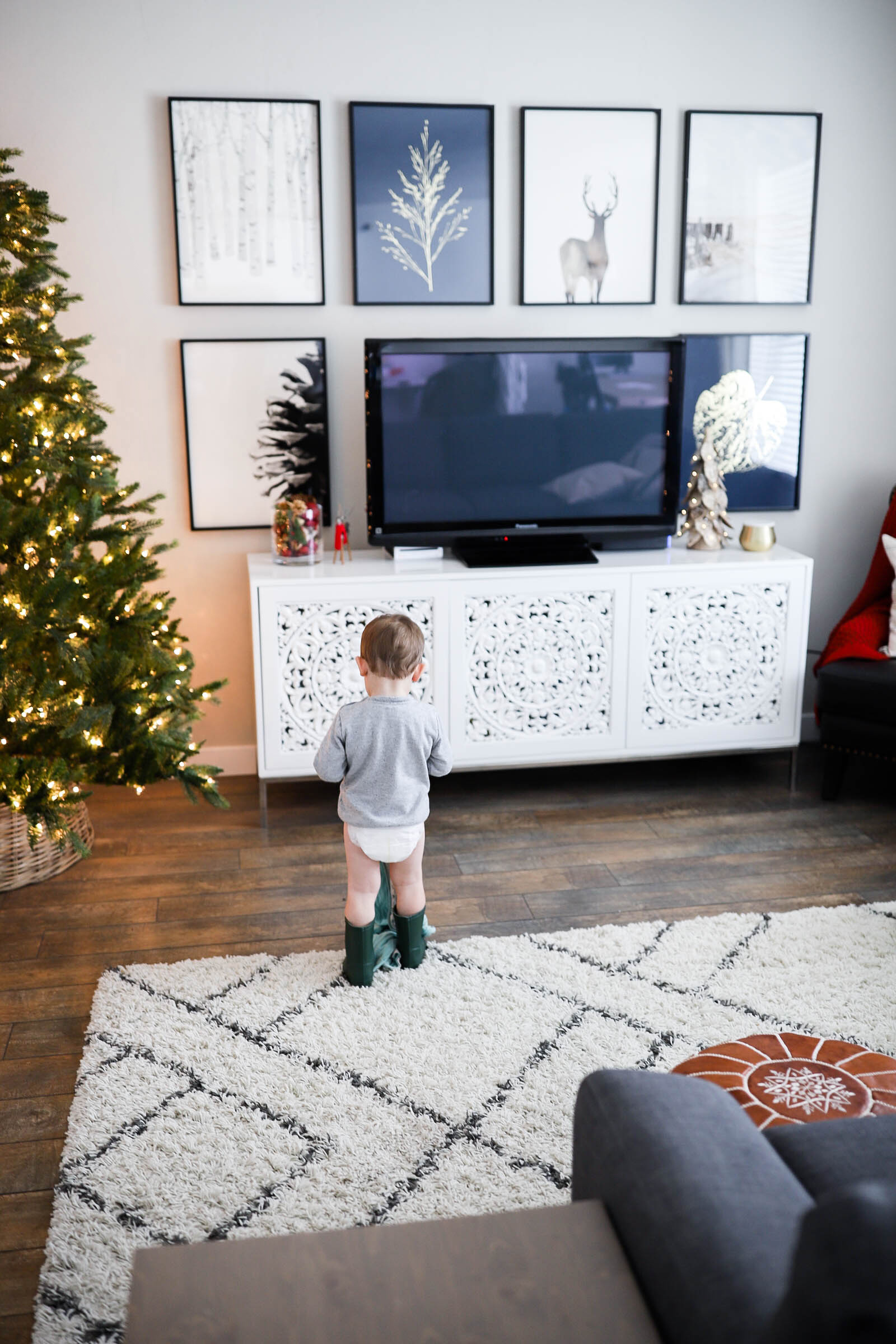 Were these tips helpful? What was your holiday home decor like when you were growing up?
Don't forget, Minted has seasonally inspired prints available all year, and you can still update your home using winter art prints without making it holiday-specific. Honestly, Minted's options are endless and the stylists are incredibly talented at finding the best combination of prints to fit your personal style. I'm ready to decorate our dining room with art next!
Merry Christmas!
Shop Minted Art Prints
pine cone print // birch woods in winter print // wild grass gold foil print // prancer print // iced lake print // red bud gold foil print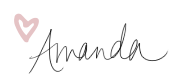 Shop the Post