This is not a sponsored post. Brought to you in partnership with Minted, Lulu & Georgia, Kaekoo Shop and Brightsides Home Interiors.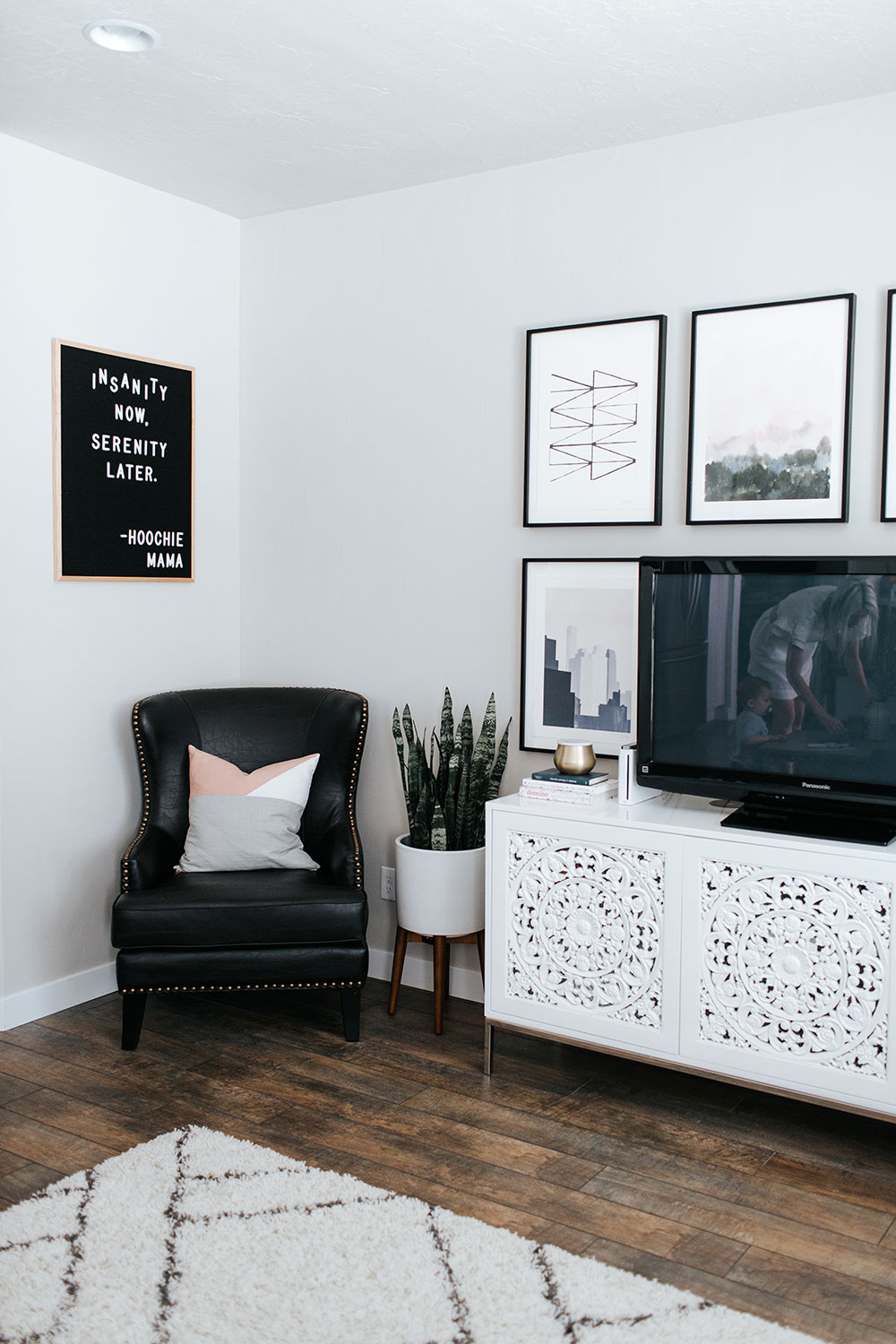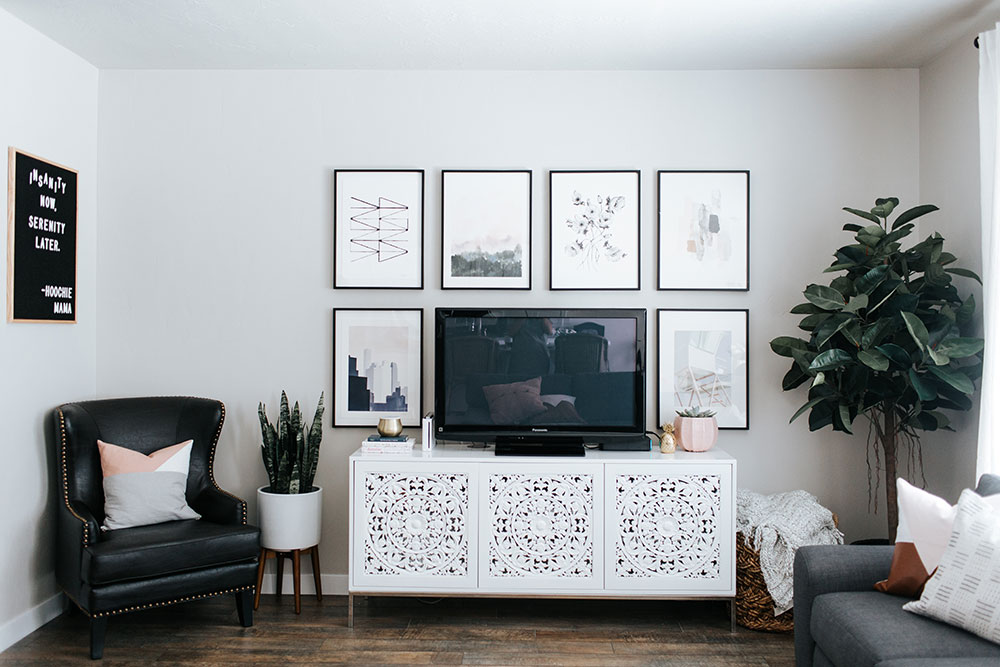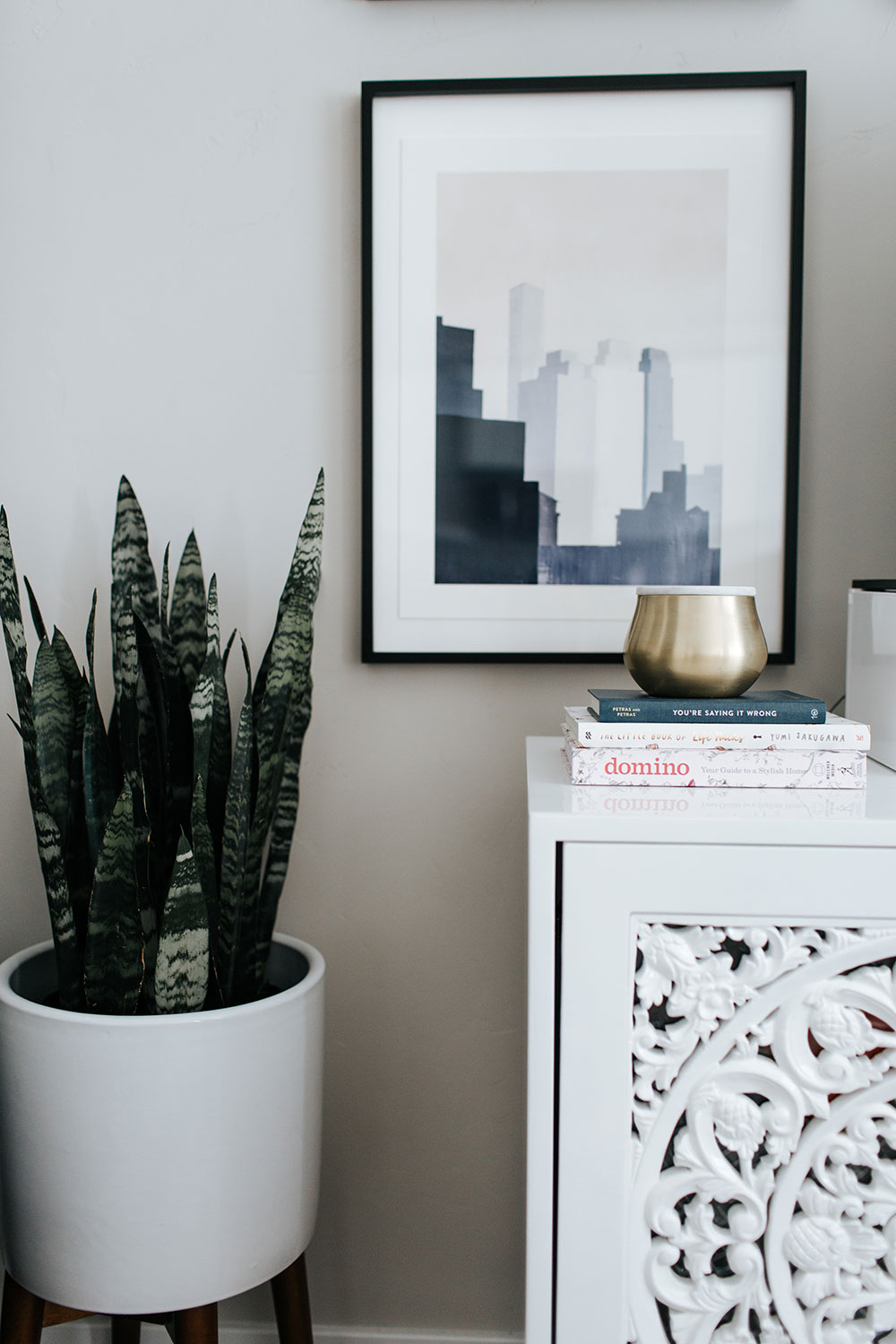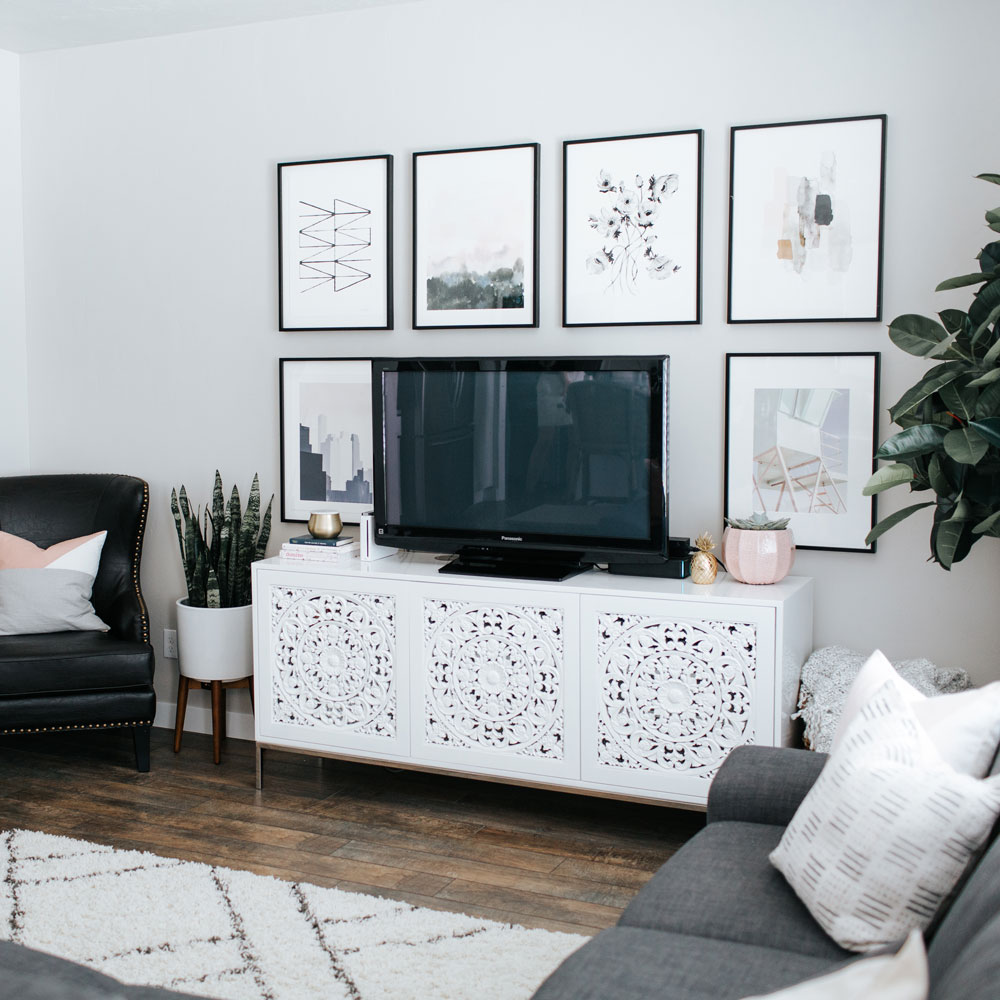 Shop Art Prints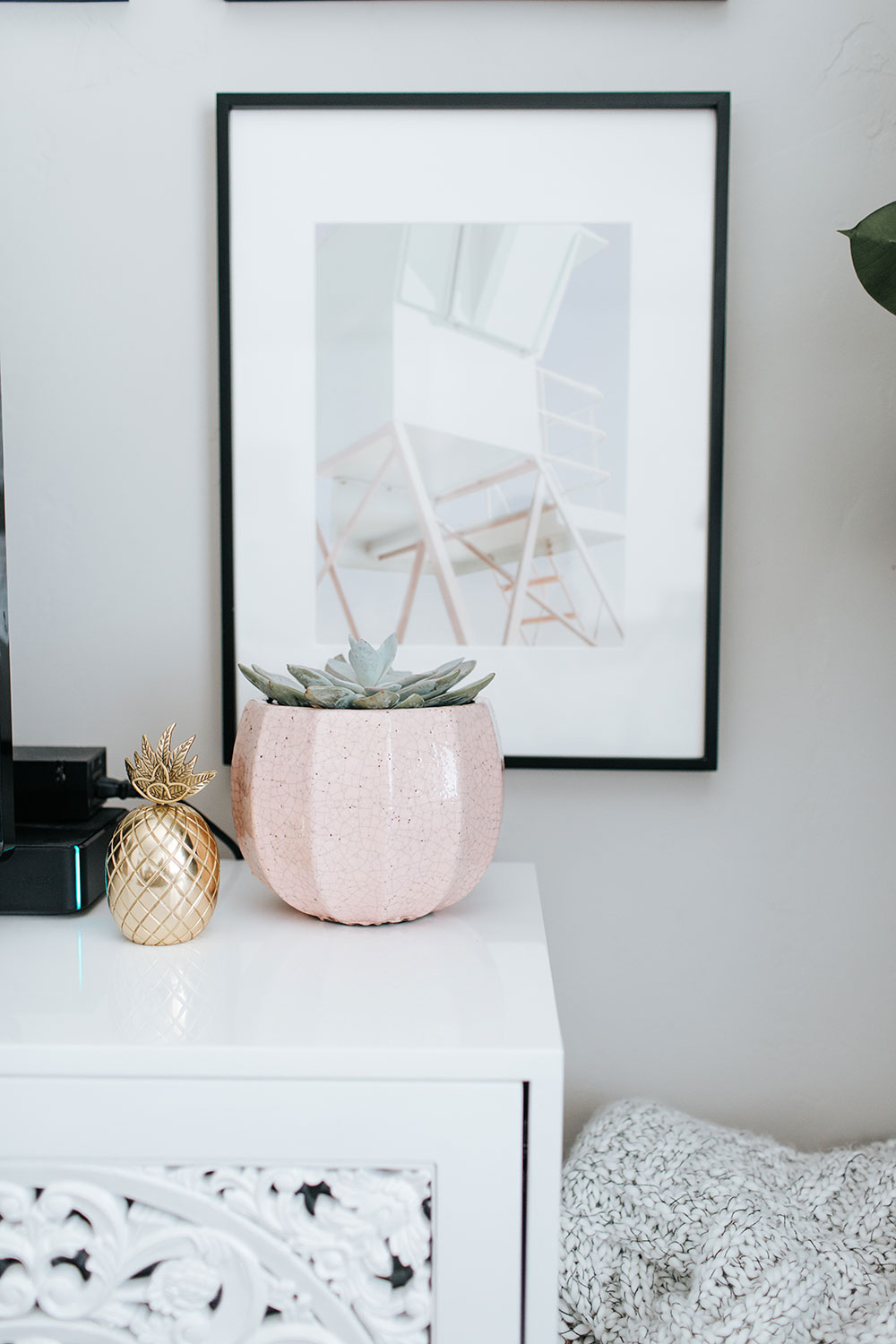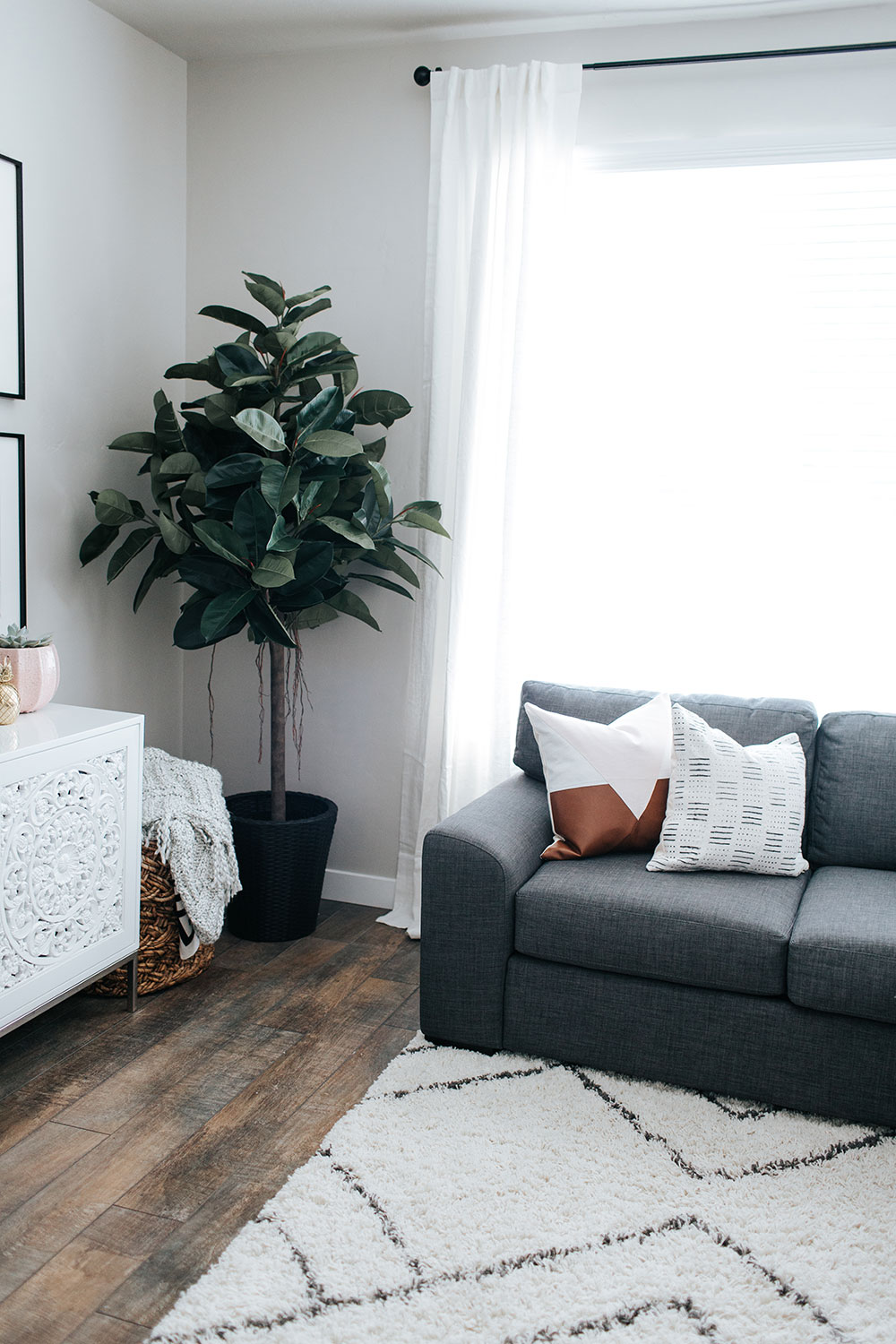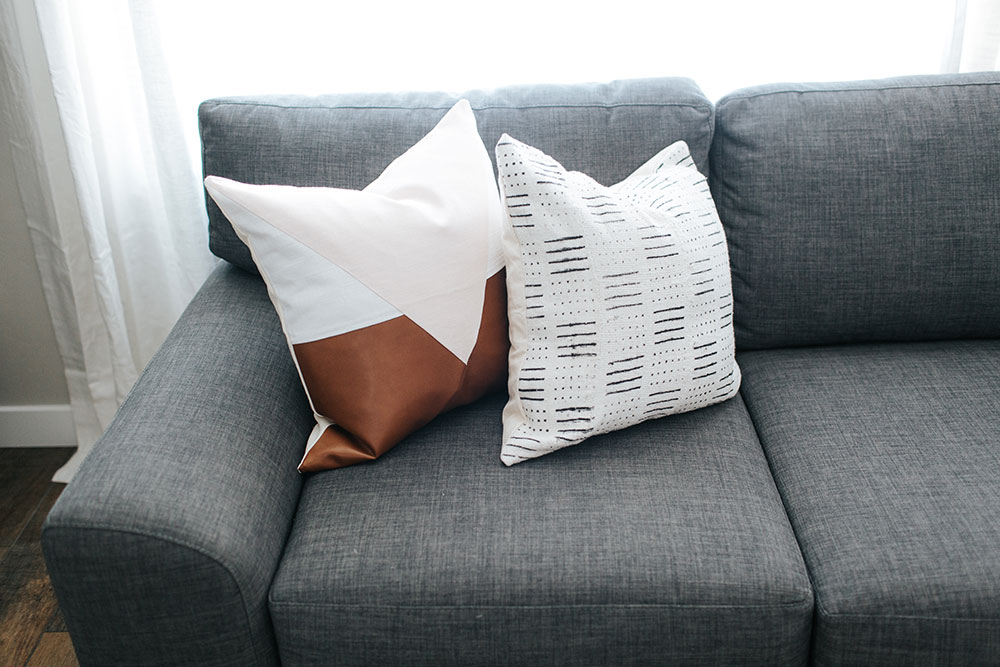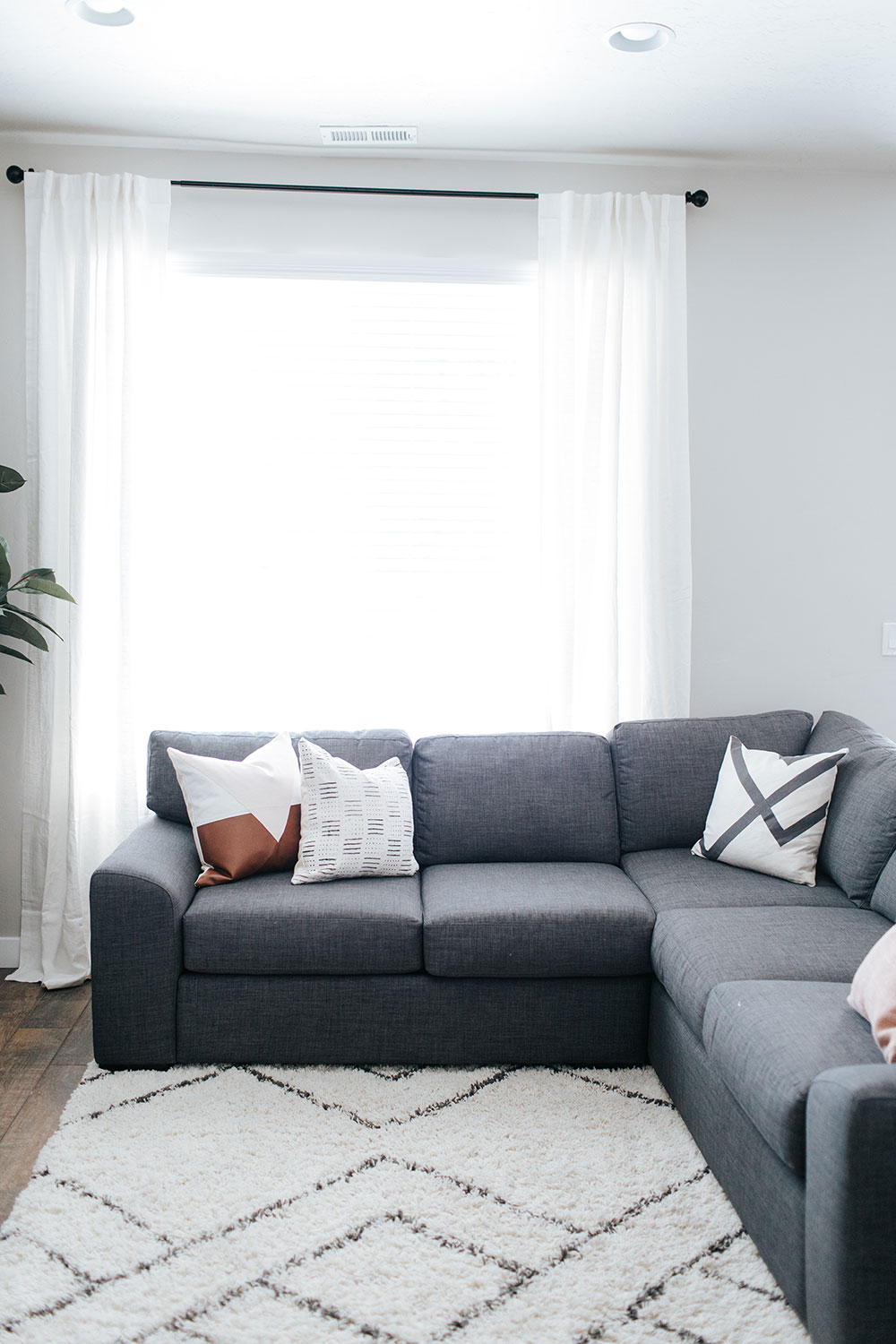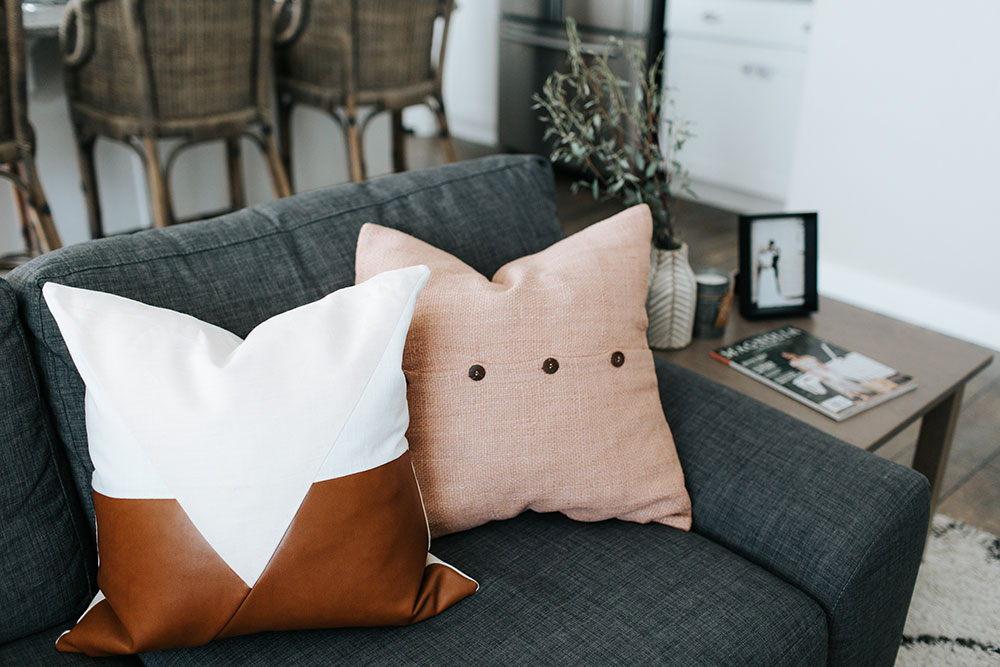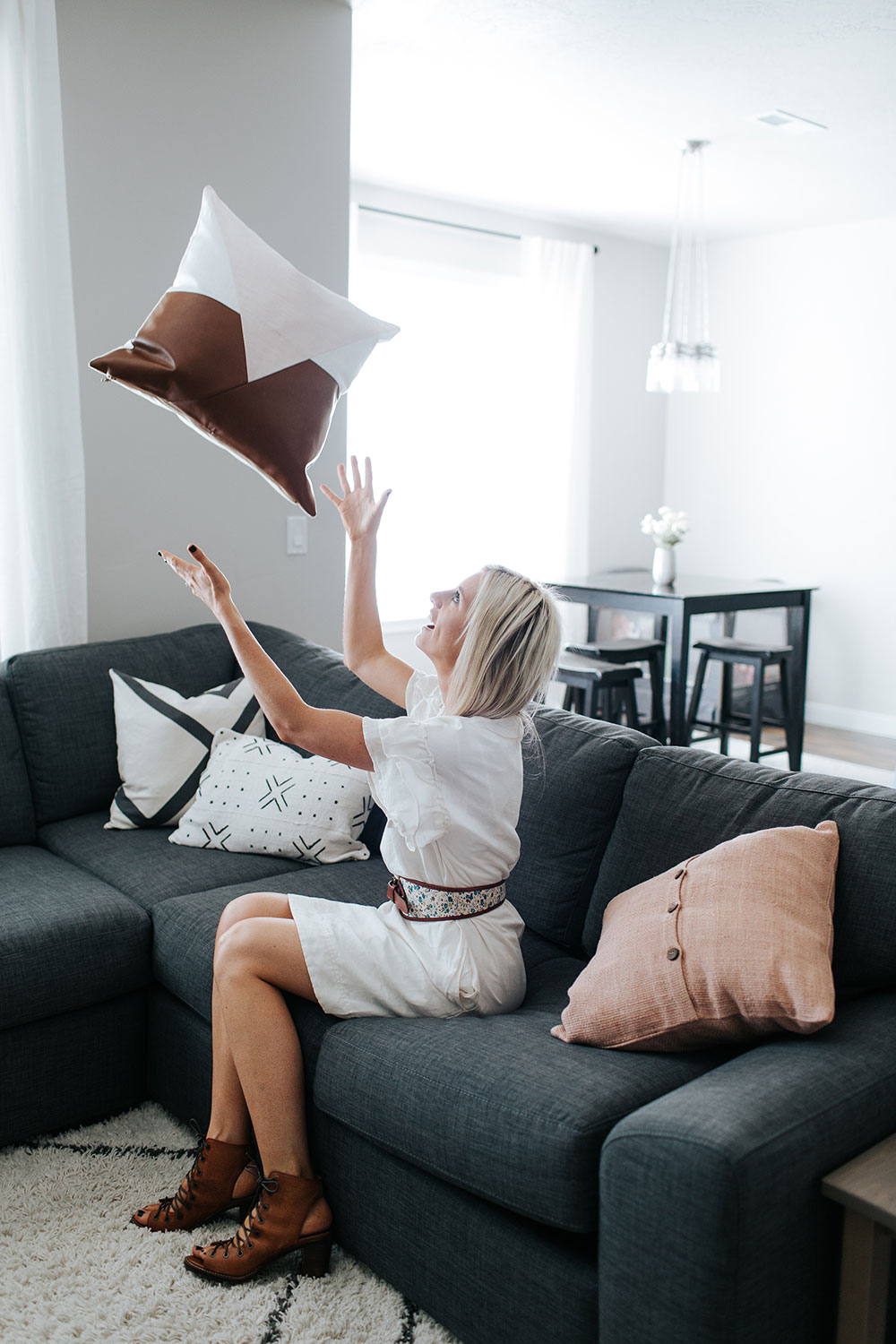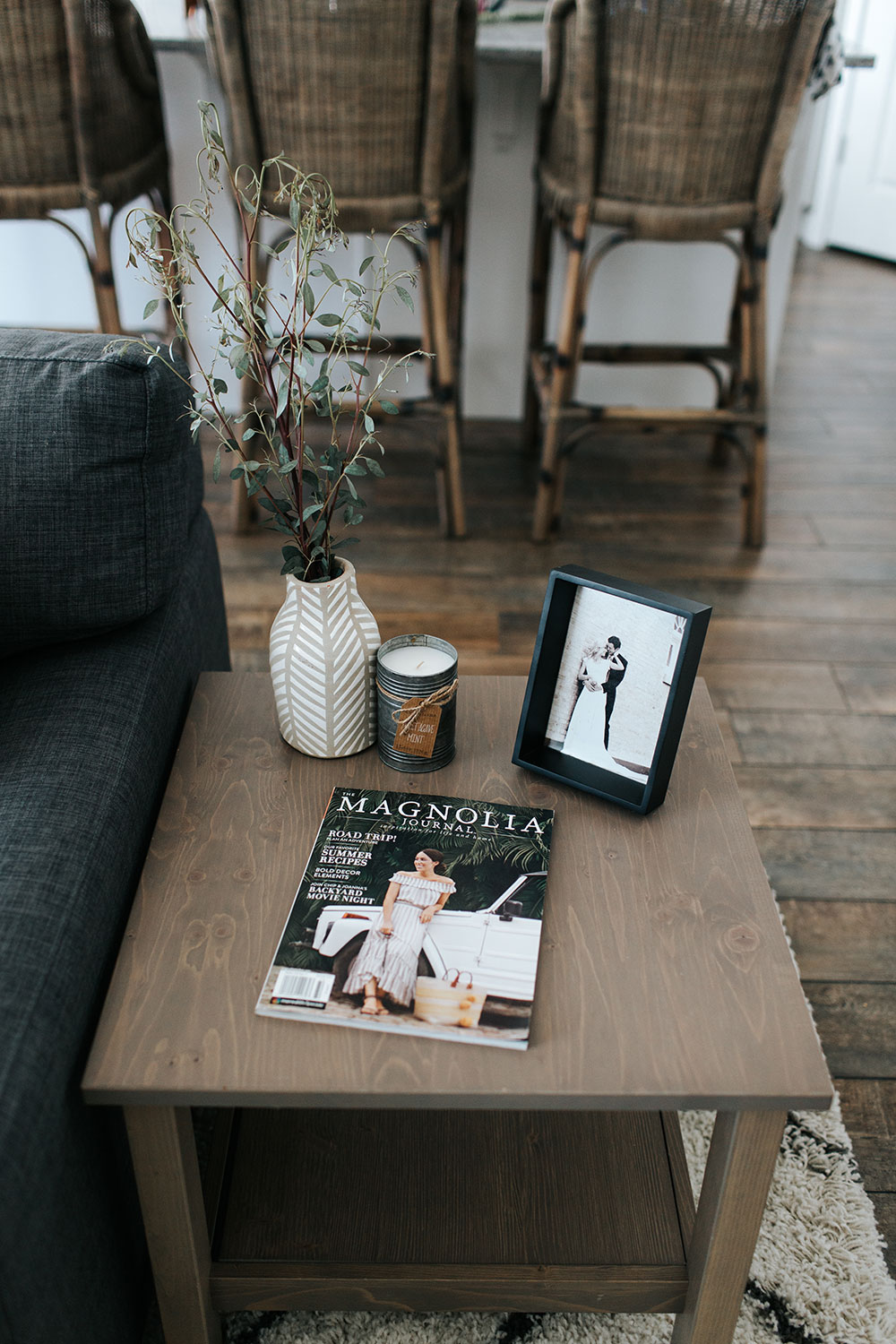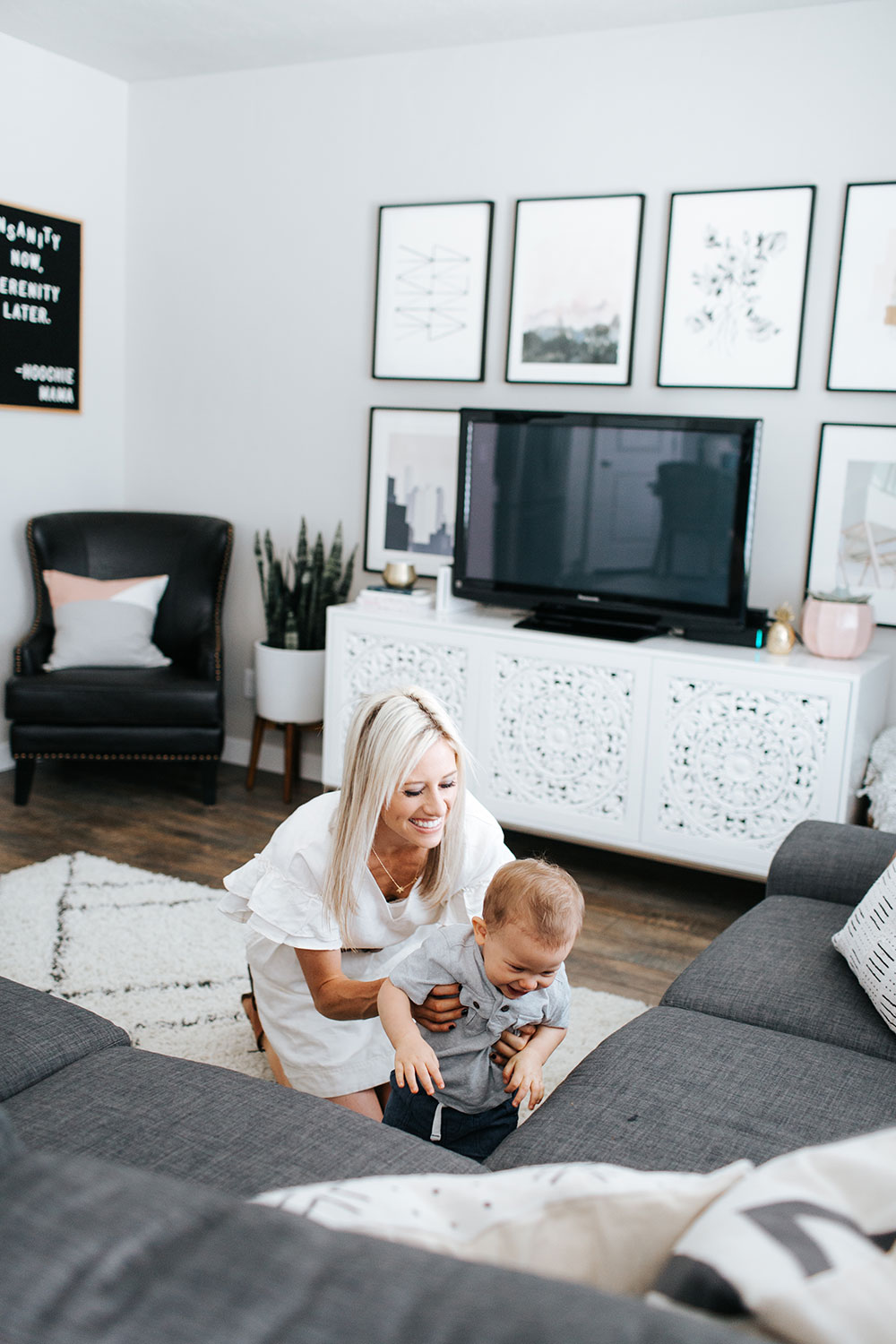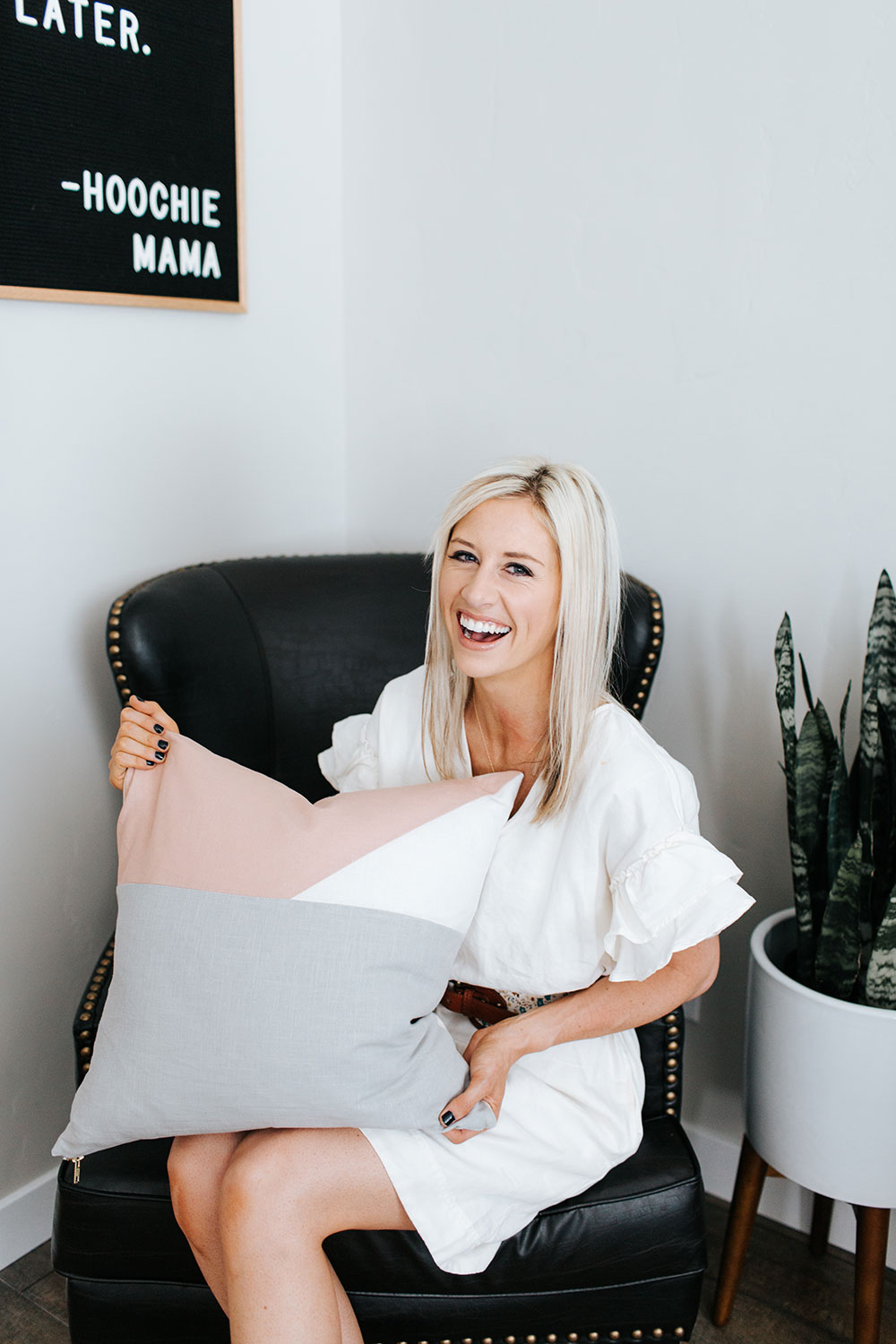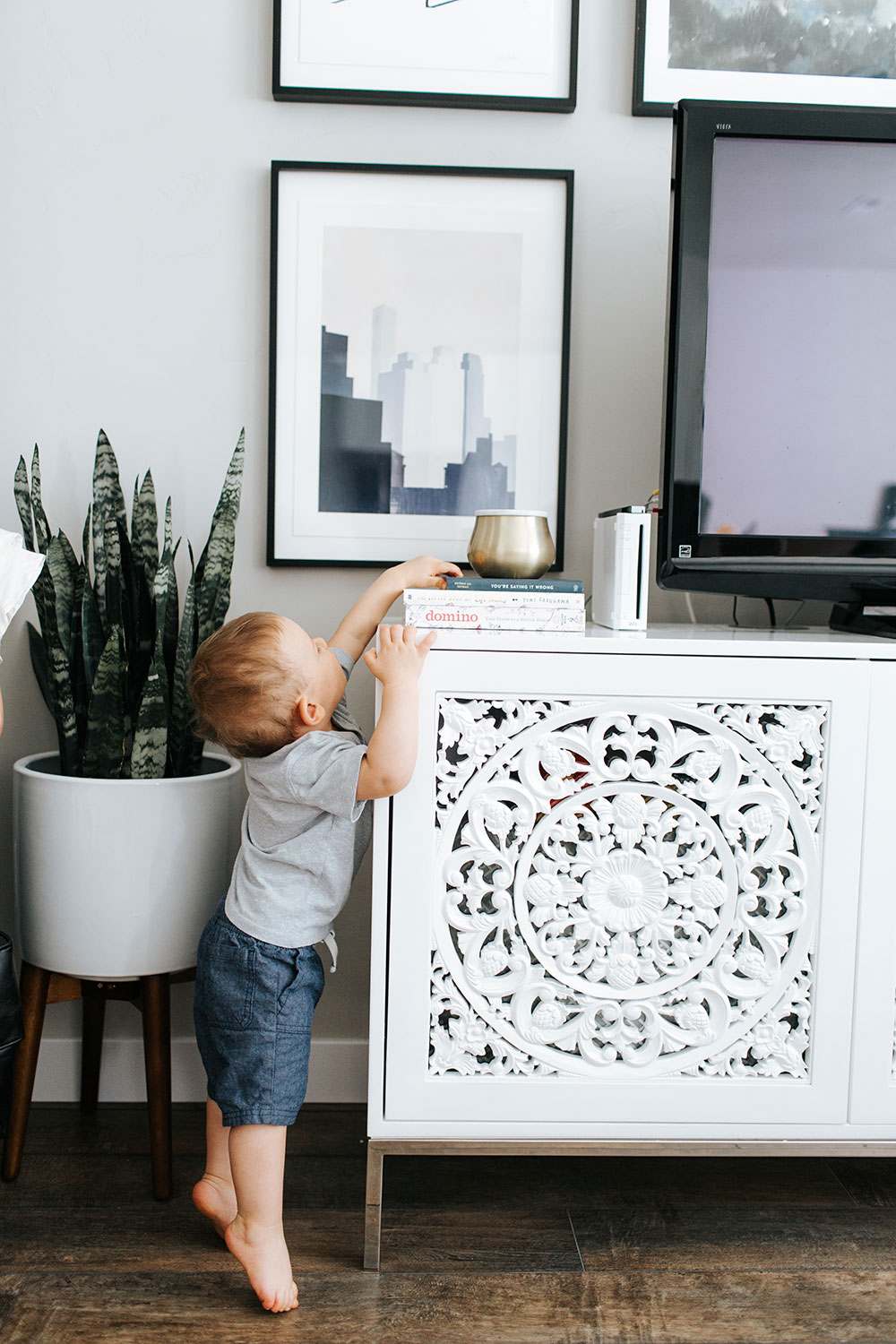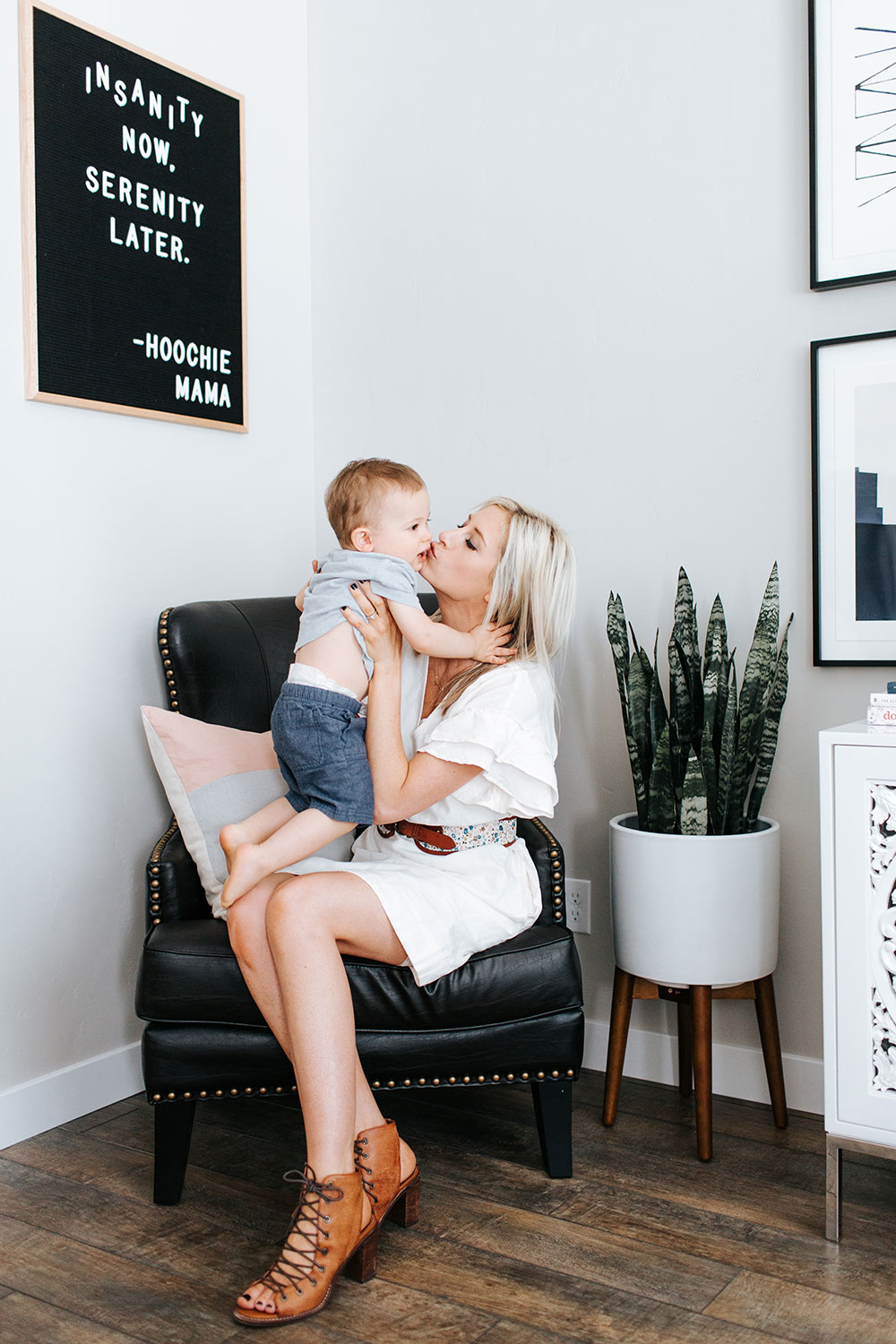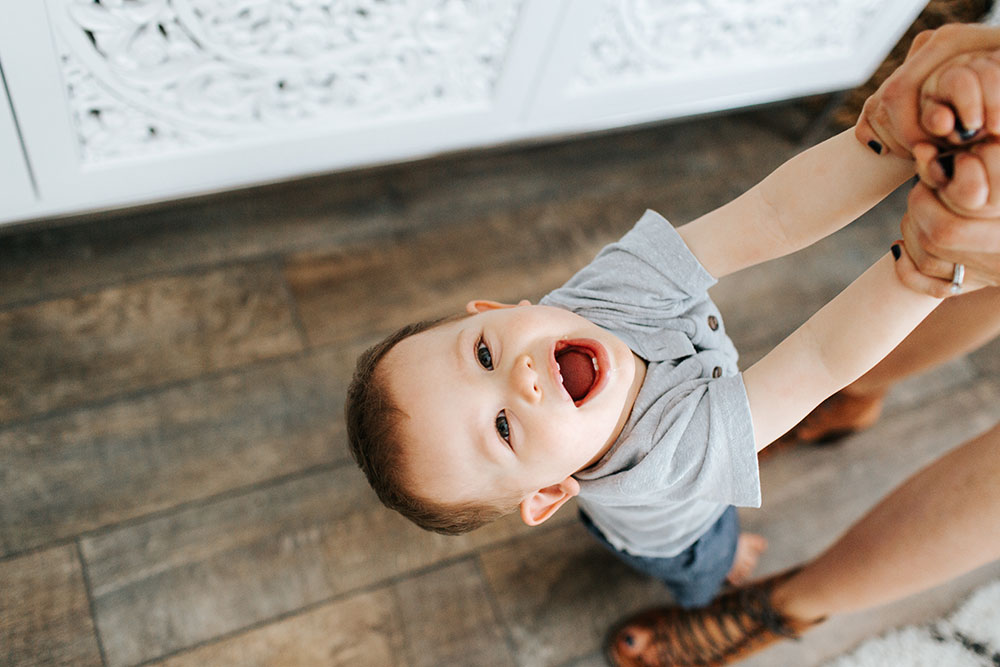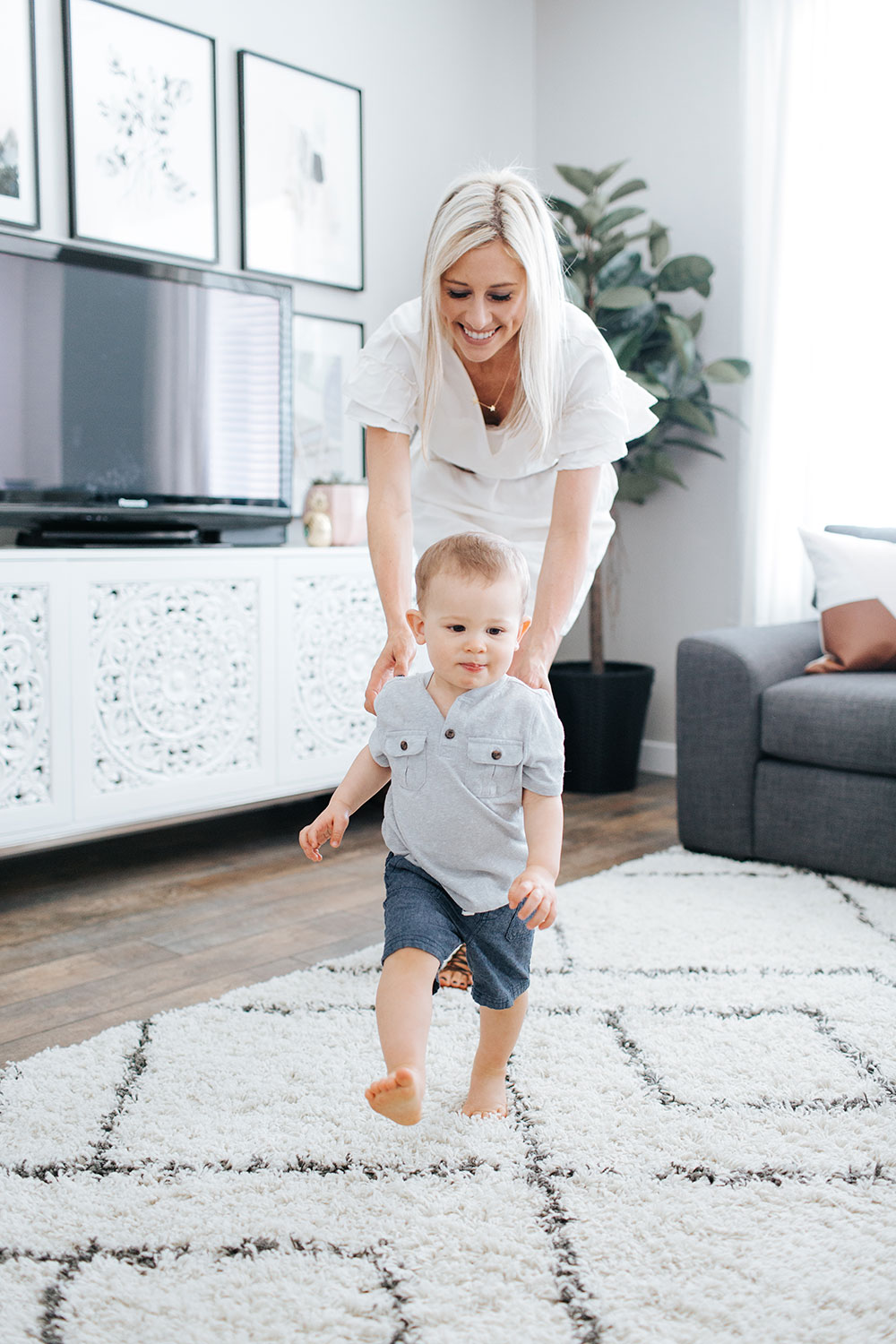 Decorating our new living room has not been easy for me. Like many of you, I don't have a lot of free time, but I like to take my time with big projects like this. It's not like an outfit where you just put a new one on the next day. And of course, budgeting appropriately for furniture and other items is important because it all adds up pretty quickly.
Here are 5 tips I learned in the process of decorating our small space…
1.Find a unique statement rug.
In our living room, the rug is a focal point that really sets the tone for everything around it. When we moved in last December, Benji was still crawling so I wanted a rug that would be soft for him to roll around on and the shag style was perfect for us. I purposefully picked a light ivory to contrast the brown hardwoods, but made sure it had a pattern to help disguise any wear and tear. We could have chosen a million other unique rugs from Lulu and Georgia (see their tips on how to choose a rug) that would have also looked great, but we've been really happy with this one.
2. Get help from a stylist, not a designer.
Our house is open concept so I wanted to make everything flow, but didn't exactly know how. I researched interior design services and I was quoted a minimum of $10k per room because they typically require you to purchase all-new furniture. We had just purchased a couch and accent chair (and we weren't looking to invest that much in home decor) so I reached out to my amazingly talented friend Amelia, an interior stylist over at Brightsides Home Interiors, and she began putting together a design board for me. I love her style and was so impressed by how quickly she found pieces that fit my budget and style. Plus, she's the nicest and introduced me to the darling Kaeley over at Kaekoo Shop and we're all teaming up for a giveaway on my Instagram today that you won't want to miss!
3. Less is more. Add accent pillows.
I have a tendency to brainstorm decorations for every bare spot in the house. But when you're dealing with smaller rooms, less is always more. Too many decorations too close together can look cluttered and distracting, instead of clean and comfortable. These fun, handmade pillows from Kaekoo were the perfect alternative to putting more stuff on the walls. They bring so much personality to the room, while still letting us maintain the clean, simple vibe we have going. It feels more balanced and minimalistic (the perfect backdrop for the messes Benji makes with his toys everyday).
4. White gives the illusion of space.
I have been hunting for a white media console for months. They're hard to find. I intentionally wanted to make the room feel bigger and knew that white would be the best way to do that. The TV stand we purchased is actually a sideboard, so we drilled holes in the back for our cords and moved the shelves to allow the far left compartment to fit a bin of Benji's toys. That's another tip! If you have kiddos, find furniture that doubles as storage. Amelia also recommended our white linen drapes and I love how they extend the windows and augment the natural light.
5. Create a custom gallery wall.
Lastly, when it came to the walls, I was stumped. The wall behind our TV is fairly big but I didn't want to put gaping holes in it without a professional's help. Then I saw a post on Instagram about Minted's personal art styling service. I've worked with them in the past on Benji's birth announcements and a custom piece for his nursery and they do not disappoint. You guys, this was one of the best personalized experiences I've had in a long time. You basically answer some questions about your style preferences and you're paired with a stylist who puts together mock-ups of wall designs using Minted's unique art selections (my stylist even helped me find a NYC print and beachy print to represent Matt's and my favorite destinations) and they'll go through revisions until you're completely happy with it. I was the most nervous about this part because I knew it make or break our whole space and I'm so happy I did it. If you have a wall in your house that needs some love, definitely go the Minted route. The styling service starts at $79, plus the cost of your art prints.
BUT…
Why not test your luck first and enter our GIVEAWAY* for a chance to WIN $150 to Minted (which you could use toward the art styling and prints)? Follow the steps in the rafflecopter below and check back here next Friday to see if you won. (*Open to US residents only. One winner will be selected. Ends 7/20/17 at 8pm MDT.) Good luck!
All room decor info provided below.
SHOP THE POST

SHOP MY OUTFIT

Photos by The High Pines.