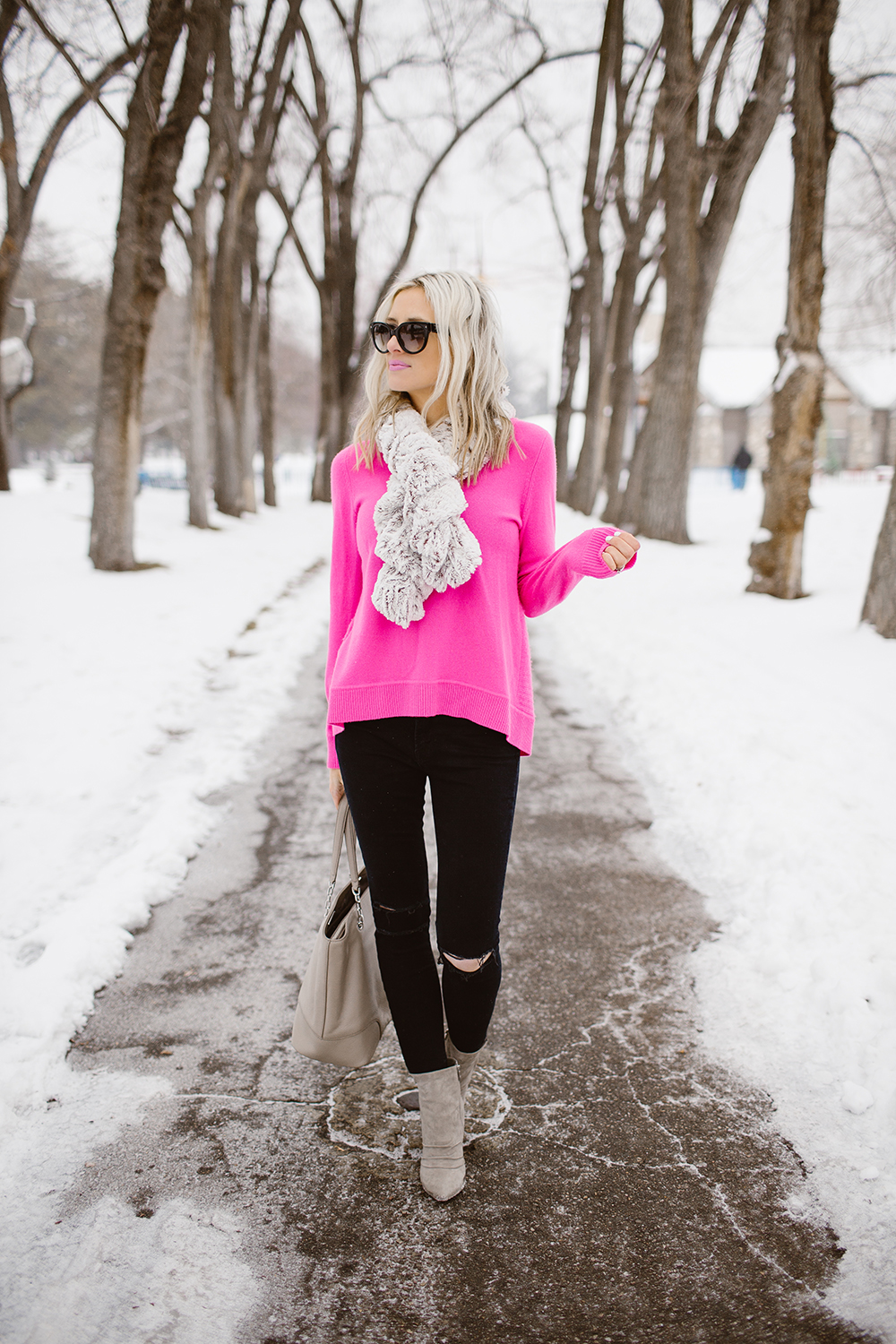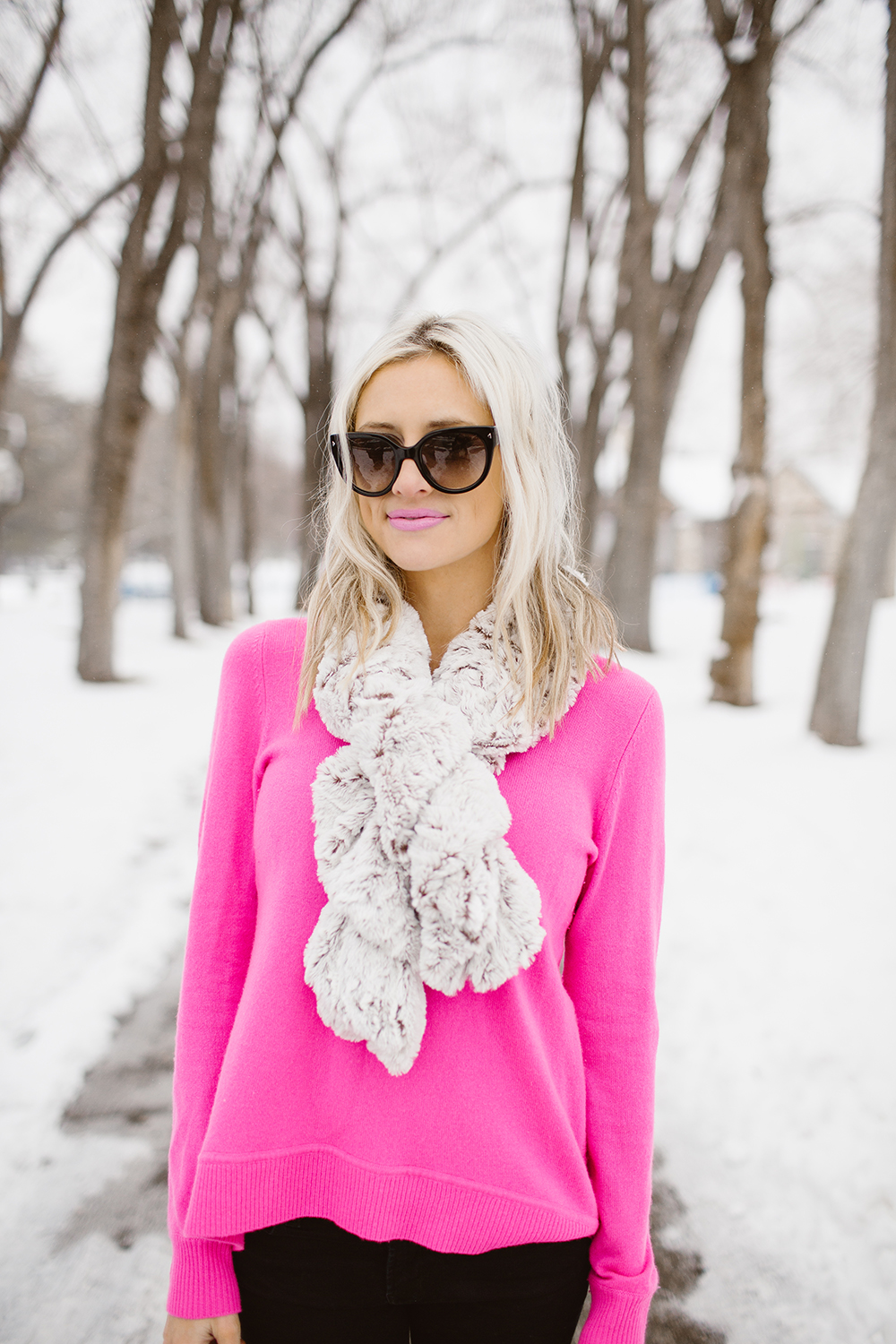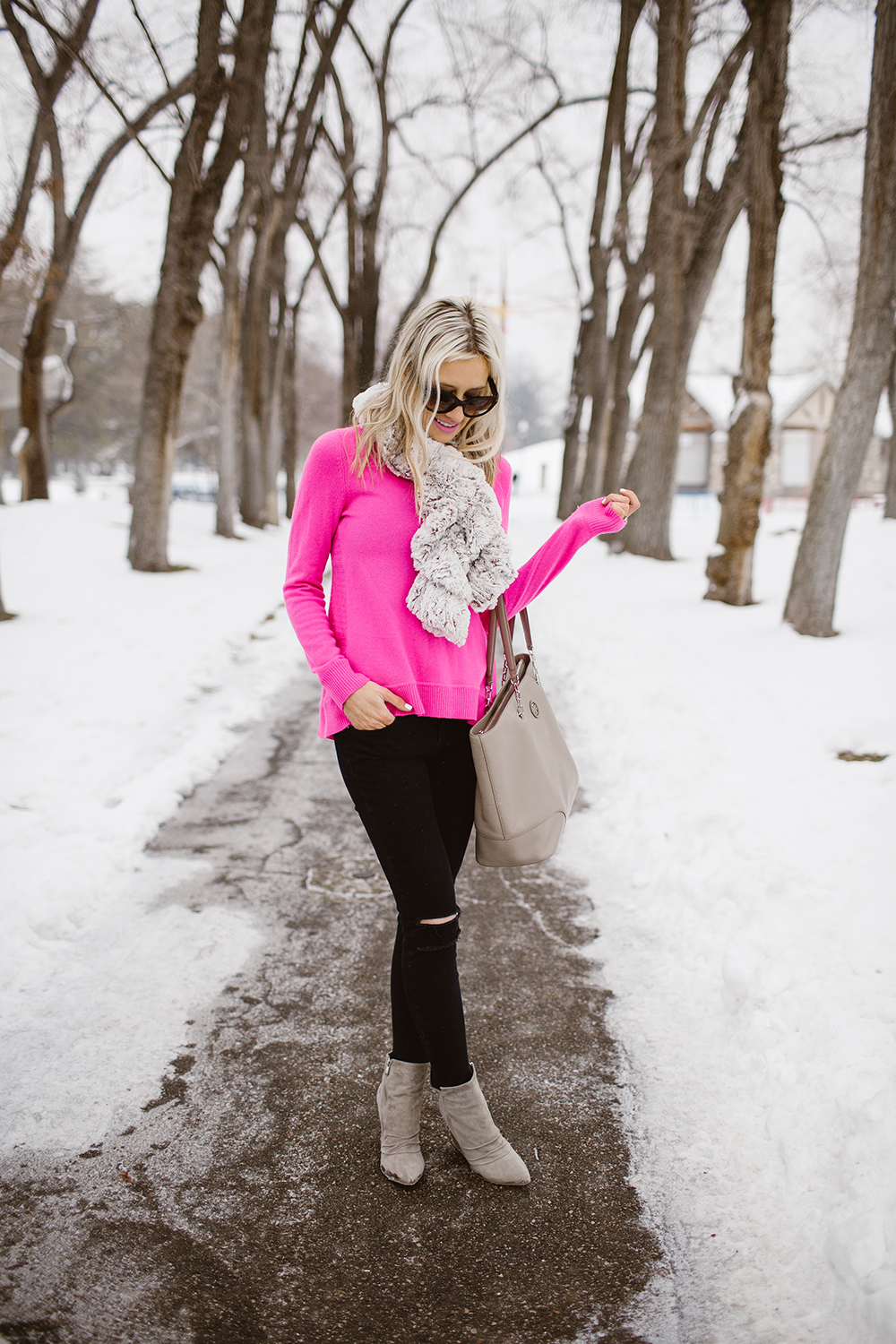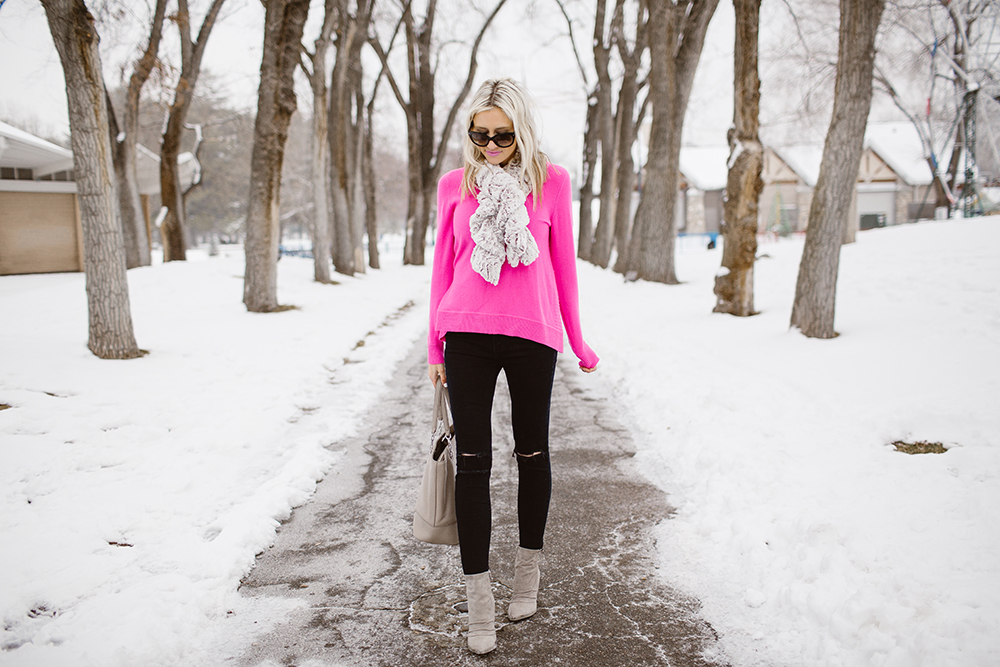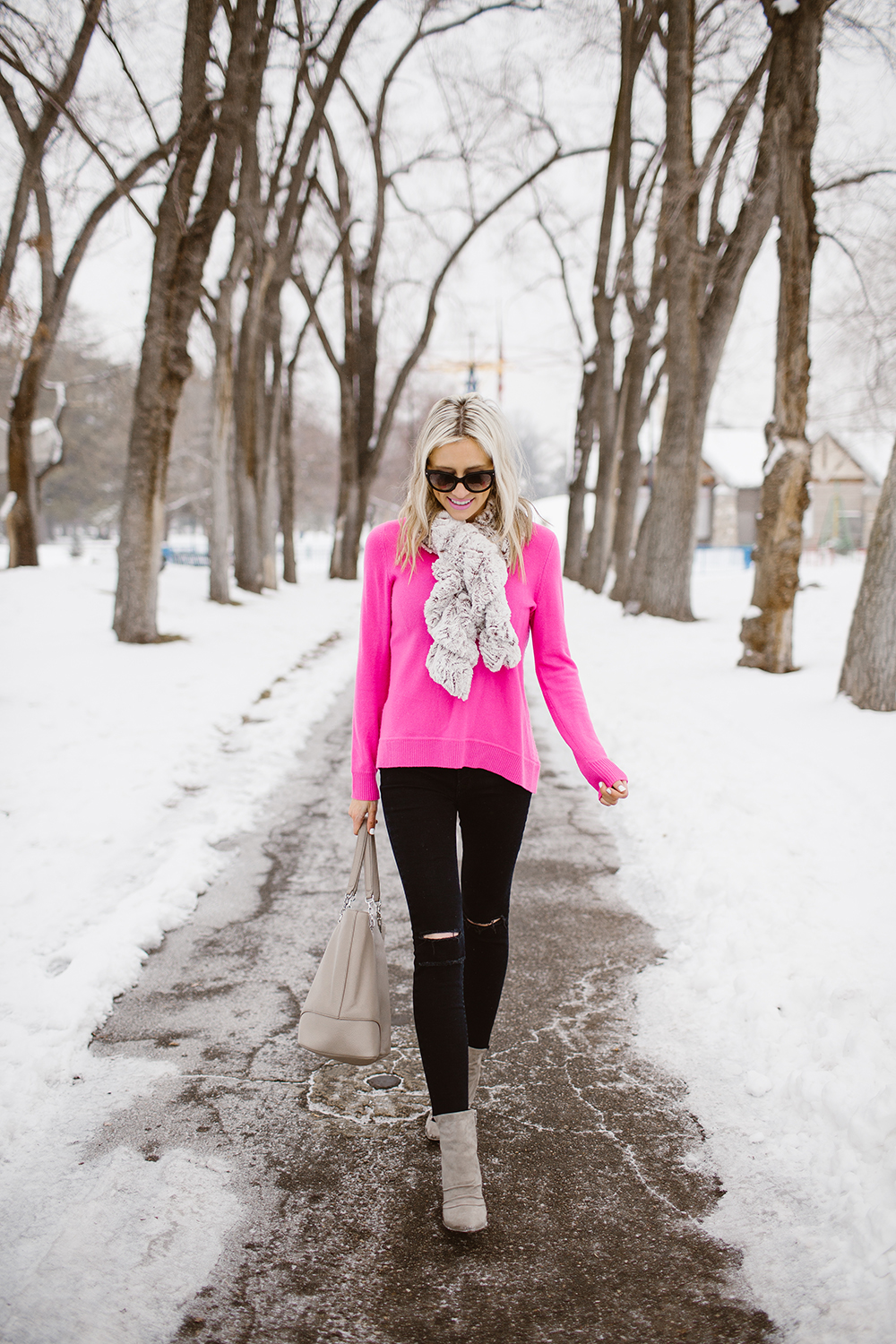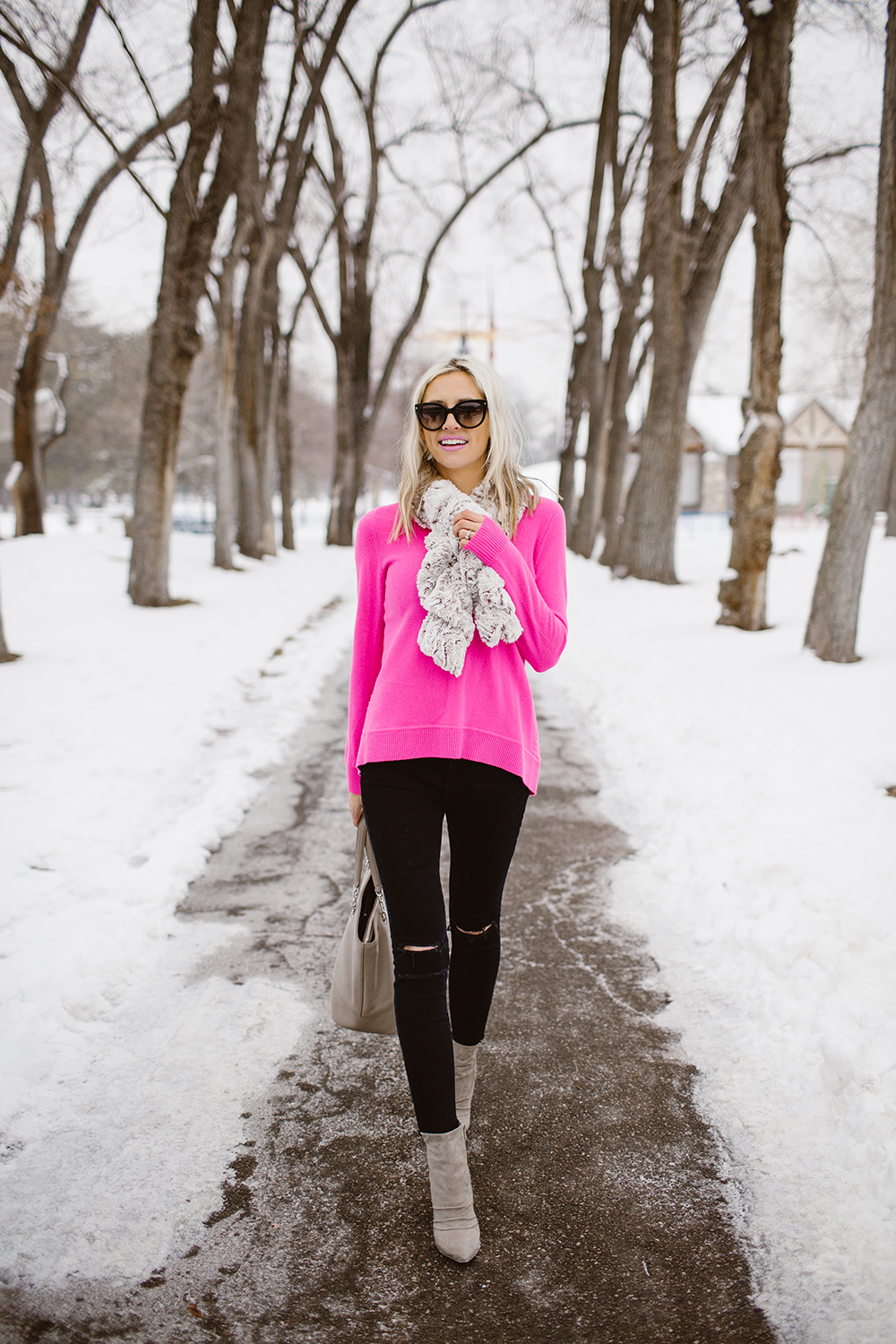 WHAT I'M WEARING
windsor store scarf c/o {last seen here} | pink dvf sweater {last seen here + here // similar here + here + here} | black jbrand jeans {old; similar here} | tory burch bag {similar here + here} | kristin cavallari booties {last worn here, here + here; similar style} | prada sunglasses | mac lipstick in 'saint germain'

Here's the thing, if you're someone who is active on social media (and by active I mean either posting your own content or regularly absorbing other people's content) chances are you've experienced the self-deprecating feeling that your life just isn't interesting enough. Remember, social media is a highlight reel. We share the best of the best and and forget that just because we don't see it doesn't mean it's not there ("it" being the lows of the lows).
So next time you even start on that thought train to nowhere that has you believing you don't measure up so you might as well quit right now, remember that feeling better is on the other side of changing your thoughts. Meaning, you just need a quick perspective check and these four mind hacks will get you there…
Stop and think about your favorite life experiences (as far back as you can remember) and relive the details of those experiences. How did you feel at the time, what age were you, who were you with, what were your surroundings? If it helps, pull up some old photos or read through an old journal. As you do this, you'll start to see your life as a story, not the sum of any single event. This will help you appreciate where you are now and realize that what your life looks like currently is just a reflection of circumstances, not a reflection of the value of your best life experiences.
Find the similarities. I'm gonna go out on a limb here and say that if you've read this far you've probably know how it feels to get caught up in the comparison game. The strange thing about comparison is that the definition is to "estimate, measure, or note the similarity or dissimilarity between." But somehow we always get stuck focusing on the dissimilarities and that's what makes us feel so uneasy. We want to be like someone in some way, but all we can see are our differences. First, that's like the best realization we could have. Ever. That we are different. It means we're all interesting! Second, if you focus on what you actually do have in common, you'll realize you're not all that different. Which helps us feel connected. Also a very important realization. Similarities = connection/belonging. Differences = one of a kind.
Appreciate the unusual. Like the fact that I'm sitting in my bathroom right now working on this blog post at 11:59 pm (I lied, it's 12:41 am). Who writes blog posts in their bathroom? That would be me. And this is a first. Also, I'm not on the toilet. But this is unusual for me and that makes it feel interesting. Like a bag of trail mix, sometimes you just need to shake it up to see the pieces you like (chocolate-covered anything for me, please!). And popular doesn't equal interesting. Remember that.
Practice gratitude. When we truly feel grateful for what we have now and where we're at, it's difficult to feel badly about it. The feelings of envy for other people's experiences fades because you're no longer being seduced by the perception of a "perfect" life. Start by thinking of the one or two things you could not afford to lose. For me, it's Benjamin and Matt. Nothing else matters to me if I don't have them. That starts the perspective change and as you think through the things that are making you feel inadequate, you'll start to realize they don't even matter (and probably aren't that important in reality anyway). Always put forth the effort it takes to practice gratitude. You will never regret it
The next time you start feeling like your life just isn't interesting enough (I'm gonna say it… "Gram-worthy"), try walking yourself through these four mind exercises. The power is in your thoughts and whatever you choose to believe will inevitably be your reality. So choose your thoughts wisely.
Happy Monday!
Photos by The High Pines.