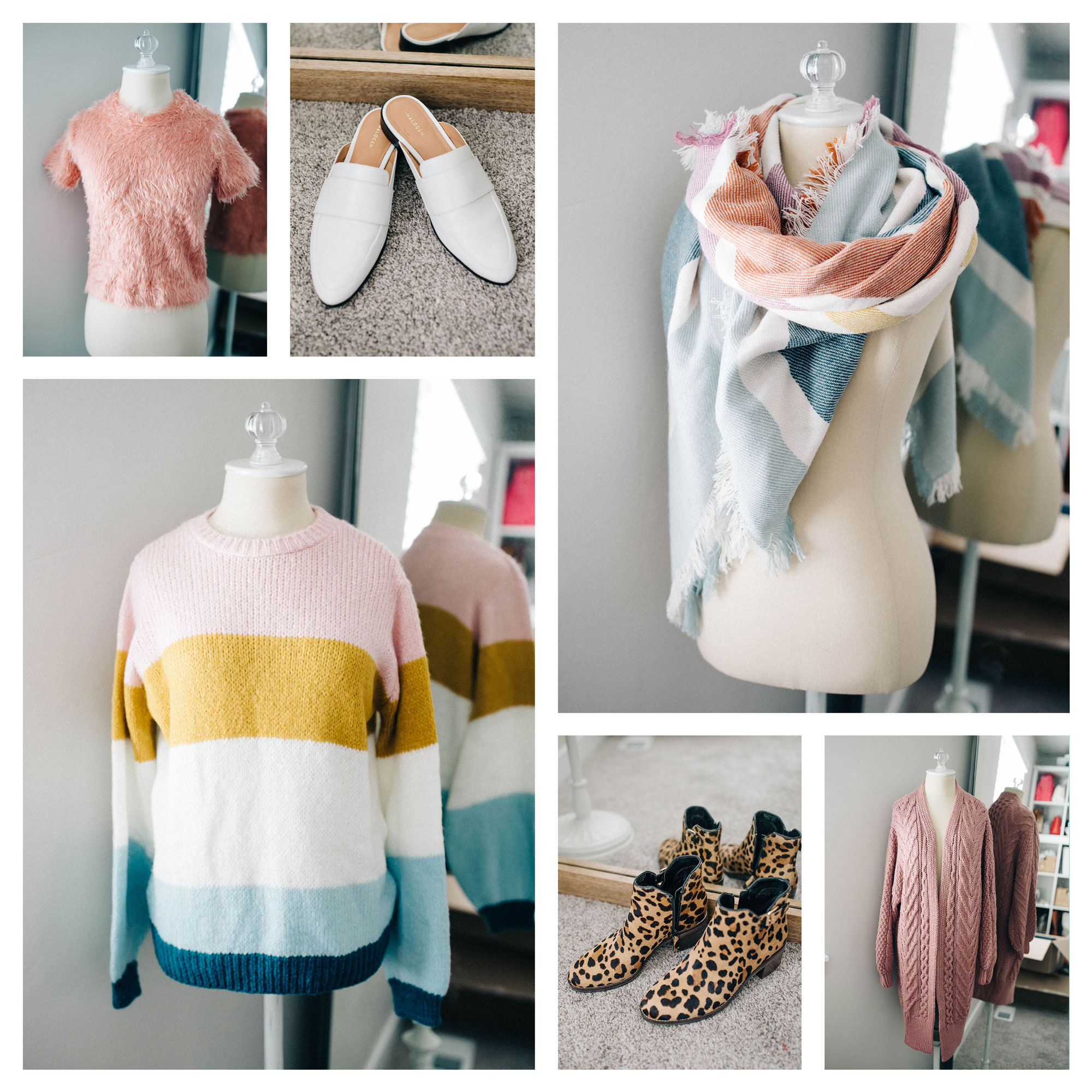 eyelash sweater // white mules // striped blanket scarf // striped sweater // leopard ankle boots // mauve cardigan sweater
. . .
So I purchased a few too many items at the Nordstrom Anniversary Sale this year (FYI—it ends on Sunday, Aug. 5). Overbuying is difficult to avoid—things will sell out if you don't act quickly. I was very calculated in my purchases, however, and felt RELIEVED to return all the items I didn't immediately love once I saw them in person (thank you, capsule wardrobe lifestyle!).
What I'm Keeping For My Capsule Wardrobe

Non-Clothing Items I Purchased & Kept
I've historically always focused on clothes with past Nordstrom Sales, but this year decided to try a few beauty items.
Every time I travel and my hotel bathroom has a magnifying makeup mirror I swear to myself that I'm going to get one for my bathroom at home. And then I never do. So I bought this rose gold Simple Human magnifying mirror ($65 dollars off!) and Matt and I both are already using it daily. I love how it lights up—really nice if you don't have enough light in your bathroom. Overall, I'm super happy with this purchase.
The other beauty item I bought was this facial exfoliation and peach fuzz remover device. I've never used anything like this, and still haven't taken it out of the box, but I wanted to try a different approach to exfoliating (beyond masks and face scrubs) and I'm excited to report back on this. Have you used something similar before? Please share your thoughts!
Other Items I Purchased & Why I Returned Them
Here's a quick glance at the other items I purchased and why I didn't love them enough to keep them…

Overall Feels
Overall, I'm happy with what I got and even more satisfied that I didn't go overboard like I have in past years. It's easy to see everyone's purchases (if you follow other style bloggers) on Instagram and have all the FOMO feels. I'm just grateful I found the capsule wardrobe to give me some boundaries and guidance on how to shop for the rest of my life. 🙂
Have you shopped the NSale already? What pieces were your favorites? Let me know in the comments if you have any questions about the items I reviewed in this post.