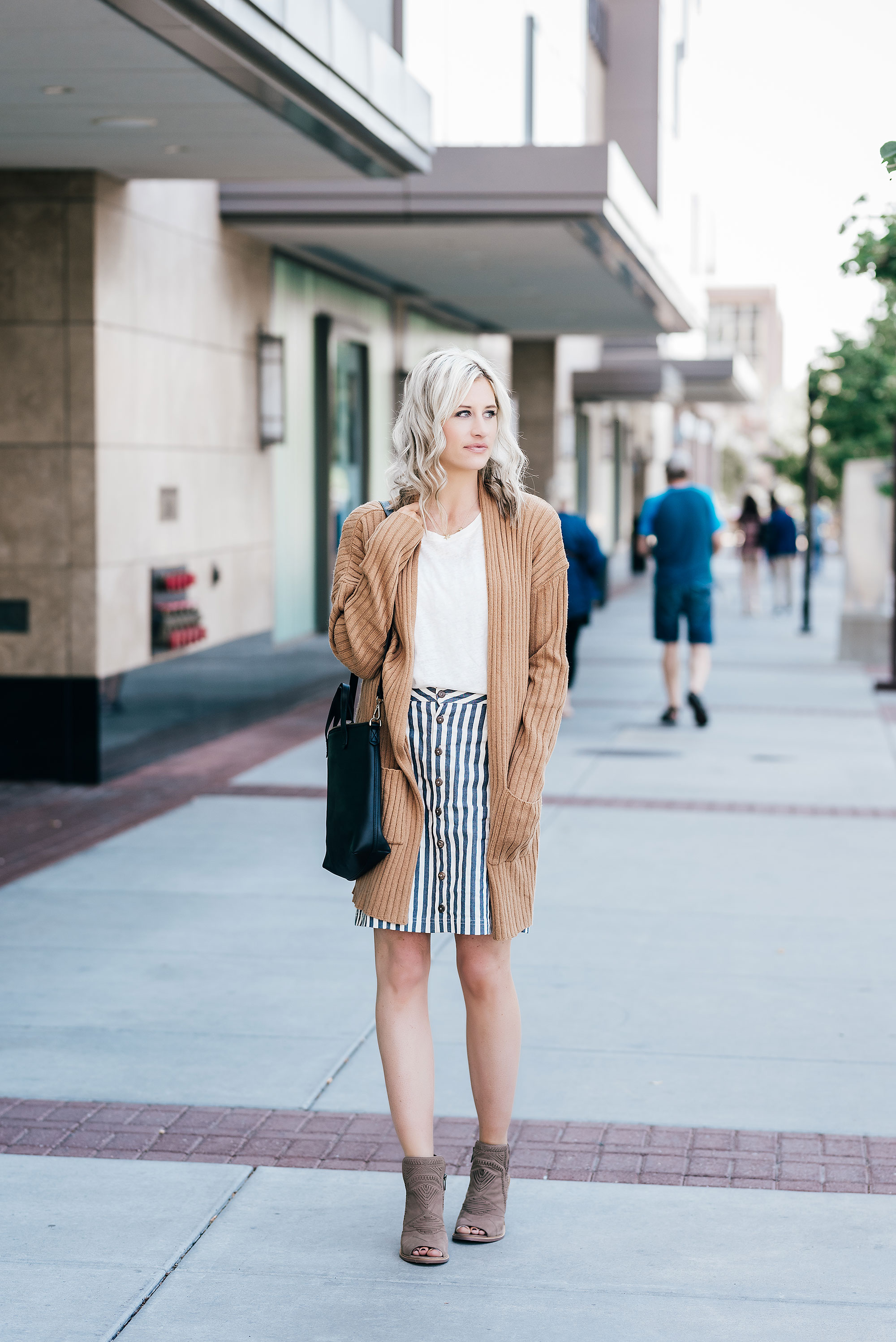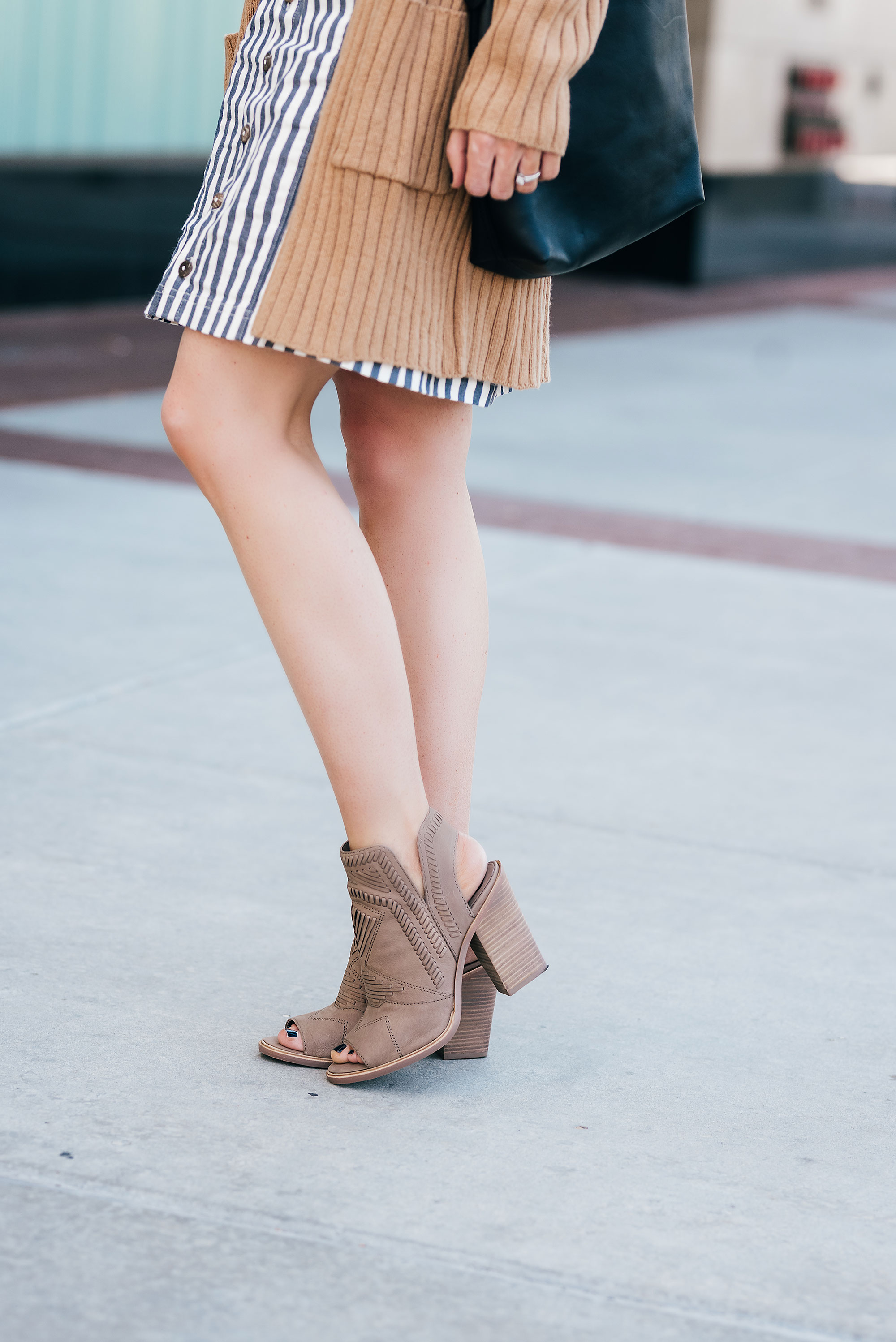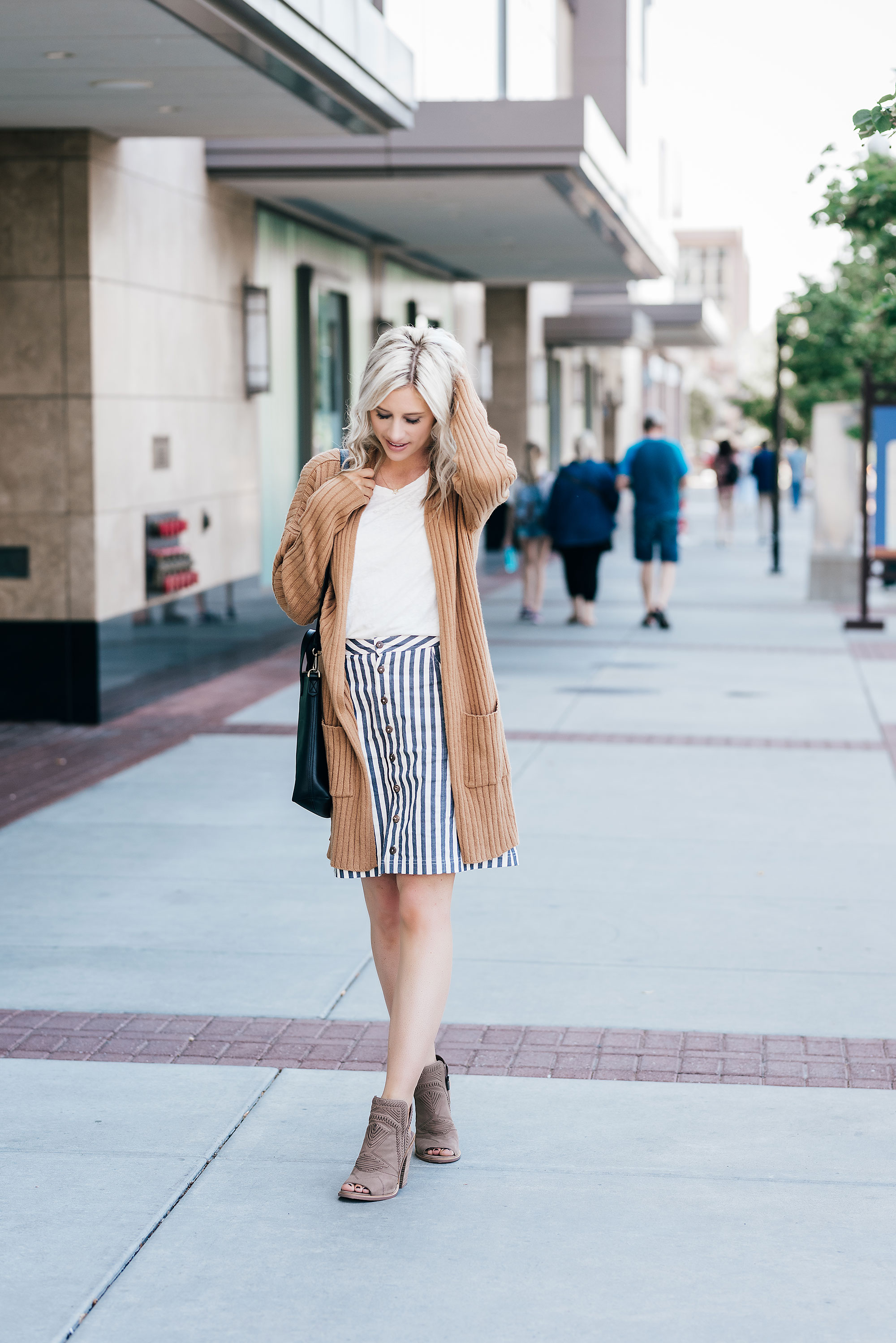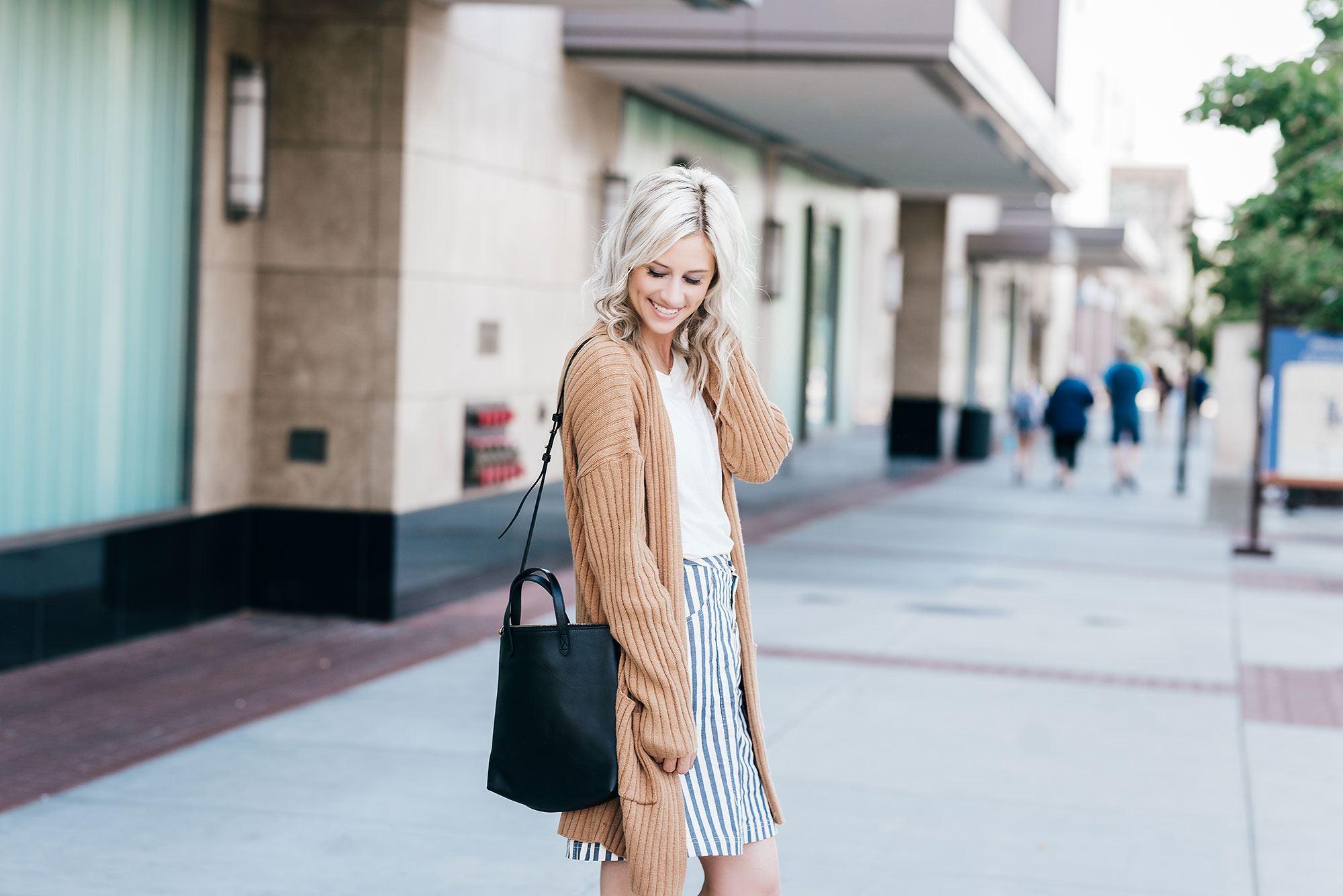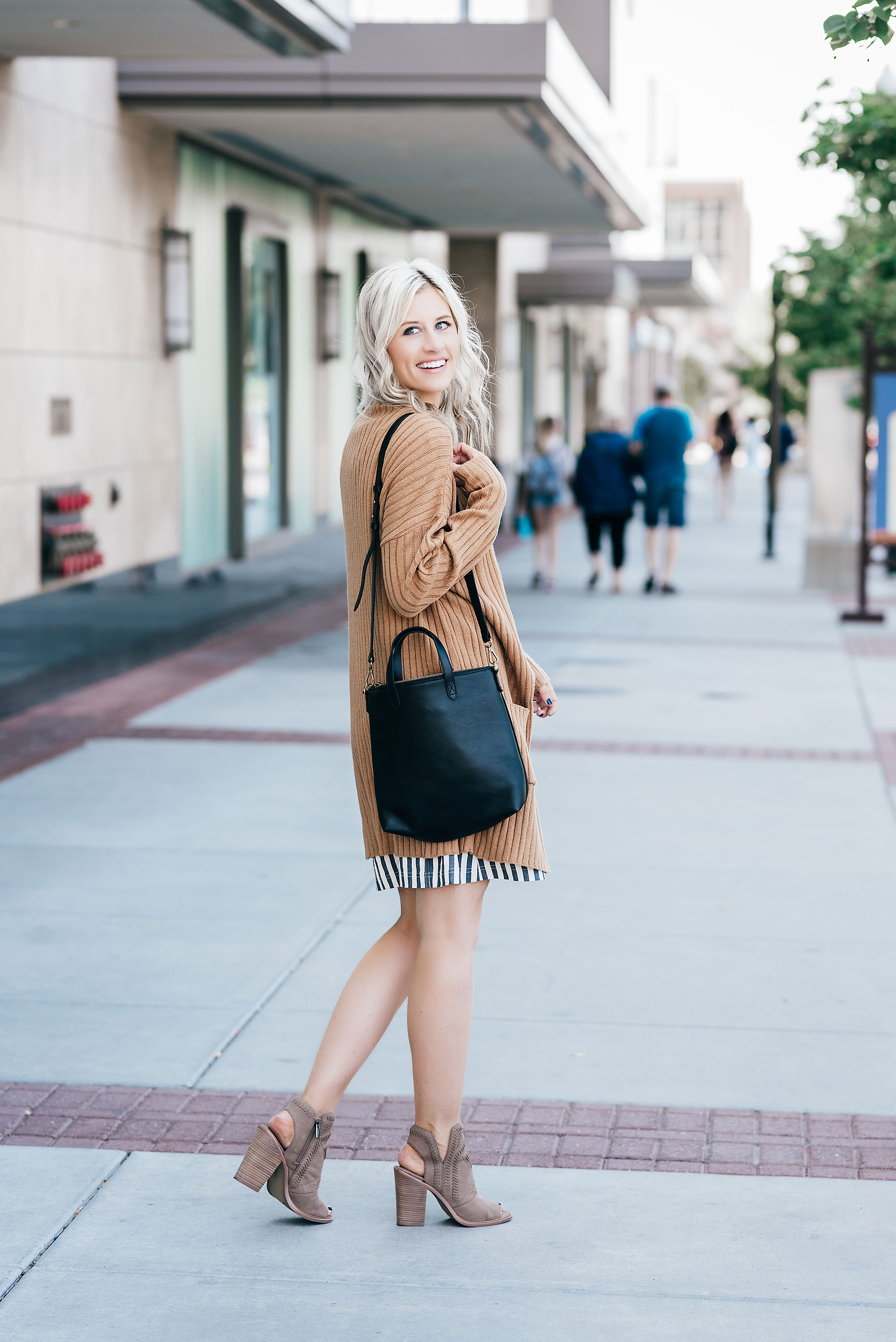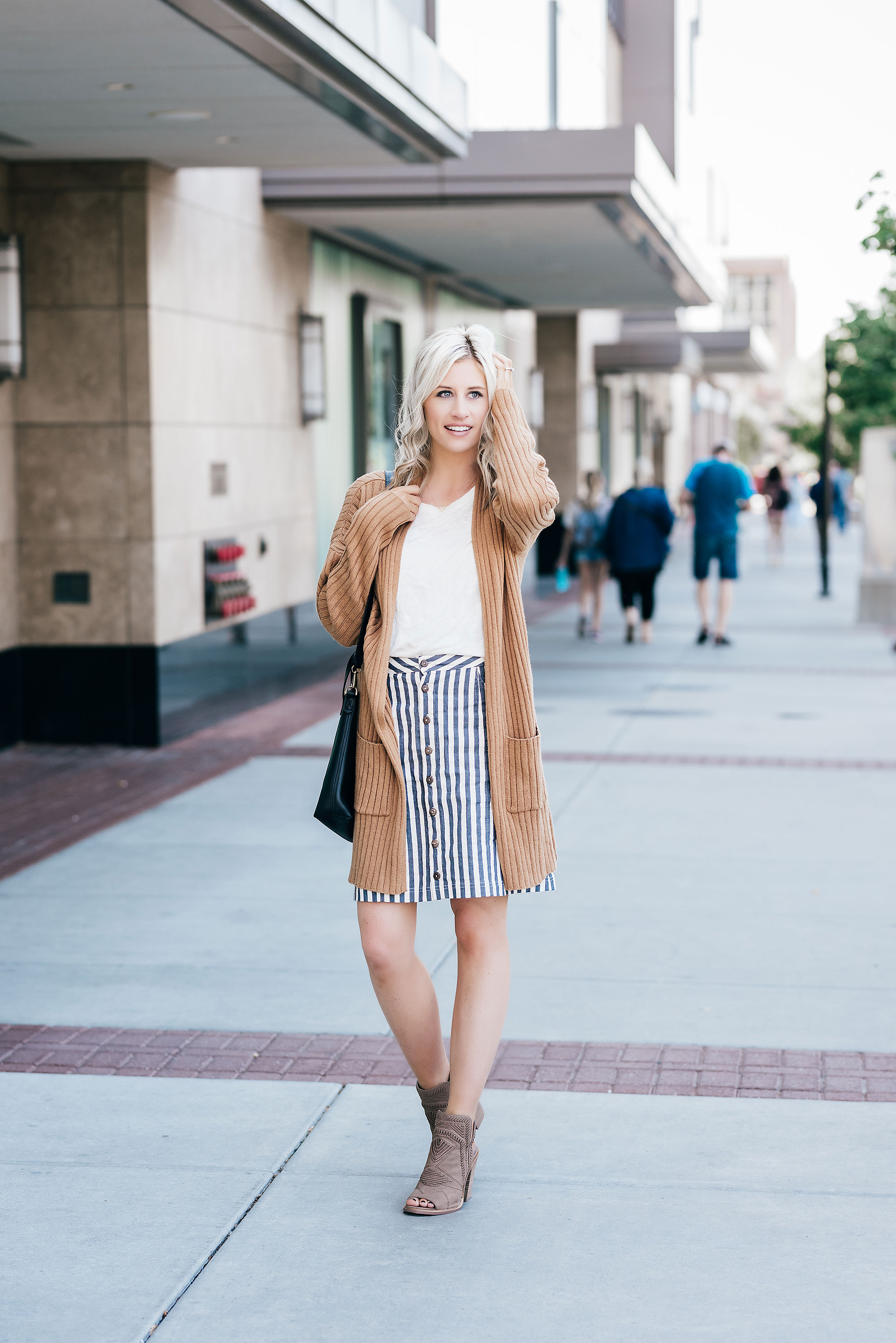 WHAT I'M WEARING
bp sweater {nsale: $30} | madewell tee {nsale: $38} | clad & cloth skirt {similar here + here + here} | vince camuto booties {nsale: $99} | madewell crossbody {similar nsale buy here}

Nothing makes me excited for fall in July quite like the Nordstrom Anniversary Sale. It's all the rage right now with Early Access (for Nordstrom debit and credit card holders) in full swing, but you don't have to go bankrupt over it. There are so many affordable must-haves in this sale. You just have to know where to find them.
Shoes
I'm really not in need of new shoes, but I have been looking for something to transition my summer wardrobe to fall, and when I saw these taupe block heel booties, I knew they would fit the bill. I love the peep toe and how easily they pair with skirts and dresses or jeans and leggings. They come in two other colors and are really comfortable, so I know I'll be getting my money's worth. If you've only budgeted $100 to shop the sale, spend it on these.
Sweaters
Fall shopping isn't complete with out a new sweater and my closet is full of pullovers so finding a new cardigan without breaking the bank was another task I set out to complete with the NSale. Last year I bought this sweater in two colors and the sweater I'm wearing above is only $30! Such a steal. I also bought this one this year because I love the draped front for a cozy feel.
Jeans
I haven't purchased any jeans at the NSale this year because I just bought this pair that I'm obsessed with (also available here). If you're in the market for new jeans, this sale is perfect because you can get them for such a great price. If you don't need new jeans, but want a trendier style, like the raw hem or step hem, this pair and this pair are affordable options.
Handbags
I typically budget for one investment item from the NSale each year, usually a bag, coat or boots. Last year, I bought this Tory Burch bag in grey and I have never regretted it. I'm so happy it's part of the sale again this year. Such a timeless bag and extremely durable. But if Tory is a bit out of your price range you can still find really great dupes in the sale, too, like this bag. If you're a fan of this burgundy Tory Burch bag, here's a more affordable option.
More to come!
I'll be doing another post breaking out the best buys (for women) from the NSale by budget, but for now, I've rounded up all of my favorites below to ensure your fall wardrobe is fashion-forward and practical this year.
Remember, Early Access ends Thursday and the sale will open to the general public. If you want to get ahead of the rush, I highly recommend getting a Nordstrom debit card. And the best rule of thumb: you can always return it. 🙂

Photos by Paige Nicholle.