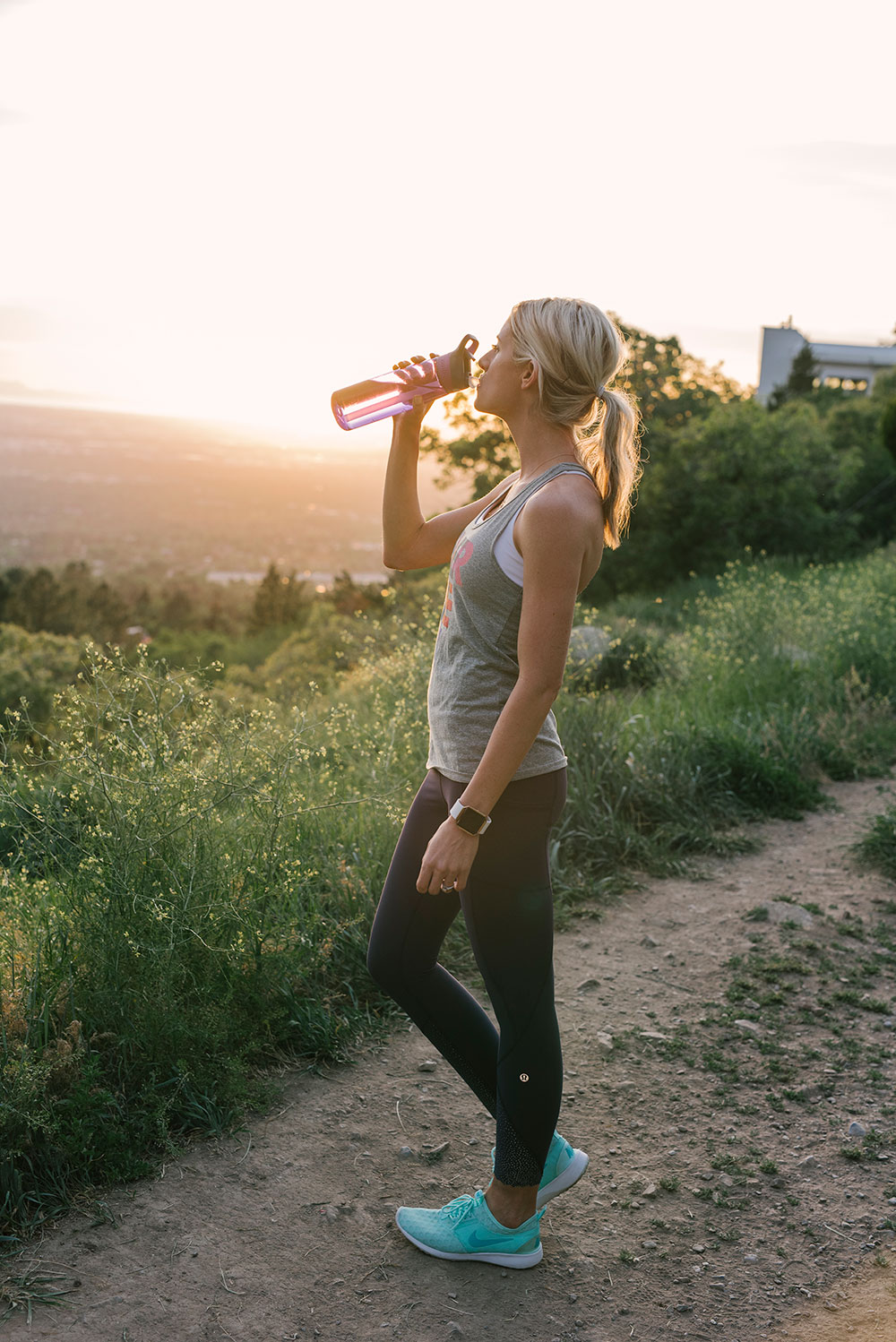 WHAT I'M WEARING
nike tank {old; similar style} | lululemon bra | lululemon leggings in navy {I love the pockets on the side for your phone!} | nike sneakers | fitbit blaze + band

Week one of my Whole30 is in the books!
To be honest, it wasn't as hard as I was expecting. Even the Whole 30 authors themselves had me mentally prepared to expect the worst from myself (crankiness, tiredness, cravings, frustration, doubt, etc.). I didn't experience much of any of these things. And I think there's one reason why.
My WHY was crystal clear.
In the past, I'd always start new programs for the sole purpose of wanting to look better. With that approach, I always struggled to finish any program I committed to because weight loss or looking good isn't motivating enough for me. Believe me, I daydream about the perfect body every day, but when it comes down to the grit and dedication that's required to push through the pain period of a new healthy eating plan or workout regimen, I'd almost always throw the towel in before seeing any results.
This time, it isn't about appearance for me. It's about the inside. And with my open-eye view of just how much my health affects my quality of life (especially now as a mom), I was ready to take on a challenge that no one could hold me back from.
What I did well.
I remembered from the Whole30 book that most cravings last for just 3 seconds. I did really well at keeping myself distracted until my cravings went away.
I kept my focus on what I was going to eat, not what I wasn't getting to eat (like bread, ice cream, grains, etc.).
I was intentional about drinking enough water every day to help with the adjustment to 3 meals per day (I've been eating 5-6 smaller meals for the past 5-6 years so I was nervous about always feeling hungry).
I stayed connected to my new friends on Instagram who've done the Whole 30 and were kind enough to reach out and encourage me. (You know who you are.) This small support group made all the difference in keeping me focused.
What I could have done better.
Meal prep. I got bored with my food by the end of the week. I mostly grilled all my meats, added some kind of vegetables (broccoli, squash, green beans, spinach) and avocado for pretty much every lunch and dinner. Breakfast was always scrambled eggs with veggies and avocado. And each day started feeling like the previous one with no excitement to look forward to in my meals.

(I will say, though, that as someone who's always been intimidated by cooking, this was not a bad way to ease into the program, given the major lifestyle change in my relationship with food.)

More variety in my food choices. Again, goes back to meal prep. One of the main points is to give your body the health benefits that come from various vegetables, fruits, meats and fats. By eating the same types of things for each meal, not only did I get bored, but I wasn't getting all of the nutrients my body needs to reach optimal health.
How I felt.
The first tangible thing I noticed in week one was how much better I slept. I wasn't getting more sleep (still working on that), but the sleep I did get felt deep and restful.
I kept looking for changes in energy levels. I didn't feel stooped, but I also didn't feel invigorated (maybe because I actually need more sleep).
I felt mentally focused and guilt-free. I'm guilt-prone anyway (always feeling like I should do better), but the guilt I seemed to always feel was tied to how I nourished (or didn't) my body. You know, that feeling when you don't know what to eat, so you end up eating what you "feel" like and then that thing is inevitably always the thing you shouldn't have eaten? Yeah, I didn't feel that way once. It was so empowering.
I felt in control. I started believing in the Whole30 program even though I wasn't feeling entirely different than before. I just believed if I stuck to it, I would eventually start to see changes. I was very patient.
Week one was a success in my book, but I knew it wouldn't be this easy forever. Stay tuned for an update next Friday on surviving week 2, what I struggled with and what I improved. If you haven't done the Whole30, but are curious, read my post on why I decided to try it, and follow along on my Instagram stories for a peek at what I'm eating each day.
Have you followed a healthy eating plan that you loved? Tell me more in the comments.
Thanks for reading.
Photos by Ashlee Brooke.
Read my full Whole30 series: