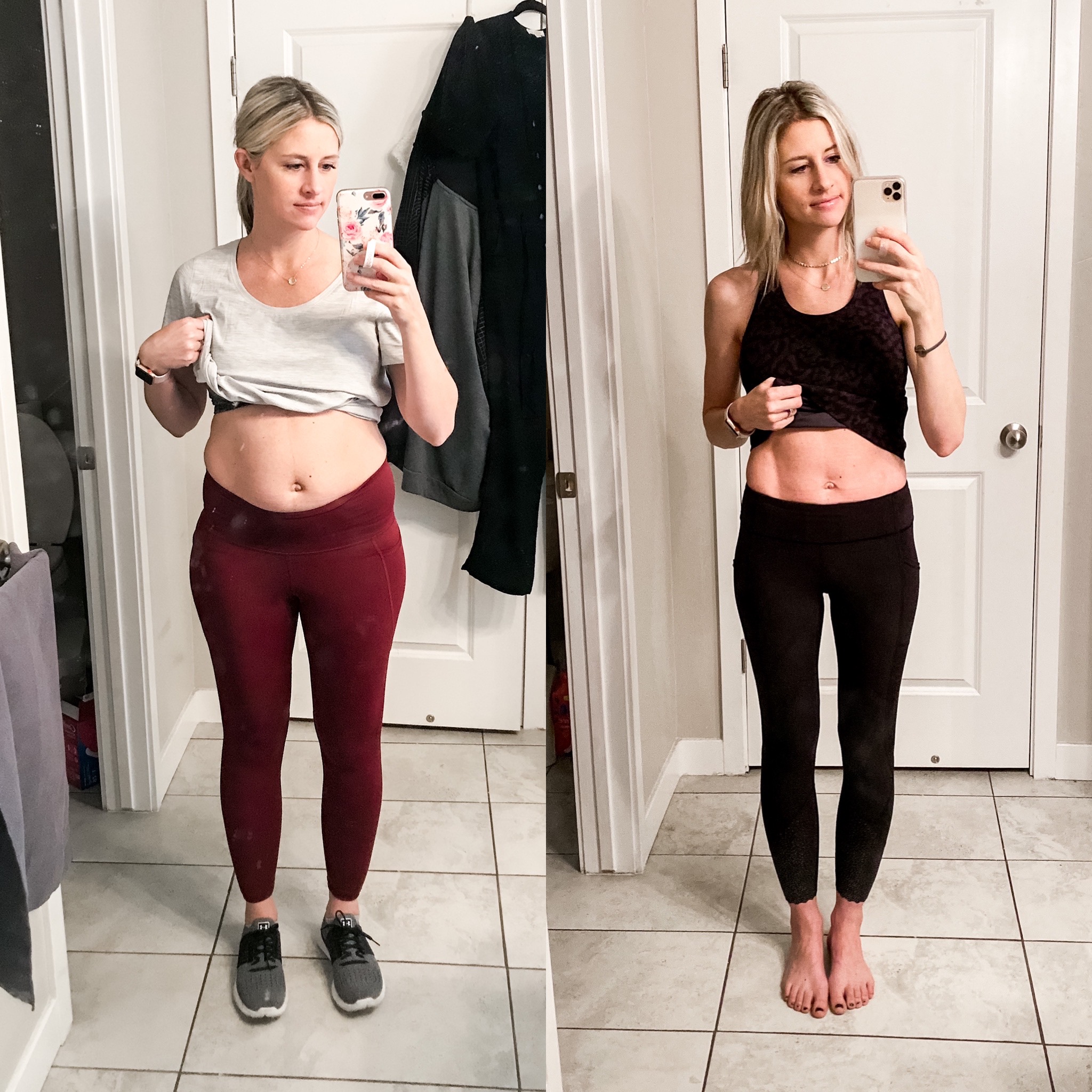 It's Not a Diet, It's a Way of Life
Hi Friends! Before I get into the story of my transformation, I want to make sure we're starting from common ground about the difference between a diet and a way of life.
A "diet" by definition is simply: the kinds of food that a person, animal, or community habitually eats.
In a sense, it's one's way of life.
It seems our culture has altered the meaning of the word "diet" to infer a temporary change of what one eats in order to change the way one looks only to conclude those changes are unsustainable and the search for another "way of life" continues.
For many of us, the search becomes our way of life.
We struggle to find a way of eating that is "enough" for us—a way of eating that we don't have to constantly change in order to keep our bodies in their right sizes and that also provides enough fuel to keep our bodies and minds functioning and healthy.
Ironically, many of us are doing it backwards, though. We're trying to change our bodies to create that feeling of being enough because that's what the world tells us to do. When in fact, our bodies were never designed to carry the responsibility of that role.
The kind of enough we're truly seeking is the kind that comes only from our loving Father in Heaven and His Son, Jesus Christ.
Wouldn't you agree that all we really want and need is to know that we are already—in our most imperfect, incomplete state, regardless of what any other human thinks of us—enough?
What if we could find the nourishment we're really seeking in something other than food?
What if all we had to do was find the truth in our food, real food, trusting in the One who created it for us to live and thrive?
Don't you think we would be able to figure out what to eat and how much is enough so we don't have to spend our lives searching for it?
Wouldn't the weight and body image stuff take care of itself so we could get on with living and loving our lives?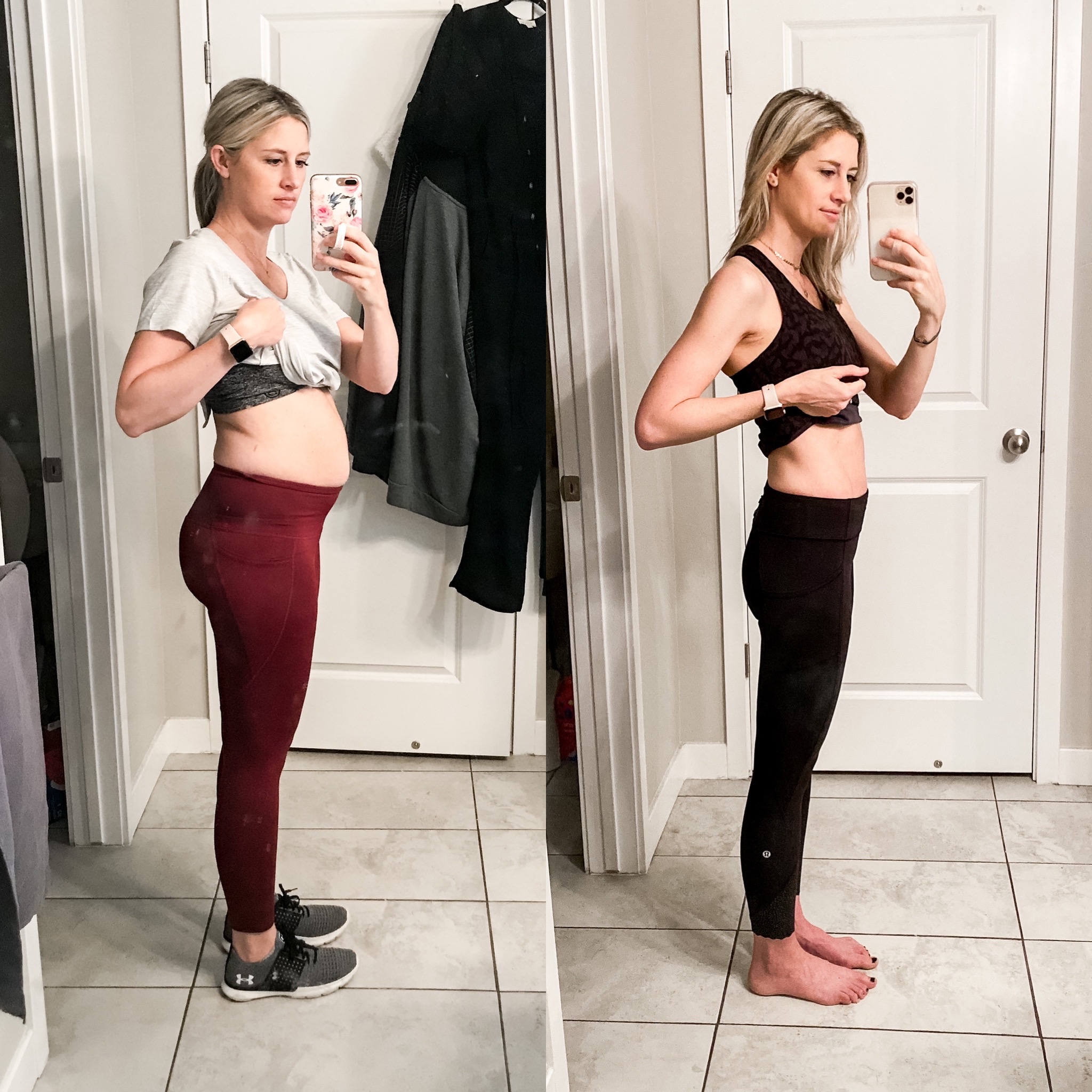 About My Postpartum Weight Loss
On Aug. 2, 2019, I took my last bite of sugar and flour. I no longer eat processed foods and while it seems like it happened overnight, it's really a decision that came after years of absorbing and learning the truth about our food but struggling to commit to such a change.
I now eat 3 meals per day with no snacks in between (because I'm still learning how to determine when a snack becomes a meal, LOL). My meals consist primarily of vegetables, fruit, grains and protein.
The short of it is, I joined 12-step program for food addiction that taught me by experiment how much food is ENOUGH food. It also taught me how to turn to God when I need help, instead of turning to food to numb and escape difficult or uncomfortable thoughts and emotions.
I was desperate for change, but it wasn't as much about changing my body or my weight as it was about changing my HABITS.
My food habits were self-destructive and I didn't realize until now just how much those habits were damaging my self-image. All these years, I thought my reflection in the mirror was causing my lack of confidence.
Because I had spent years learning about real food vs processed foods, I already knew how to eat healthy meals. I just couldn't stop snacking on extra junk (candy, cookies, ice cream, popsicles, anything and everything processed) in between or sometimes in place of those meals.
The idea to eat something sweet would cross my mind and I couldn't say no. I didn't know what "enough" felt like and subconsciously always needed more.
I was addicted to sugar. Emotionally and physically. Honestly, aren't we all? Sugar is in EVERYTHING.
These habits always led to weight gain, but most of my life I somehow "kept that under control" with exercise. During pregnancy, however, and especially my second pregnancy, these habits went unchecked because trying to control them only brought more shame and it was just easier to pretend not to care.
As a result, I gained more weight than I ever had and that started to scare me. I started to question my identity.
Once I honestly acknowledged the possibility of addiction and made the decision to follow my food plan (focusing more on the Lord's love and deliverance than on weight loss), the pounds started to come off.
To date, I've lost a total of 32 pounds. The first two months I lost 10 pounds each and as I got closer to my right-sized body, the weight loss slowed down to 1 pound or so per week.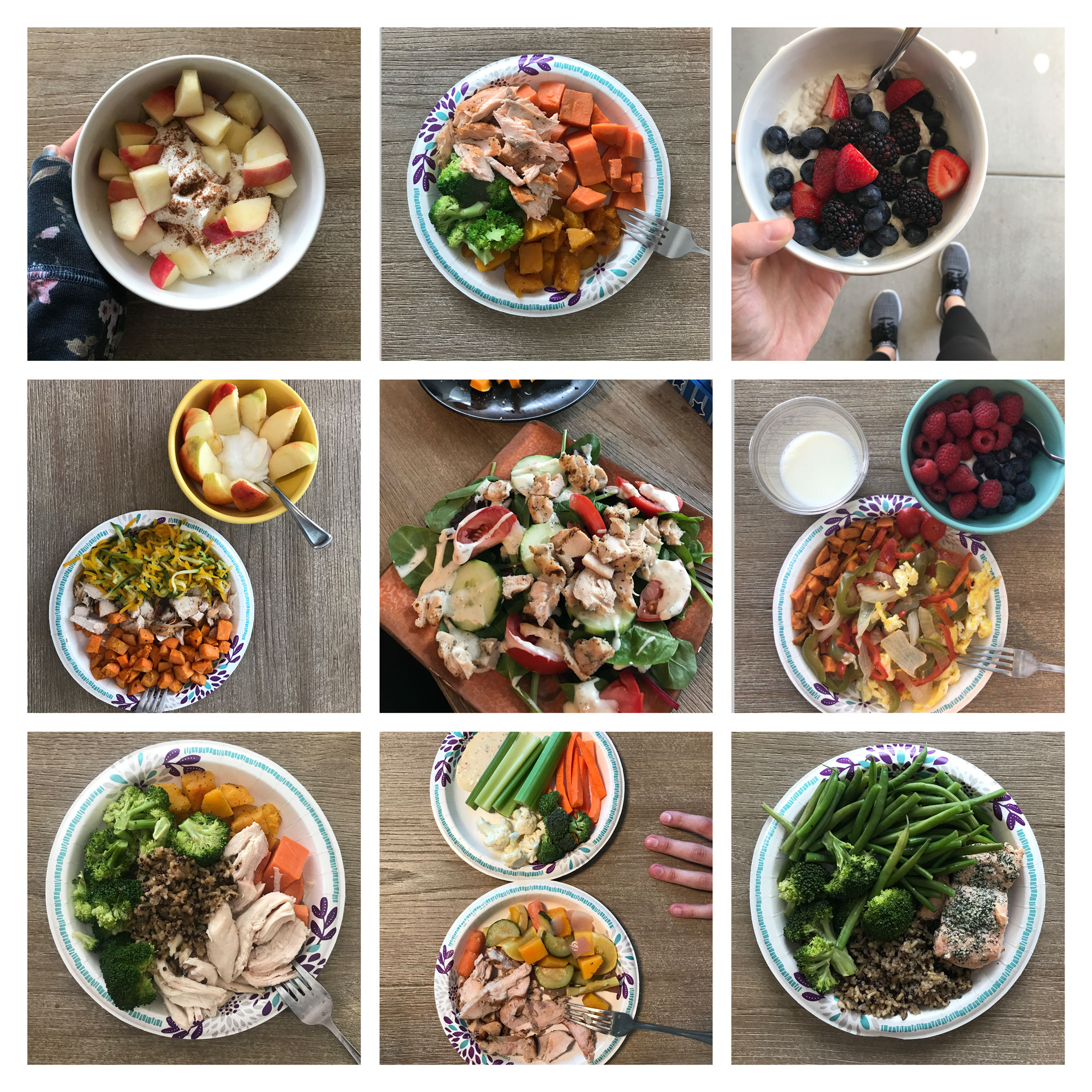 What I Eat Every Day
Now, to answer the question many of you asked on Instagram that prompted the idea for this blog post in the first place, here's what I eat every day. You're going to love how simple it is (more details here).
Breakfast
8 oz protein (yogurt)
1 oz grain (oatmeal)
6 oz fruit (1 apple or 6 oz berries)
Lunch
4 oz protein (chicken, steak, fish or 6 oz beans or 2 eggs)
6 oz cooked vegetables (broccoli, asparagus, green beans, brussels sprouts, spaghetti squash, butternut squash, tomatoes, fajita peppers, zucchini, etc.)
4 oz grain or starch (sweet potato, potato, rice, quinoa)
6 oz fruit (strawberries, pineapple, raspberries, blackberries, blueberries or 1 apple, 1 orange, etc.)
6-8 oz dairy/protein *for breastfeeding only* (yogurt, milk, almond milk)
Dinner
4 oz protein (chicken, steak, fish or 6 oz beans or 2 eggs)
6 oz cooked vegetables (broccoli, asparagus, green beans, brussels sprouts, spaghetti squash, butternut squash, tomatoes, fajita peppers, zucchini, etc.)
2 oz lettuce + 6 oz raw veggies for dinner salad (carrots, broccoli, celery, tomatoes, cauliflower, etc.)
2 tbps dressing – sugar not in first 5 ingredients (my current fav is Lighthouse Bacon Bleu Cheese)
I followed the above meal plan for 90 days and then an additional 4 weeks until I hit my goal weight. Once I hit that weight, I've maintained it by changing my grain/starch to 3 oz at lunch and adding an additional 3 oz at dinner + 6 oz of fruit at dinner as well.
I use and love the food scales from Clean Simple Eats because they're the perfect size to fit a standard plate and still be able to see the numbers.
And since I know you might be wondering: I'm 5'7″ and weigh 120. 🙂

How Did I Do It?
My answer to this question is simple: I really didn't do it. I let the Lord do it. For the first time ever.
And for the first time ever, I feel truly free. Isn't that interesting?
It has been a huge sacrifice to give up sugar and flour. I was so afraid and at this point in my journey I still am some days. All the "foods" I've loved that have always been a part of my life (ice cream, pizza, cookies, candy, to name just a few) are no longer part of my life.
But I don't think about doing this forever. It freaks me out when I do.
Instead, I take it ONE DAY AT A TIME.
I do my best to hand things over to God when I feel stressed, overwhelmed or out of control.
I'm not perfect at following this plan and I'm not perfect at turning to God for help every time I need it, but I'm getting better at it every single day. Prayer and scripture study have truly been central to my internal growth and change.
Historically, I have a really hard time asking anyone in my life for help. It's a constant area of improvement for me.
But I know God doesn't expect perfection yet. I'm here to learn and practice. And I'm just so grateful I know now, more than I ever realized before, that He LOVES me. That love, when I allow myself to really feel it, motivates me to do what I know is good and right for me under any/all circumstances.
I know He wants me to have the things that are important to me, even having a body I feel comfortable and confident in.
The interesting thing is, He's educated my desires along the way and some of the things I thought I wanted, are no longer needful.
He wants me to be happy and healthy and grateful for everything I have. He wants me to be free from bondage (to food, myself, cultural expectations, etc.) so I can help Him do a great work.
And He wants to be a part of every detail of my life.
I know He feels the same about you.

It's difficult to summarize everything I've learned and just how much I've grown since I gave up sugar and flour. The emotional weight loss is even bigger than the physical weight loss and there's no before/after photo for that.
Looking back on the past 5 months, I can say with certainty, if you keep searching for something that works for YOU, you WILL find it.
Never stop searching.
I'm planning a few follow-up posts (check here for updates) to answer the additional questions I received on Instagram and via email, but feel free to ask me anything in the comments and I'll be sure to respond.