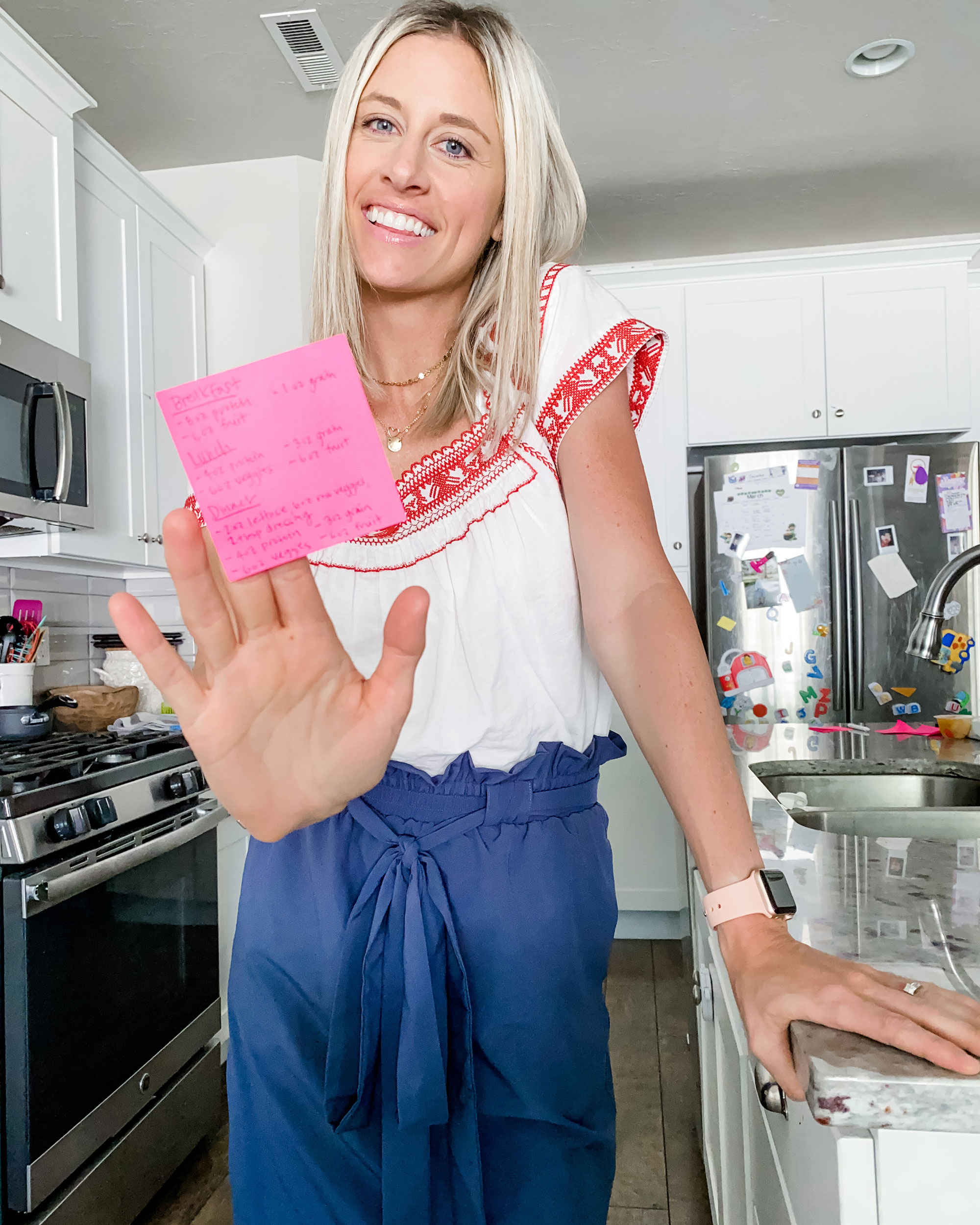 Hi Friends! So many of you have asked me to post the sugar-free, flour-free food plan I've been following so you can easily reference it.
Once you get familiar with all the foods you can choose from, you'll realize how SIMPLE this plan is. Simple enough to write on a post-it note! ?
Below are 3 variations of the same plan.
I started with the Breastfeeding Plan and followed it until I hit my goal weight (about 5 months).
Then I transitioned to the Maintenance Plan and have been following that ever since.
The Weight-Loss Food Plan
Most people who join the 12-step program start on this plan. Depending on their sponsor, some begin adding grains to their lunch after 30-60 days, others don't add grains until they're closer to goal weight.
On both this plan and mine (the breastfeeding plan), you don't add grains to dinner until you reach maintenance—aka, your goal weight.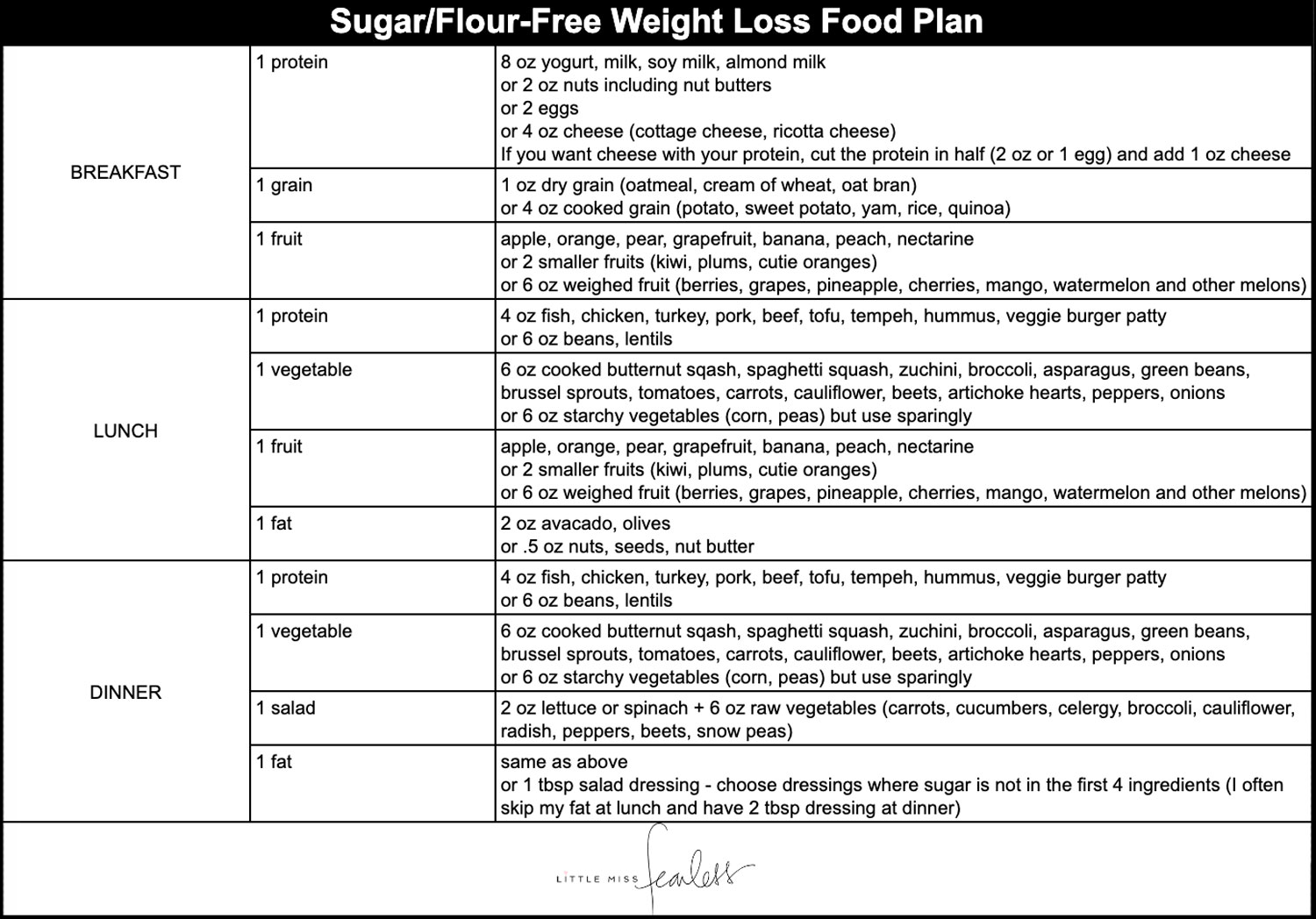 The Weight Loss Food Plan for Breastfeeding
The main difference in this plan from the one above is highlighted in green. Because I needed the extra calories to keep my milk supply up, I always had grains and yogurt at lunch.
I wish I knew more about why those foods, specifically, were recommended for breastfeeding. Maybe I should have asked more questions. But I just trusted it would work and it did. I also kept an eye on my milk supply and talked with my sponsor about whenever I had concerns, which was pretty rare. I breastfed for 8 months and never felt like my milk supply was low from eating all this food.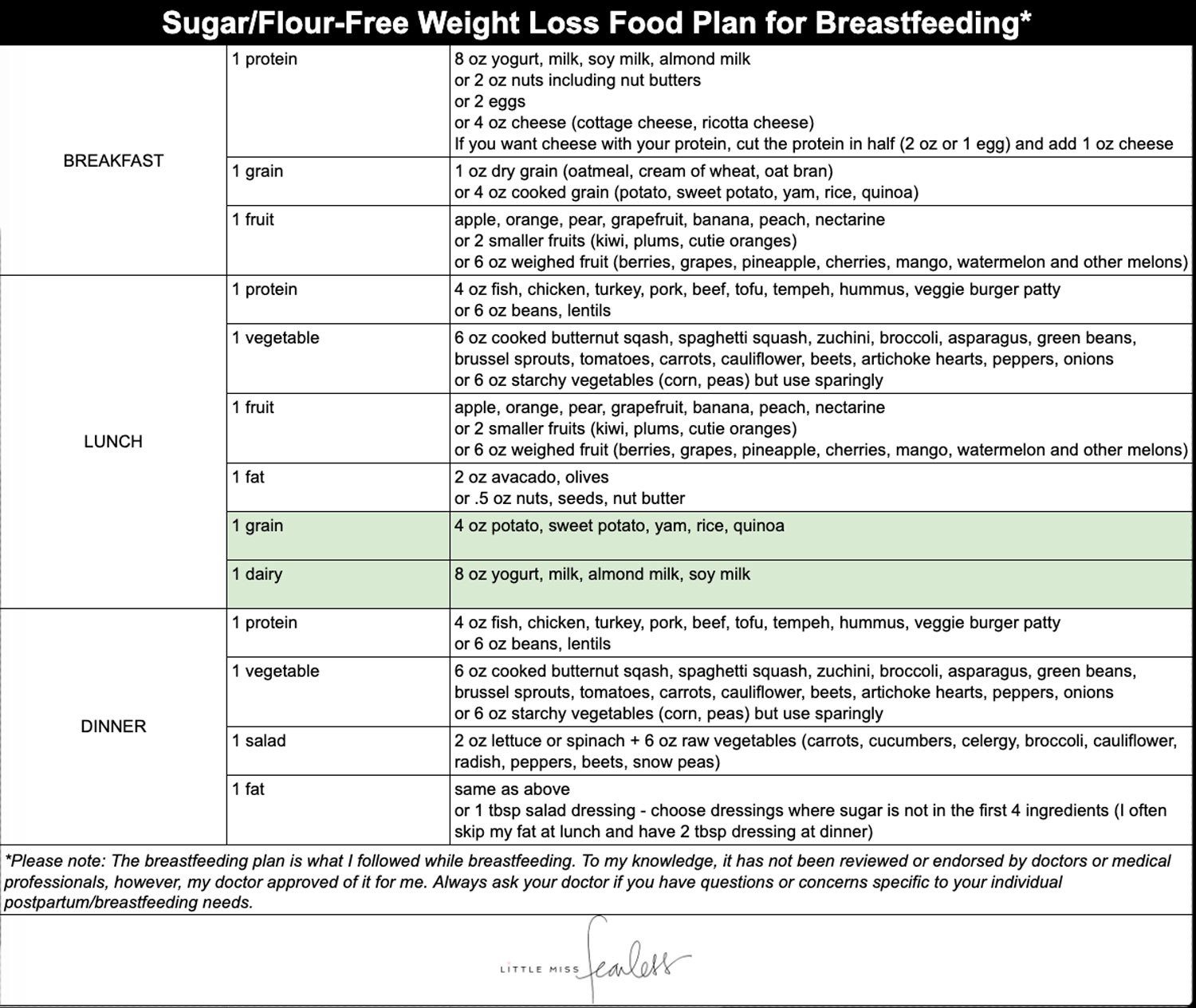 The Maintenance Plan
I loved transitioning to maintenance because it made me truly appreciate how delicious sweet potatoes are! Having grains and fruit are a luxury. Probably no one has said that in the past 2,000 years ?, but it's true. You will eat first-class food on these plans.
When I reached maintenance, I added corn tortillas (no more than 2) as my dinner grain on occasion. We love taco night at our house. I've also had corn tortillas and Skinny Pop popcorn on occasion (in place of my dinner grain). If I ever take it too far and eat too many—and sometimes I do—I cut my grain out for a day or two and then go back to maintenance. I'll share more on this in a future post.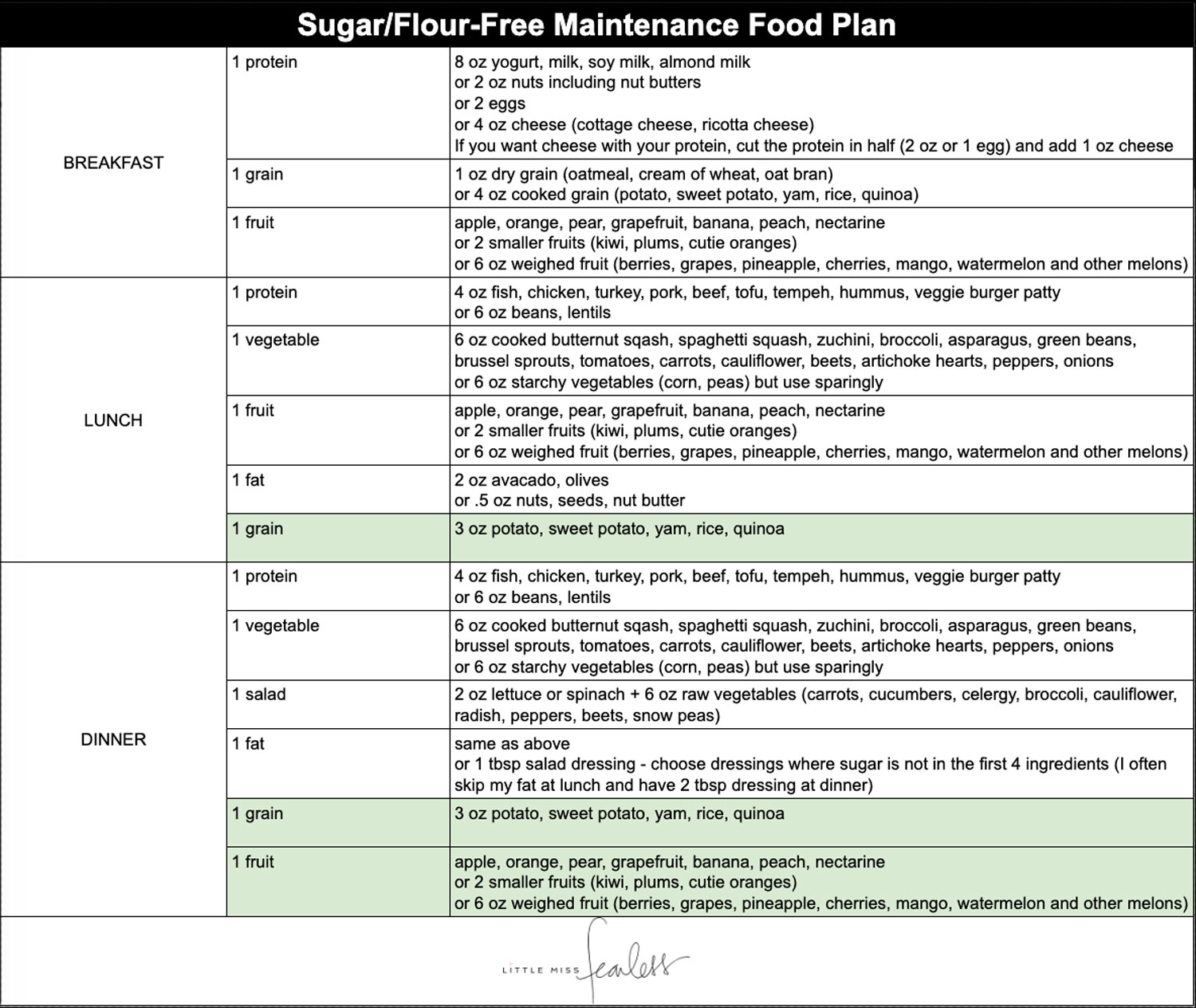 Since you'll need a food scale for this plan, this is the one I use and LOVE. It's lightweight but big enough to fit a large plate and still see the numbers.
Just a reminder, this food plan (and it's variations) came from the free 12-step program I joined for food addiction recovery.
The science behind why this plan is so effective for weight loss (regardless of your current weight, height, age, etc.) and food addiction recovery is explained in detail in the book Bright Line Eating by Susan Peirce Thompson. I highly recommend it!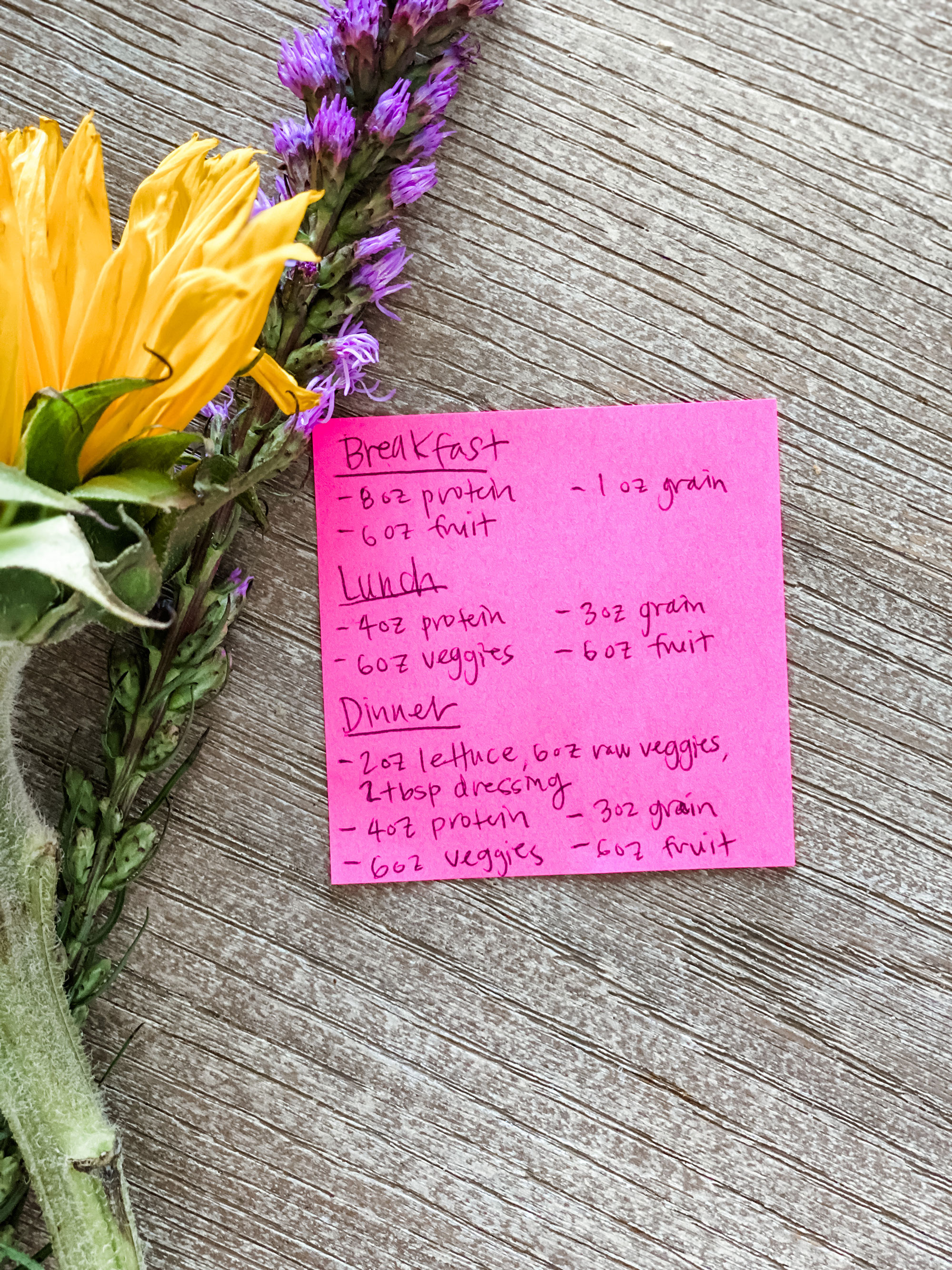 One final note on food addiction…
I could not have gotten this far or made this a lifestyle without support from the people I met and tools I learned in the 12-step program. They helped me build my relationship with God and He has changed my heart and my sight, making the foods I used to eat much less desirable to me now.
Without structure and accountability, these food plans can easily be mistaken for just another "diet." Cutting out sugar and flour is not easy, but it's easier if you do it with help. If you truly identify with food and/or sugar addiction, please read this post and consider all your options for finding the help you need that works best for you.
Ask me questions!
Let me know in the comments if you have any questions. And please share with anyone you think might benefit from this info.
More blog posts are on the way, including the tools I use when I'm tempted to binge, my snacking philosophy, what it was like in my 12-step program, how my faith came alive, etc.
Thanks so much for reading. XO