Special thanks to Walls Need Love for sponsoring this post. All thoughts and opinions are my own.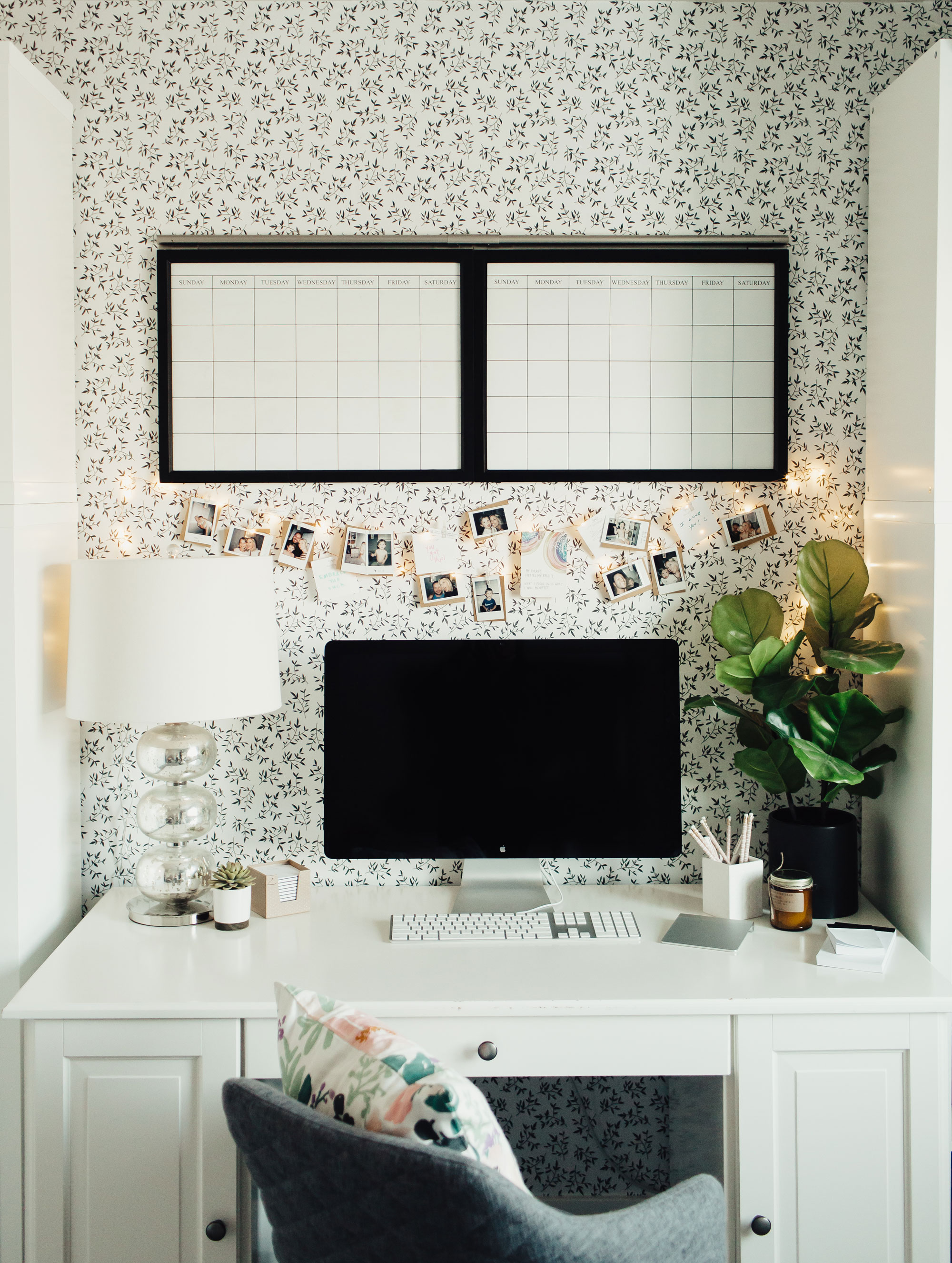 I have a thing for transforming small rooms.
Almost exactly three years ago I was getting ready to transform a small room into the perfect baby nursery for Benjamin. My friends at Walls Need Love came to the rescue and made it easy for me to completely transform the room with their magical, removable wallpaper. (Really, if you didn't see the post, you have to check it out.)
Now, we're pregnant with our second babe and here I am again, transforming my home office, which will partially become the baby's room once we're ready to move the crib in.
I spend a lot of time in this room. My job at Adobe has allowed me to work a couple days from home every week. And while I love the twinkly lights, polaroids and other accessories I pulled together, something has always left me feeling a bit uninspired when working long days from this space.
Turns out, it was the BLANK WALLS. They needed some love! And that's when my creative juices started flowing.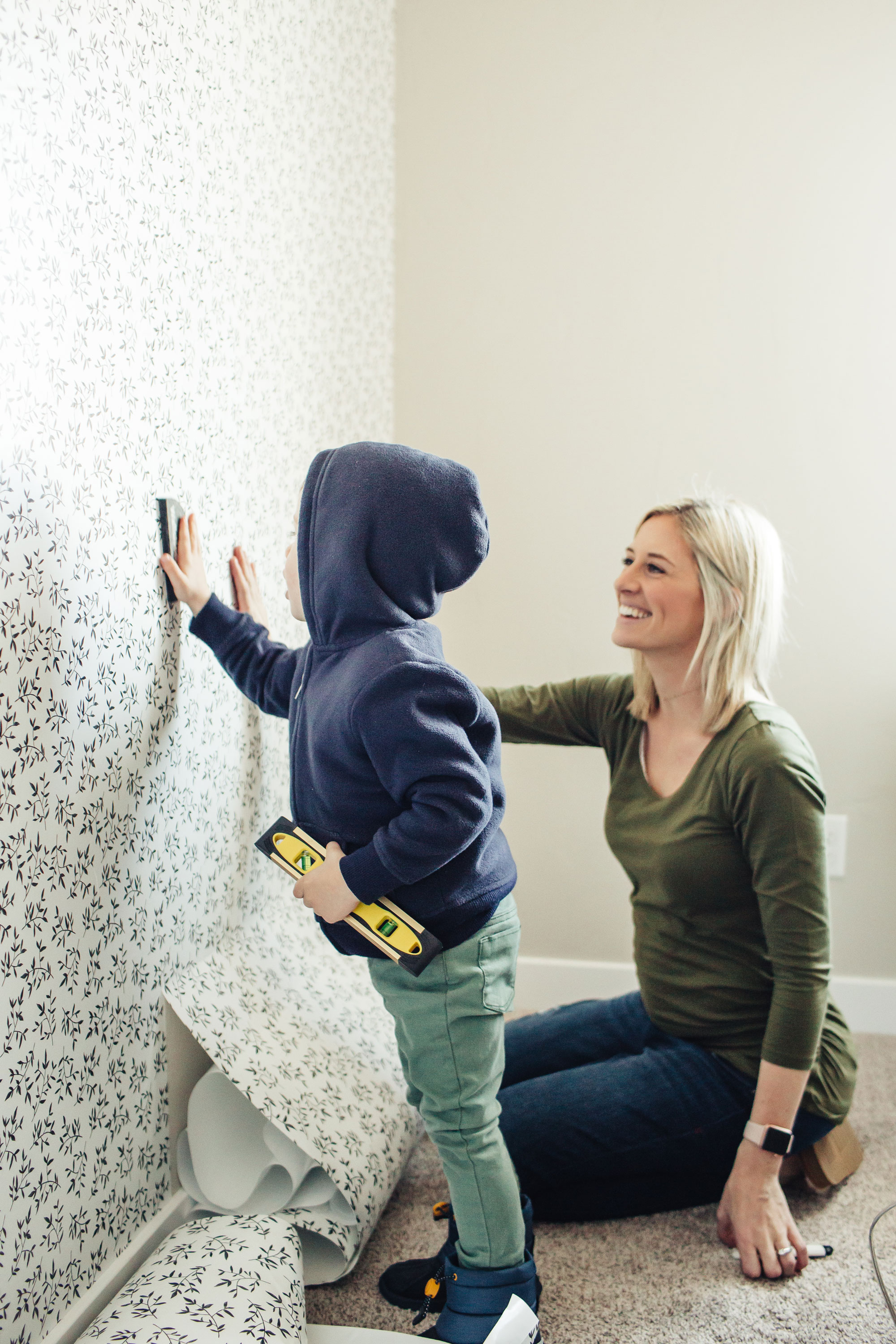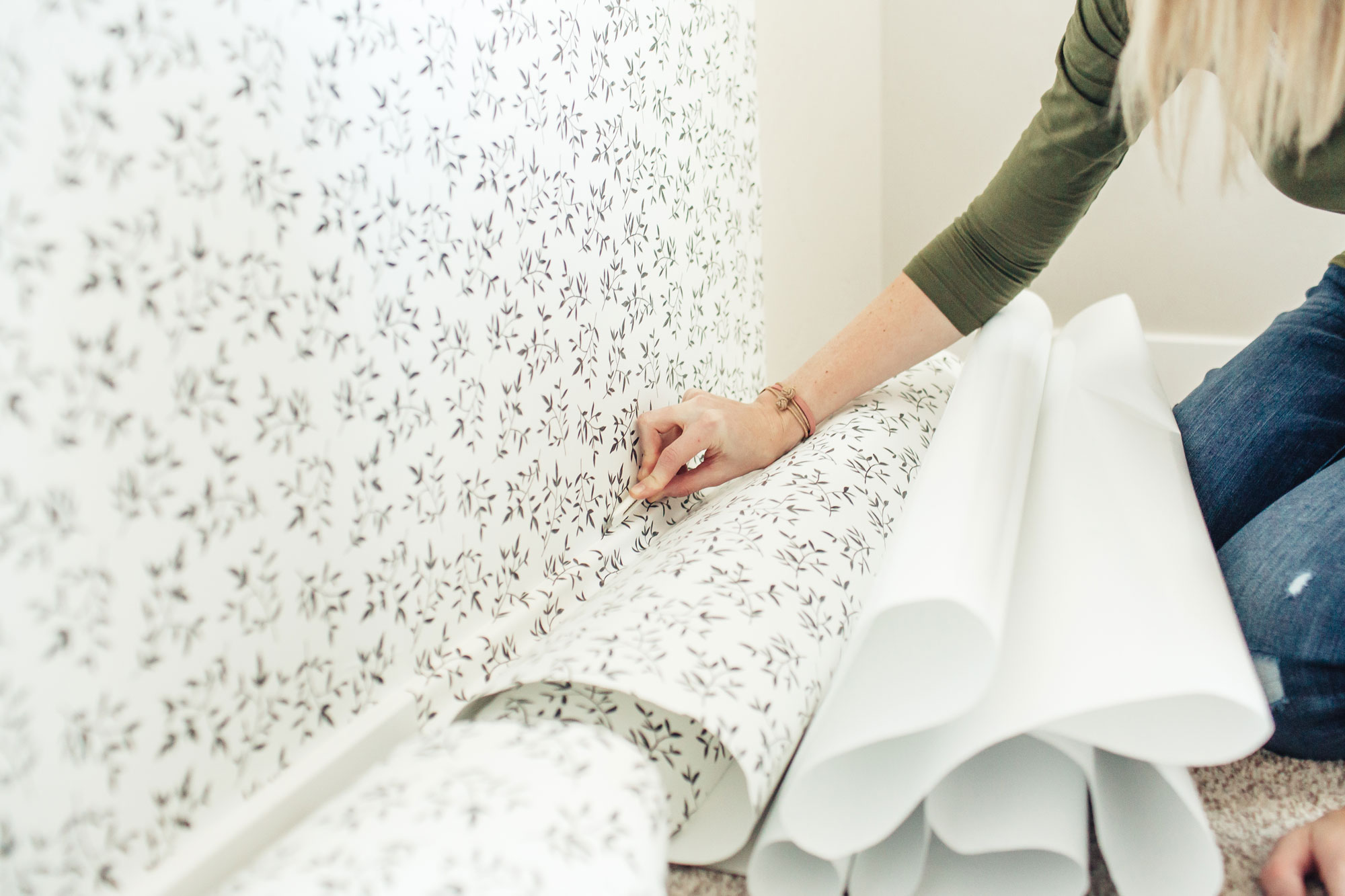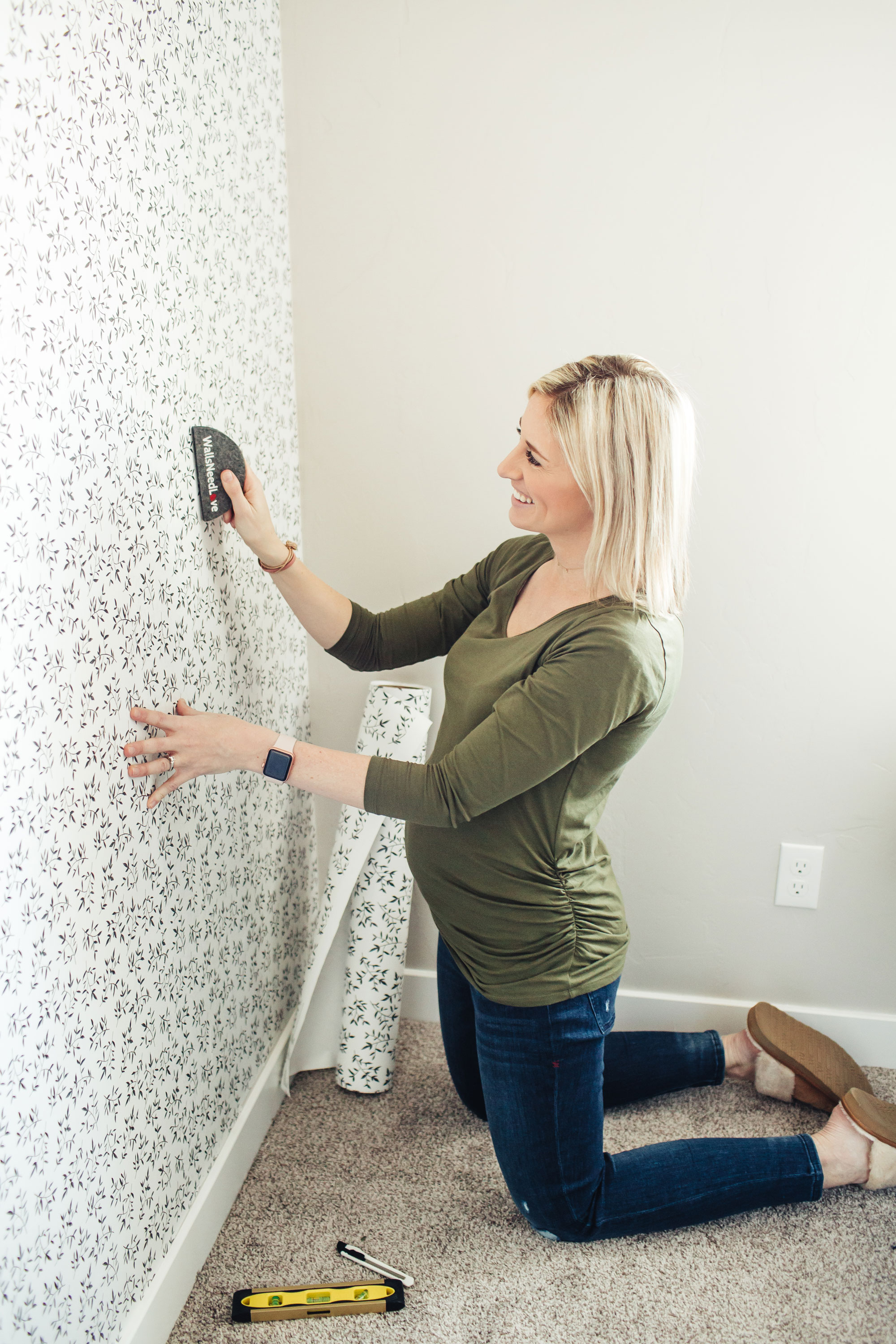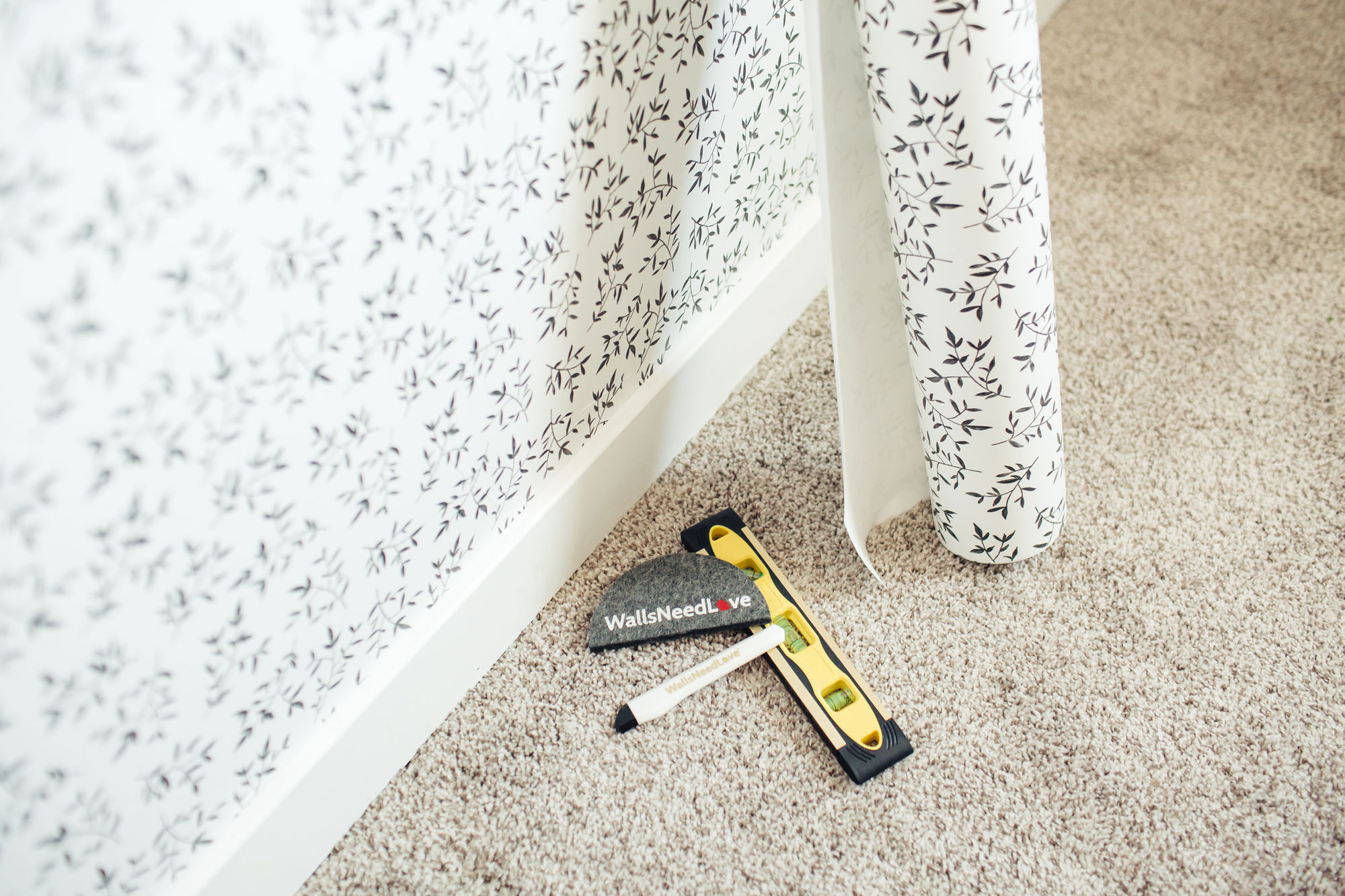 My creative inspiration for refreshing my home office.
I immediately thought of Walls Need Love because every project is as temporary or as permanent as you want it to be! In other words, if we end up changing this room into a full-time nursery, I can easily keep the removable wallpaper up, or replace it with something else. No repainting or removing messy wallpaper glue!
Luckily, I knew I was pregnant when I started brainstorming, but not knowing the gender was driving me to stick with something neutral.
Paint the wall navy blue? It would compliment the pink accents on my shelves. But, no. I might hate it. Too much work to undo it.
Find navy blue wallpaper? Walls Need Love has several. But none of the patterns felt cohesive with everything on my shelves.
I remembered a grayscale wallpaper from Anthropologie (almost identical to this removable wallpaper) that I had considered months ago.
That became my inspiration.
I just needed the wall to compliment all the objects in front of it, without making the space feel too busy or cluttered.
I also wanted that "Anthropologie feel," but without the cost and commitment.
Enter: Walls Need Love "Black Leaves" Removable Wallpaper.
I found it after browsing "Black and White Wallpaper and Murals" on Walls Need Love and knew it would add the right contrast to everything else in the space. The geometric prints were too busy and the larger floral prints were too dominant.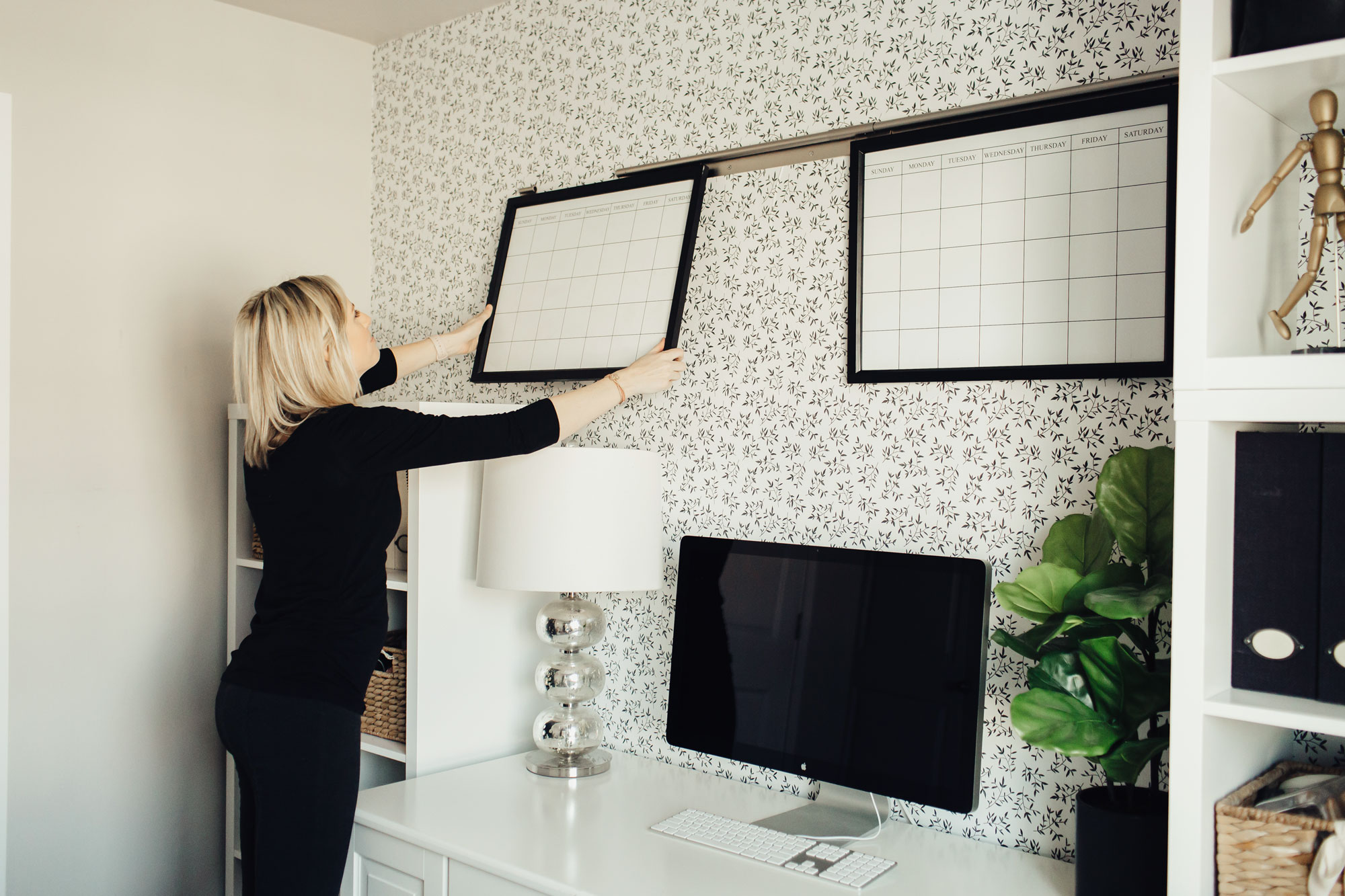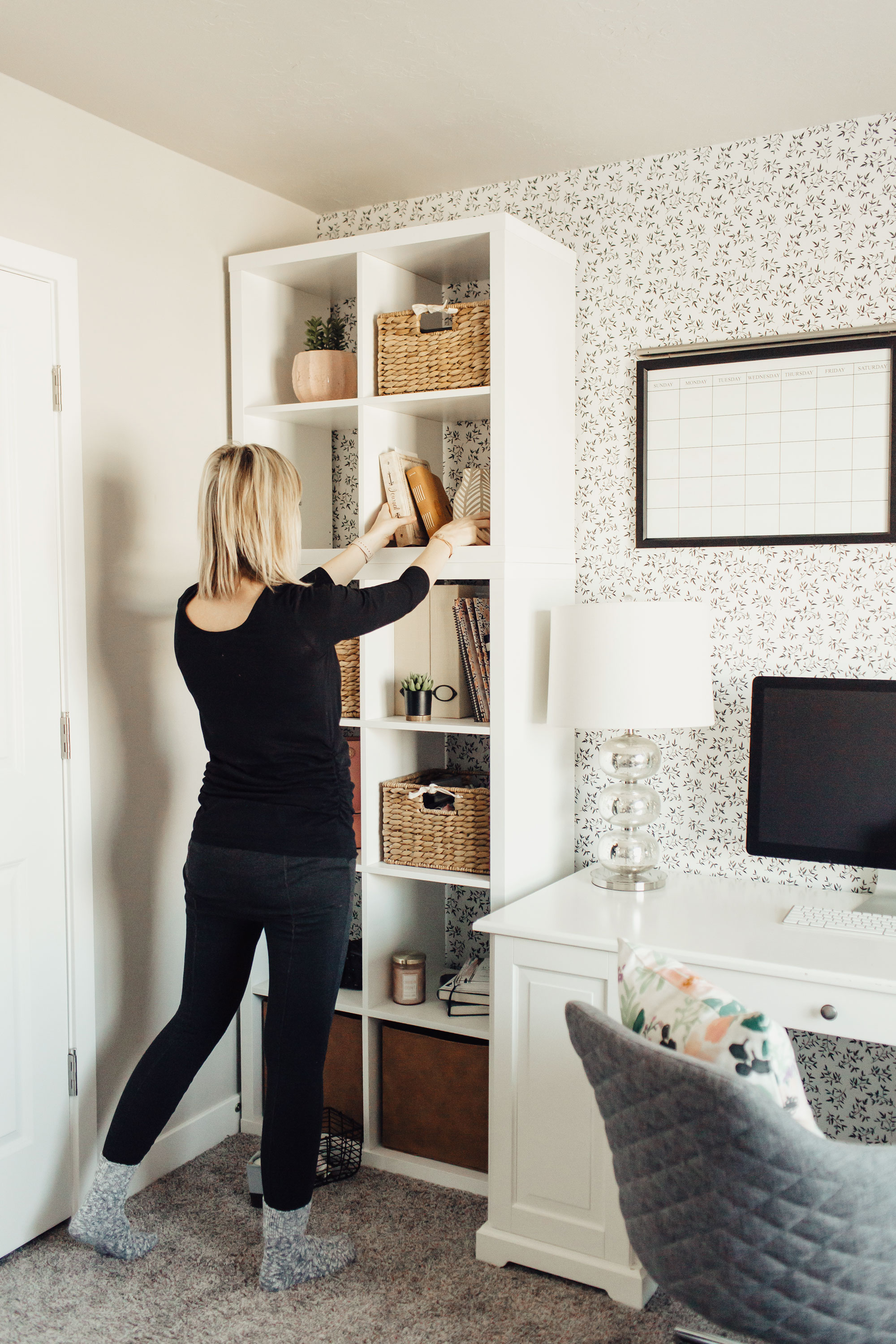 How difficult was it to wallpaper an entire wall?
At first, I was worried. The panels are about 26 inches wide. Getting the first piece to line up with the ceiling and the adjacent wall was the hardest part. And I didn't do it perfectly.
But I DID do it myself! While pregnant. Again.
Keeping my proudly self-proclaimed titles of "Weekend Warrior" and "Do-It-Yourselfer" in tact. (Okay, I totally borrowed these from Walls Need Love, but that just makes us a great pair!)
Special credit to my husband for helping me move the heavy furniture. 😉
I also found this "Black Leaves" wallpaper print to be extremely forgiving! Several times I misaligned the panels and as soon as I realized that you can't even tell, I gave myself full creative freedom to follow my own wallpapering rules.
For what it's worth, Walls Need Love recommends three simple application steps: Peel, stick and smooth.
If you do make a mistake while applying, you just peel it back, re-stick and keep moving forward. (Their wallpaper is durable and reusable!)
You might also like to know that Walls Need Love wallpapers are health-conscious, made with non-toxic, GreenGuard certified materials.
This always gives me peace of mind when transforming a potential baby nursery.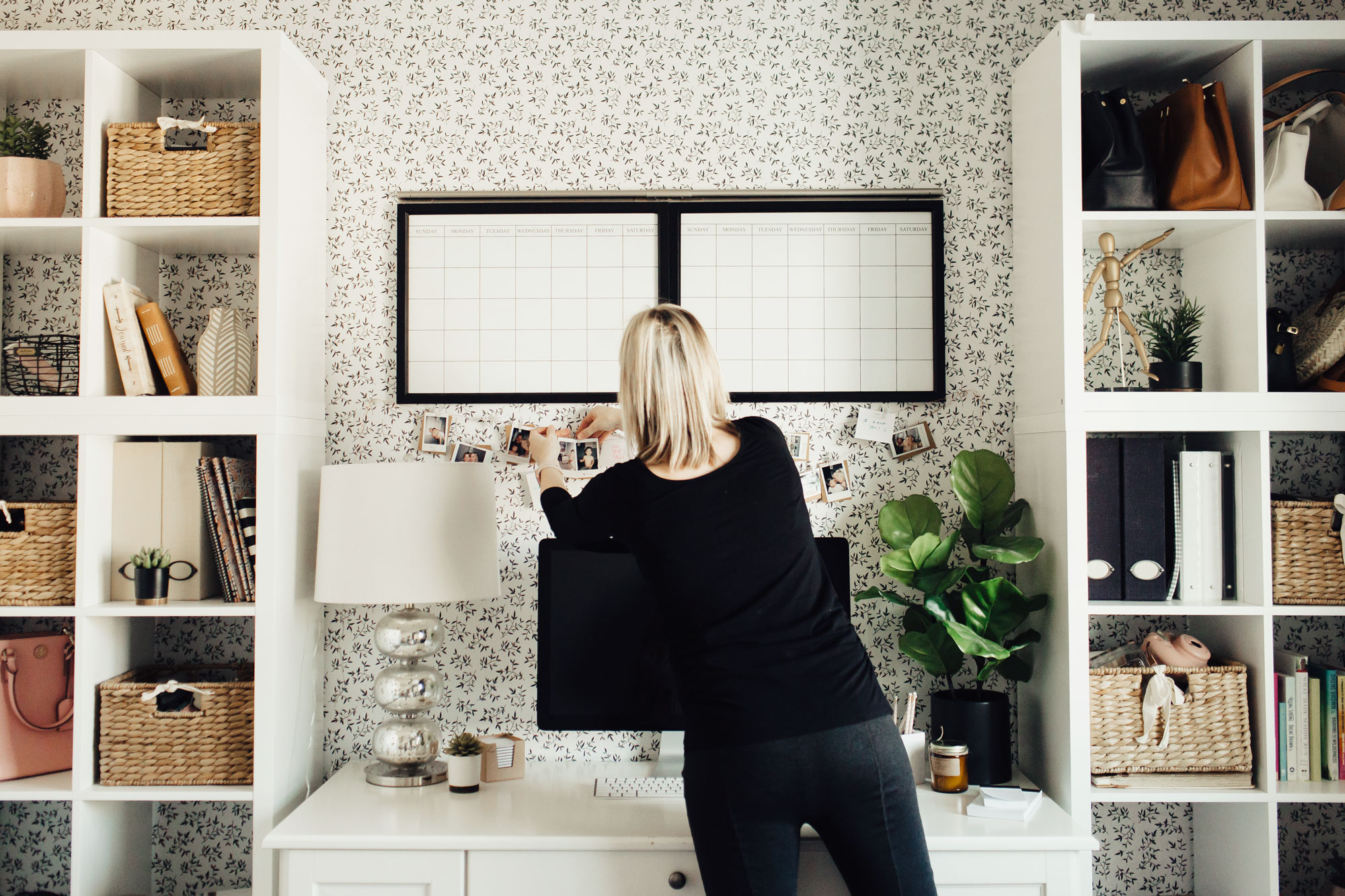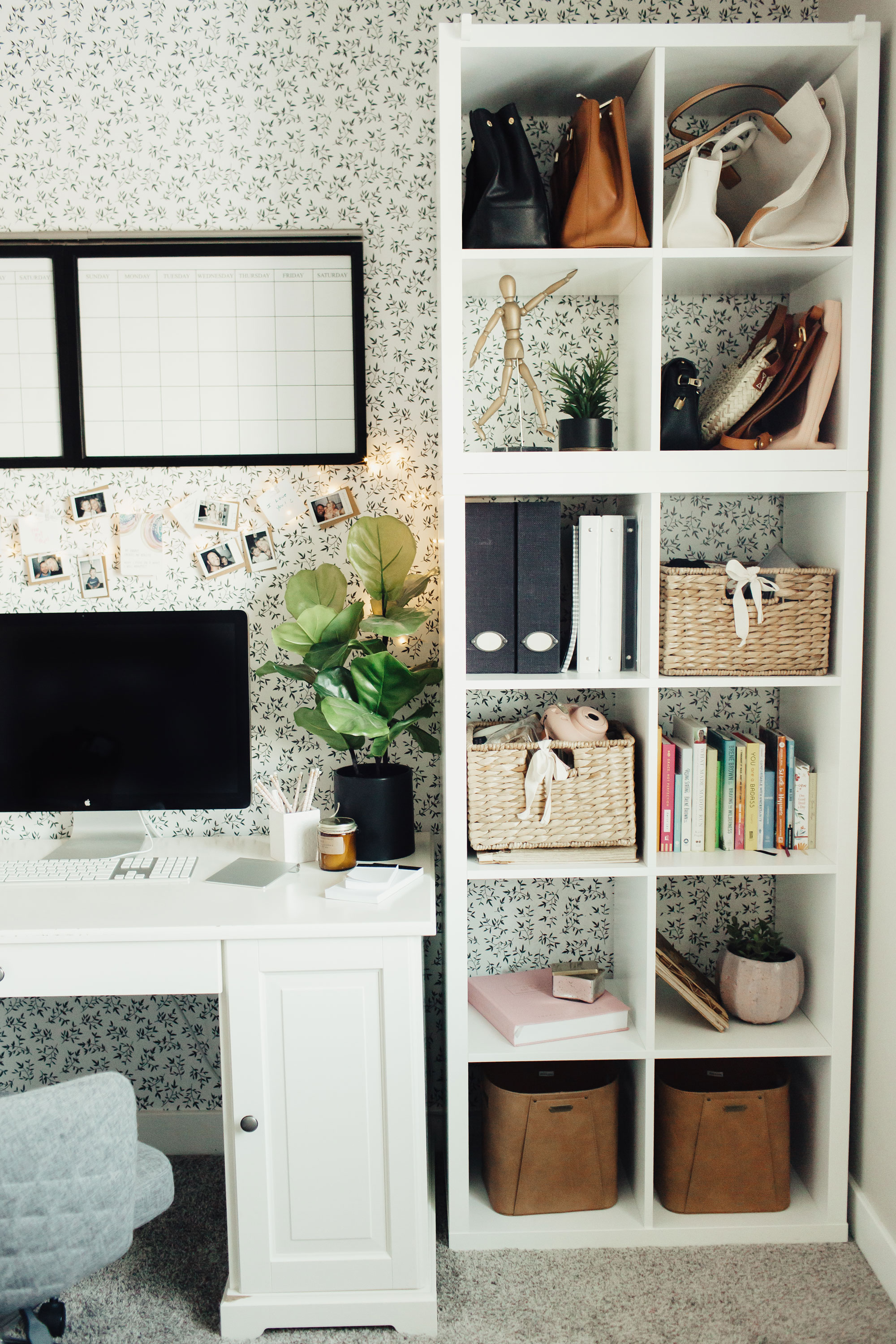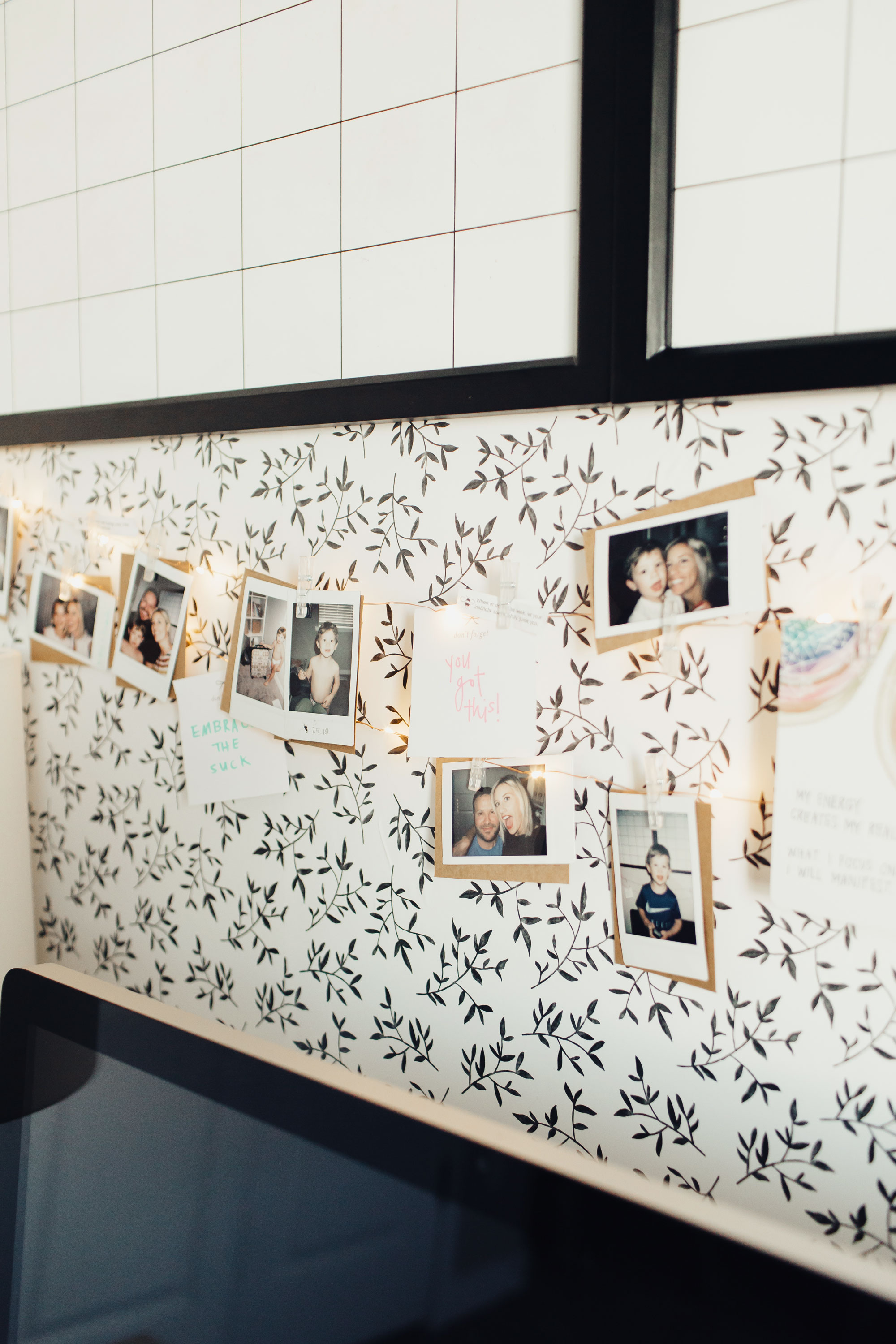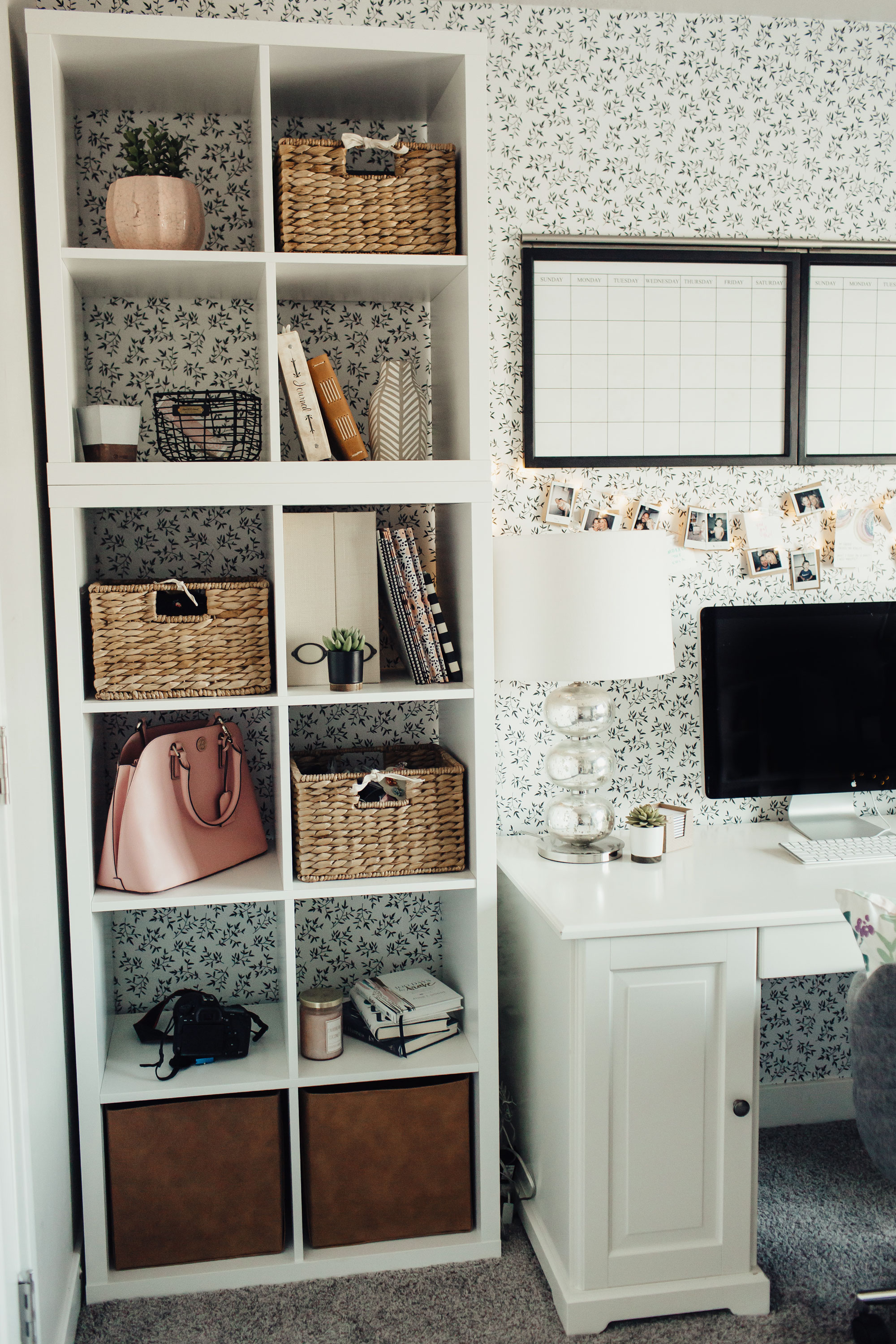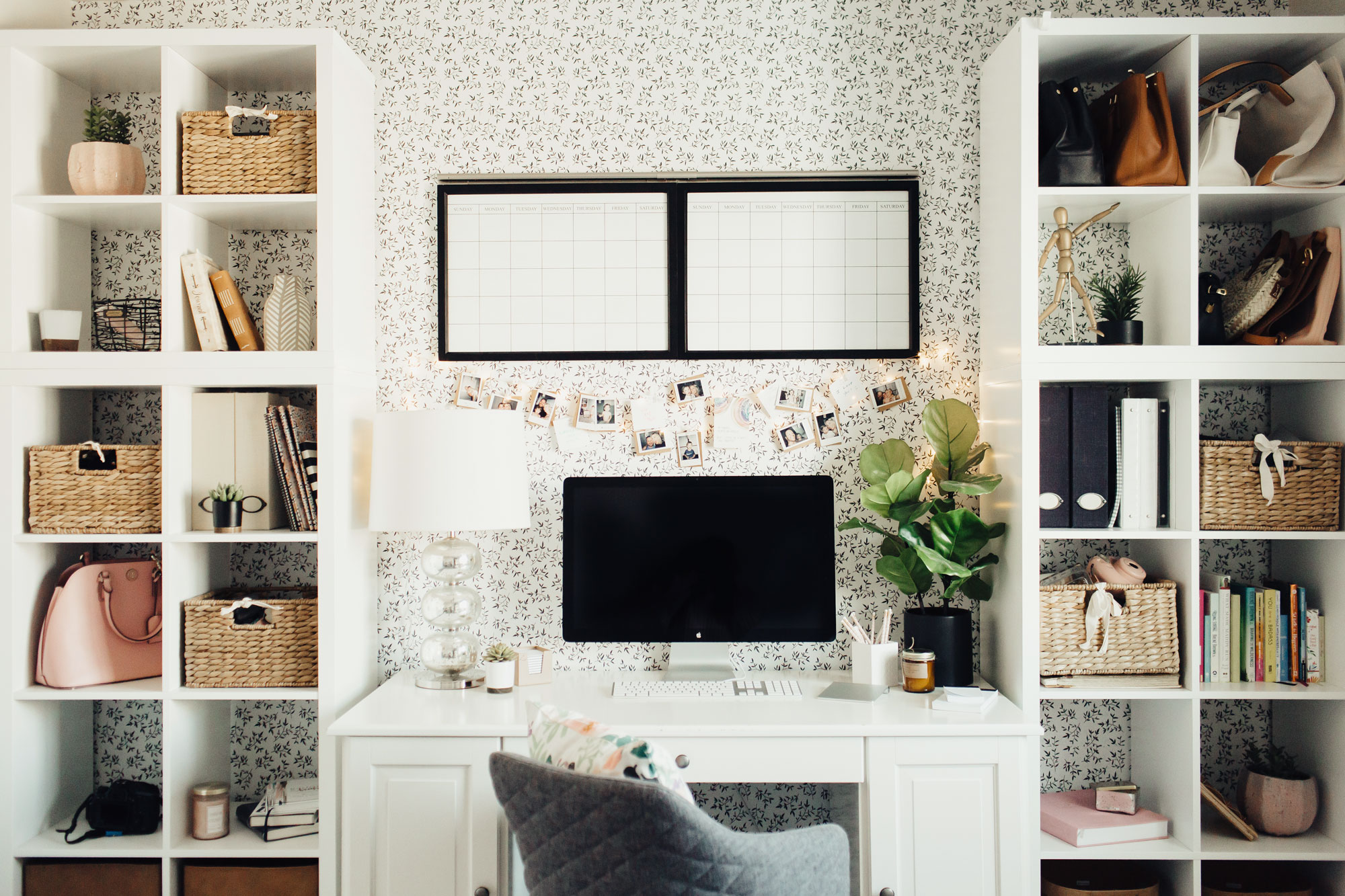 Creativity boosted.
Not only was this project fun to work on while I've been cooped up inside for winter, it literally changed my whole mood about working from home. I feel so happy and creative when I'm in my home office now.
And the best part is how simple and painless it was to refresh this entire space.
What do you think? Did this inspire you to update a room in your house and give your wall(s) some love?
If so, use code Fearless25 (case sensitive) for 25% off your Walls Need Love order of $100 or more!
Now, to see what my office looked like BEFORE I added the wallpaper, simply GO HERE.