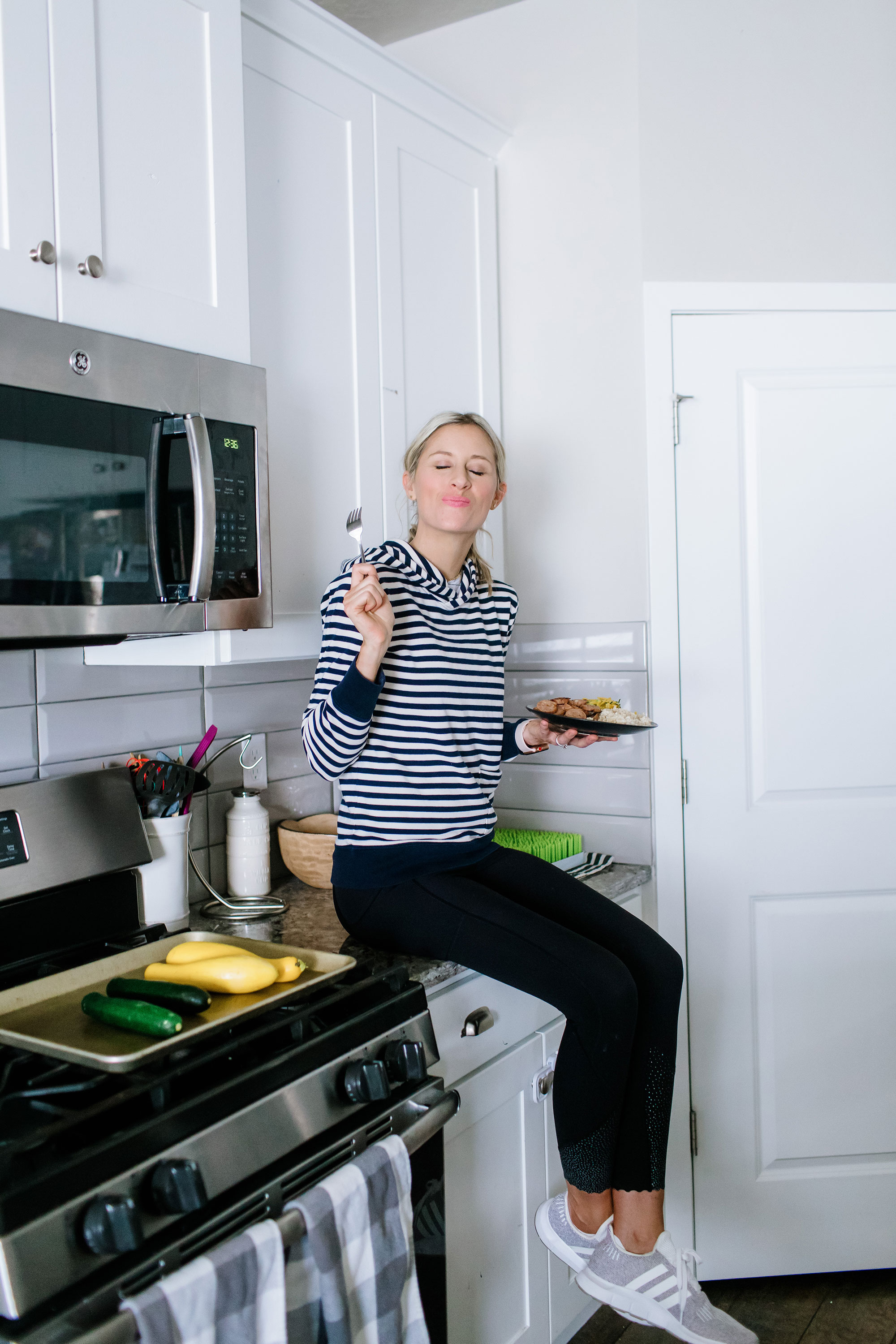 I recently traveled to Pittsburgh to attend a brand event with CALIA by Carrie Underwood. I'm super stoked to be an ambassador for this brand in 2020! This was my first time traveling since I quit sugar and flour back in August 2019 and, as you might guess, I was a little nervous about how to navigate it.
I quickly remembered, though, that just like anyone else with specific dietary preferences (gluten-free, lactose intolerant, etc.), I would be able to make it work if I just planned ahead and communicated my needs.
So, here's how the trip went…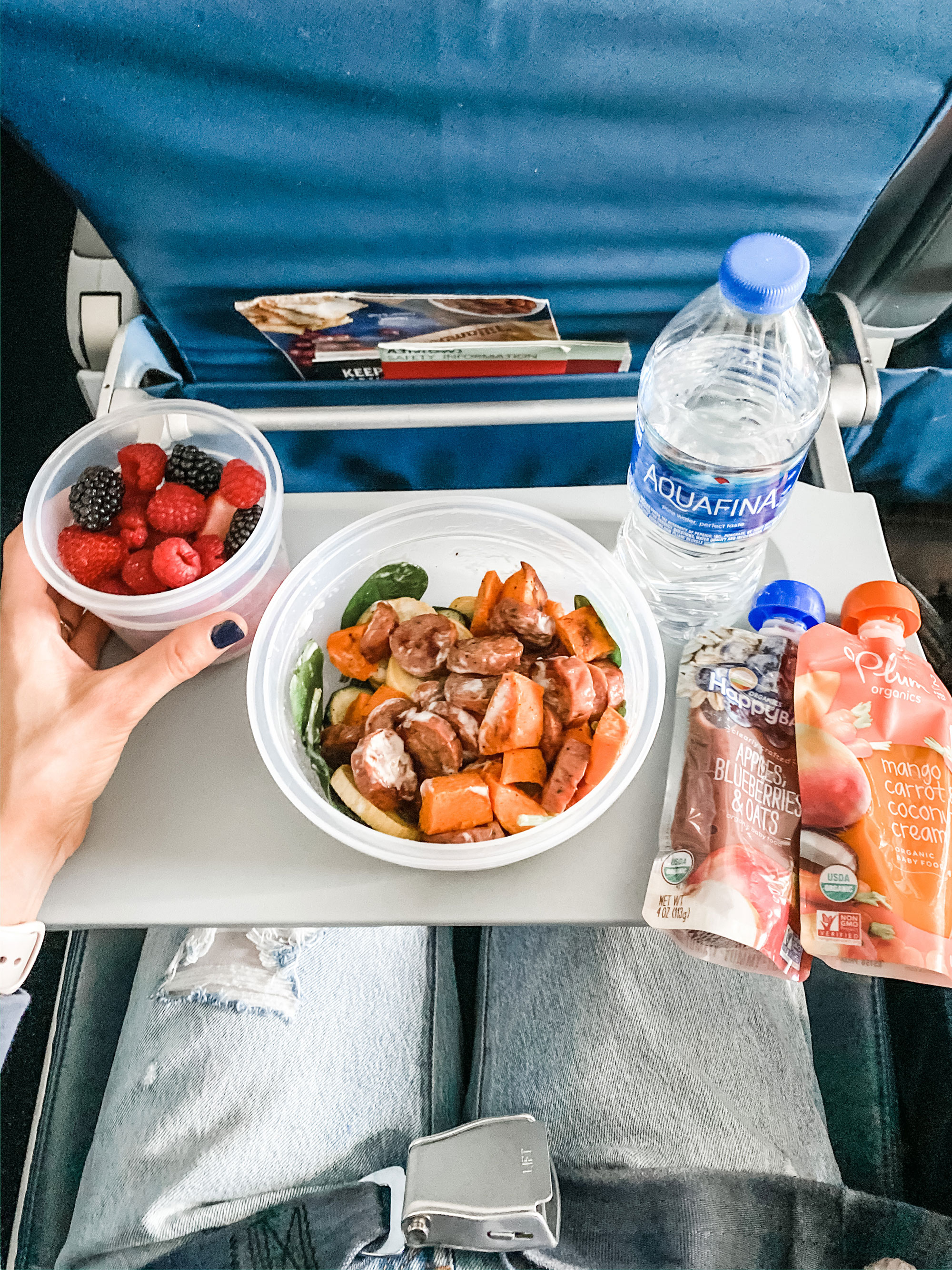 Meal Prepping for Travel
My flight left around 5pm on Wednesday evening so I knew I'd be eating dinner on the plane.
Rather than deal with unsatisfying airplane food, I decided to pack a salad in Tupperware and specifically chose ingredients that I knew would taste good even if they were room temperature.
Dinner Salad
2 oz spinach
4 oz chicken sausage
3 oz sweet potatoes
4 oz zucchini (would have done 6 but it wouldn't fit in the Tupperware)
2 TBS Lighthouse Bacon Bleu Cheese dressing — my fav!!
6 oz raspberries, blackberries, strawberries
Emergency Snacks
This might sound crazy, but BABY FOOD is an amazing option for an emergency snack when traveling.
Organic apple sauce pouches from Costco are also great, but baby food makes it easy to get fruits/veggies/grains and even sweet potatoes in one serving with nothing fake added! (Hint: anything with banana is yummy.)
Nuts, peanut or almond butter packets, string cheese, an apple, etc., are also great. But I prefer not to bring things that are difficult to keep fresh (like fruit) unless I'm eating it right away. And nuts can sometimes be a binge food for me so I didn't want the temptation while stuck on a plane for 3-4 hours.
And while we're discussing other snacks, Trader Joe's has a sugar-free beef stick (tastes like any other beef jerky but sugar free) and I learned about those while doing the Whole 30 a couple years ago. Great protein option when traveling if you don't mind annoying your neighbors with the aroma. 😉
Side note: I had zero issues taking my food through airport security!
Breakfast
You know it, I know it. I'm sad I couldn't pack my famous breakfast. It's another great option that tastes good even at room temperature.
I did bring a packet of instant oatmeal just in case but never used it.
When I flew home, my husband proudly announced that he found a baby food version of my breakfast (and of course Scotty loves it). So next time I will definitely be bringing that with me!
Asking for What You Need When Traveling
I think it goes without saying that if you're traveling for vacation, you probably have control over where and what you eat. When in doubt, stick with salads. But obviously, anything that fits my meal plan and is sugar/flour-free works for me.
And no, I don't bring my food scale. I just relax and eat my meals.
When you're traveling for work or other occasions where you don't have full control over what, when or where you eat, I found it extremely helpful to communicate my dietary needs ahead of time.
Remember, if you're eating sugar/flour-free, you're no different than someone with any other dietary intolerance.

Event Breakfast
I had a full day with the brand team and fellow ambassadors on Thursday so I asked in advance for meal options that are sugar/flour-free.
Our breakfast was catered and was basically an oatmeal bar with fresh fruit, yogurt and nuts.
I skipped the yogurt because it had sugar in it, but I was on cloud nine about the fact that plain oatmeal with fresh fruit on top tasted so good. My whole life I had to gag it down without sugar. (Hence, why I'm so obsessed with my brekky.)
Event Lunch
We went to a restaurant for lunch and had options provided when we arrived.
I chose the Brussels sprout salad (sans croutons) and didn't ask about the dressing ingredients. I just decided not to worry about whether there was sugar in it because it's such a minor part of the meal. In hindsight, I might have asked for it on the side. Still, I have zero regrets.
Salmon is my top choice anytime it's offered so that's what I had as my main course. It was delicious.
There were breads and soups offered as appetizers and a chocolate cake for dessert, but I passed on all of those and never felt awkward or resentful.
The food I ate was enough and so satisfying.
Event Dinner
Our event dinner was in a beautiful venue above a bar in downtown Pittsburgh. The chef made the rounds during our early mingle to ask each of us about dietary restrictions.
To my pleasant surprise, they catered to my every need.
I had my own sugar-free salad, followed by a creamy, flour-free risotto, salmon and roasted carrots for the main course and then a fruit medley for dessert that I am ONE HUNDRED PERCENT recreating at home.
Even though my fellow ambassadors were offered panna cotta for dessert, my fruit plate tasted so sweet and heavenly. I truly never felt out of place because of my food.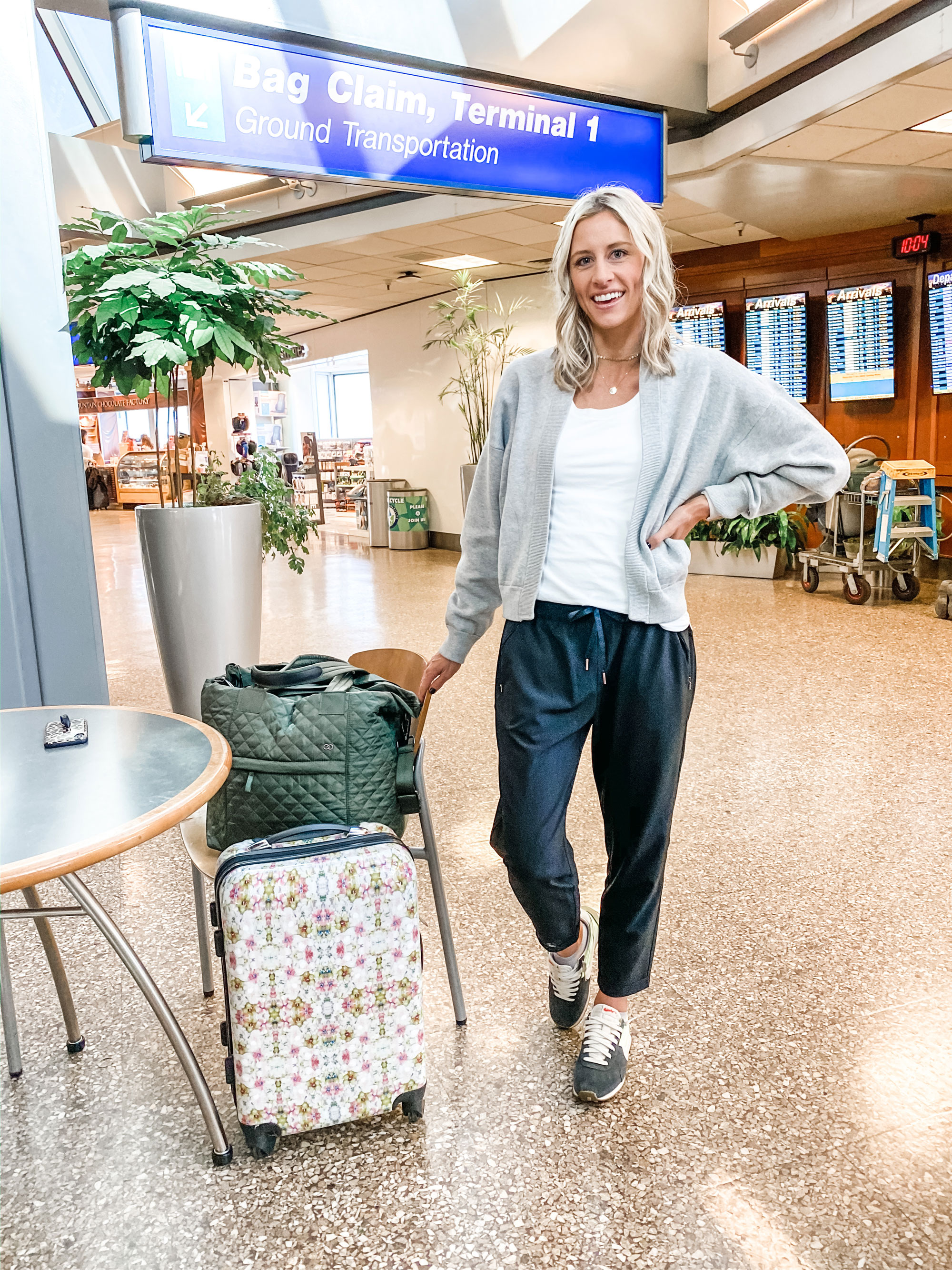 Breakfast and Early Flights
My flight home was insanely early and I often feel a little nauseous when traveling on little sleep.
This is when my baby food pouches came in handy. I pulled one out on the ride to the airport and again while waiting to board.
If you're not sold on the baby food idea, but hate skipping breakfast like me, Starbucks has oatmeal on the menu (discovered this thanks to my friend Heidi Powell) and I'm betting there's one of those in every airport in America. Plus, if you do have time to sit for a meal, you can always order eggs and potatoes or a veggie omelet at an airport restaurant.
Above all, staying hydrated should be a top priority while traveling. It's not easy to do, but I always feel best in between meals if I've had enough water.
Until next time! I have no future travel plans right now, which is totally fine by me. I'm a creature of habit and travel is not as glamorous as it looks. But I'd love to hear from you!
Where are you traveling to next? Was this helpful? What questions or tips do you have?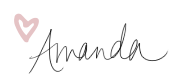 Shop the Post