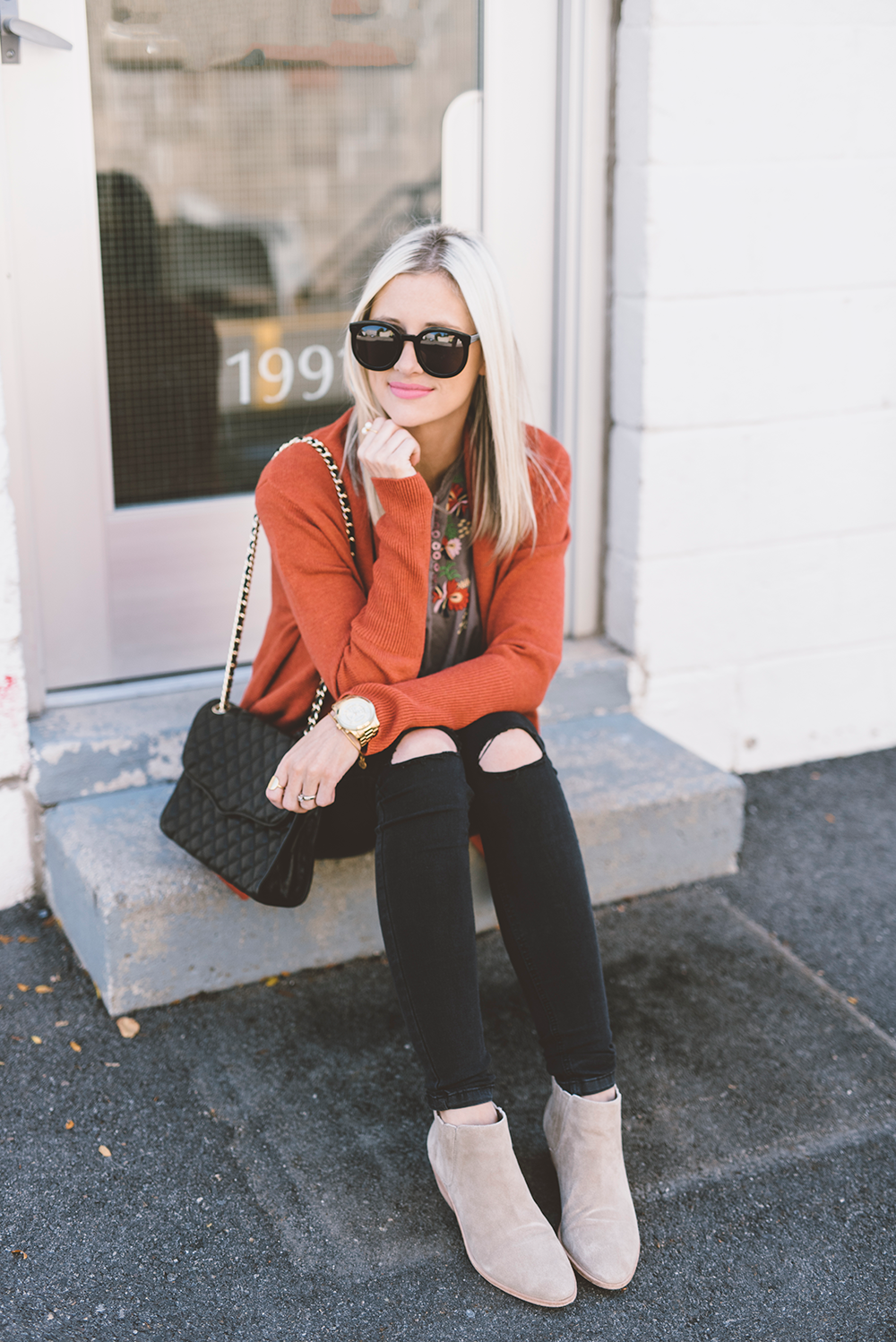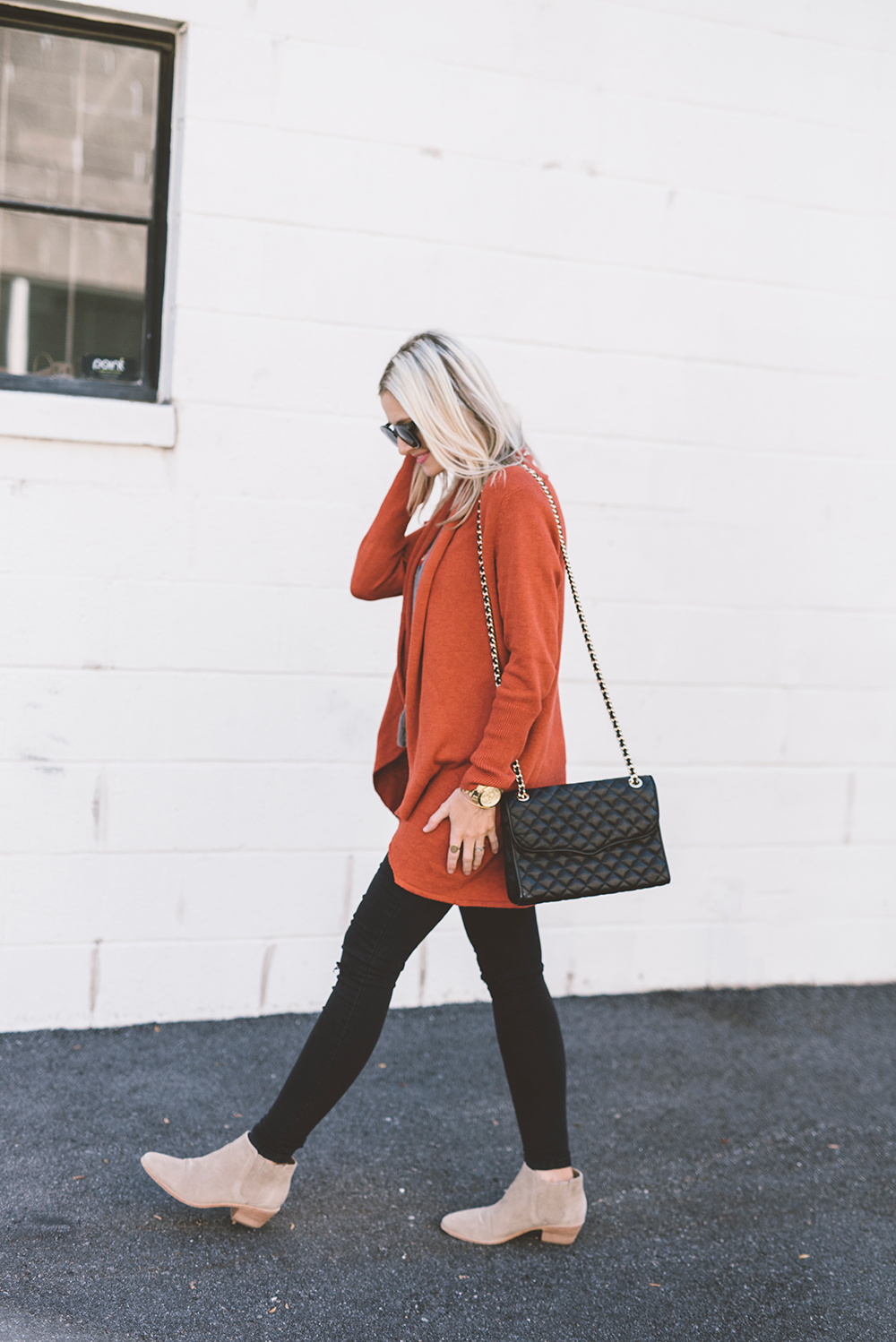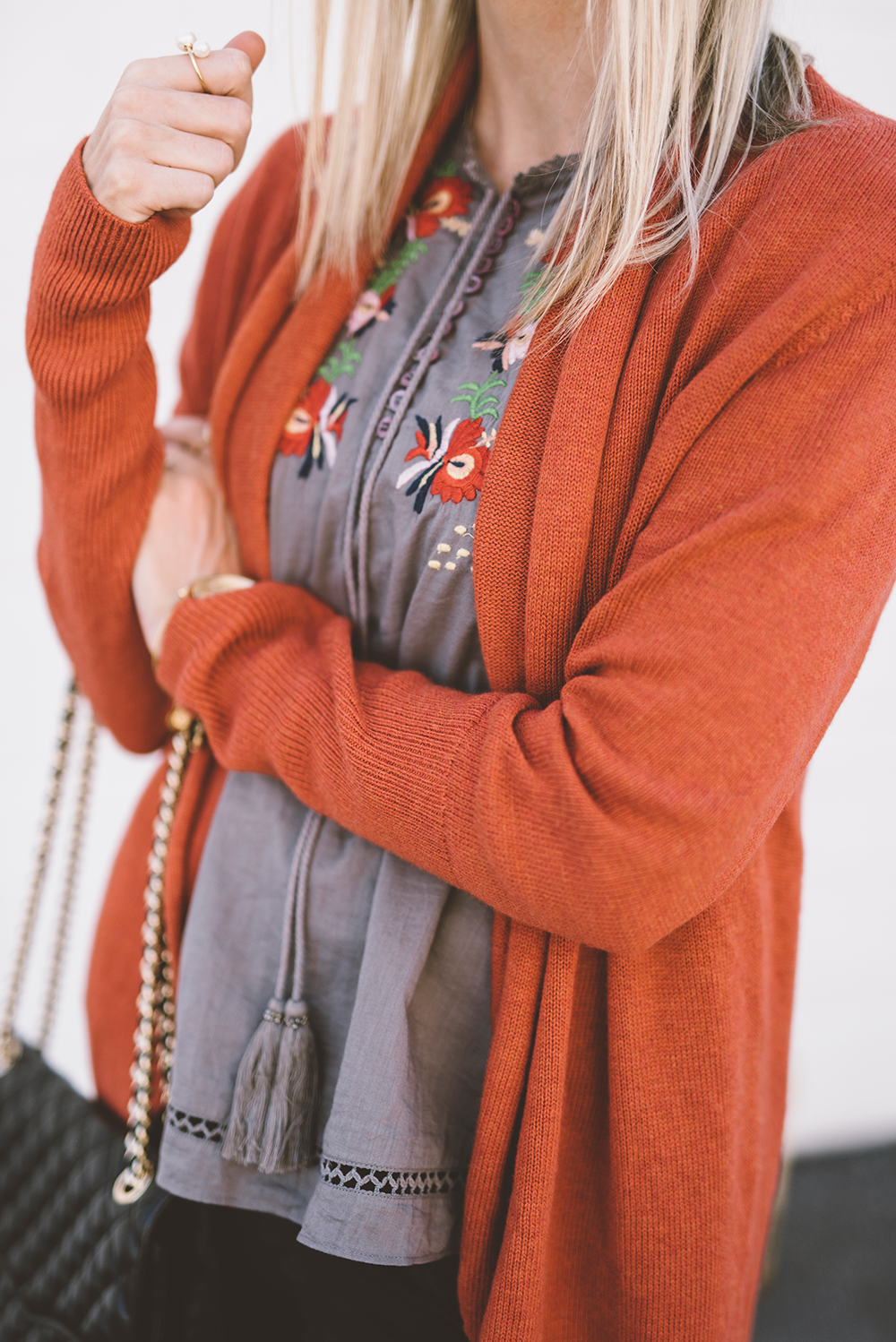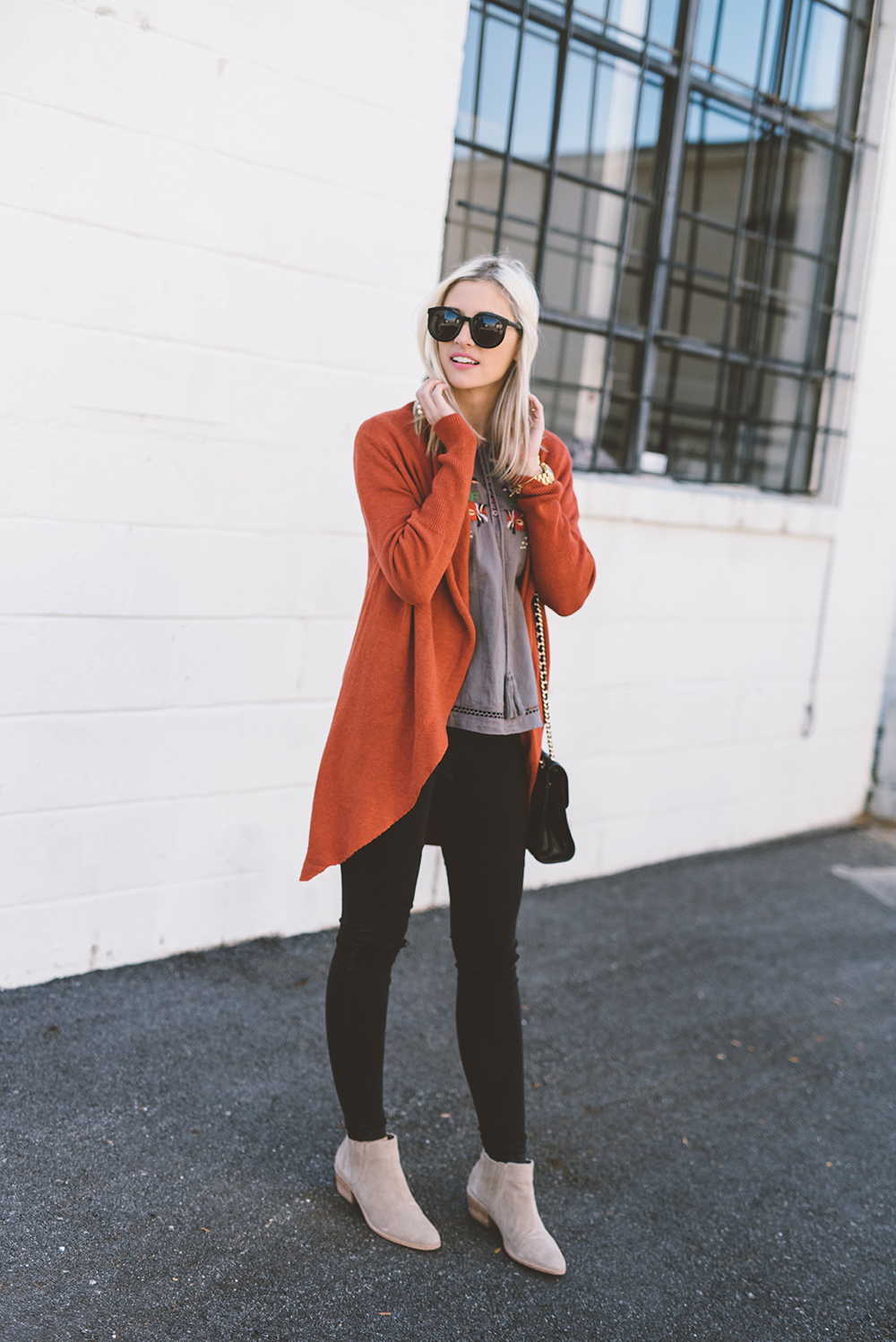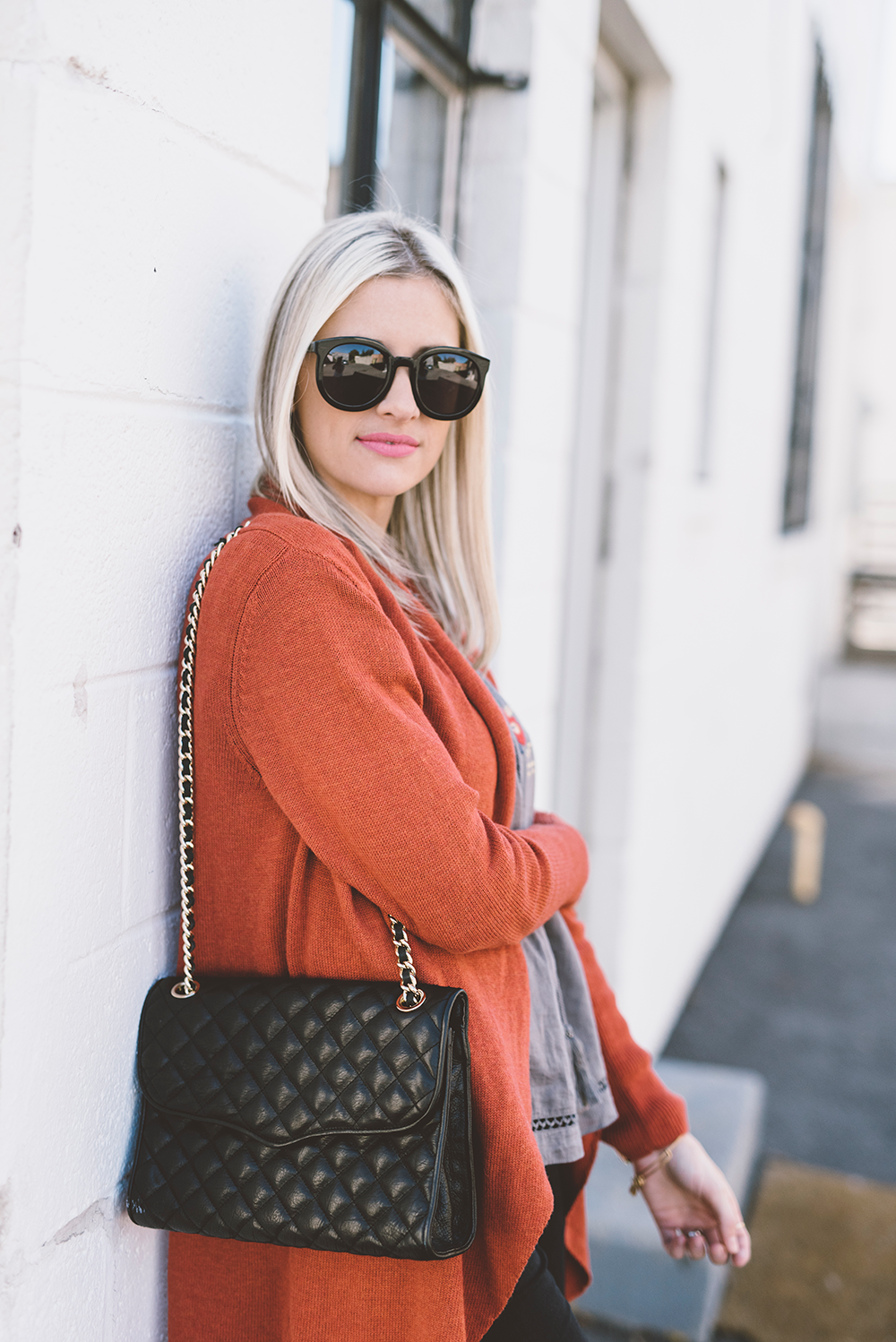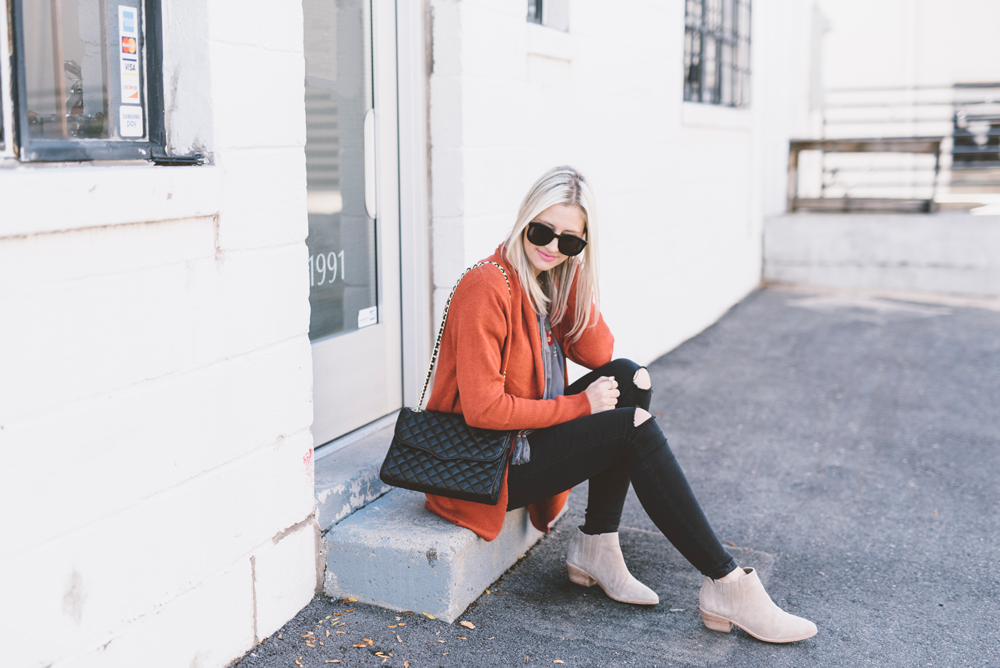 WHAT I'M WEARING
sweater: nordstrom | top: revolve | pants: jbrand | shoes: joie | bag: rebecca minkoff | glasses: karen walker

Last month marked four years of Little Miss Fearless—my fourth blogiversary! I remember writing this post after just one year of blogging and I thought I had "arrived." Three years later and my perspective on blogging has changed as much as this industry has. Looking back, I was doing one major thing wrong…
I was playing the popular game.
In the early months, my blog started gaining traffic primarily from my photos being shared on Pinterest. It was exciting to get comments from new readers every day complimenting me on my style. I started to feel popular, which is a nice feeling. It's just not a sustainable reason to do something.
I thought I was following the lead of my successful peers—bloggers who were quickly gaining popularity and didn't seem to be overly available to their readers. (I assumed this because my comments weren't always being acknowledged on their blogs.) So I followed suit. The mistake wasn't just in the "too cool for school" approach, it was that I ignored the powerful opportunity to foster a community and make real connections with real people. And it wasn't until I wrote about real topics, like the tragic story of Madison Holleran, my secret battle with infertility and my lifelong struggle with a negative body image, that I realized how much I love connecting. And that's when I really started to get to know you.
Maybe I'm selling myself out here. But I don't see it that way. In spite of my many fears, I'm strangely unafraid to talk about my insecurities if I've learned something from them that may benefit someone else.
So, what can you learn from this mistake I've made?
Whether or not you're a blogger, do these 7 things better:
Be a Real Person – Look beyond profile photos and URLs in your comments section and get out from behind your own. Find ways to get to know the real people who are reaching out to you. You don't have to force friendships. You may not have things in common with everyone. But you're selling yourself short if you don't at least try to connect. You can never have enough good karma going around, so take advantage of the opportunity blogging (and social media) presents for each of us to support one another.
Stay in the Eye of the Storm – Never get caught up in the chaos of what others are doing around you. You'll quickly get tangled in appearances, instead of living in reality. Things usually aren't as they appear because there's more to all of us than the things we choose to share through social media. Stay focused on the real stories you want to tell about yourself, not who you want people to believe you are.
RESPOND – Again, be a real person. When someone gives you a compliment, say thank you. Find ways to give them a genuine compliment back. You might find your soul sister by doing so (I've been lucky enough to find a few of mine simply by being myself and having the courage to reach out and be responsive).
Know Who You Are (And What You're Not) – "Fake it 'til you make it" may have it's place in business, but in blogging, pretending will always be found out eventually. Even if you're not faking who you are, you might be faking your habits (like buying a lifestyle you can't really afford). If it's not sustainable, you're not being true to yourself. Let go of who you think you're supposed to be and embrace who you are!
Forget Yourself – Blogging is often about solving problems. So focusing on how you can serve others, how you can make someone's day a little easier or bring some positive momentum and excitement to his/her life are a few things that will make them want to connect with you.
Show up – As many of you probably know from experience, it's not easy to blog 3-5 days a week consistently year after year. I learned this again when Benjamin arrived. Life is a constant realigning of priorities. And it's not easy to show up for everyone in your life 100 percent of the time. But, if you're at least consistent with showing up, even the minimum amount, your friends will stick around for you.
Tell Your Story – This is the part that makes it all worth it. Share who you are and own your life. Don't live in a state of constant reaction to what people around you are doing. Pave your own road. Be different, even if you're not sure it will be popular. Live out loud (as my friend Lauren would say) and be a positive place for people to visit when their lives get stressful or when they need some inspiration from someone who's real.
At the end of the day, I spent too much time as a new blogger thinking about myself, laser-focused on my insecurities, and not thinking enough about what I could do for you.
So now that I've put myself out there, tell me more about you. What do you do? Are you a working mom? Going to school? Trying to do your blog full-time? If you blog, share your URL. What drives and inspires you? And what would you like to see more of on Little Miss Fearless?
Let me know in the comments. I'll be reading, and responding, to each and every one.
Thanks for a fun (and enlightening) four years. And to those who are new around here, I hope you'll stick around for the next four! 🙂
Photos by Ashlee Brooke.