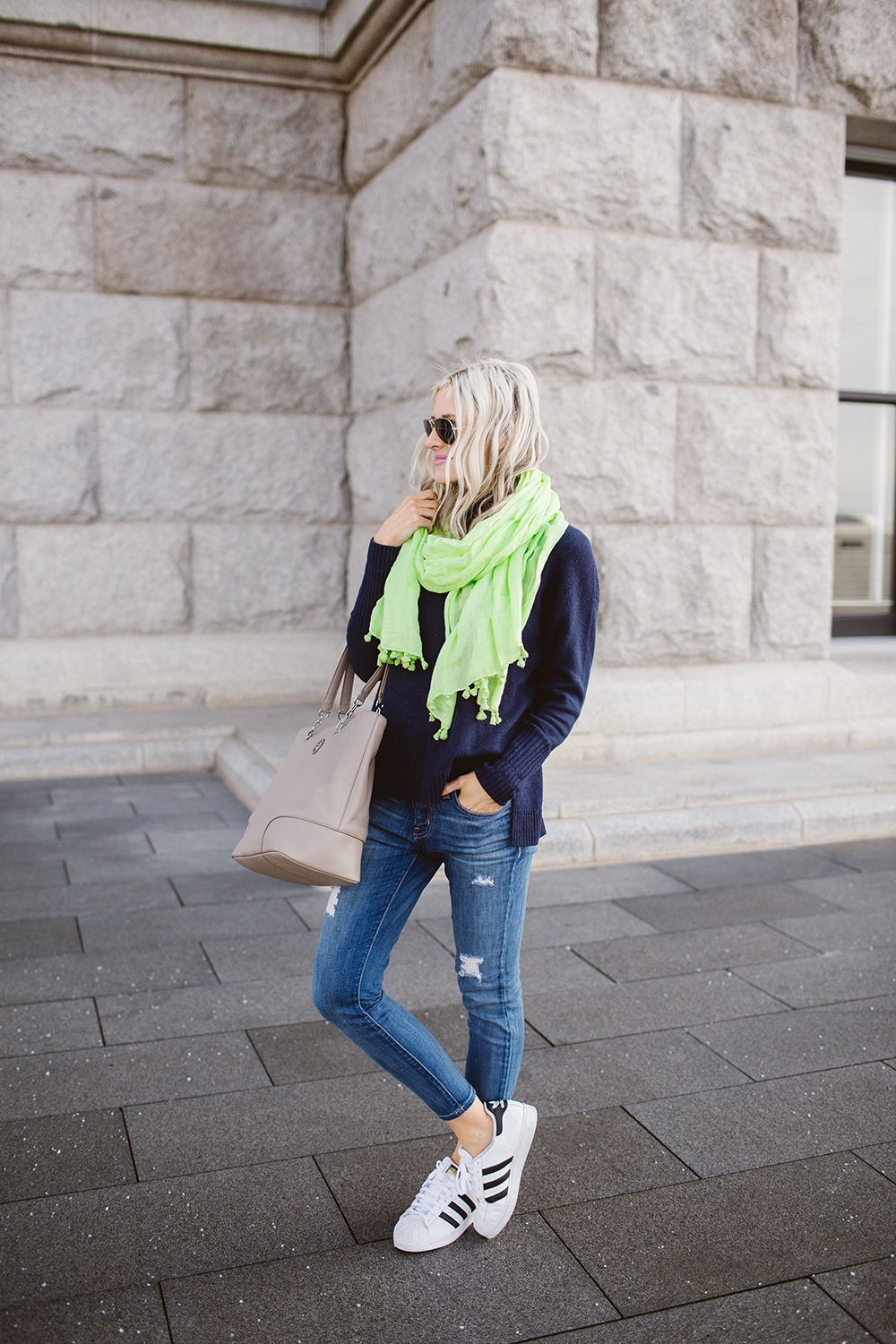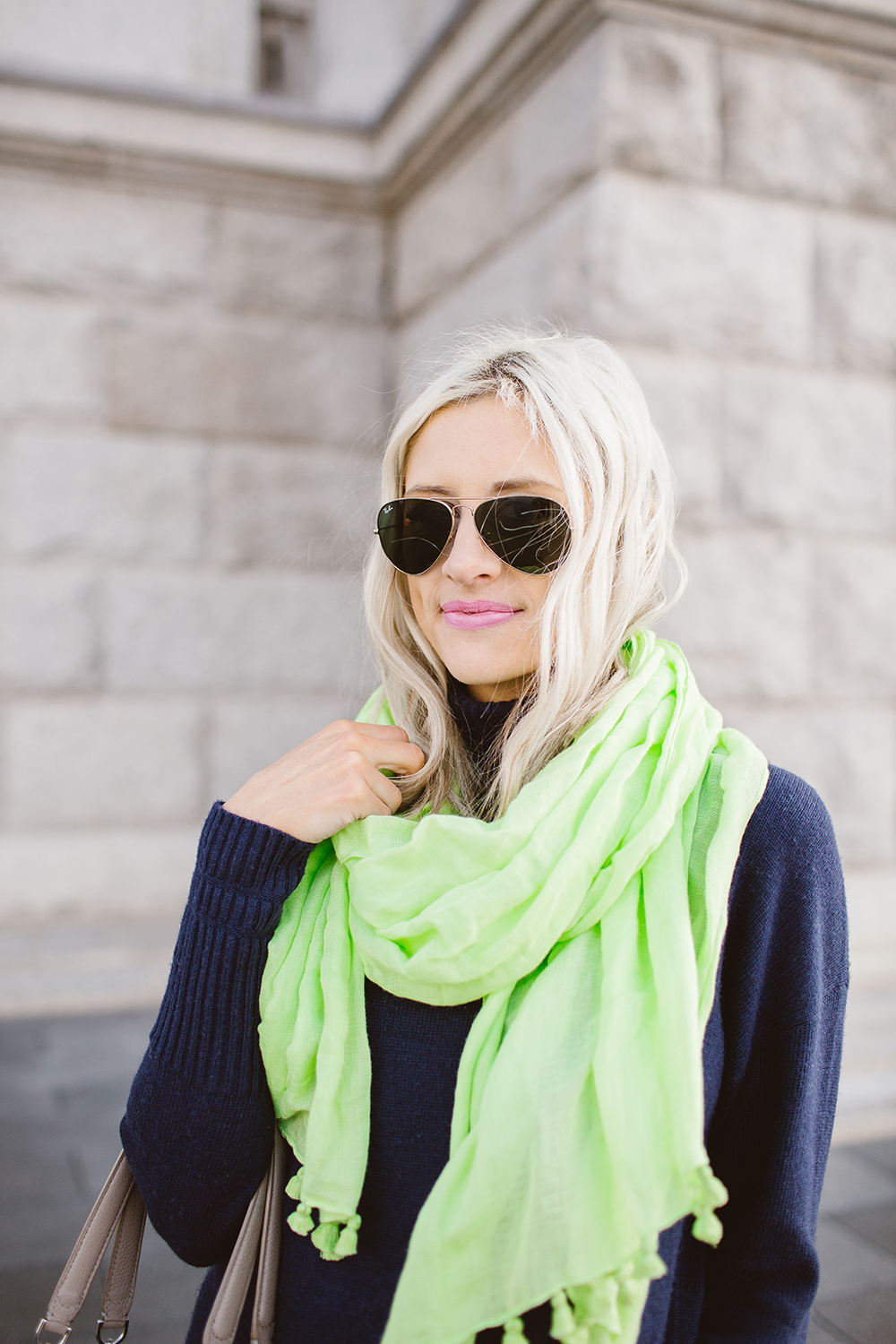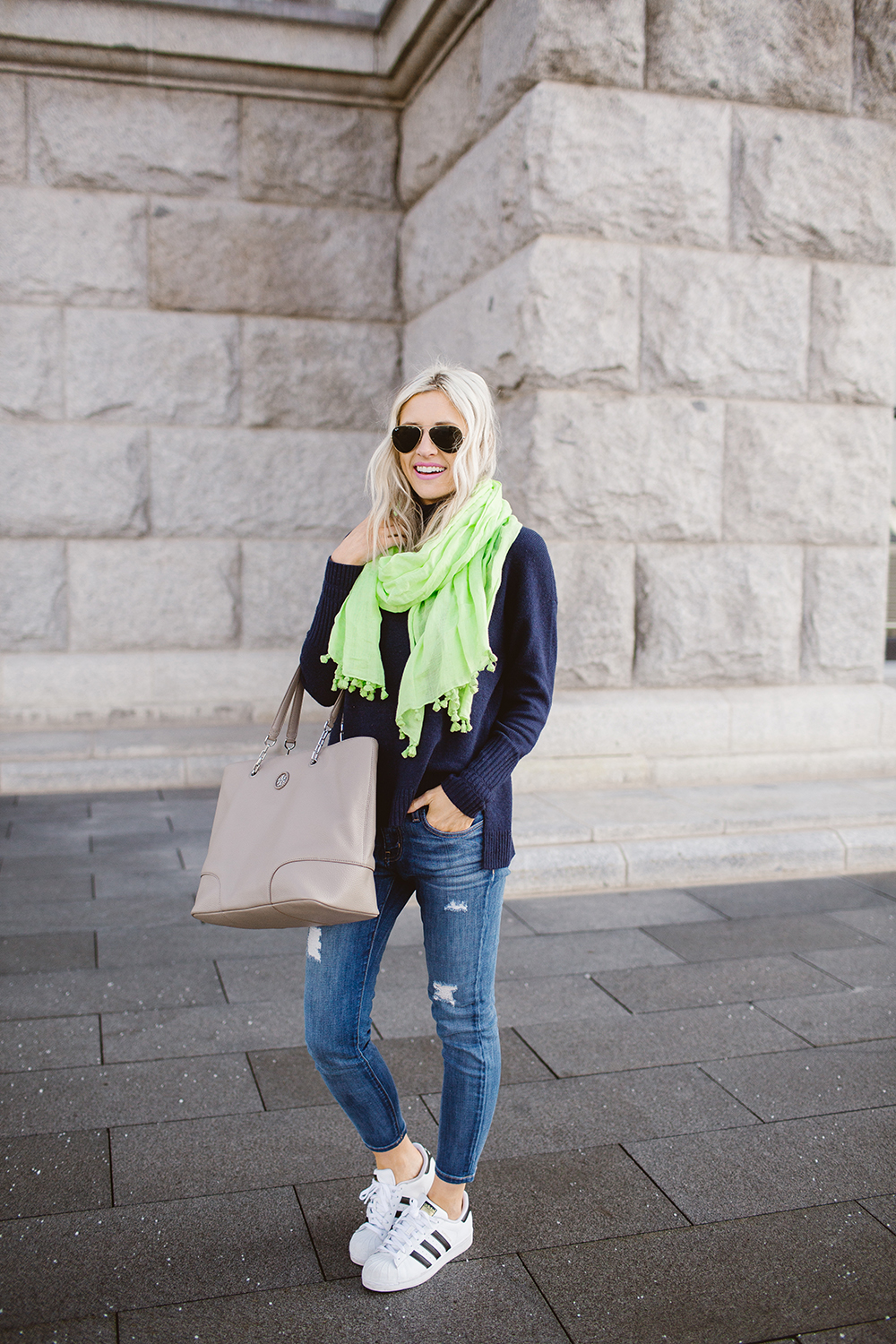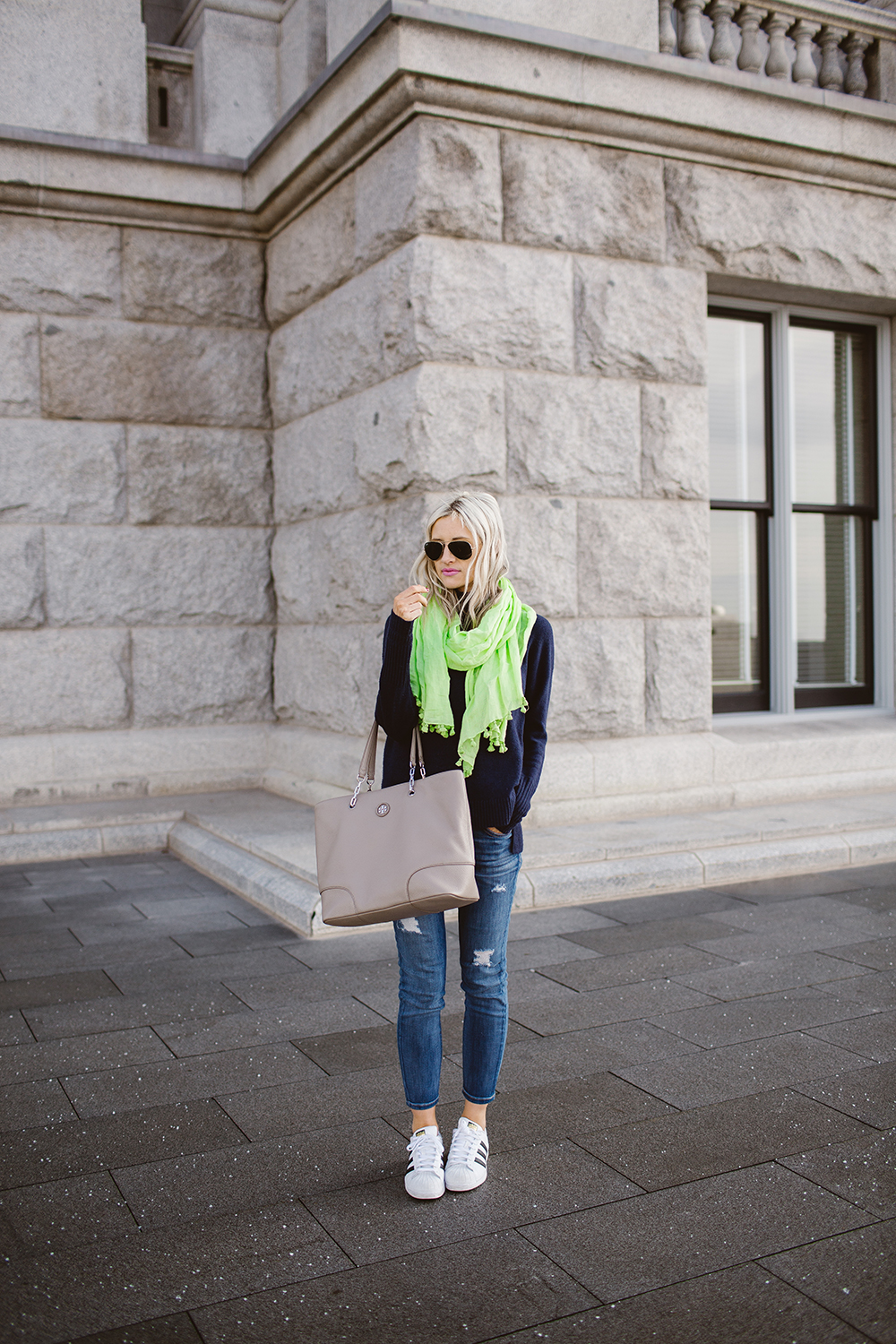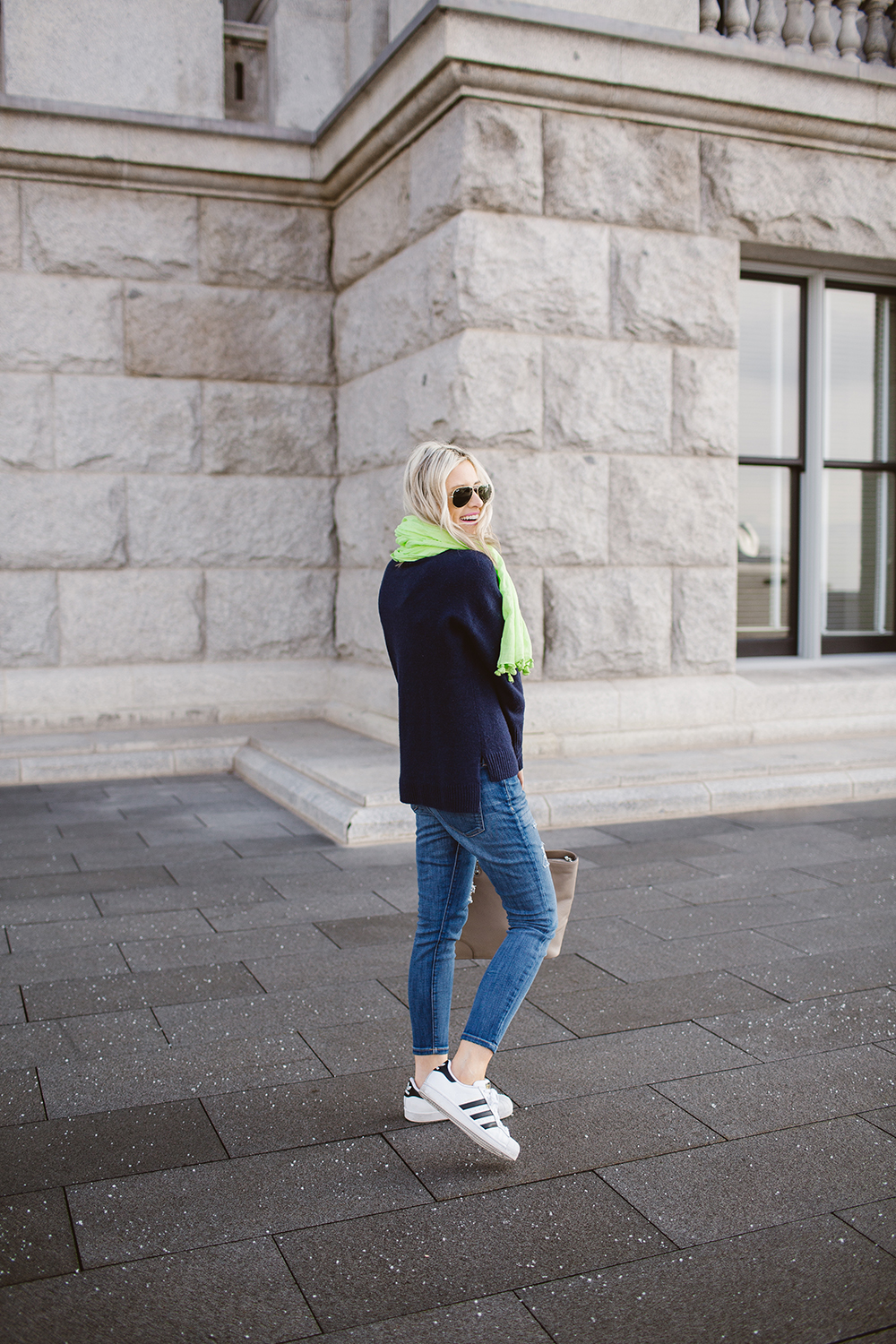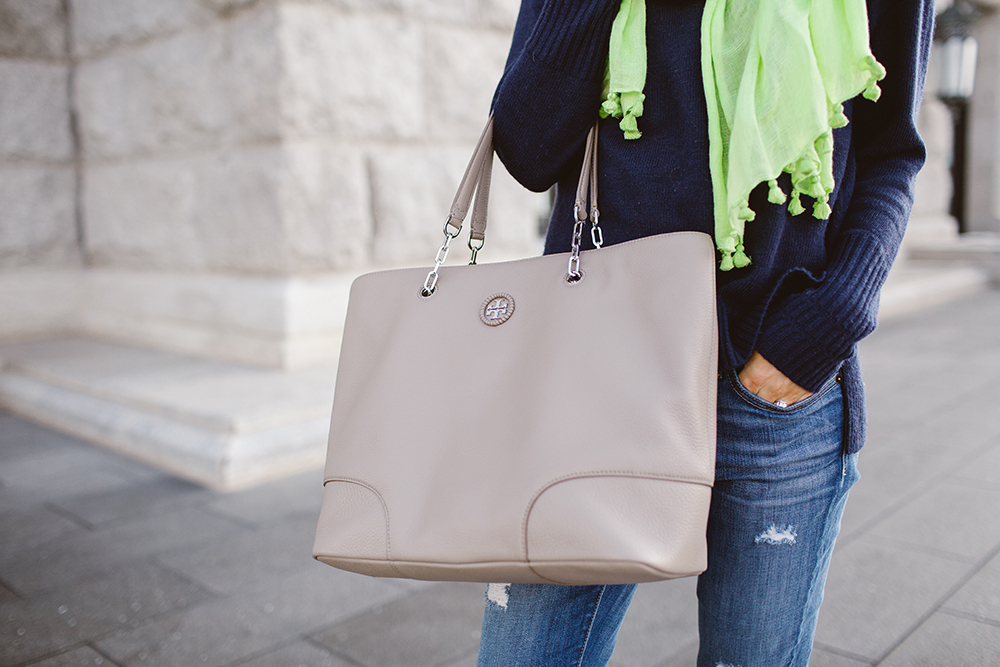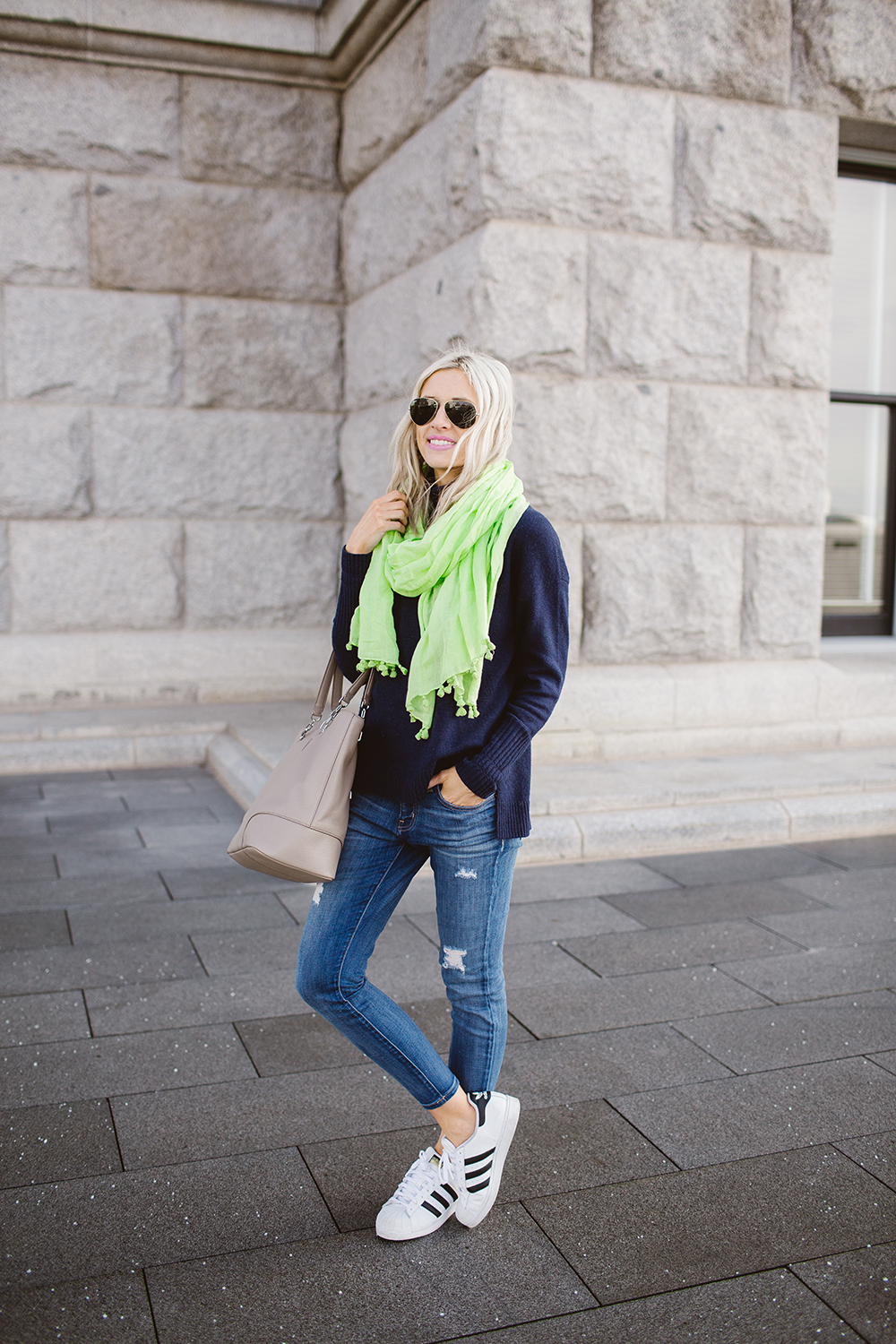 WHAT I'M WEARING
jcrew green linen scarf {old; similar here + here} | jcrew navy turtleneck sweater {last seen here} | current elliott jeans | adidas all star sneakers | tory burch handbag {similar here + here} | ray-ban original aviators | mac lipstick in 'saint germain'

I don't know about you, but weekends are my sanctuary. They're also some of my busiest days because I have such a short window to get everything done. And if I don't get it all done, I often end up feeling frustrated and stressed, instead of relaxed and happy (the way weekends should feel).
Here are 5 quick things I've been trying that will help make your weekend happier, regardless of your plans…
Eat a healthy breakfast tomorrow – The healthy breakfast that makes me feel the best is oatmeal with raspberries and blueberries (and a tiny bit of brown sugar). I personally think oatmeal is an acquired taste, so if you agree, some other favorites of mine are scrambled eggs, overnight oats or a protein shake (let me know if you'd like me to share my go-to recipe in a future post!). I also love this juice for breakfast, but that requires planning ahead.
Take 5 minutes to read your affirmations – Even if you start with a small list of three positive thoughts (such as, "I like myself," "I have so many creative ideas," or "I look pretty without makeup," repeating them in your mind when you first wake up can help set the tone for your whole day. I fall in and out of the habit of doing this so I'm going to work on it this weekend, too. I just truly believe in the power of affirmations and always remember how happy I was when I wrote this post after weeks of practicing positive affirmations each day.
Make plans for next weekend – My life has never been busier than it is now. But when I plan ahead, even just loosely, I feel so much less frantic about how little free time I have. It makes things easier for coordinating schedules and to-do lists with Matt and I feel more in control just by thinking at least one week in advance. So whatever you want to accomplish this week, plan for it, make appointments and make sure you carve out time for some rest and relaxation, too.
Drink 2 liters of water – We should do this every day, but as my life has gotten busier, it's been harder to make sure I'm drinking enough water. Recently, I've had more headaches and wake up feeling dehydrated, which I know are just a few of the consequence of not drinking enough water. This weekend I'll probably stop by Target to pick up a cute water bottle just to make this boring goal more exciting.
Put your things away – I am somehow still unboxing things from our move in December. Benji is also a little tornado so I've gotten used to things just being messy and cluttered lately. But I always feel so good when I tidy up. Start with the area in your house where you spend the most time. If you can't do it all this weekend, make plans for which area you'll tidy up next weekend. Organized environments breed organized thinking. And you'll just feel happier.
There you have it. I hope one or all of these things will help you feel happier about your life, your circumstances and who you are this weekend. There's so much we can do to control how we feel about ourselves and it really just starts with action. Do ONE good or healthy thing and see how it makes you feel.
What else makes you happy on the weekends?
Photos by The High Pines.