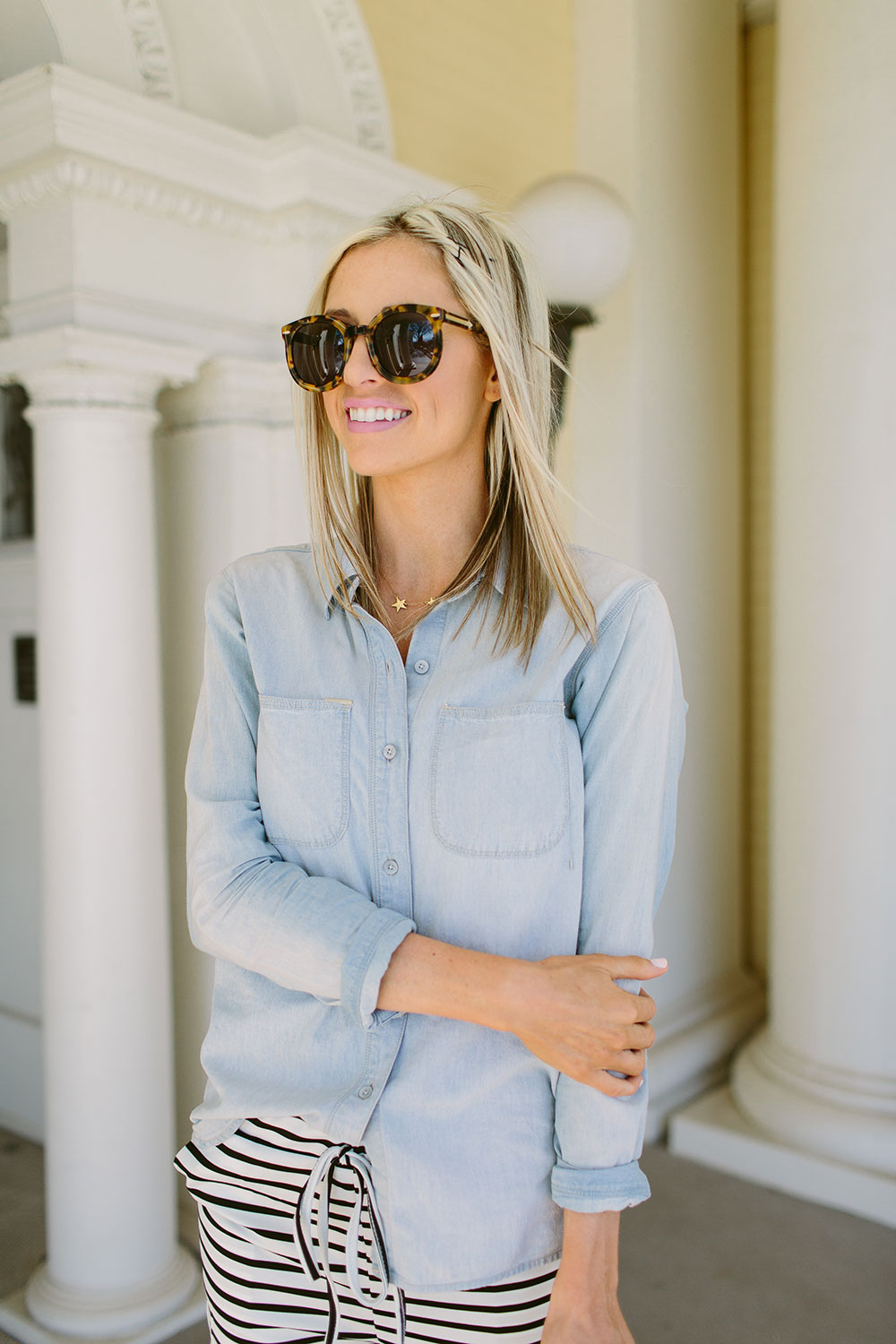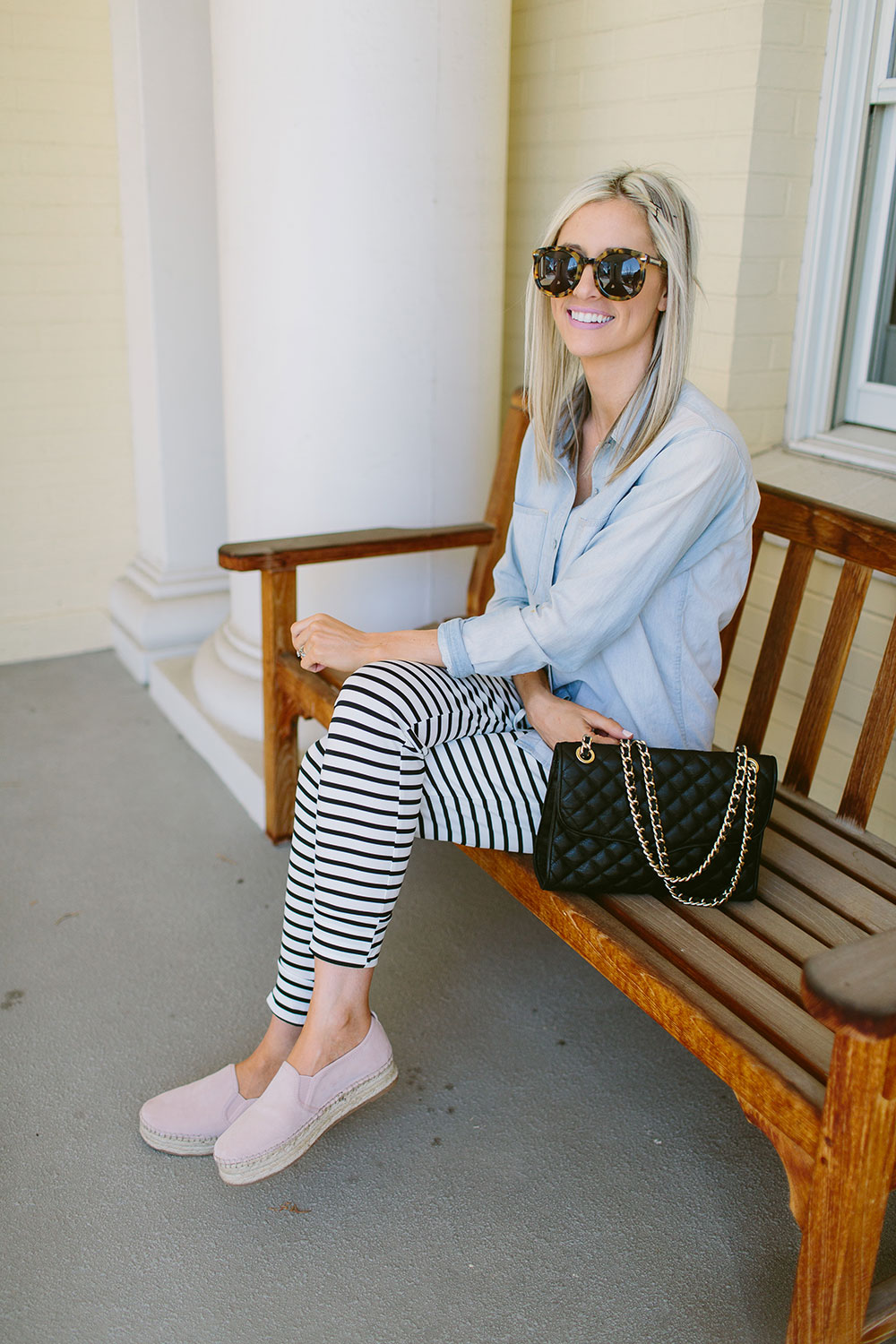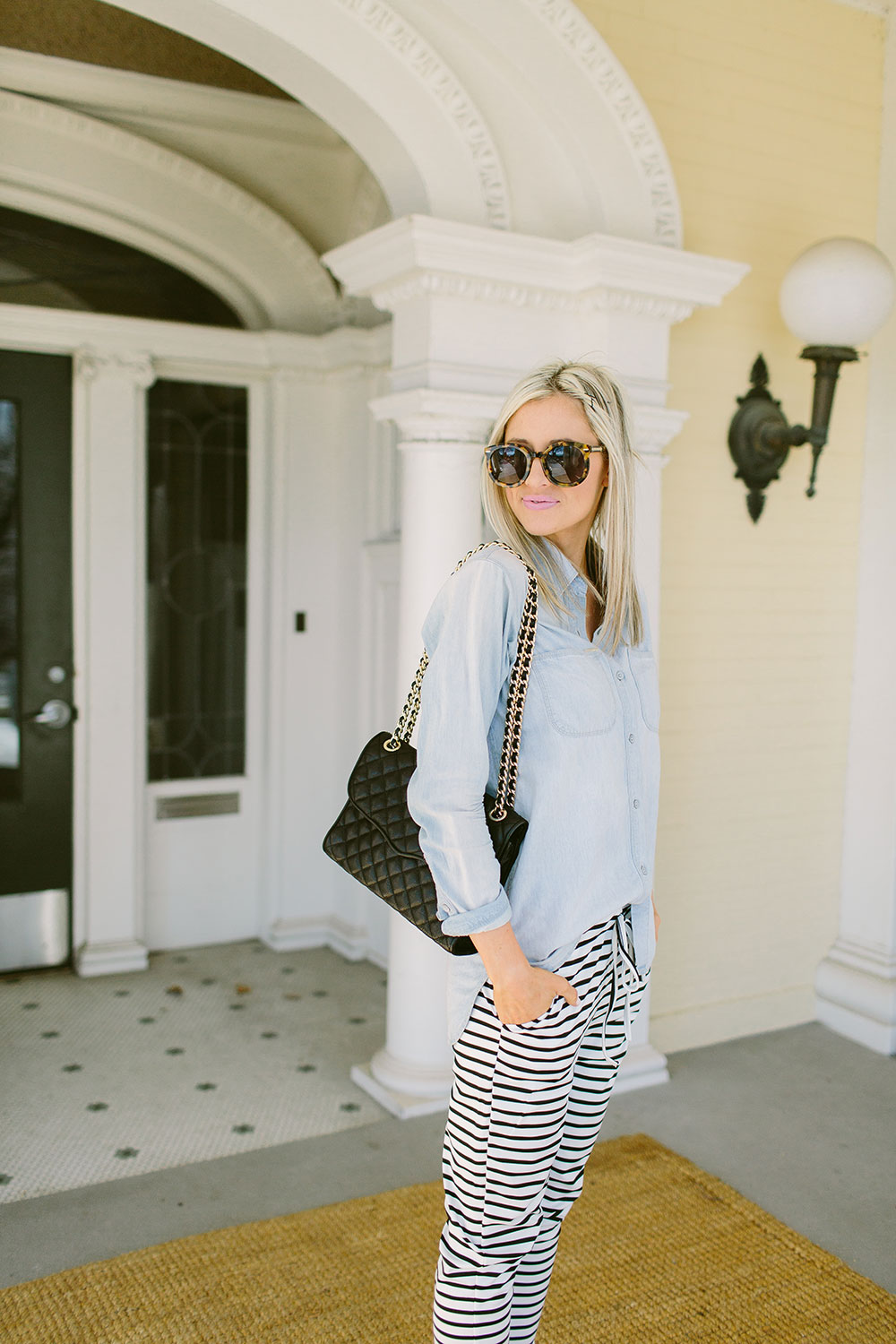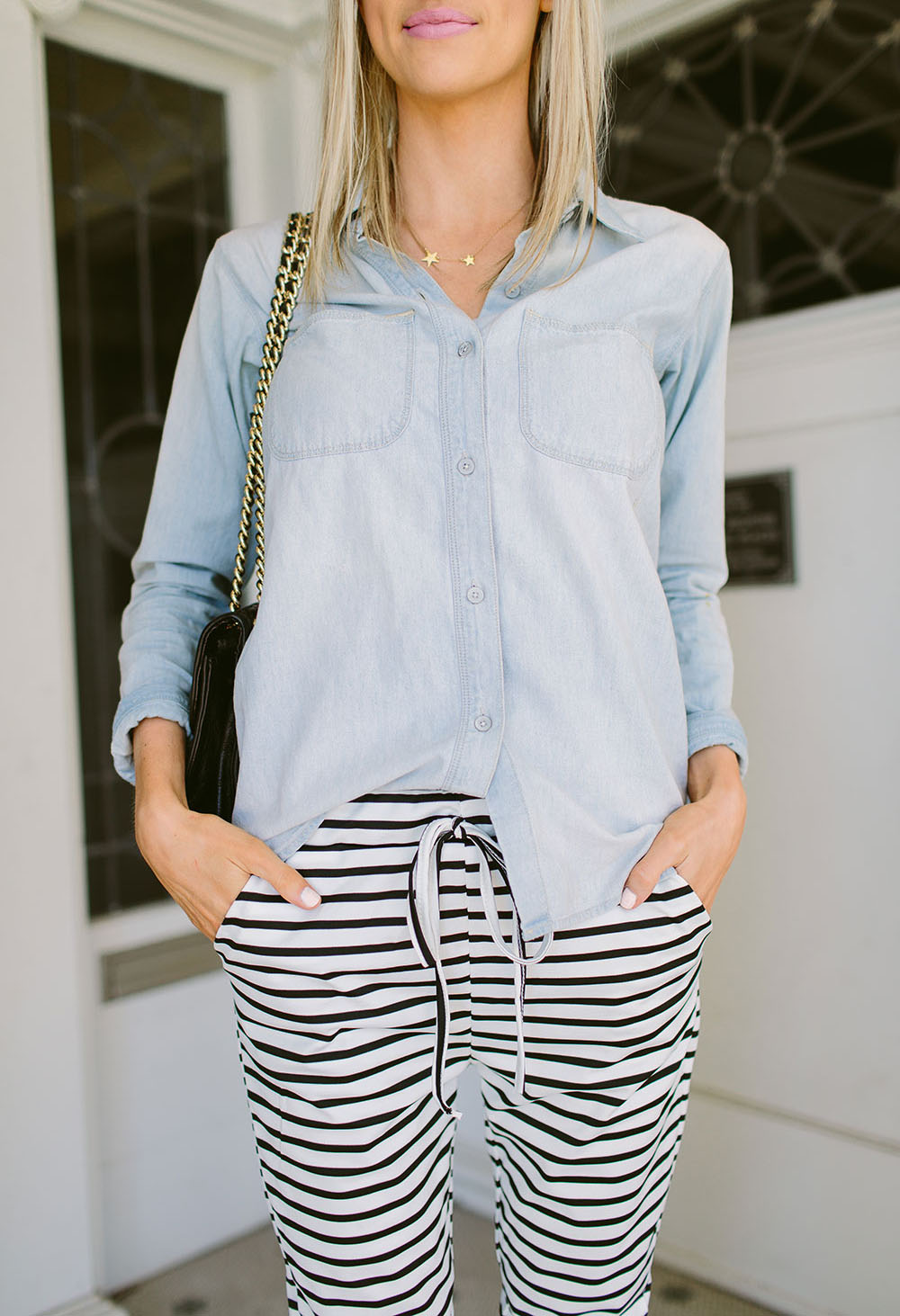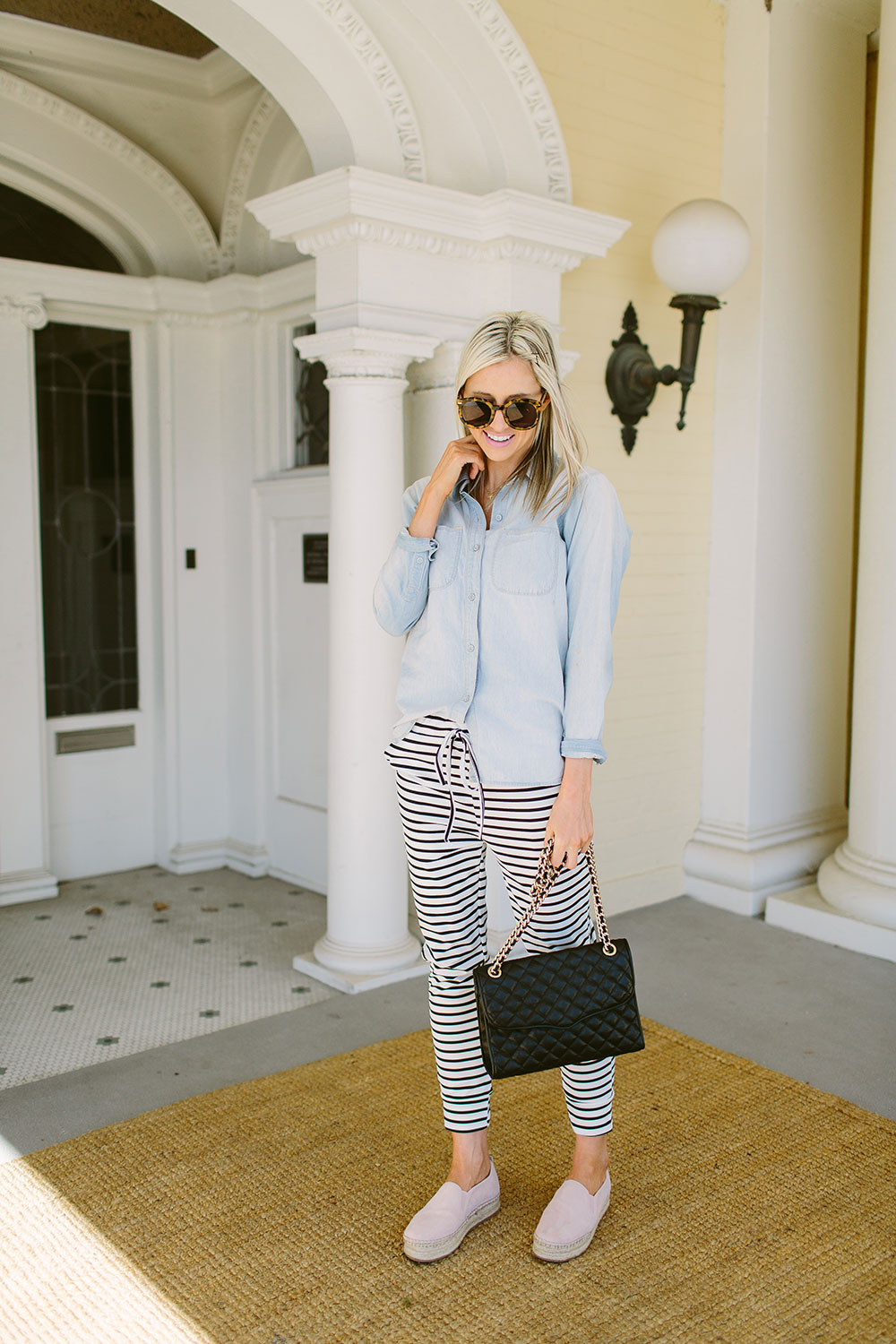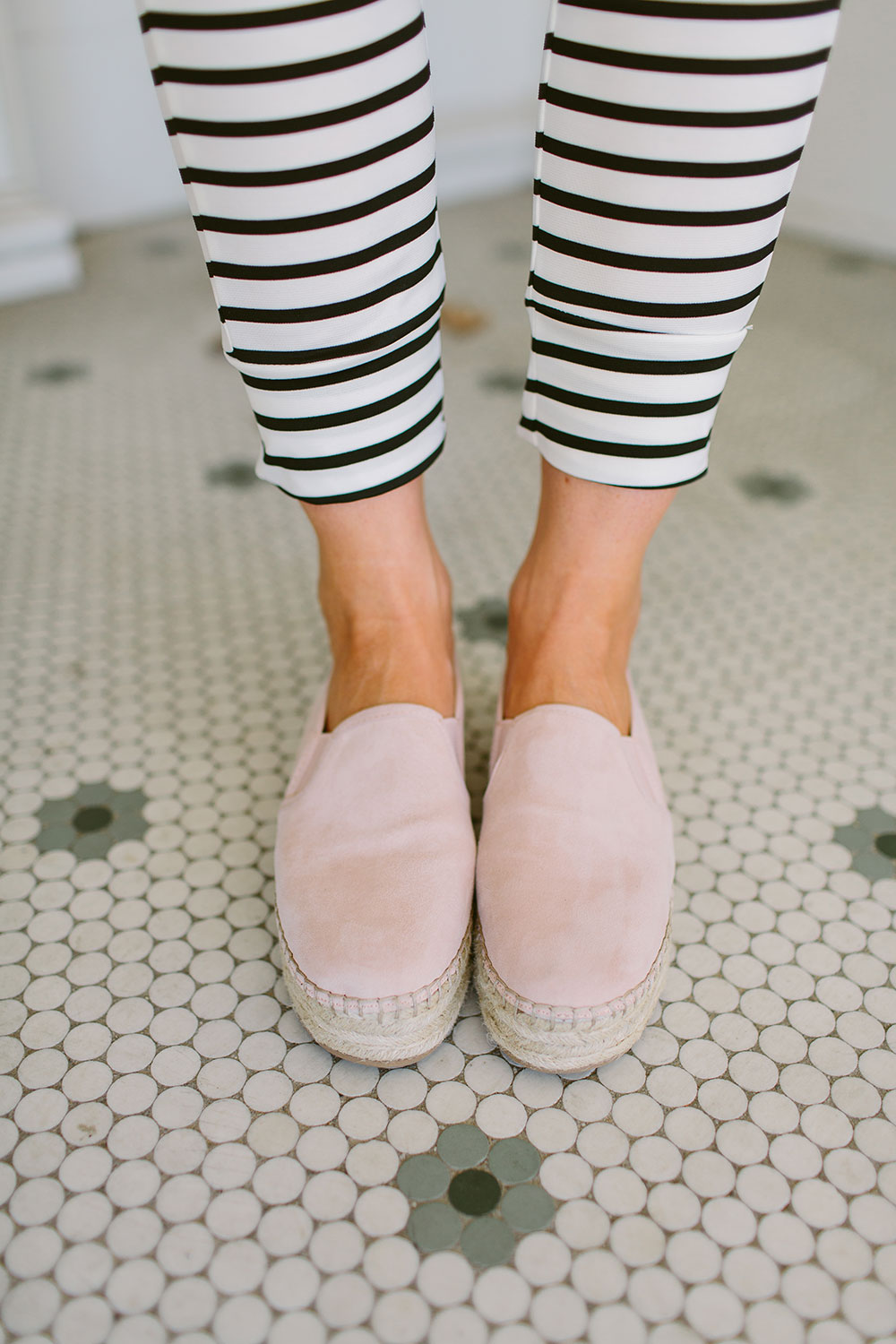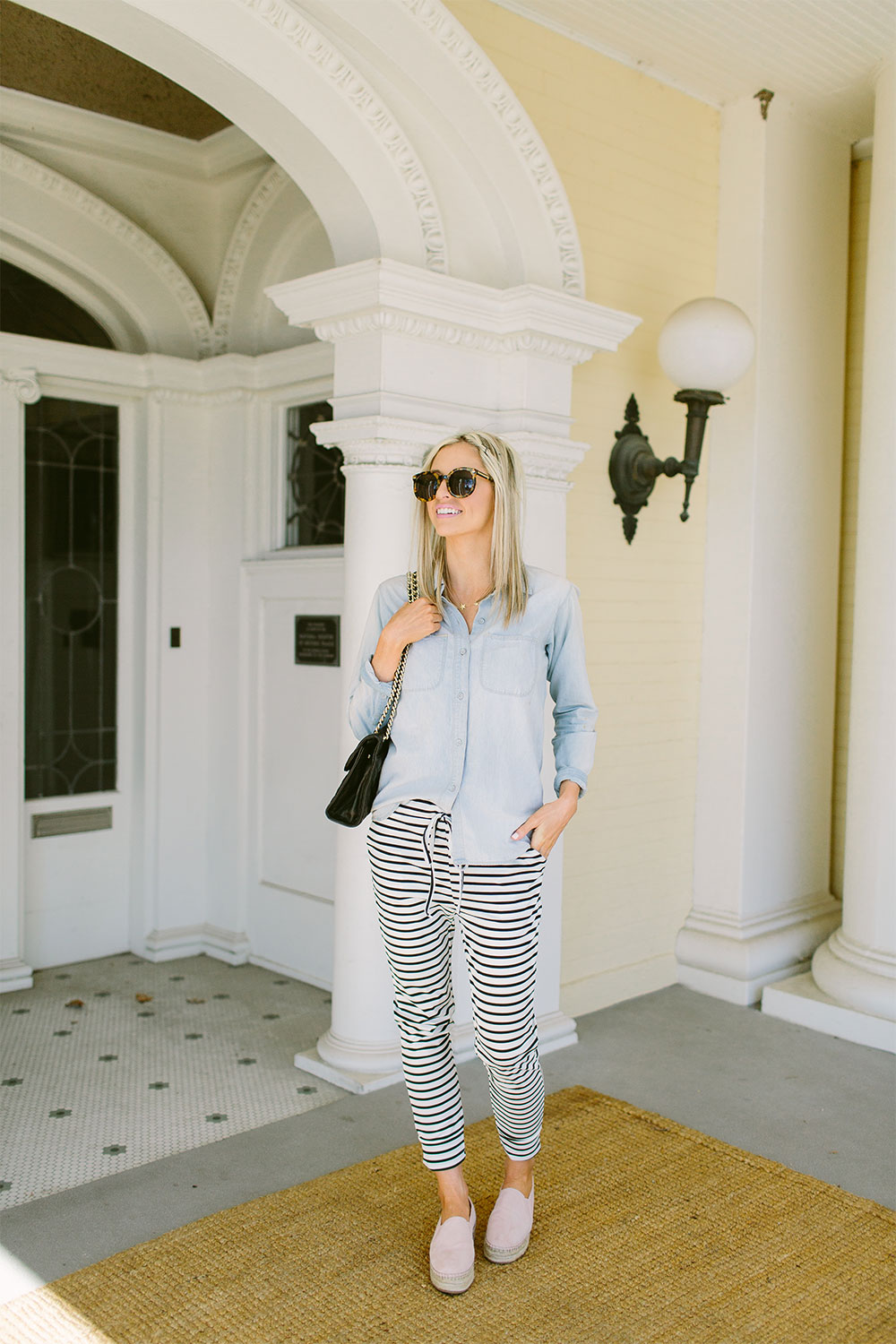 WHAT I'M WEARING
madewell chambray {check back, it is always restocked} | clad & cloth striped joggers {wearing size L; similar here via Amazon} | sam edelman espadrilles {also sold here + here from Amazon} | rebecca minkoff bag {similar here + here via Amazon} | karen walker sunnies | gorjana necklace | mac lipstick in "saint germain"

Lately, I've found myself reminding everyone that I have a lot on my plate. I have a busy full-time career at Adobe, I'm a mom in all of my down time, I'm still committed to maintaining and growing my blog, and somewhere in there I try to also make time for sleep, healthy eating and exercising. But who wants to keep hearing about someone's daily struggles over and over? Not me. I need positivity from those around me. And I'm guessing you'd welcome some more positivity in your life, too.
One thing I am good at — even when I feel so overwhelmed that I don't feel good at anything — is finding resources to help me feel better. I like to immerse myself in self-help books and how-to guides for better living. I thrive on it, actually. When my own self-talk is weak, I go searching for strength from others.
Here are 5 things I've been doing that are literally helping me survive my (currently chaotic, overbooked) life…
Listening to audio books. I spend a lot of time commuting to/from work, so I like to use that time productively and fill my head with knowledge from others' experiences. Whenever I feel stuck in life, books make me feel like I'm making progress even when I can't change my life circumstances. Books I've recently listened to, include:
2. Dedicating my thoughts to love and faith, not judgement and fear. Just yesterday I finished The Universe Has Your Back by Gabby Bernstein. This book was an unexpected turning point for me. I learned so much from Gabby's perspective on how to coach my mind out of judgement (usually toward myself) and fear, and focus my thoughts on love and trust in a divine plan greater than my own. I learned so many amazing lessons in this book about letting go of the need to control my life and everything I'm working toward, let go, and trust that the universe has my back, that my Father in Heaven is guiding me. I'm a spiritual person already, but this book helped me realize that I haven't exactly been putting my spiritual beliefs and perspectives into practice. The more we practice faith, the more we have it. Likewise, the more we focus on our doubts and fears, the more we have of those, too.
3. Being genuinely interested in other people. This one isn't hard for me. I've always been curious about people, why we all do what we do and think what we think. Social media makes it easier than ever to connect with other people we're interested in, but it also requires time to foster genuine connections (and, as you'll recall, my biggest problem is my lack of time). However, I've found when I do take time to connect, even with just ONE person each day, I think less about myself and my hardships and feel more easily uplifted by someone's reciprocated kindness and interest in me. This is a key takeaway from Dale Carnegie's book – "You can make more friends in two months by becoming genuinely interested in other people than you can in two years by trying to get other people interested in you."
4. Learning the difference between happiness and joy. I didn't realize there was a difference until Brene Brown spelled it out for me. We need both happiness and joy, but they're not the same. According to Adela Rogers St John, "Joy seems to be a step beyond happiness. Happiness is a sort of atmosphere you can live in sometimes when you're lucky. Joy is a light that fills you with hope and faith and love." Through Brene's research, she found that most people felt happiness is tied to circumstance and joyfulness is tied to spirit and gratitude. I echo Brene when she says, "I'd like to experience more happiness, but I want to live from a place of gratitude and joy." One more interesting thing I learned? The greek origin of joy is described as "the culmination of being" and the "good mood of the soul." It's opposite is not sadness, but fear. This sparked something inside me and ignited a desire to share more of the meaning and purpose behind Little Miss Fearless. Stay tuned for more.
5. Taking action. As a perfectionist, it's incredibly easy for me to subconsciously perfect things to the point that I paralyze myself. Take this very blog post for example. I started it yesterday. I've changed the headline at least 5 times now. And I'm trying to capture all the right thoughts so someone, even just one person, can find value in it. About an hour ago, I deleted the whole thing and was about to publish just another outfit post with zero substance. I hesitated whether to publish anything at all. Is anyone even reading this? I could go on demonstrating the negative self-talk, but you get the idea. I finally decided the only way I would feel better is if I just finished what I started and published the dang thing. Sure enough, by the time I got to this last point, I was feeling better. Taking action gets our minds off ourselves and into the work. No emotions, no exaggerating, just work. Over time I expect this to get easier, but for now, I'll just grit my way through it. This happens on and off for me so I know it will pass. Perhaps a big part of the solution is practicing gratitude. To quote Brene Brown one more time, "It seems gratitude without practice may be a little like faith without works–it's not alive."
Wherever you are in your life and whatever your levels of happiness and joy, I hope some of these strategies help you keep keepin on despite the chaos. Sometimes we need to make changes to simplify our lives. But if you can't yet decide of what you need to let go, try to surround yourself with positive people, books and thoughts to carry you to higher ground.
What do you turn to when your life gets overwhelming? Have any favorite book recommendations for me? I'm all ears.
Photos by The High Pines.