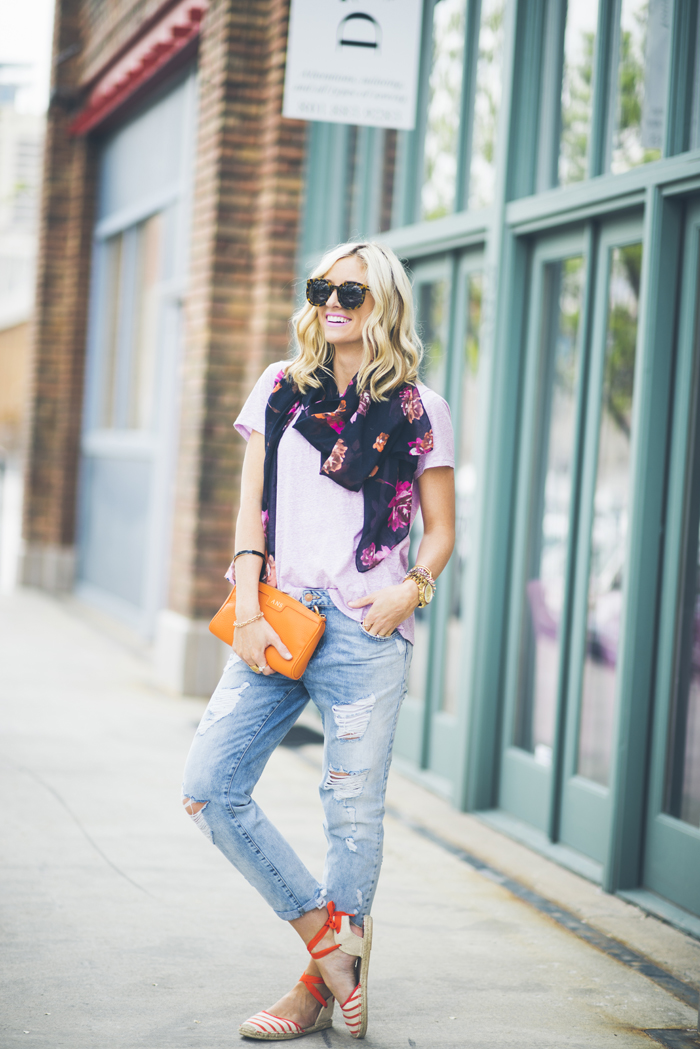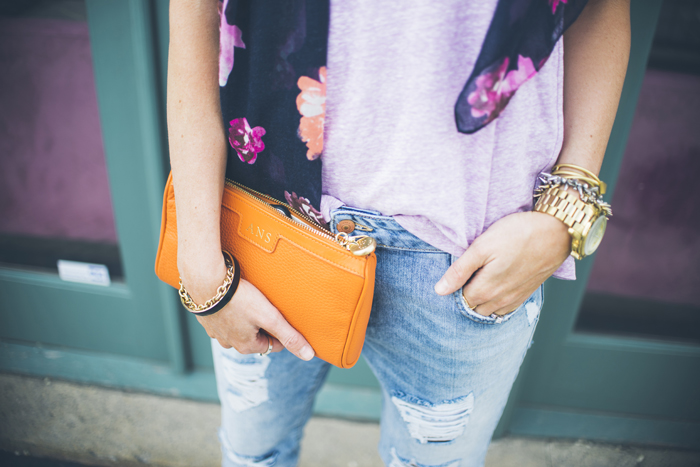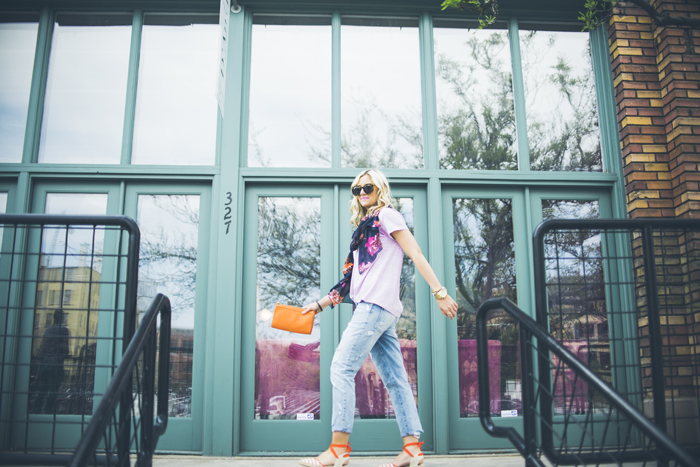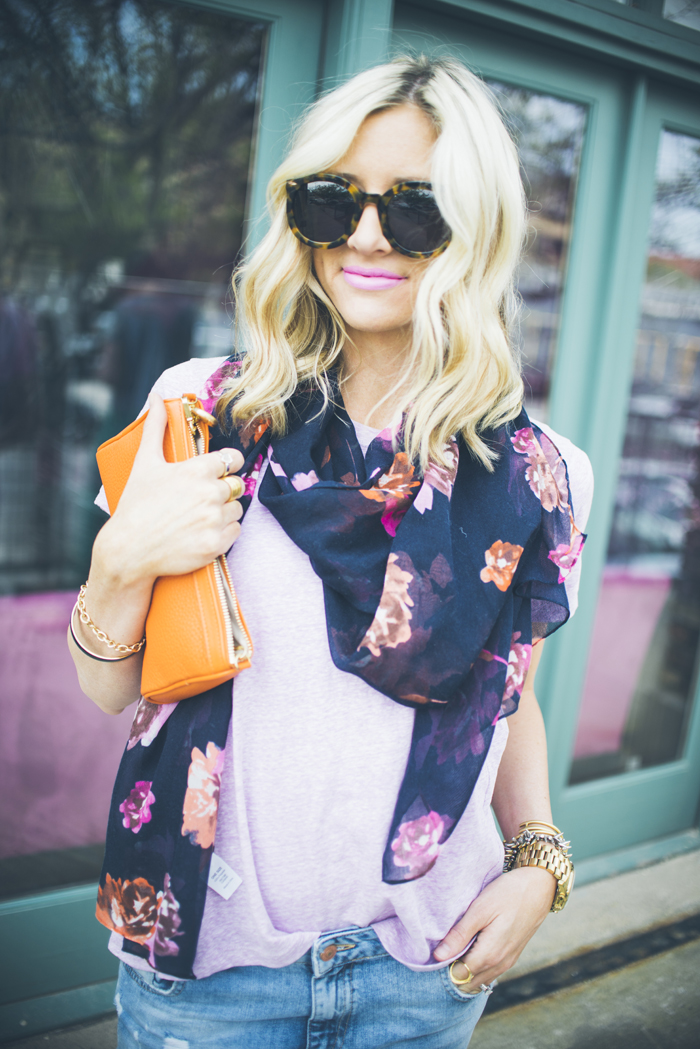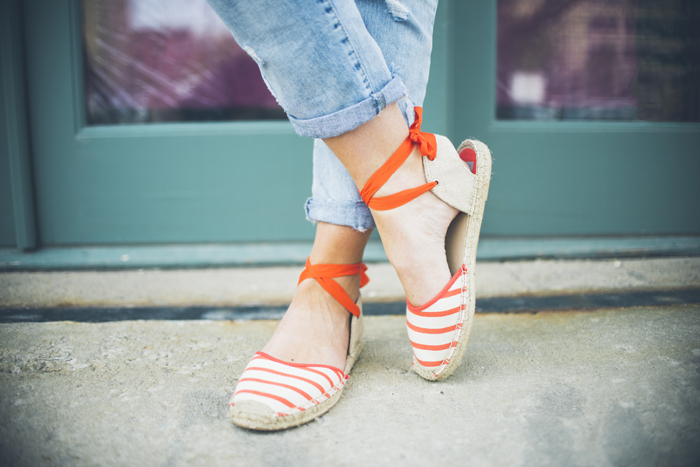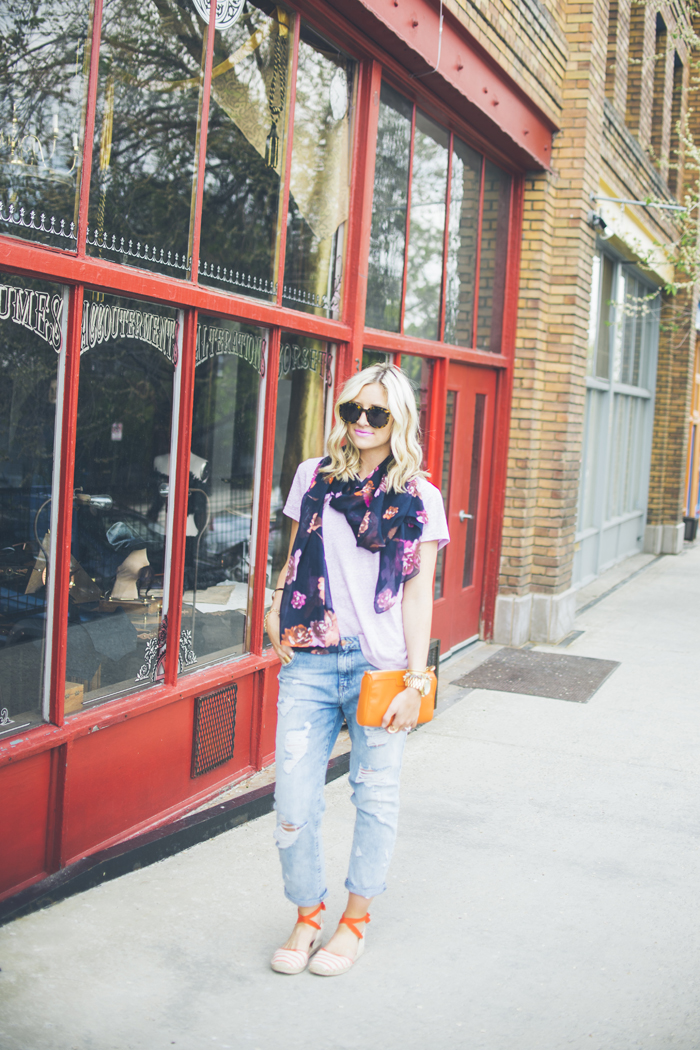 SHOP THE LOOK
tee: jcrew {craving this similar sweater} | scarf: jcrew factory {recent; neeed this style!} | jeans: zara {similar here} | shoes: dolce vita via nordstrom rack {similar style} | crossbody worn as clutch: gigi new york c/o {similar here} | sunnies: karen walker | watch: michael kors | bracelets: jcrew, stella&dot, madewell | lips: 'st germain' by mac

WHERE I'VE BEEN
Whenever I go MIA on my blog for more than a few days, I feel this need to explain myself (whether you care to know or not) and tell you what I've been up to. This time around, I'm kind of at a loss for words. I'm hesitant to be too open and looking for your support at the same time. Until I feel ready to share more, please just know that your comments mean the world to me. And if you're more of a passerby kind of reader, that means a lot, too. So much of what keeps me going in the blog land is thinking of fun ideas or inspirations to share with you. So thank you for existing and giving me something to think about other than myself. 😉
LAST WEEK
Last week my husband and I celebrated our 7th wedding anniversary and spent a few days 'away' for the weekend. Every day last week I intended to get a blog post up and I just wasn't feeling it. I have plenty of outfits and ideas to share, but I haven't felt inspired to share them. I've felt the opposite–afraid and disinterested. My routines and plans have been a little off and even though I didn't really intend to, taking a few days off helped me figure some things out.
WHAT I LEARNED
So while I wasn't working on blog posts last week, I was doing a lot of thinking. Thinking about what really matters in life, what makes people truly happy. Wondering why some things, that we can't control, can cause so much heartache. And that's when (with the help of my so very patient and loving husband and some unexpected inspiration that finally did come over the weekend) I remembered why I have to learn to control my thoughts, because that's the biggest influencer in determining how happy I am and will ever be. Here are some inklings I jotted down for myself that might be helpful for any of you who have been feeling the same way lately…
Decide who you want to be for the rest of your life. You have to know that person inside and out in order to know if you're becoming more like them. This can't be a second-rate version of someone else. Take all the influences and pressures of the world away and visualize who the best YOU is. Then go be that.
Quit defining your life based on how it compares to what other people's lives look like. The age old saying, "life isn't fair" doesn't mean that some people think it's fair and others don't. We all. have. crap. Some worse than others for sure–there are some very lucky people in the world–but no one is immune. It's part of life.
Spend more time improving your character than you do improving your appearance.
I feel good about myself when I exercise, but especially running. I'm going to do more of that.
I feel good about myself when I spend more time thinking about others and less time worrying about myself. I want to do more of that.
I feel better when things are clean and organized (from my inbox to my bedroom). Why do I not do more of this?
I feel happy when I believe I can be the kind of person who doesn't take life or herself too seriously, but still feels deep compassion for others. When I feel heartache, I feel it intensely. Learning to accept those feelings and knowing when to move on is something I want to master. I want my love for life to shine brighter than my gloomy days. And above it all, I want to let my imperfect self finally be good enough.
Controlling our thoughts is one of the hardest things we will do in life. It's like being told the only way to get the best body you can possibly have is to eat right and exercise. We've all heard that before, but it's so easy to believe there is a shortcut and there just isn't. And that internal struggle is a tough one. But I know the sooner I decide to accept that, the sooner I'll be on my way to building better habits and thought patterns that bring lasting happiness and stronger self-acceptance. When we are free of ourselves we can do and be so much more for other people. And that's what I want my life to be about.
Have you had any eye-opening experiences lately? What do you want your life to be about?
Photos by AshleeBrooke.
P.S. – Working on fixing the comment field. Apologies for the inconvenience. I want to hear from you!