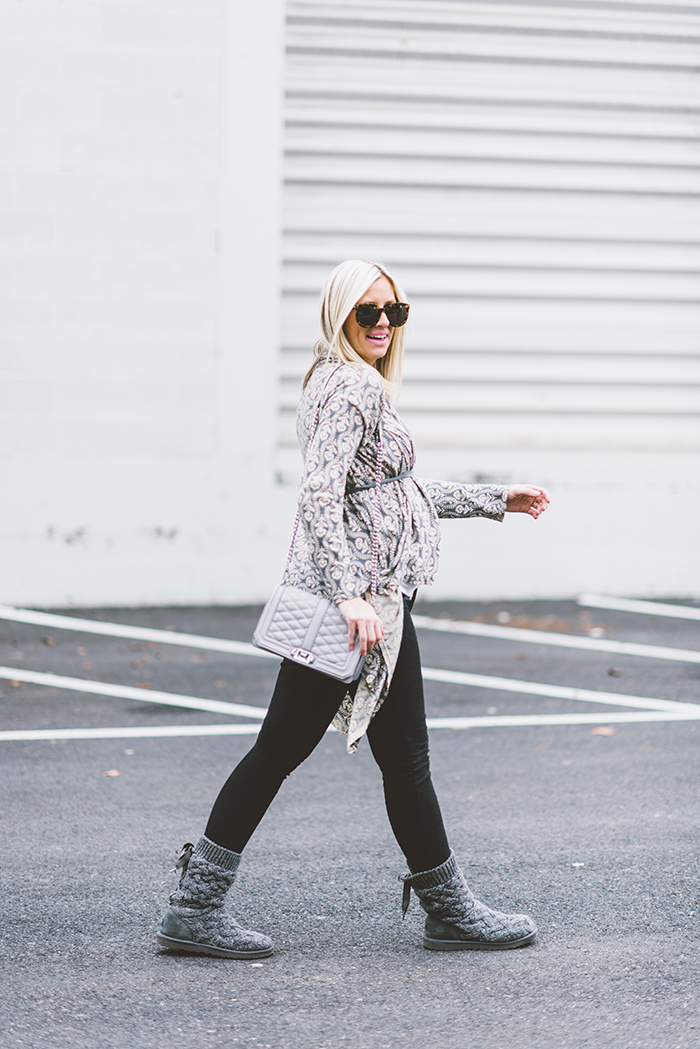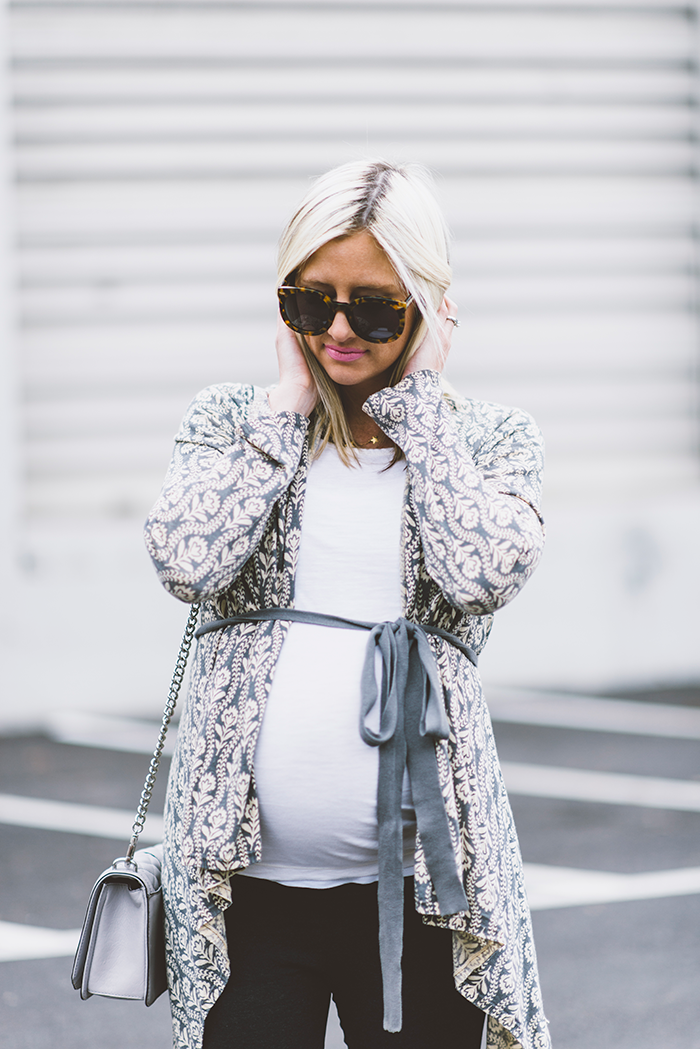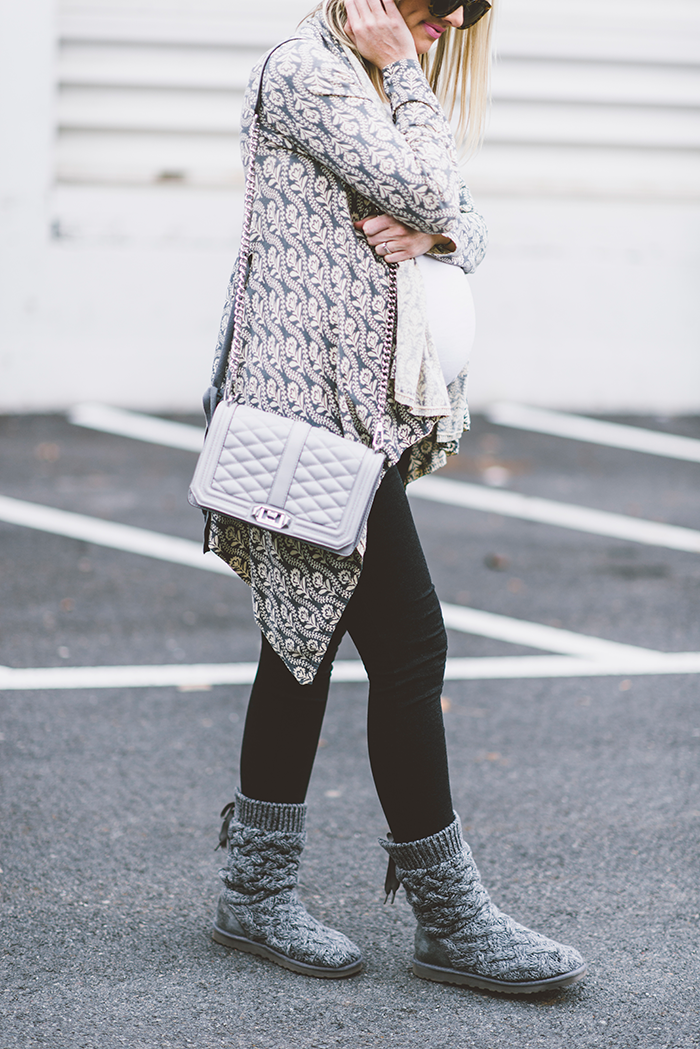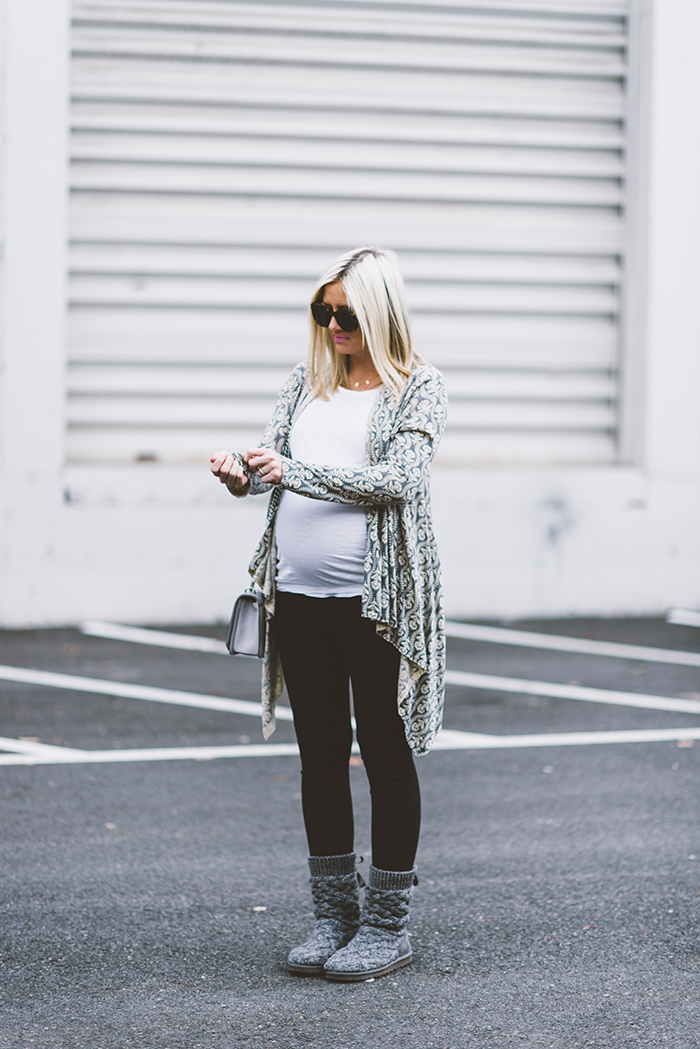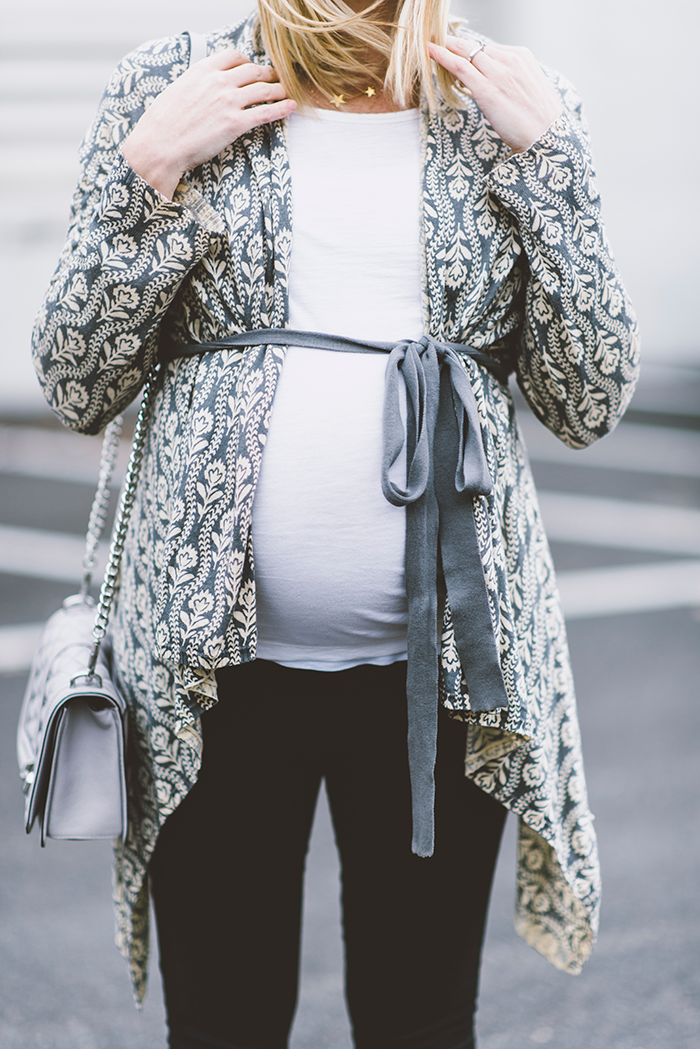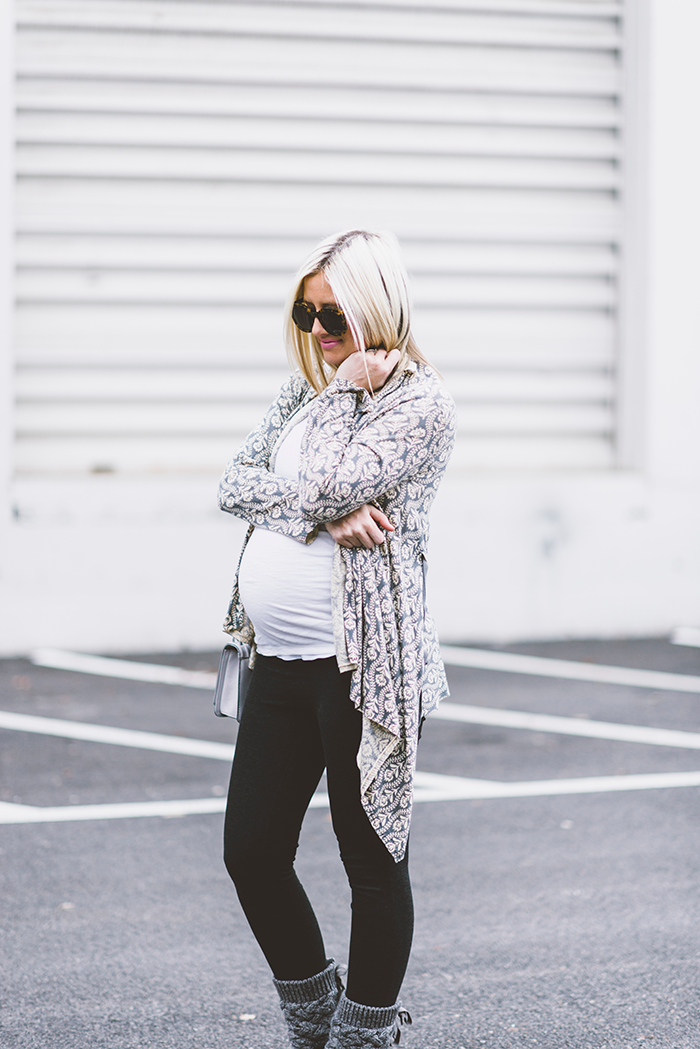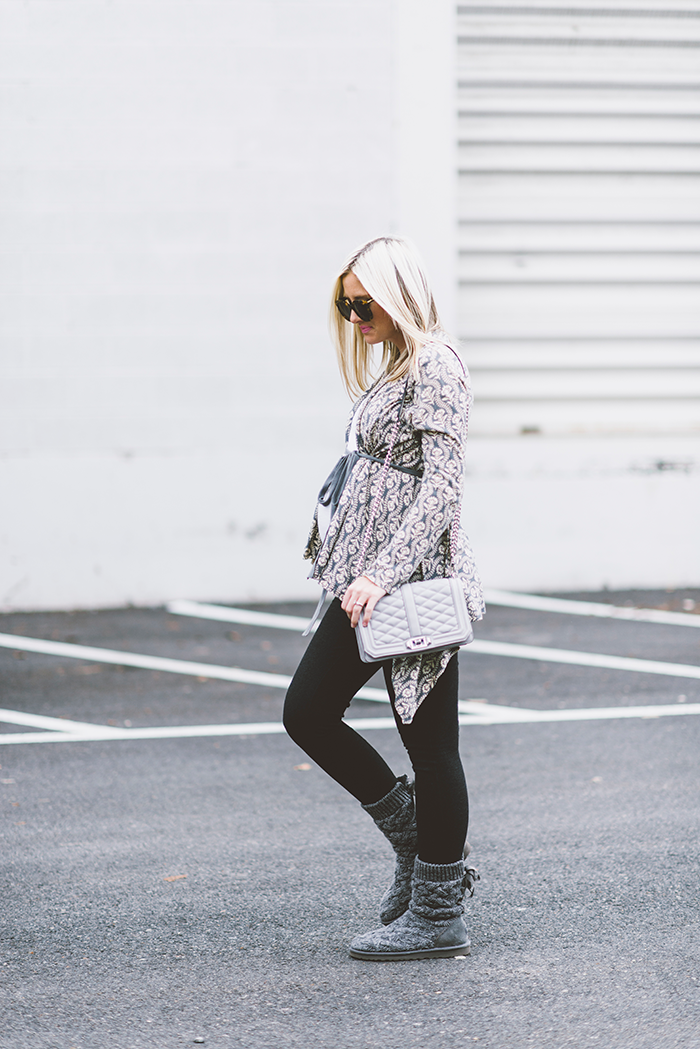 SHOP THE POST
cardigan: anthropologie {old; similar here, here + here} | tee: american eagle {old; similar style} | leggings: jcrew maternity {on sale!} | boots: ugg {similar} | bag: rebecca minkoff {love this pink one on sale!} | glasses: karen walker | necklace: gorjana {fave!} | lips: 'saint germain' by mac

 So here's my real experience with maternity clothes. As soon as I couldn't fit in my regular clothes anymore, I knew I had to buy some maternity styles, and I'm glad I did. Those are the items that have been the most comfortable and were worth purchasing. However, I couldn't stomach the thought of shopping the way I did pre-pregnancy (buying whatever I felt like, whenever I felt like it), so I didn't purchase very many maternity clothes. And now I'm at this point where I kind of can't stand getting dressed anymore. Truth: I hate it. Sure, it could be because I'm just generally uncomfortable (only three weeks away from my due date), or that I've struggled with the weight gain and am lacking some self-confidence, but if I were to give any of my fellow first-time preggos some tips, it would be these:
Set aside a pre-determined monthly budget for maternity clothes so you allow yourself to purchase what's needed for your comfort (you'll be glad you did, and if it's budgeted, you won't beat yourself up for buying clothes you aren't going to wear for very long). You could also try a maternity rental service.
Get more than three pairs of pants, especially if pregnant during the colder months. I only purchased three pairs—the grey leggings above (my fave), these blue jeans and these black jeans—and I think I would have felt better if I'd had just a few more options in the mix. Luckily, all of my pre-preggo cardigans came in handy, but I sure got tired of wearing the same basic outfit everyday.
Invest in affordable basics (i.e., maternity tops/tees). There comes a point when you feel uncomfortable no matter what, but if your shirts are a wee too tight or too short, you're going to feel that much more uncomfortable (and much less excited about getting dressed in the morning).
Don't forget to buy comfy pajamas! Again, I tried to get by with my usual pjs, but they too eventually became too tight. So I started wearing some old pj bottoms I stole from Matt back when we were dating and paired them with one of his t-shirts. Super comfortable, but as my belly grew, I started to feel more and more frumpy, large, and that my outside appearance was just a reflection of how icky I was feeling on the inside. Just a week ago, my mother-in-law in Germany sent me some new maternity pajamas for my birthday (I don't know how she knew!) and I feel like a whole new woman! They are so soft, comfy, stretchy and I think they'll even work after the baby, which makes me all sorts of happy. Waking up in those each morning, I'm able to see myself more positively. I feel cute (weight gain and all), and that's how I'd always hoped pregnancy would feel.
What am I missing? Have any other tips that would have helped me through my maternity-style crisis?
Not that I'm thinking about the next baby already, but I'll definitely be more prepared for this the next time I find myself pregnant. 😉
Photos by Ashlee Brooke.