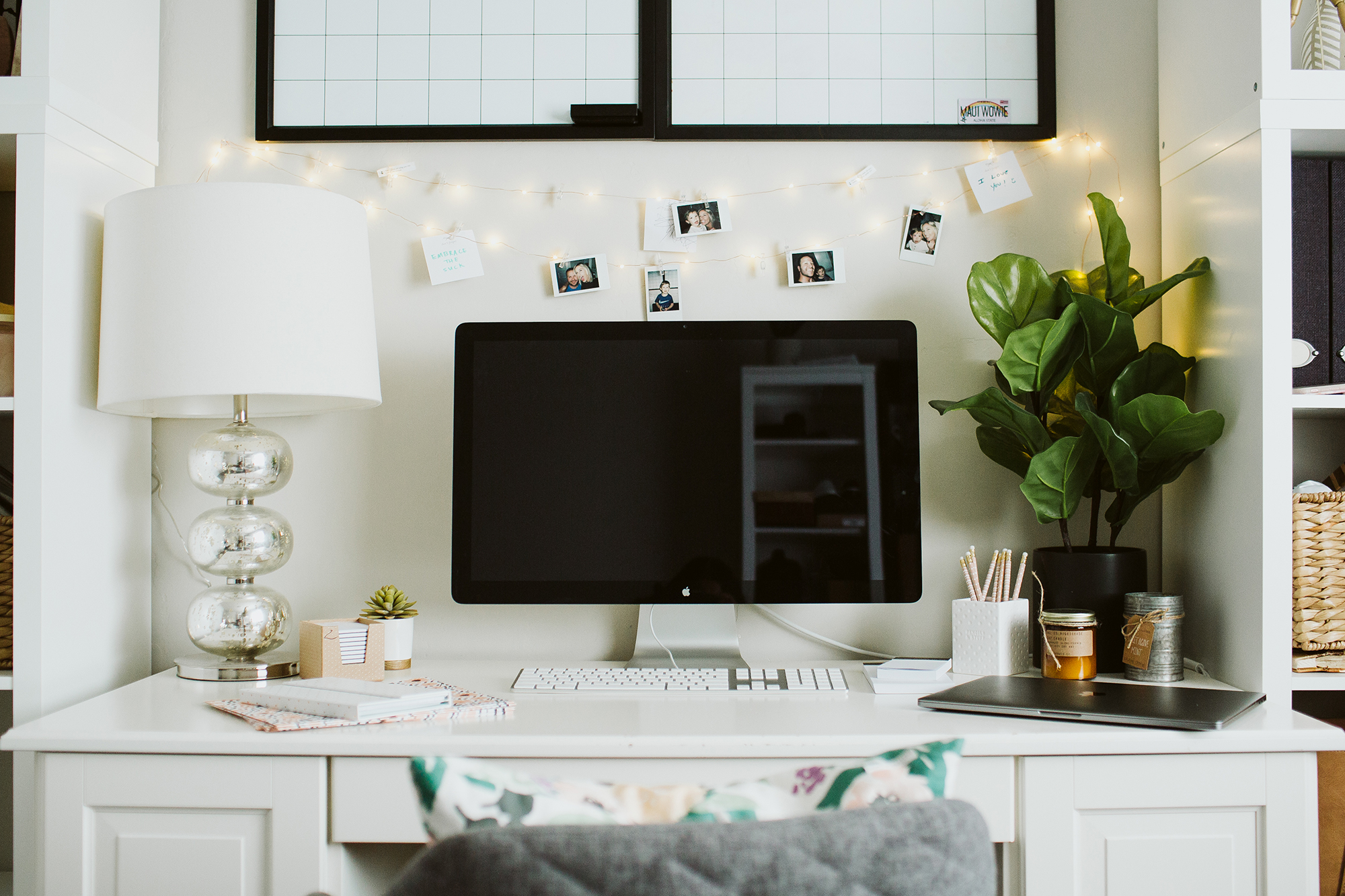 A week ago I shared a teary-eyed story on Instagram Live about how my "Little Miss Fearless dot com" blog domain — my home on the Internet for the past six years — was wrongfully sold via auction.
While the support from my social community was overwhelming and positive, I realize this whole situation is hard to understand and a little scary for anyone who owns a web domain or is thinking about buying one for their blog or business.
So I captured the details of what happened to help you avoid ever having to go through something like this yourself.
Helpful Background
When I started my blog on Google's Blogger platform back in August 2012 (I'm now on WordPress), I purchased my Little Miss Fearless dot com domain through Google who bought the domain on my behalf from GoDaddy (the domain registrar).
Because I purchased my domain through Google, I never had any direct contact, login or account with GoDaddy. All billing, notifications and communications were handled through Google. I set my subscription up to auto-renew each year using my debit card.
For five years, my domain has been auto-renewing in the background without me having to even worry about it. Each July for the past 5 years, I received emails from Google leading up to the renewal date letting me know my domain was about to expire.
Renewing My Blog Domain
This year, however, I didn't receive those reminders. I only received an email on August 13—the day I noticed my site had gone down—stating that my domain registration renewal failed on July 27.
It took me an hour or so to figure out how to renew an expired domain through Google. I couldn't login to my G Suite account because I didn't know it existed until I found an article about how Google created it for me back in 2016 when Google Apps became G Suite.
Once logged in (I still don't know how I figured this out), I saw a notification in red text in the Billing section that said, "Update your auto-renew payment information to renew your domain registration."
I updated my debit card—it was closed by my bank due to fraud back in April, which explained the failed payment in July—and the notification went away. There was no immediate confirmation that my domain had been successfully renewed, so I made two manual payments just to be safe.
Within an hour, my site came back online.
My Blog Domain Was Sold
It wasn't until Sept. 18 that I learned those payments were never sent to GoDaddy.
The strange part to me is that I was never notified by Google about my unsuccessful renewal attempt. I don't know why they accepted my payment, but didn't send it to GoDaddy, or why I wasn't notified of my renewal grace period coming to an end (the 30 day window you have to renew your domain after it expires). I never received a final notice or heard anything after that email on August 13.
And because GoDaddy didn't receive my payment from Google, they auctioned my site off on Sept. 13, according to the customer service agent I spoke with on the 18th.
I was in shock when I found out it had been sold because it came to my attention via Instagram DM from the PERSON WHO BOUGHT IT!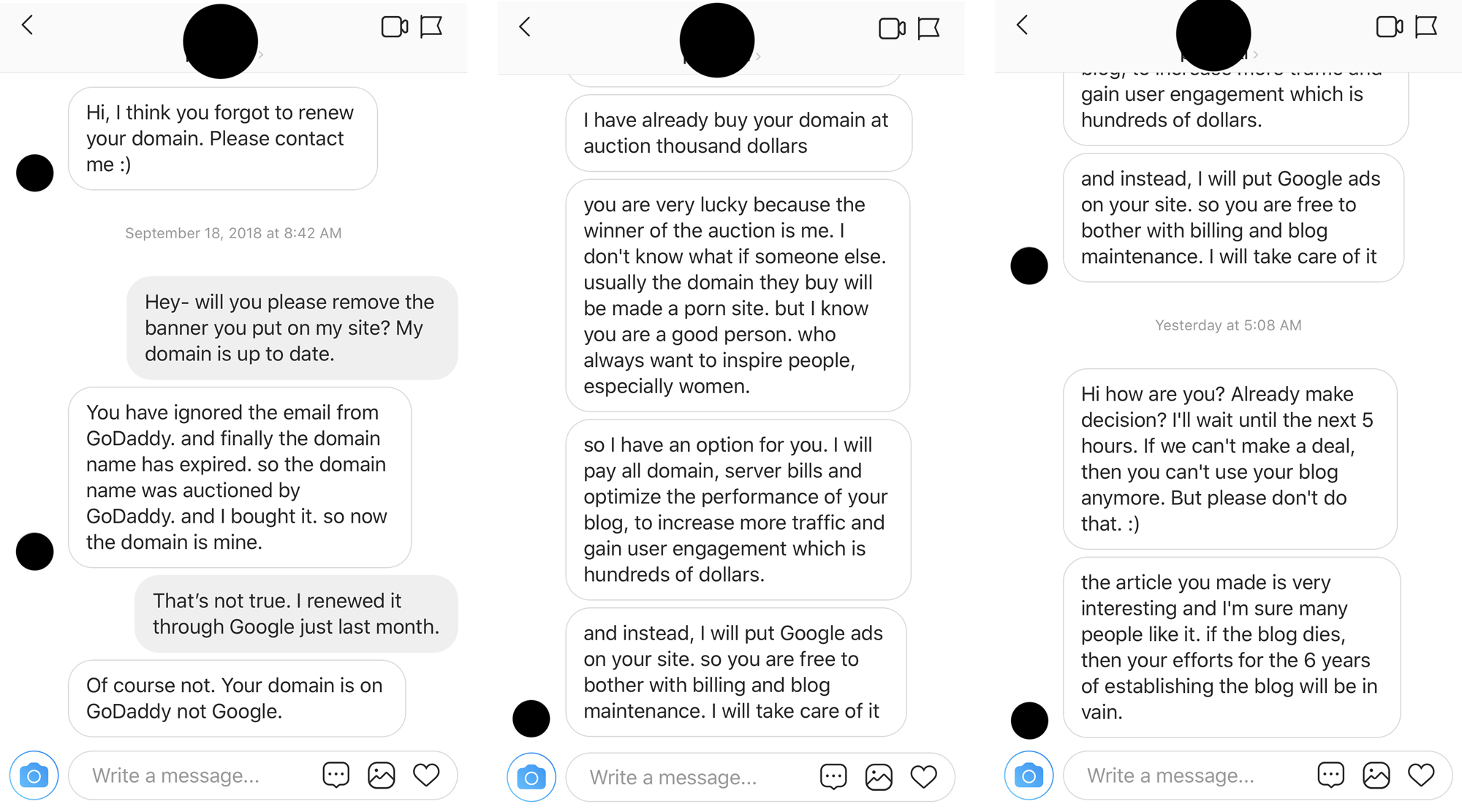 Buying My Blog Domain Back
After hours of back-and-forth phone conversations with Google and GoDaddy (neither party could offer any solutions), I came to terms with the fact that my domain was not mine anymore.
My only option was to purchase GoDaddy's Domain Buy Service and work with a broker to contact the new domain owner and negotiate buying the domain back from him.
These negotiations are currently underway.
Tips to Avoid Losing Your Domain
Purchase your domain directly with a domain registrar.

Don't go through a third-party like Google. If something goes wrong, they'll blame each other for the glitch and you won't be able to resolve it. I bought my new domain through NameCheap and it's been great so far.

If your domain does expire, contact the domain registrar directly.

This is my biggest regret. I had never at any point had direct contact with GoDaddy so I didn't realize I even had any connection with them still. I thought Google owned my domain since that's who I bought it through 6 years ago. Google does not register domains. They only partner with domain registrars like GoDaddy so you'll always want to remember who your registrar is.

Keep your payment info up-to-date. Check it quarterly or annually, even if it is set to auto-renew. If your card expires or is closed, update your billing info immediately. Don't wait until your renewal period.

Personal note: There's no guarantee that had I updated my payment info ahead of the deadline that this wouldn't have still happened. It appears to have been an issue on Google's end with the digital billing console and my payment wasn't sent to GoDaddy.

If you currently own a domain you purchased through Google, upgrade your account to G Suite.

It's the only way to be given the option to talk to a real person on the phone. The first time I called them, an automated voice said I needed a pin to speak with customer service. I had to go back and figure out why I didn't have a pin. Then learned it was because I had a legacy version of G Suite (that Google created for me when Google Apps became G Suite in 2016) and had to upgrade my account to G Suite Basic.

Know who you are going to contact for help if your domain or site is ever compromised.

My friend Lisa of Elembee coded/developed my current blog design and we've been in touch recently on some updates so I was able to text her with my emergency. She immediately jumped on the phone with me and helped me purchase my new (hopefully temporary) domain and get all my social bios linking back to it.
The Chloe Digital team also provides tech support for me and helped me to update my newsletter so any posts being published to my old domain weren't being sent out to my subscribers (although, regretfully, this did happen and I didn't notice until the next day).
My web host, Flywheel, is also amazing at responding quickly to any of my concerns with spam or security.
What's Next For Me?
When this all happened, I contemplated the idea of ending my 6-year blogging journey. It seemed like a "sign." Like the universe telling me it doesn't want my content anymore. But then I saw the opportunity to ask my community for help. It felt uncomfortable and vulnerable. I honestly wondered if anyone would care. But if you're reading this, you proved me wrong.
People love to help people.
So I'm going to push through this and keep strengthening my voice for good in the world. Look out cuz here I come. 😉
Did this article help you?
Please let me know in the comments if you have additional questions. And thanks to everyone who's been supporting me throughout this crazy experience. I'm so grateful for you.