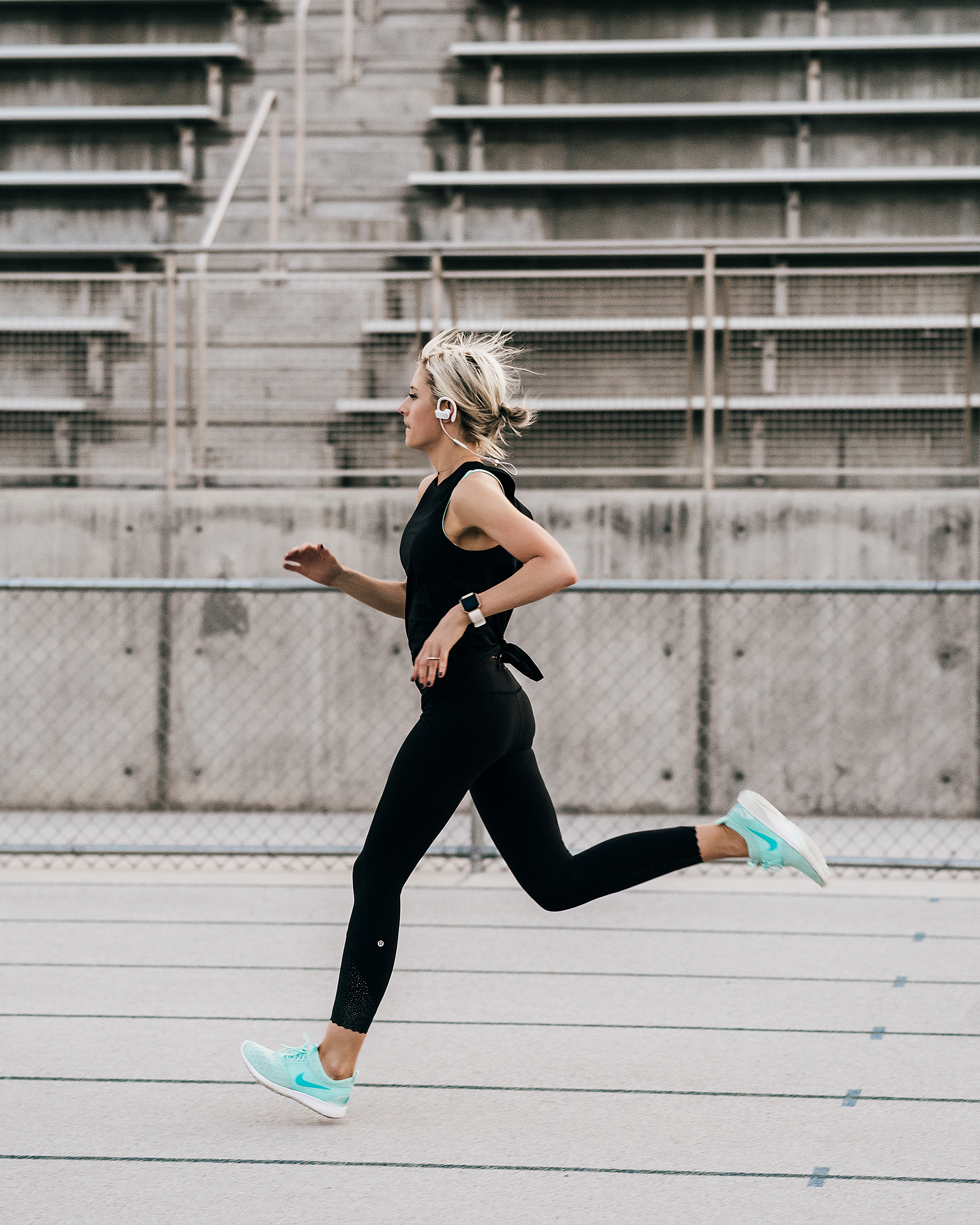 top (similar) | bra | bottoms (my fav pair with pockets on the sides!) | shoes | wireless headphones | fitbit | white fitbit band
Welp, I finally did, guys! I committed to my first half marathon in 7 years (gasp) in May — Vigor Big Cottonwood Canyon Half. Then something got into me and I signed up for a second half just 6 weeks later in June — American Fork Canyon Half.
I've never attempted two half marathons so closely together before, but after asking for your thoughts on my IG story, you convinced me I could do it. I just need to "keep my miles up after the first race while allowing for adequate recovery time," said too many people to name. (Thank you!)
I'm so excited to be training again. I'm no expert, but I come from a family of runners and race winners and while that used to feel like "too much to live up to" (recovering perfectionist here) I'm happy to get back into a training routine, knowing I'm doing it on my terms, no shame tape driving this plan or fears of inadequacy making me compete with anyone other than myself.
My goal for the first race is to HAVE FUN and finish.
My goal for the second race is to beat my time in the first race, enjoy the course and speak kindly to myself regardless of the outcome.
Since it's been so long, and since my body has changed so much these past 7 years, I had to ask my marathon-winning, elite-runner sister (Stefanie) to review my plan before I committed to it. She recommended a few things you may find helpful when making your own training plan:
Plan for at least 3-4 running days per week, 1 of which is your weekly long run;
The miles you put into training are not just for your body, they'll help train your mind for the distance, too;
Taper 1-2 weeks leading up to the race—you want your legs to feel fresh, not sore;
Don't do your longest run the Saturday before the race;
Give yourself some extra rest days the week after your race;
No matter how your training goes, don't get discouraged. Set goals, do your best, but then roll with it. Life happens and some days you will have to make decisions that are better for your family and your health, even if they aren't ideal for your training.
I am SO lucky and grateful to have her. She really is a legend.
After we spoke, I decided on a Plan A and Plan B for my two races. Plan B basically allows for an additional rest day if Plan A starts to feel too intense. I'll likely find myself somewhere in the middle of both.
I'm really loving OrangeTheory, so I'm incorporating my 2 classes per week into my plan as cross training days, even though I do always run an average of 1-2 miles on the treadmill each class. I'm hoping to work in some weight lifting beyond what I do at OTF, but only as it makes sense. I'm mostly nervous about increasing my weekly long runs. Those are the days that will probably test me the most. But I have completed 4 half marathons and BIRTHED A CHILD FOR 4 HOURS so I feel pretty confident when I put it in perspective like that. 🙂 #icandohardthings
Without further ado…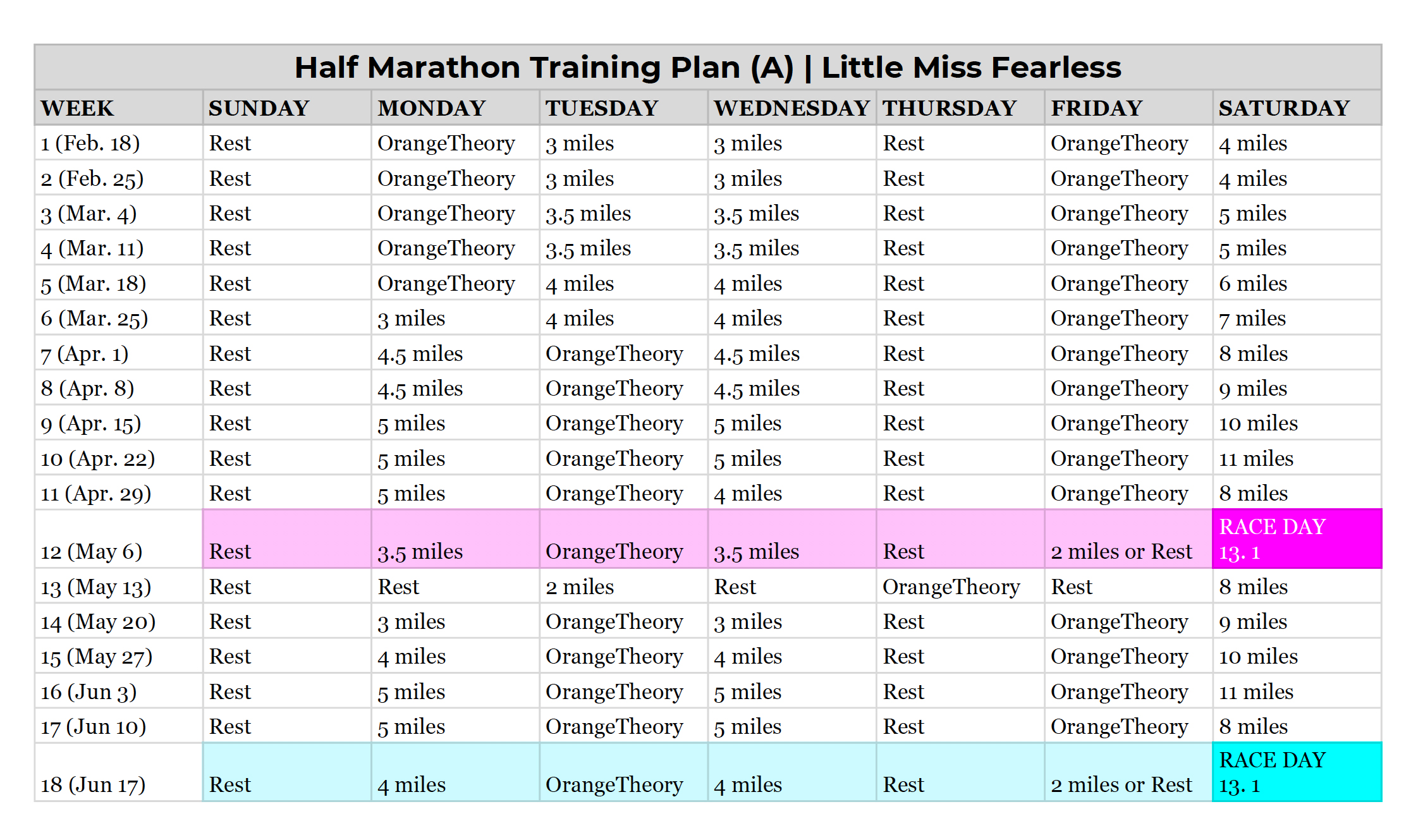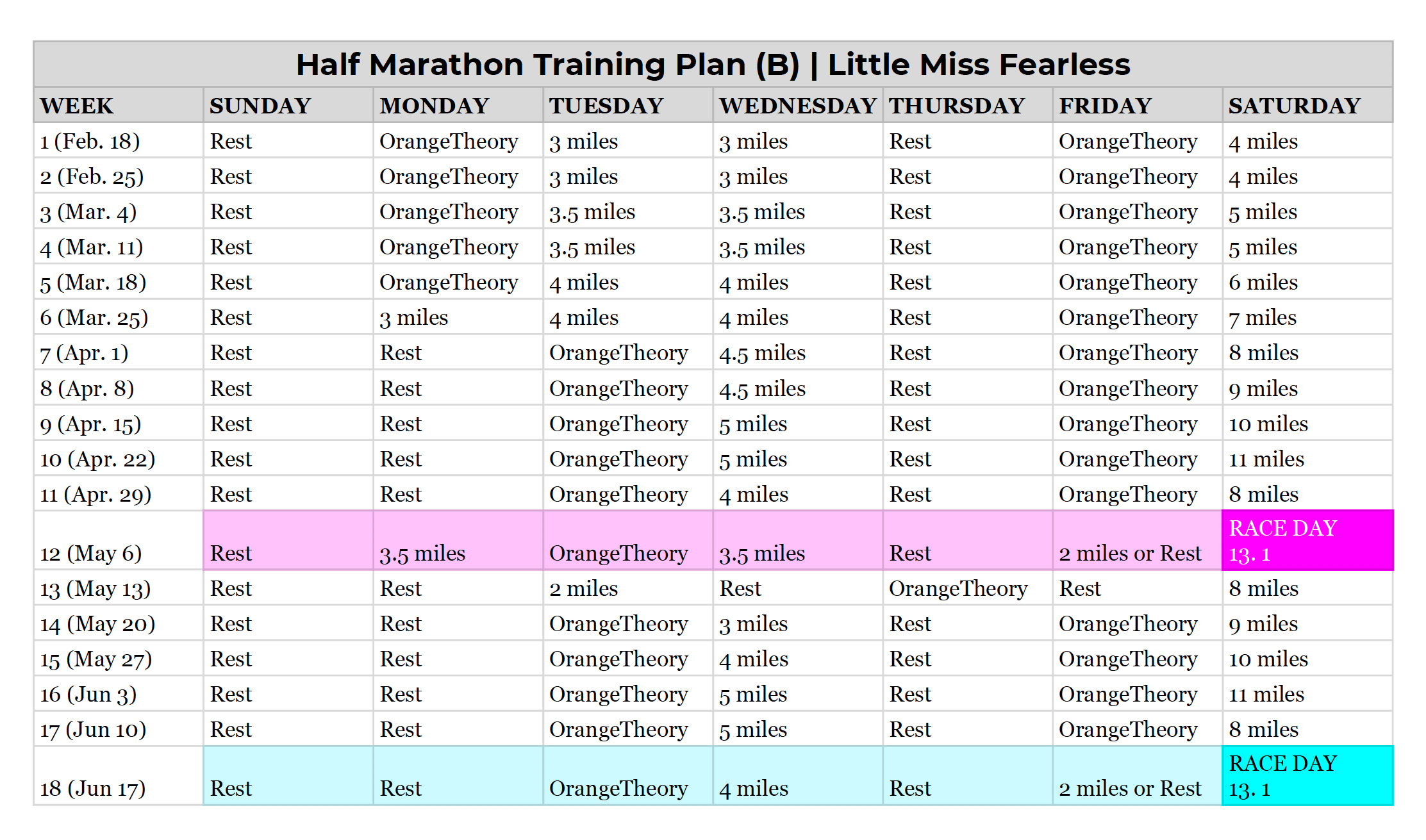 Have you run a half marathon before? Are you training for one or thinking about signing up?
Let me know your thoughts on my training plans and any questions you have!
Be sure to follow along on Instagram and IG stories for the most up-to-date posts about how my training is going. I can promise you I'll be rolling with it.