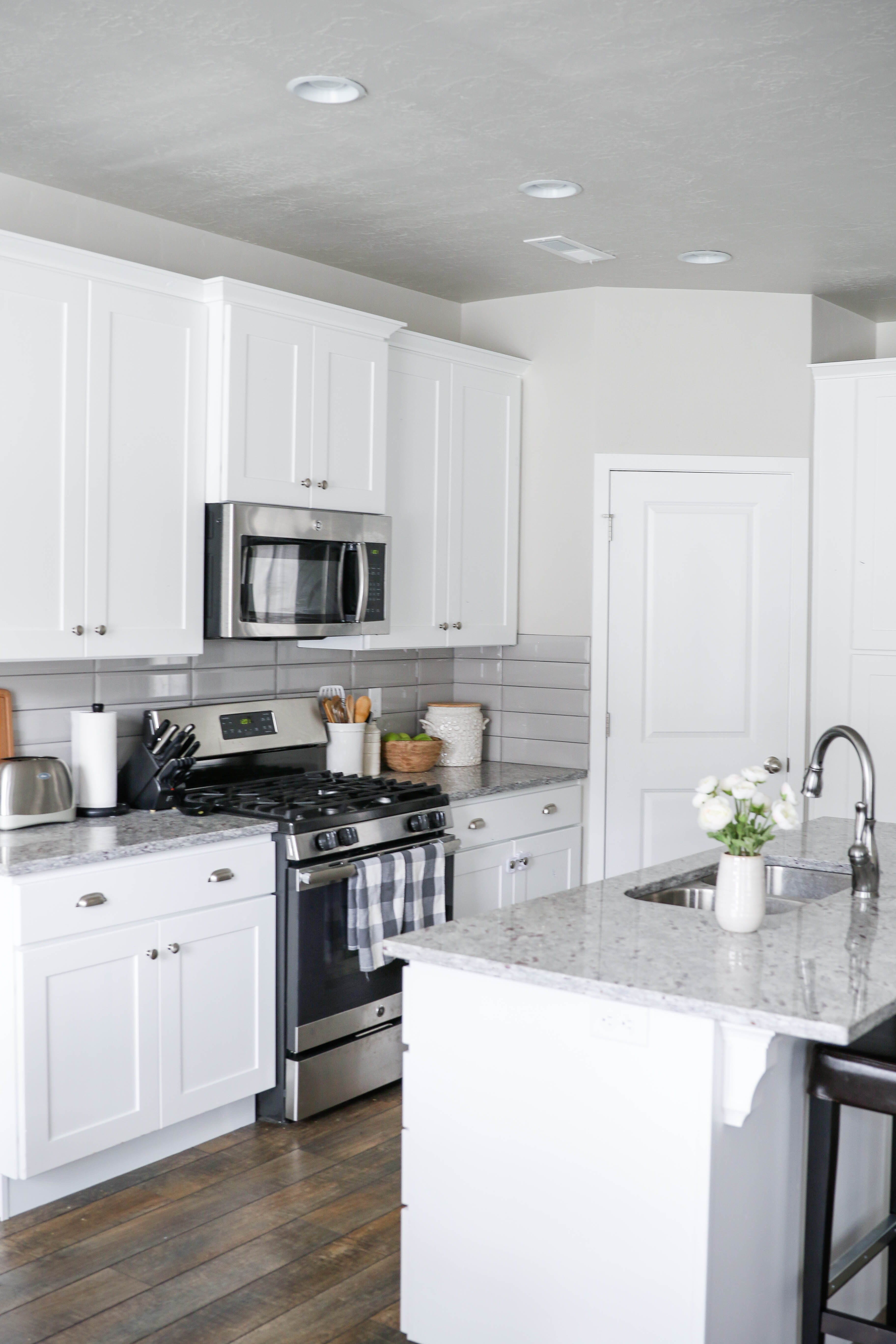 Last December we bought our first house.
One thing we didn't know about purchasing a town house in a new community development is that once construction has started you may not be able to customize everything. We jumped on this townhouse because it was one of four units with a bigger backyard (which townhouses are not known for), an east-facing backyard (hello, summer BBQs in the shade) and there are no neighbors on the other end of our backyard (again, not what townhouses are known for). The compromise to getting a great lot was that design choices had already been made and solidified with our unit. In other words, the cabinets, which require the longest lead time of any part of the home, had already been ordered in grey and olive green.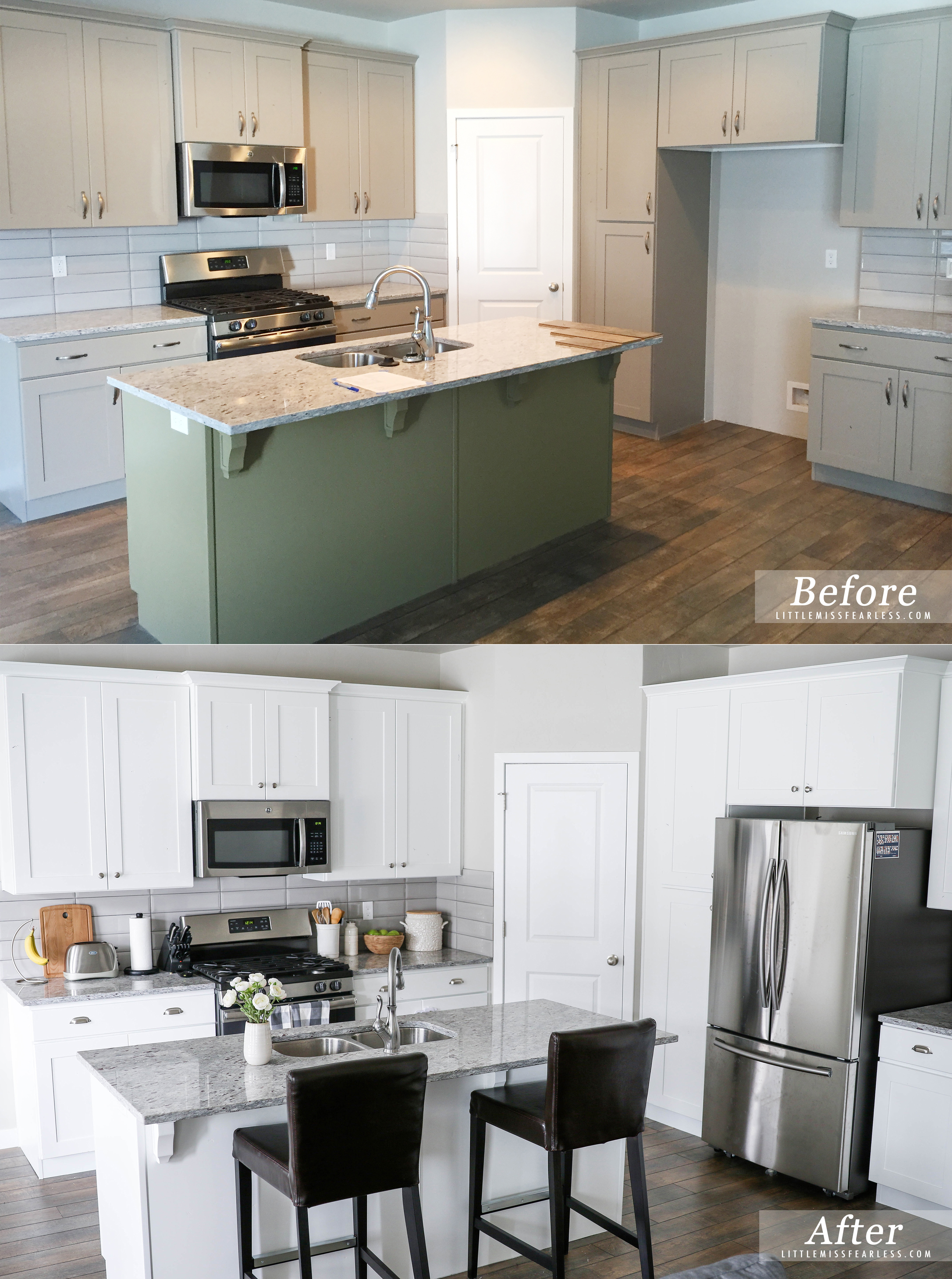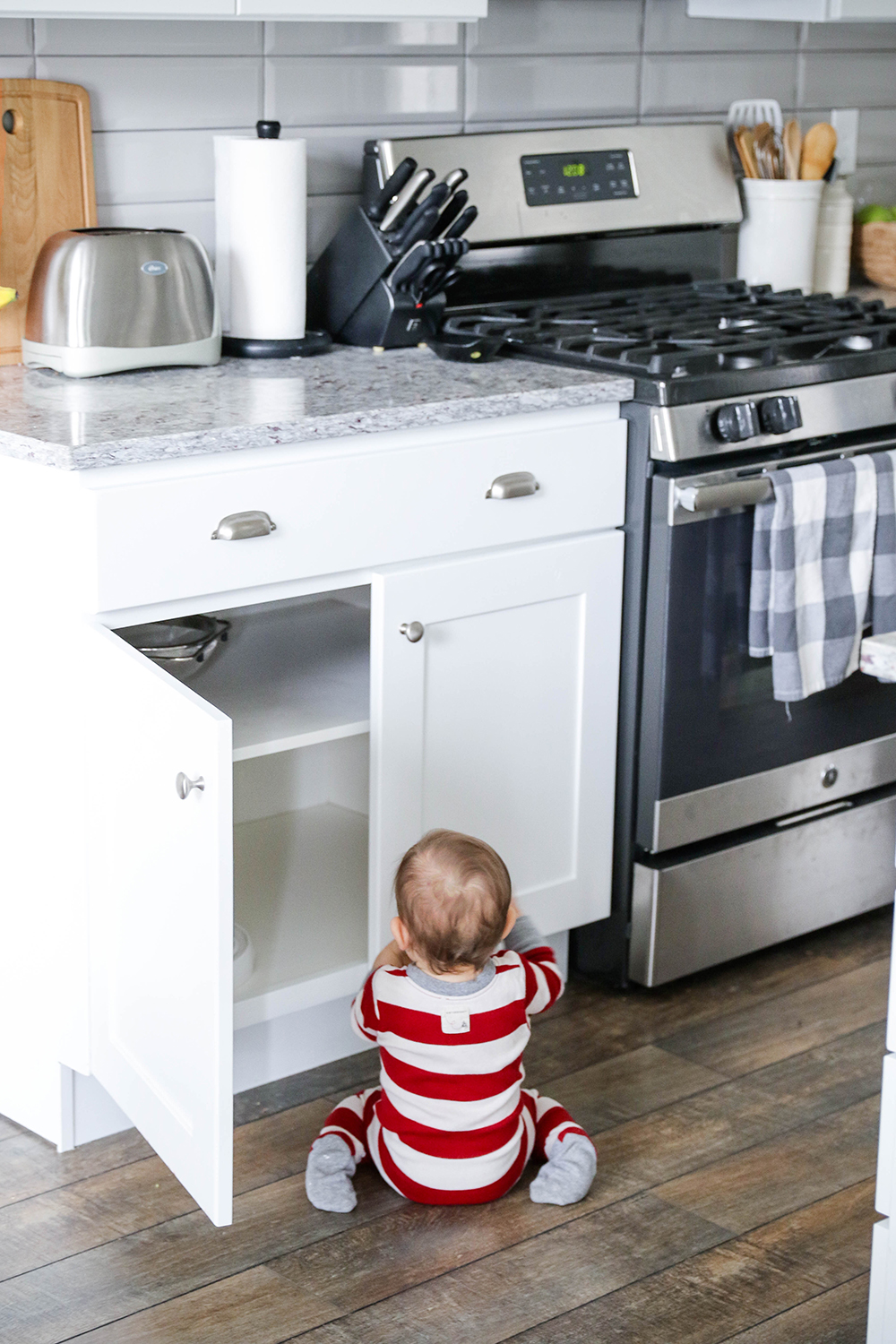 It may seem ridiculous to repaint brand-new kitchen cabinets (believe me I said these same words to myself). But the kitchen is the heart of the home, and if you're going to invest in anything, the kitchen sure seems like a worthy candidate to create the mood and feeling you want to have while you spend all your time there.
So I explained it to Matt this way:
Say someone gave you a pink shirt to wear. It's really nice quality, it's not a bad looking shirt, but the color is something you'd NEVER wear or pick out for yourself because it just isn't you.
I felt the same about our kitchen. The colors all went well together and it was nice and new, but it just wasn't me. Plus, we'd been living in a basement for the past 3 years so I was desperate for a bright white kitchen that would reflect all the natural light we'd been missing.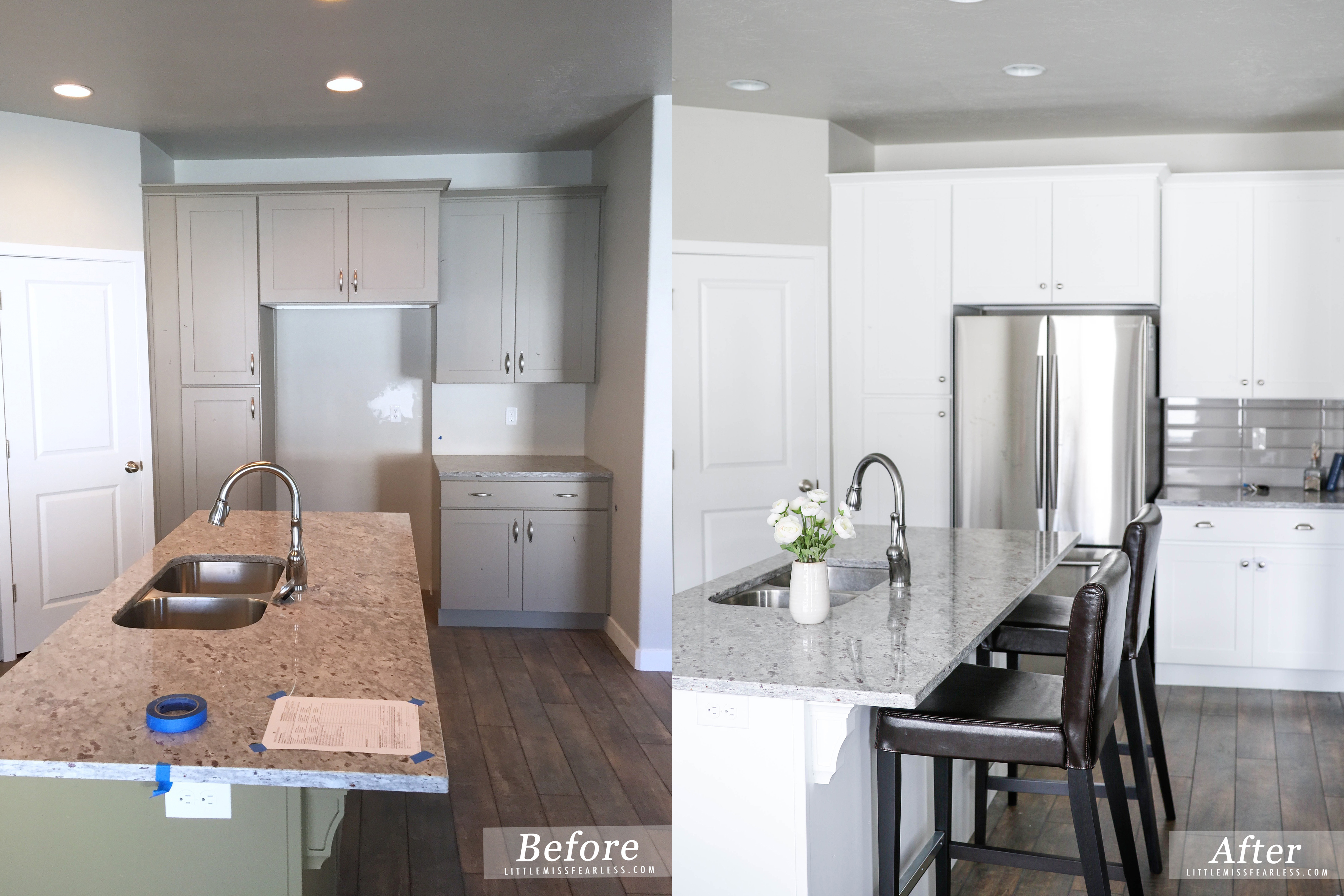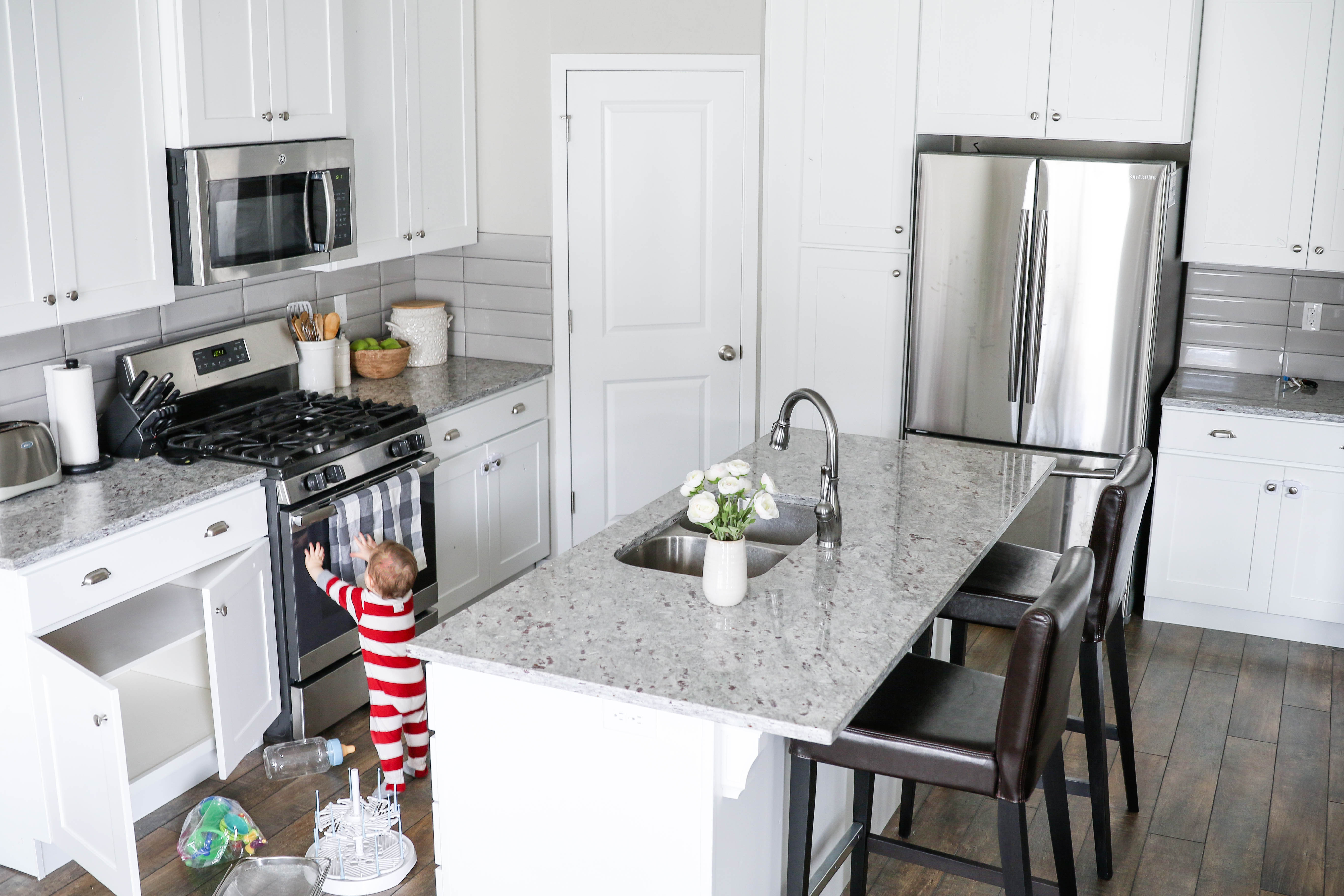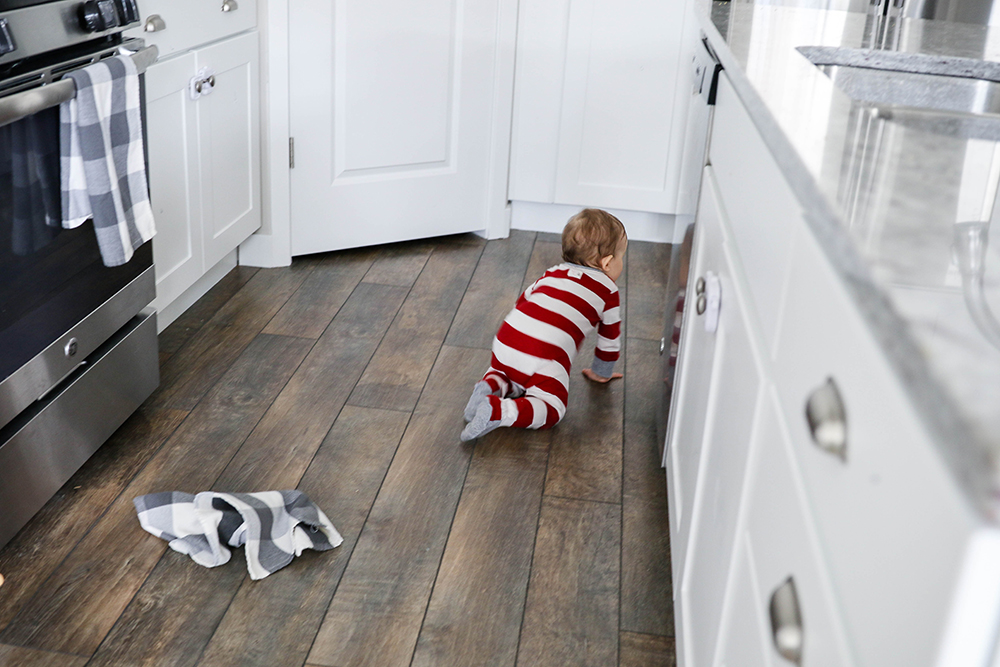 Enter Rocky Mountain Painters.
After a few Google searches and pouring over reviews, I called Rocky Mountain Painters and was so impressed with the very first conversation I had. Ashlee was friendly and accommodating, and I felt like I was talking to someone like me. She helped provide an initial estimate over the phone based on the photos I had sent of our kitchen. I had reached out to two other local painters and here's what went into my decision…
Cost: The second painters I called estimated almost $1,000 more in cost. They had a million reasons why their process was the best, but it just felt like they were exaggerating the labor on their end to make you think the cost was fair. It was convincing, but I also had to weigh the fact that we had a budget and I didn't want to compromise that based on someone's "promise" that they'd work harder than anyone else.
First Impressions: When the third painting company I reached out to had returned my call, I never even called them back for an estimate because the lady sounded so annoyed in her voicemail. Umm, aren't I bringing YOU business? I just could tell she'd be difficult to work with (or so she sounded) and we were already approaching our moving deadline so I needed to feel encouraged that we could make this happen and have it all go smoothly. In my first interactions with Rocky Mountain Painters, they treated me like their only customer. They were personable and professional with a small-business feel. I could tell they took their work seriously (they've been doing this for more than 40 years), but they never made me feel like I owed them anything.
Experience: Experience in my mind is two-fold: It's the experience I have with a business as a customer (how they treat me, how they communicate with me and how they deliver on their promise to do good work); and the experience they bring to the table that shows me they've done this long enough that they've worked out all the kinks, learned from any past mistakes and are ready to take on my project with quality and efficiency. When you're a perfectionist like me, the expectations are high.
It can be scary to open up your home to someone you don't know, but the experience I had with Rocky Mountain Painters was positive all around. Renee was our project manager (so pleasant to work with!) and Scott, the owner, was an expert on the entire process. When we met for an in-person estimate, he explained exactly what they do, how long it takes, some additional options (like changing the hardware) and had no problems matching the exact paint color I wanted with their industrial grade paint (we went with Sherwin Williams Hi-Hide White). They were even willing to squeeze us in their busy schedule right after Thanksgiving. Our move date was December 3 so we were trying to fit this in beforehand to avoid living in a kitchen "under construction."
The whole process was very hands-off for us. They set up shop in our garage and sealed off all surrounding surfaces in the kitchen (our counters, floors and newly painted walls). They sanded the cabinets as well so there was some dust and I appreciated their cleanup afterward so our house would still have that brand-new feel on moving day.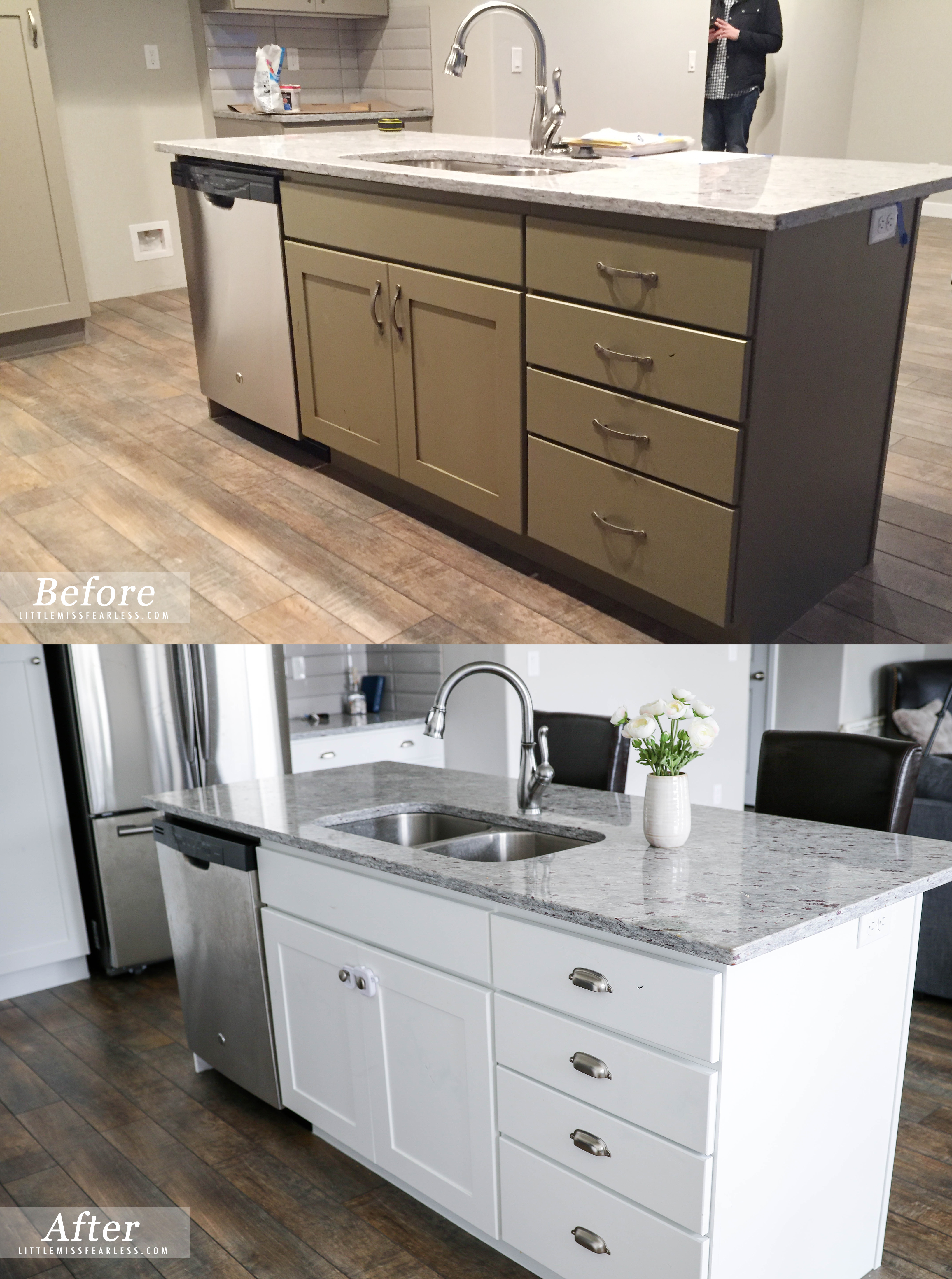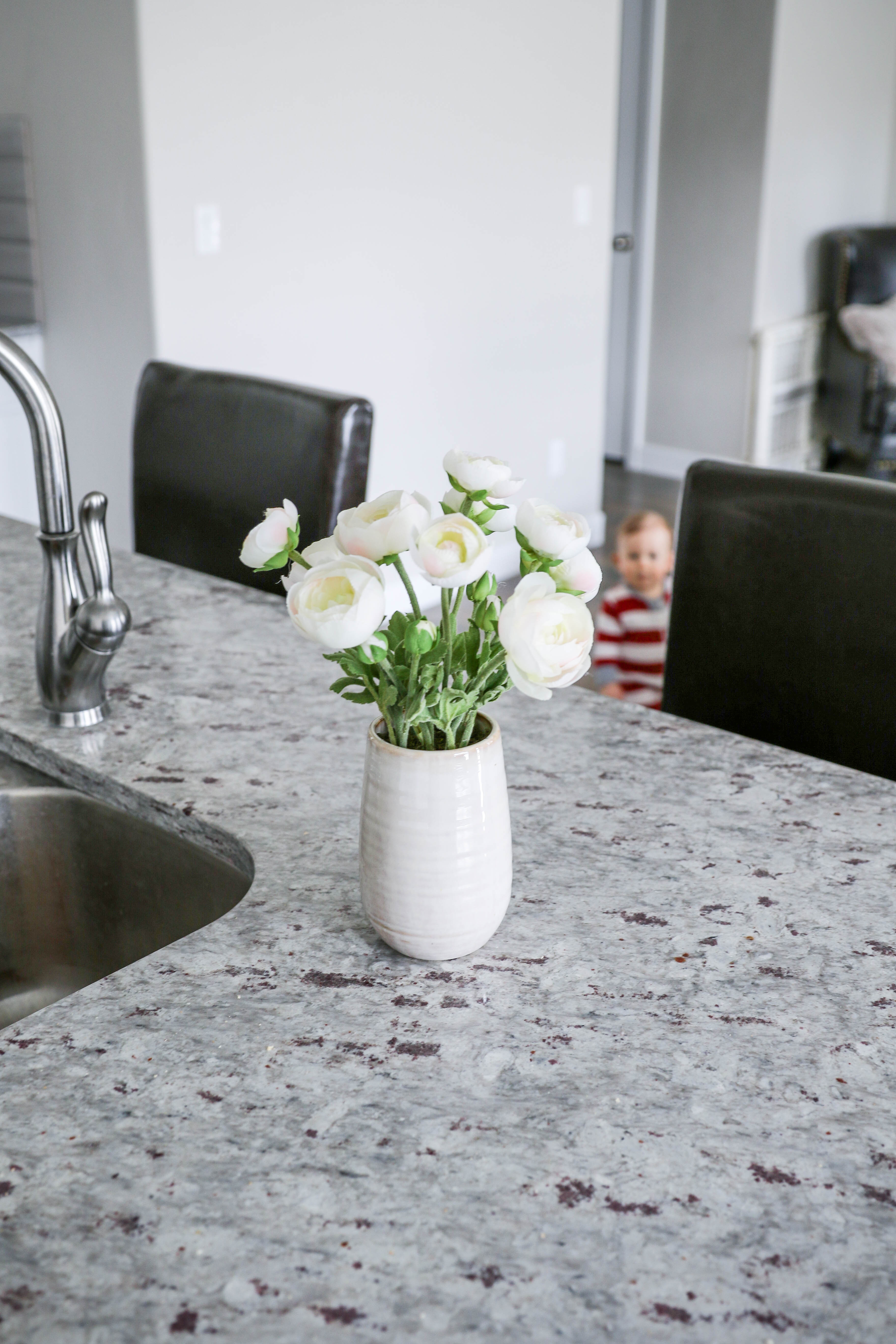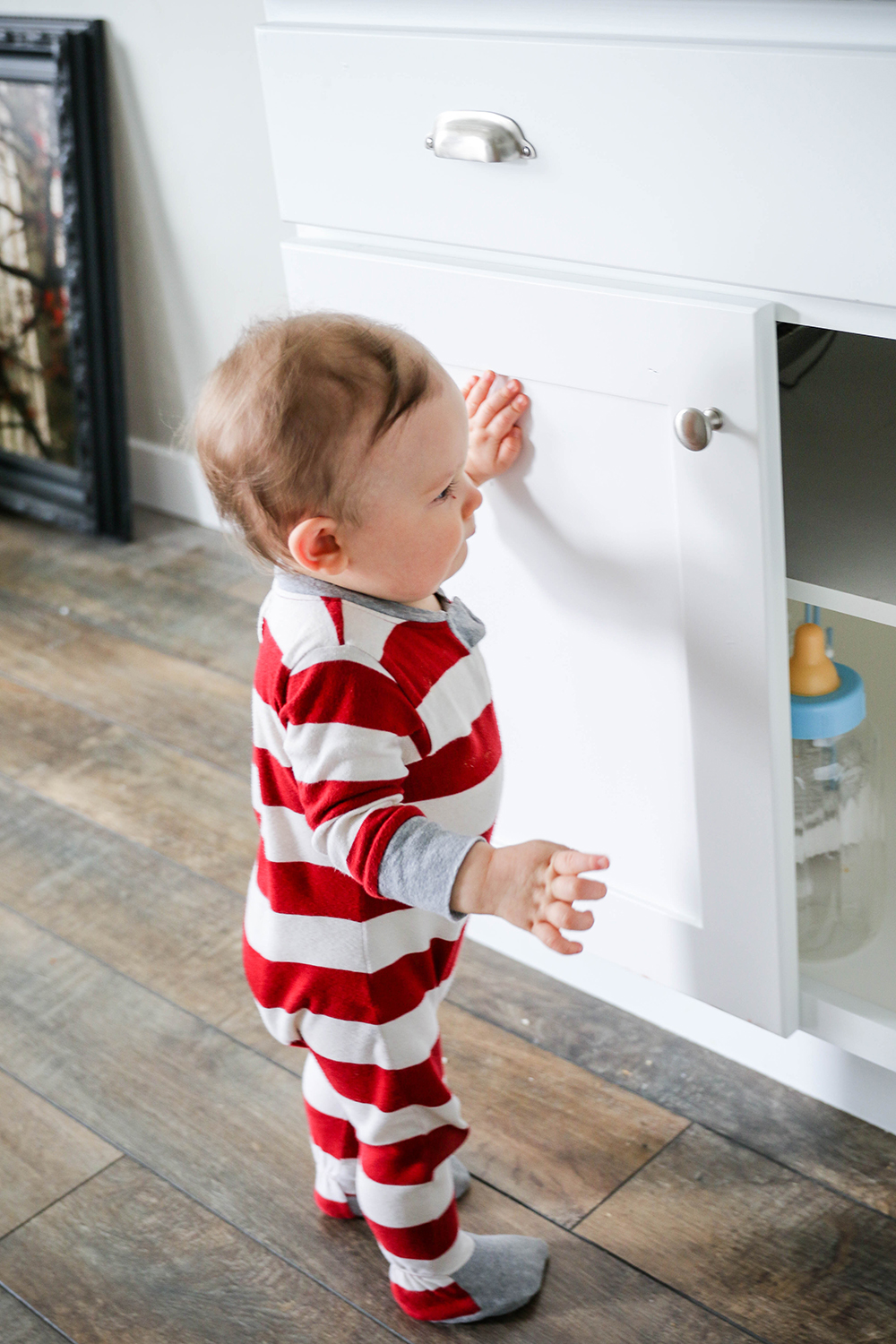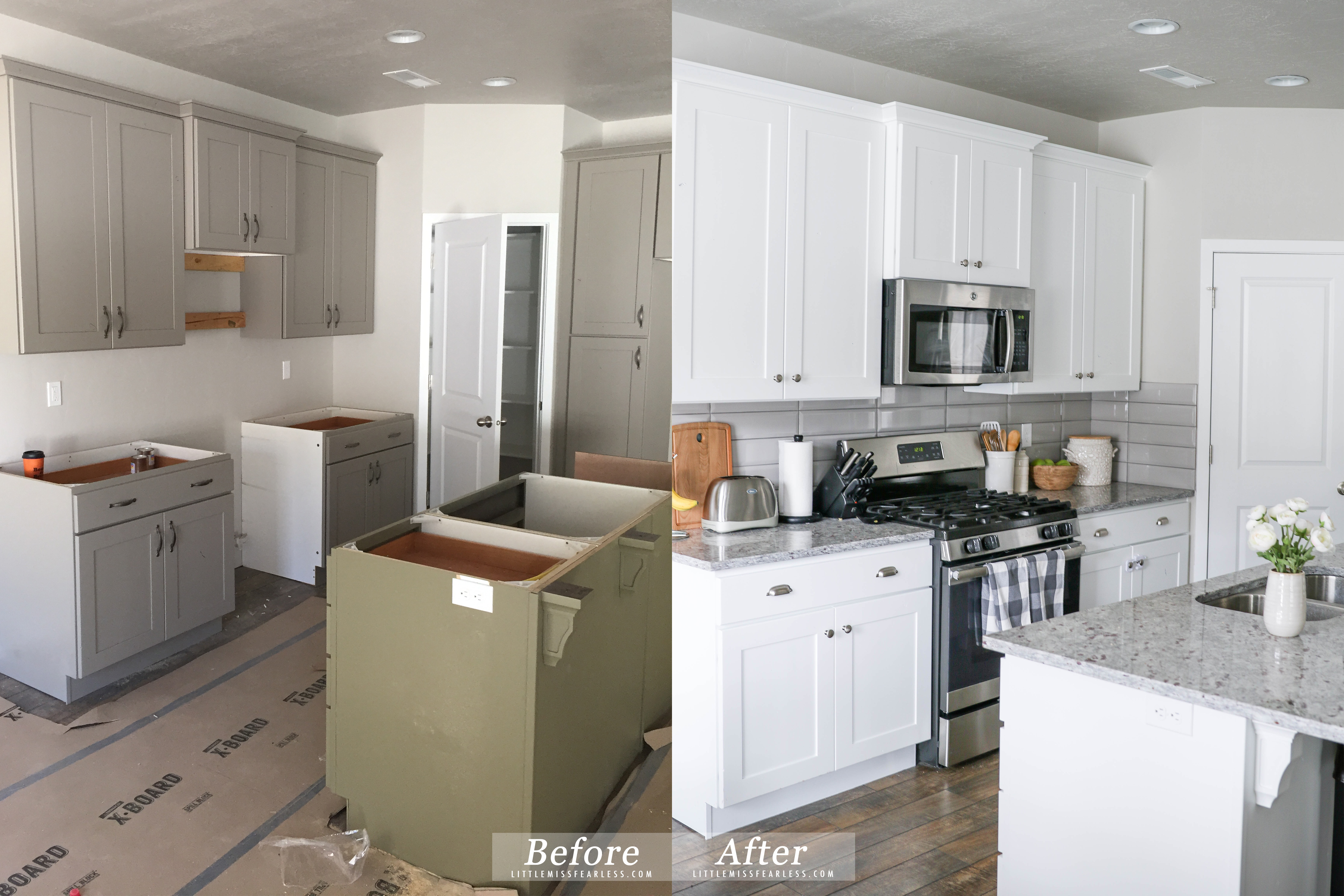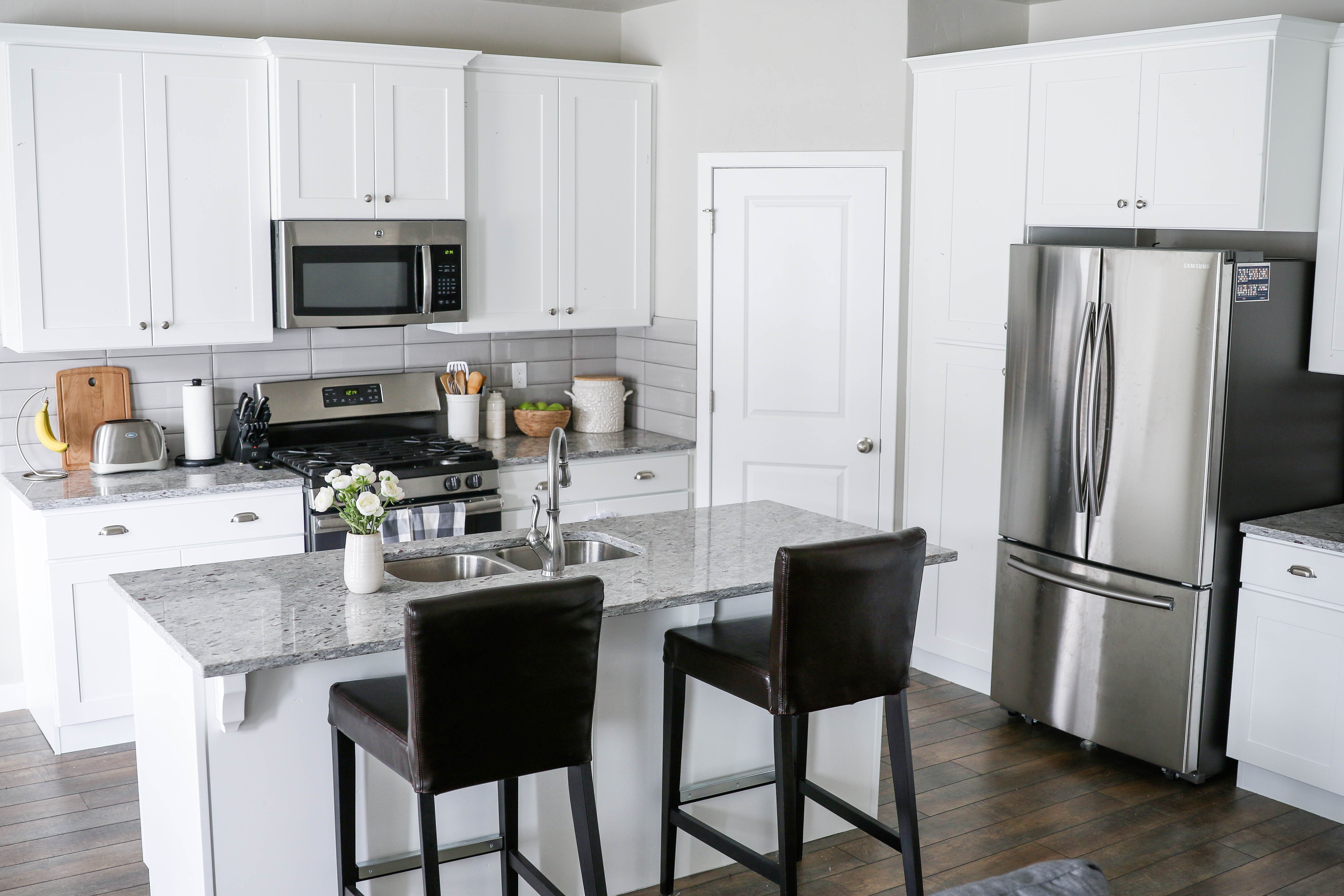 I was blown away by how different our kitchen felt when the job was done. That is the kind of experience I love most. When something makes you feel genuinely excited and happy about the future. I felt like a new person and could see myself living in this beautiful, bright kitchen, learning new healthy recipes, making memories with Matty and Benjamin and finally having a kitchen to call our own. I knew immediately that white was the right choice and also made our kitchen feel bigger and more lively. And it felt very me.
A couple more things you should know about Rocky Mountain Painters if you're in Utah looking to update or remodel your home:
All of their work is covered by an all-inclusive, 5-year warranty. Meaning, if any problem areas arise in the first 5 years, they'll fix it up for free.
They do more than just cabinets. Check out their other services and some before/after photos on their website: RockyMountainPainters.com.
I'm so glad we chose to repaint our kitchen cabinets and that we found great partners like Scott, Renee and Ashlee at Rocky Mountain Painters to help make our first home our favorite home yet.
Have you been considering some new home projects or updates that require painting? What concerns or questions do you have?
Leave a comment or send me an email if you want to know more about my experience.
Special thanks to Rocky Mountain Painters for partnering on this post. All opinions are my own.