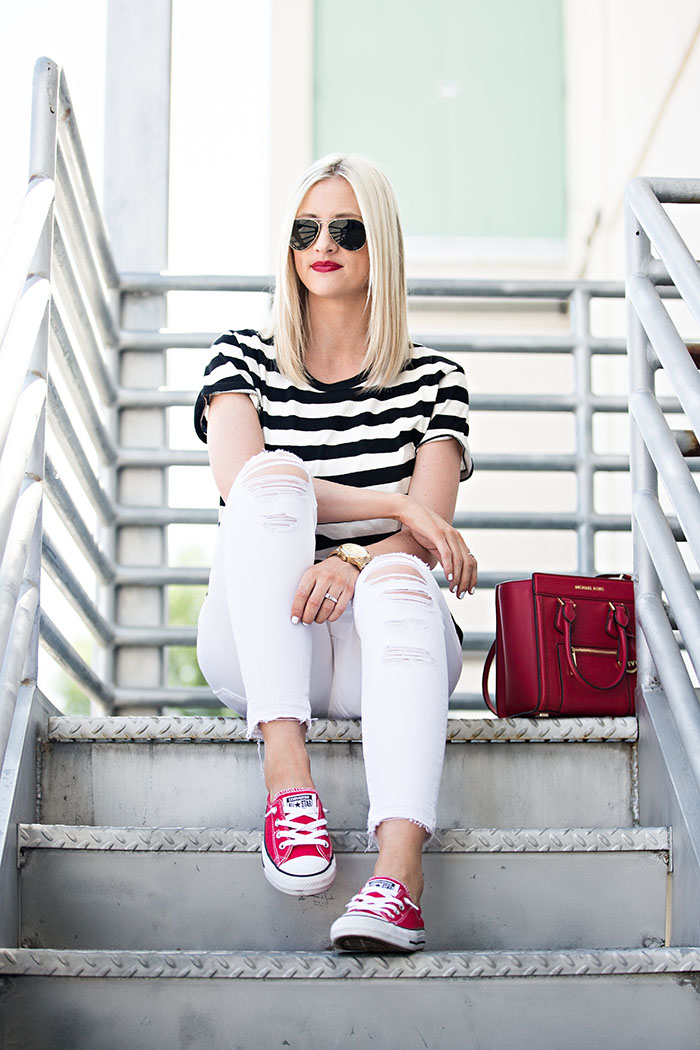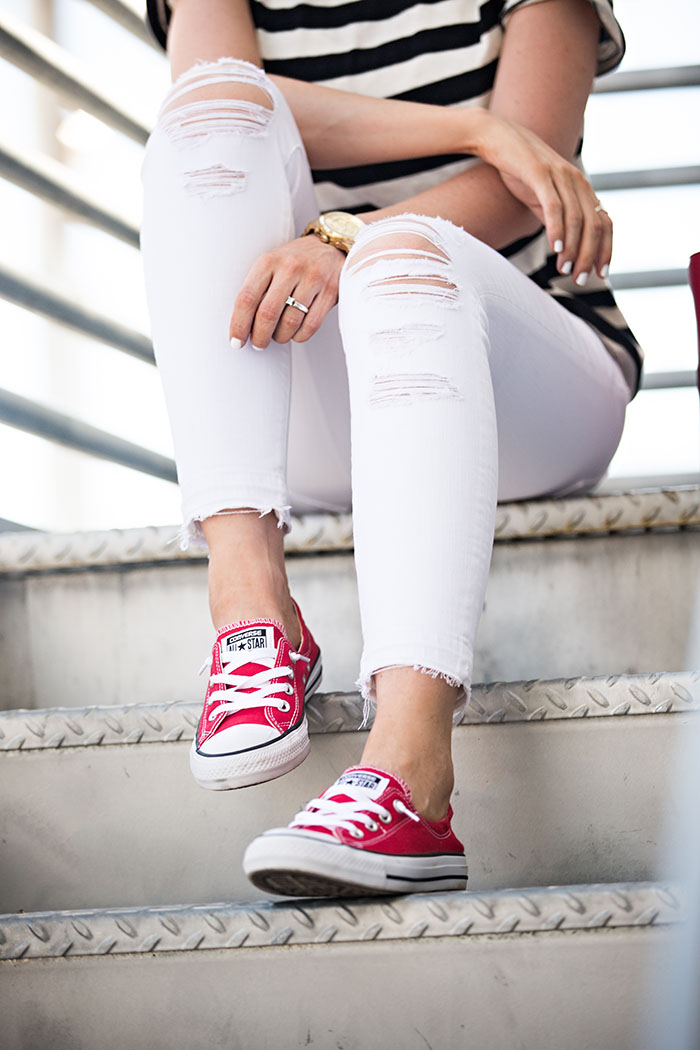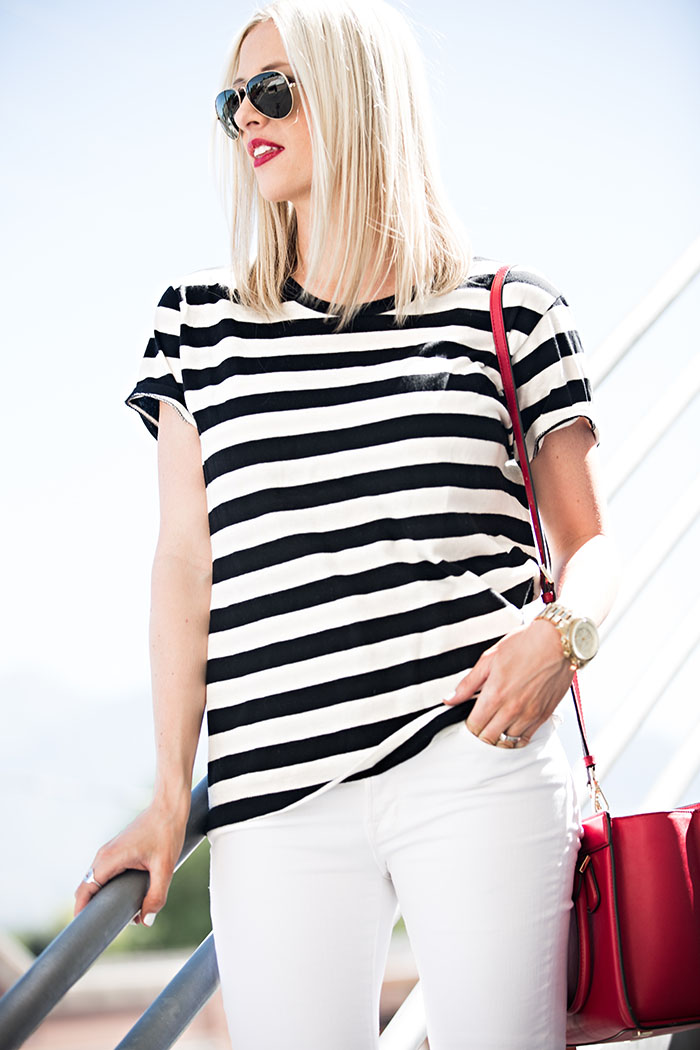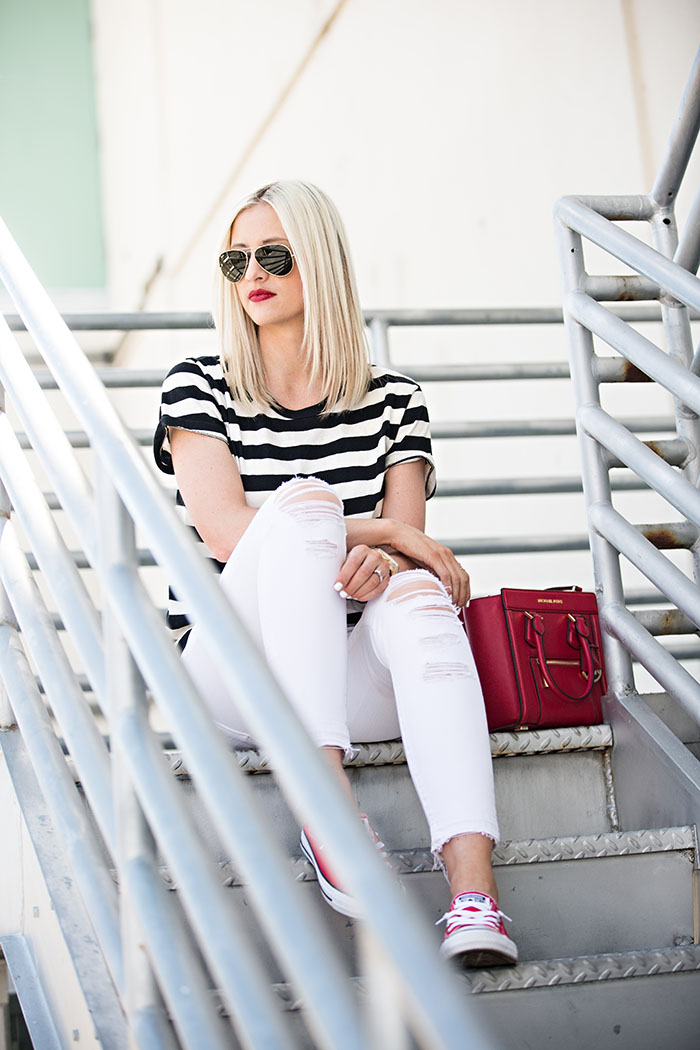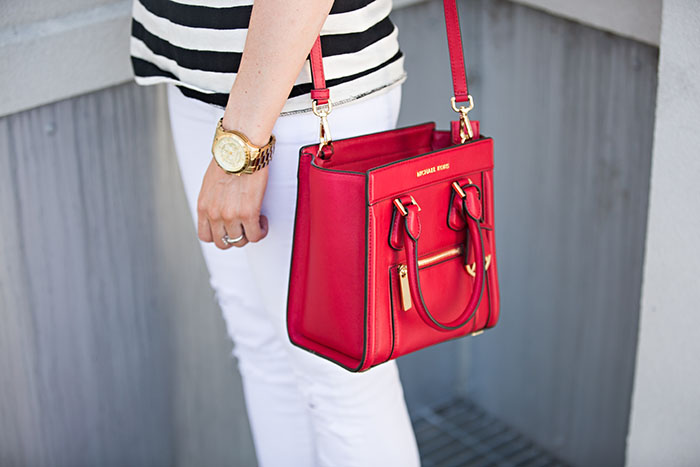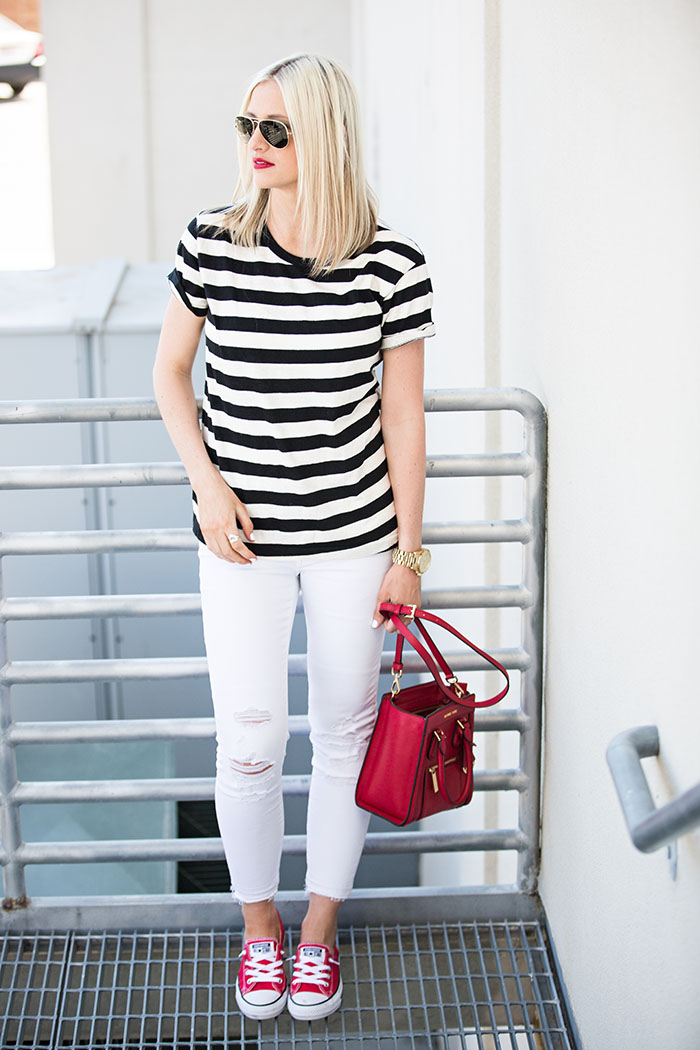 WHAT I'M WEARING
tee: shopbop {similar} | jeans: jbrand | bag: michael kors {old; similar here + here} | shoes: converse | glasses: ray-ban | watch: michael kors | lips: 'red revival' by maybelline

Happy Labor Day, Friends!
I took a little hiatus (per usual, not on purpose) the past two weeks while I readjusted to balancing my full-time day job and motherhood. I always wondered if I'd be able to juggle all three, and while blogging is the third priority in that lineup, I definitely don't feel ready to walk away from my little home here on the Internet just yet. To those of you who still stop by to say hello… HELLO back! I can't thank you enough for sticking around.
I have found that my passion and excitement for blogging has wavered over the 4 years I've been in this space. In fact, I've been pondering why that is quite a bit lately. And here's what I've come up with:
Not Enough Time – Motherhood, more than anything else, has stollen much of my time these days. And I don't feel one bit guilty about it. I know these baby stages will continue to fly by and I am determined to soak them up and make them last as long as possible. Now that I'm back at work, there's even less time to blog. But this is my life right now. It is what it is. I have to do the best I can with the time that I DO have.
The Perfectionist Bug – You know how perfectionism can be paralyzing sometimes? Whenever I care too much about everything falling right into place just so, I end up paralyzed and unable to take action. Whether it's the perfect outfits, the perfect blog posts, the perfect stories to share… Waiting for the perfect moment to share it all usually means I end up sharing nothing. And then those stories are lost and forgotten. If we wait for all the lights to be green, we'll never leave the front porch.
Comparing Instead of Connecting – I often catch myself scrolling through Instagram or Pinterest, looking for inspiration, only to end up feeling discouraged because I got myself trapped in the comparison game. It's a fine line in the fashion blogging world. But keeping myself focused on connecting with my Insta-friends and communities (that includes you right here), rather than comparing myself to them, always makes me feel more inspired.
Some solutions?
Plan Ahead – Any fellow working moms out there? (If so, please identify yourself in the comments.) The best solution I've found to having very little time for things, is efficiently using the little time I do have to plan ahead. That means blog posts must be thought out weeks in advance, Instagram photos are scheduled (I use this app), and regular "me time" is allotted for daydreaming and surfing the web for inspiration. Of course this makes me wish I were still living in Maui where daydreaming and surfing occurred spontaneously, but I'm also a true believer in the concept of short-term pain, long-term gain. Hard work always pays off.
Give Yourself Affirmations – Making time each morning to consciously tell myself positive things (affirmations) helps me start the day on the right foot. I'm less worried about everything being perfect because I believe things are enough the way they are now. I am enough. It's pretty powerful.
Love Yourself First – Have you ever realized when you are thinking critically about yourself that it's hard to avoid critical thoughts about others? I always feel calmer and more accepting of my differences when I decide to love myself, regardless of what I lack in comparison to others. And inspiration from others always follows.
I realize not all of you are bloggers, but I know many of you are. You may or may not have been surfing the web and browsing your blogrolls for inspiration today, but if you were, and my experiences helped even a tiny bit, then I'm glad you stopped by and I'm glad I took the time sit down and write.
If you have more free time, Matt and I will be out shopping some Labor Day sales for appliances (#adulting) and stopping by our new townhouse to see how the construction is coming along. You can follow along on Snapchat if you'd like: themissfearless.
Thanks for reading!
Photos by JessaKae.