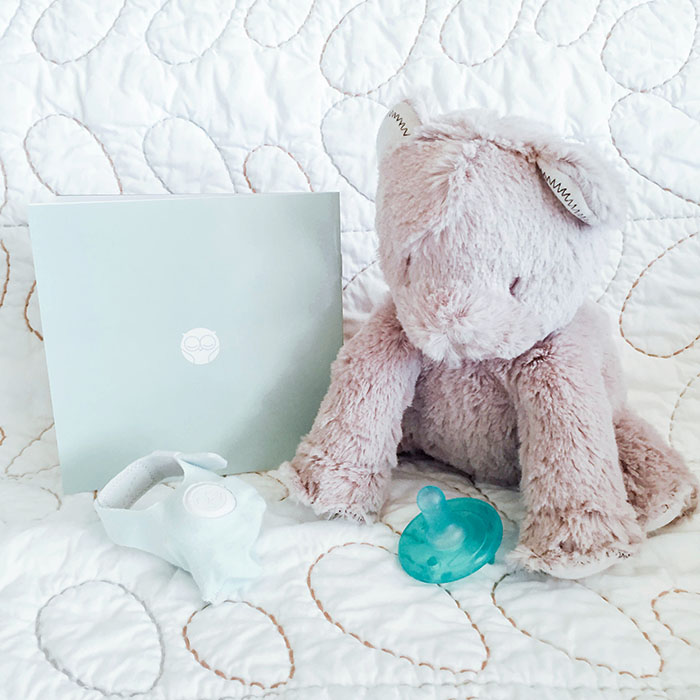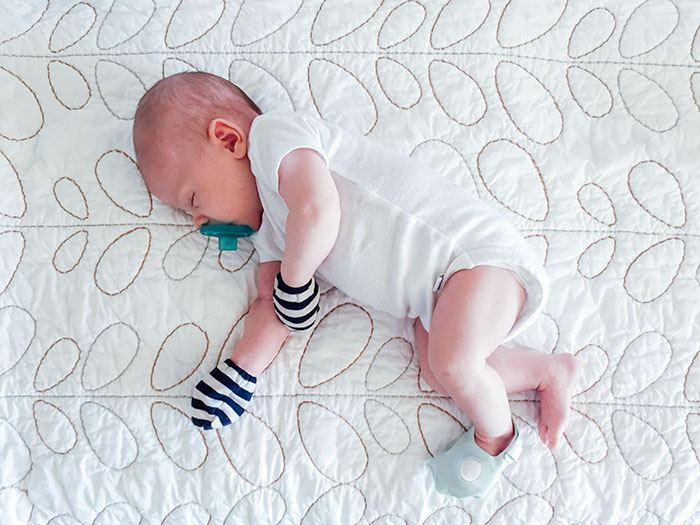 Before having Benjamin, I shared five fears of becoming a new mom. One of those fears was that I'd be up all night worrying about whether Benj is still breathing while he sleeps. Now that he's here and I have a full five weeks of mommyhood behind me, I can finally share the reality of that fear and what my "sleepless nights" have really been like.
When we first go to bed, we put Benj in the bassinet in our bedroom and go to sleep as a family. Then when he wakes up, I get up to change and feed him and he and I co-sleep in the spare bedroom so daddy can get a decent night's sleep for work. Since we're co-sleeping, I haven't been as worried as I thought I would be because I literally hear every little noise he makes throughout the night. But I've still used the Owlet Baby Monitor as a safety net, putting the sock on Benj's foot and leaving the monitor in the bedroom with dad so he's alerted if something happens that I don't catch. It allows me to feel secure knowing it's not all on me, and luckily, we haven't had any scares yet.
Once Benj starts sleeping in his own crib I'll be relying heavily on the Owlet monitor because we'll be separated for longer periods of time (he's already had a couple 5-hour stretches this past week!). But I'll save that update for another post because the thought of him being old enough to sleep on his own just makes me want to cry. I am soaking up every exhausting, middle-of-the-night feeding—and the cuddles that come along with it—because I know it won't last forever.
I was chatting with my 94-year-old grandma this weekend and she was telling me about her experience as a first-time mom in Norway when my aunt was born. My grandpa worked at a job where he only came home on weekends and she literally had to wash cloth diapers in between changes and feedings. The amount of diaper changing I do alone is enough to make me complain and I don't even have to wash mine after each use! Hearing her experience just made me so much more grateful for the technology we have nowadays that makes being a mom so much easier (even though it is the hardest job in the world!).
Whether or not you're a first-time mom, I highly recommend the Owlet monitor for the extra peace of mind it will give you. I've also partnered with Owlet Baby Care to give you $10 off your purchase of a monitor through this link!
As for my other fears…
I'll be posting separately about my breastfeeding experience and losing the baby weight. But those of you who commented were right about baby's cries—the more time I've spent getting to know Benjamin, the more I just know what his cries mean. I've also somehow known what to do when he chokes (even though it still scares me) and I'm becoming more confident that I can handle the situation every time it happens.
I loooove being a mom!
Special thanks to Owlet Baby Care for sponsoring this post.