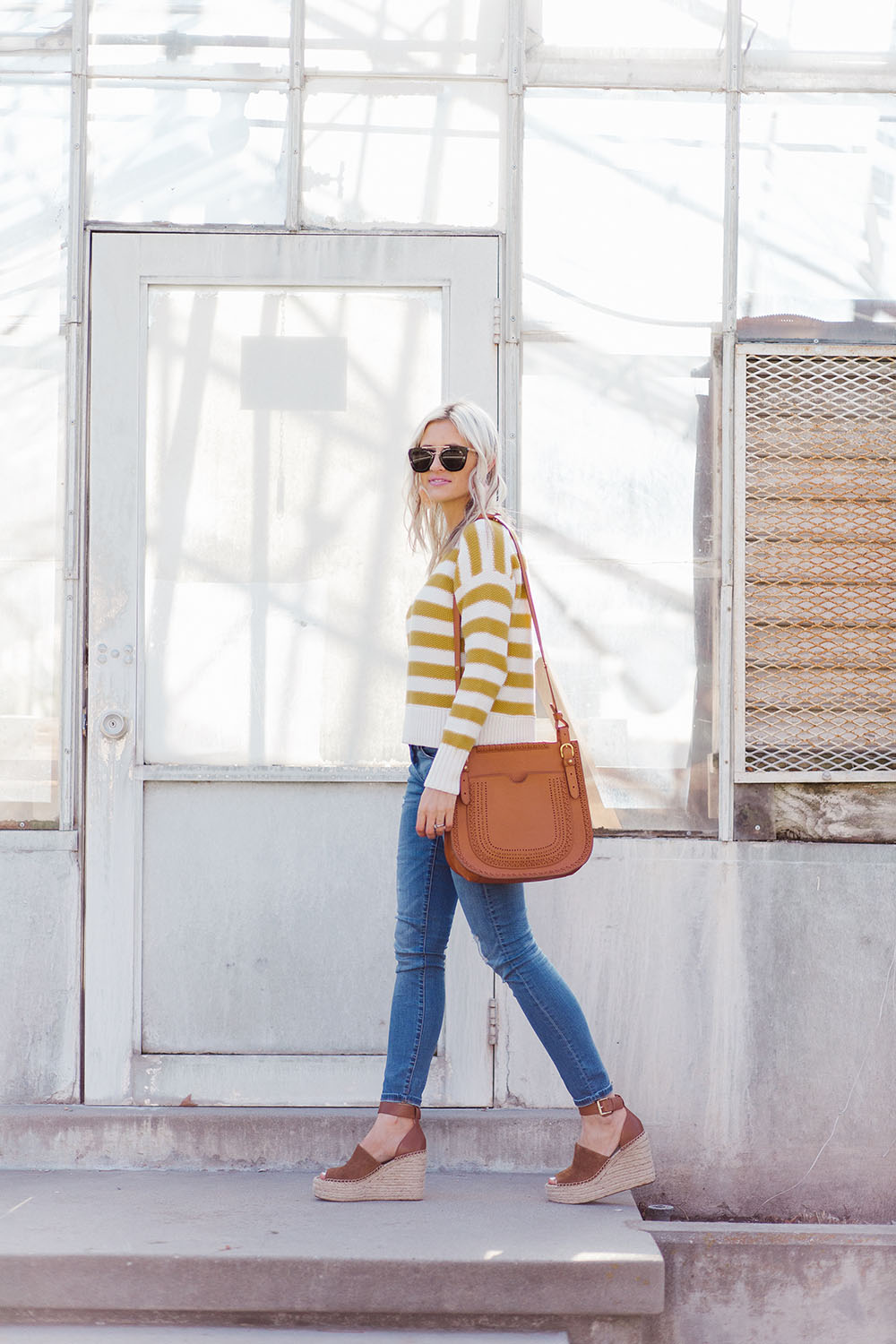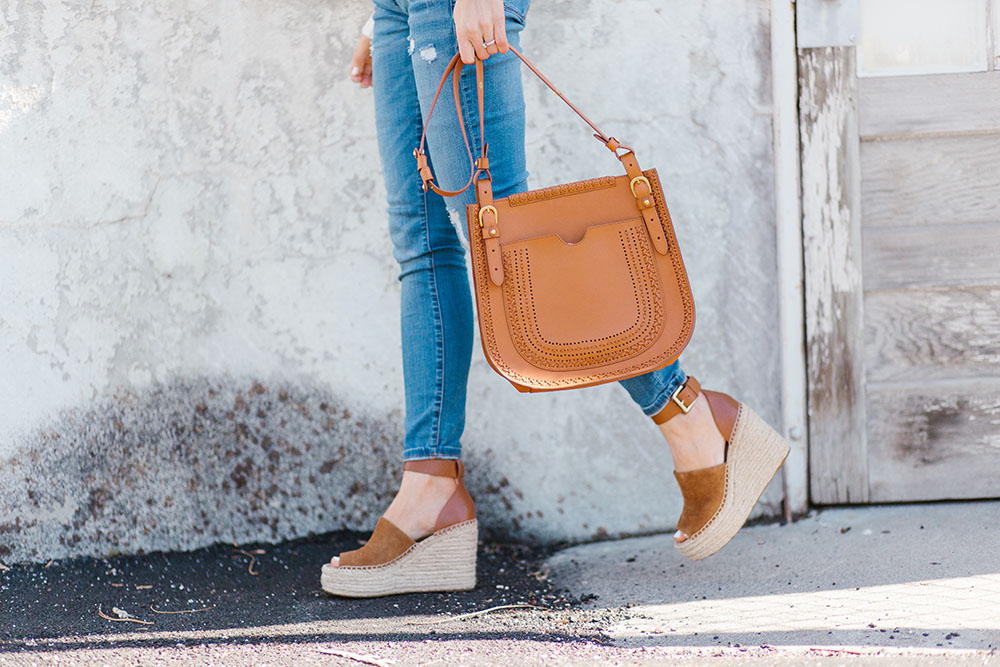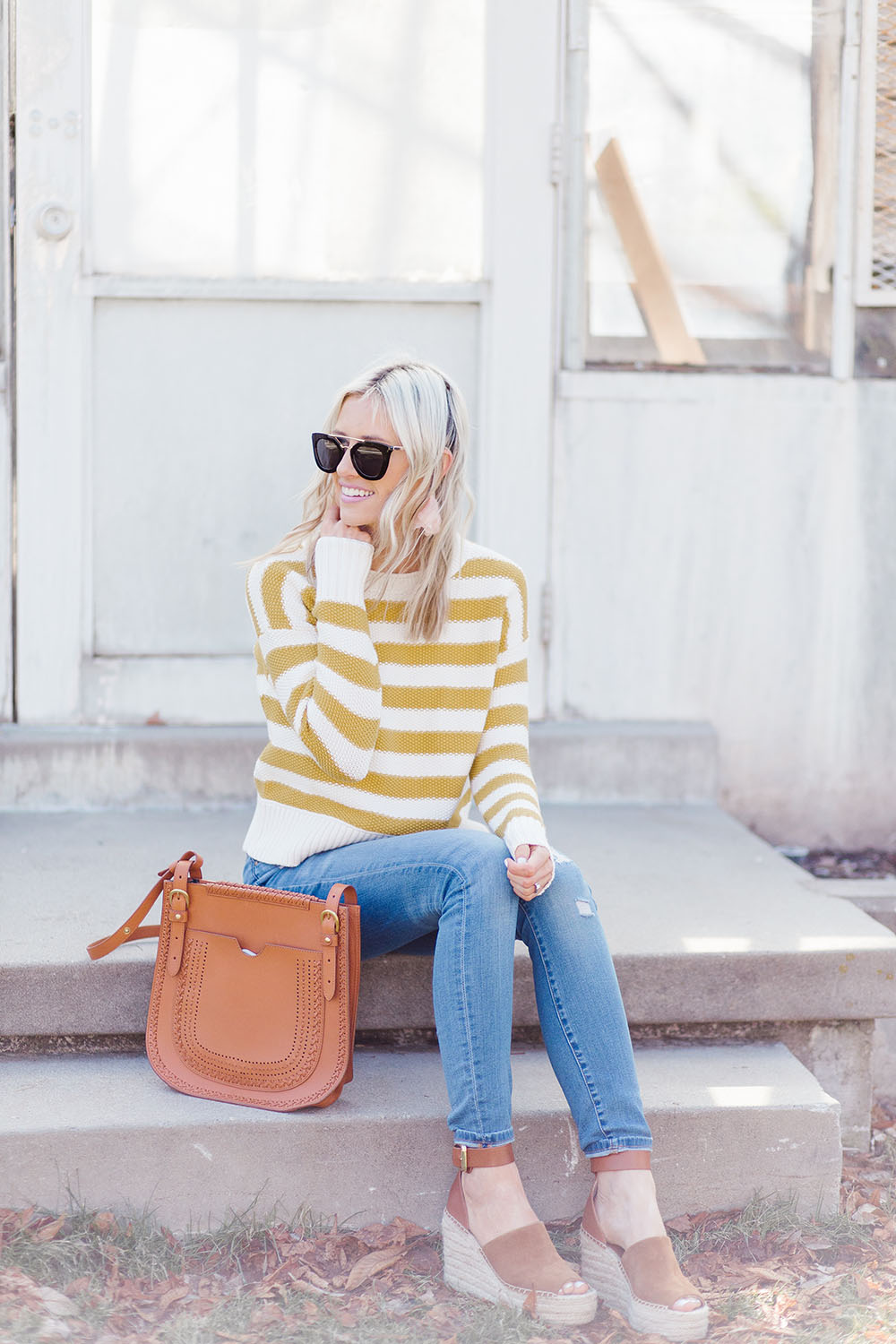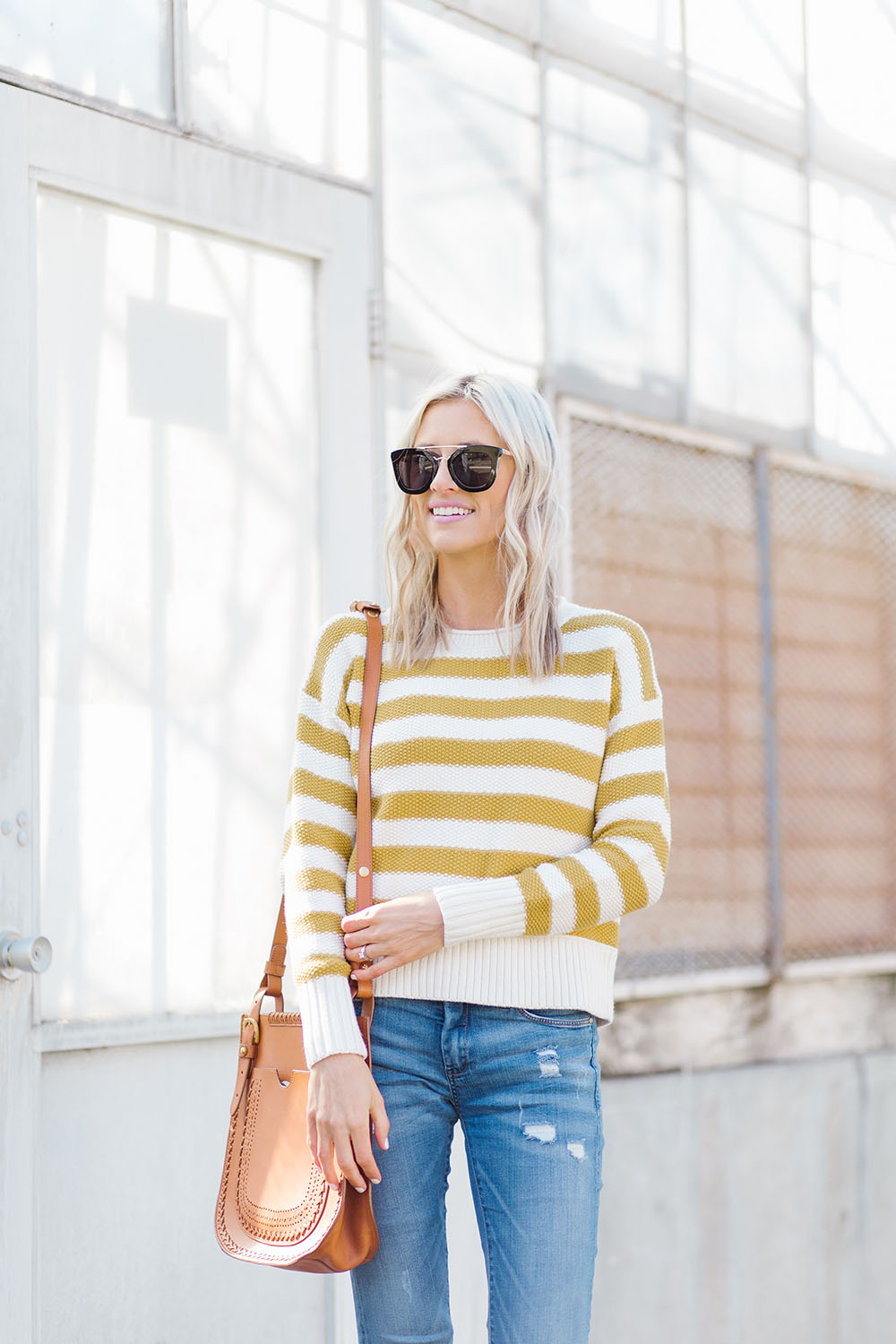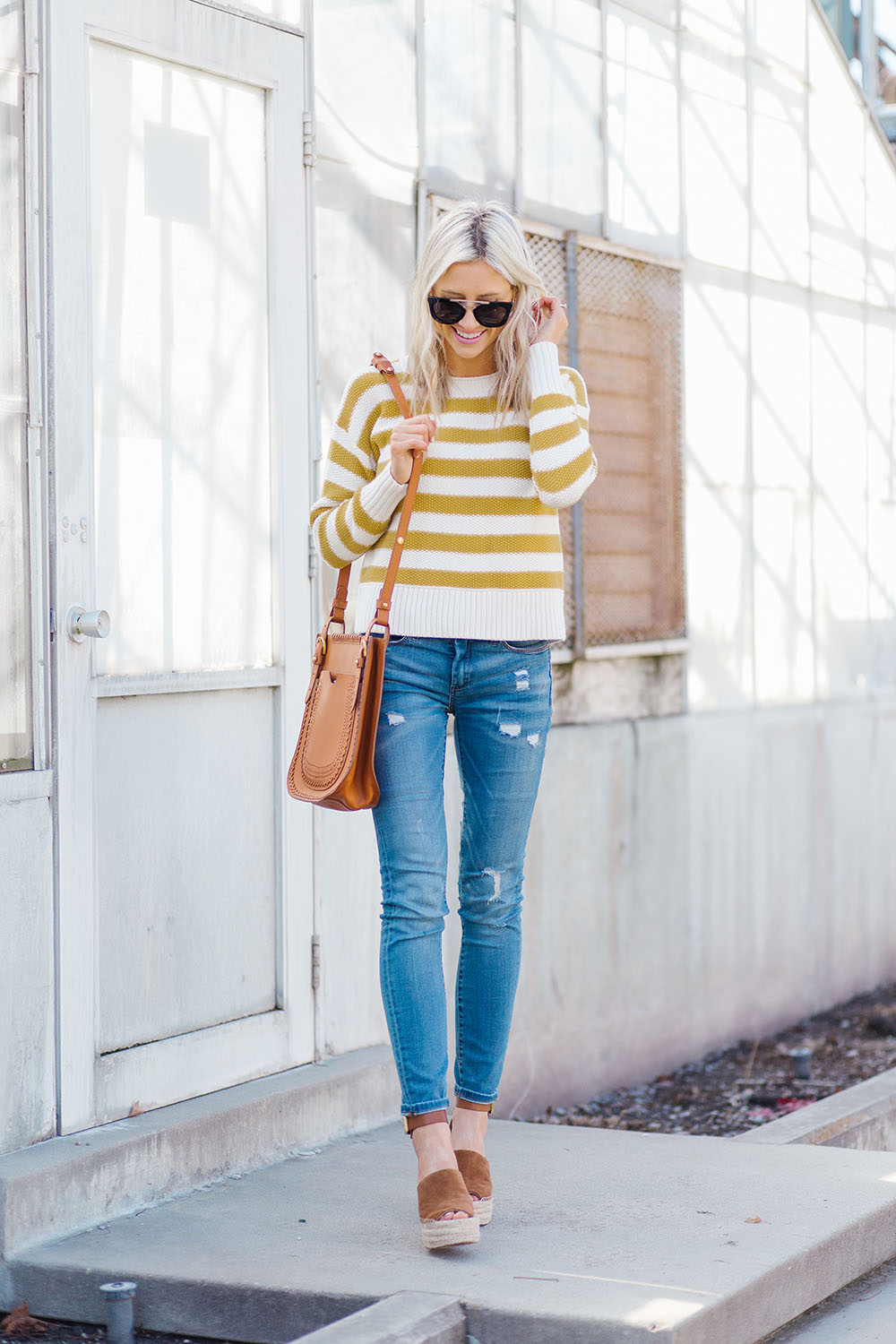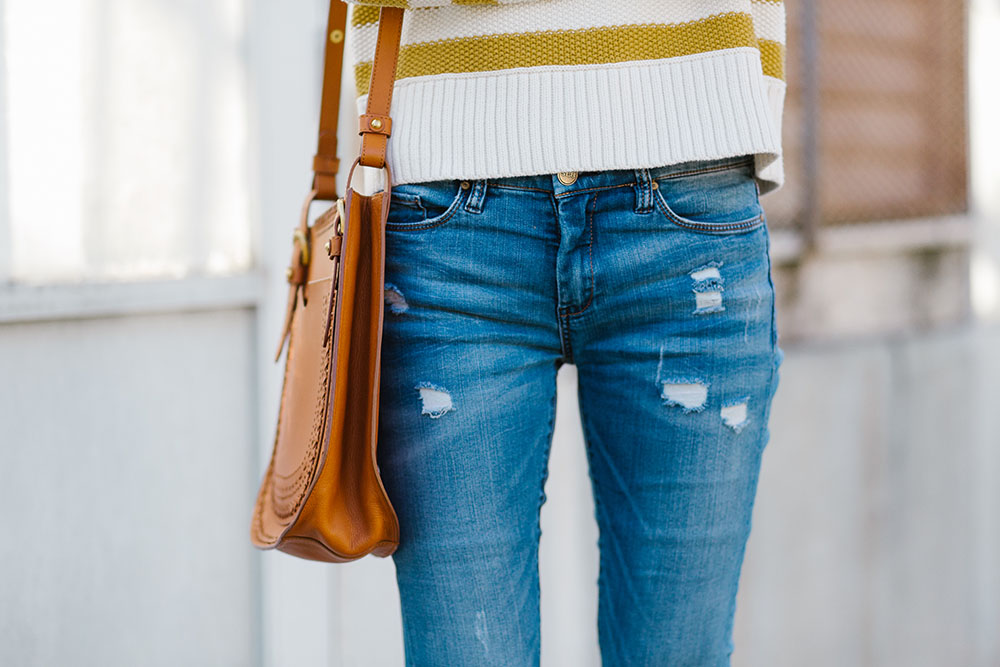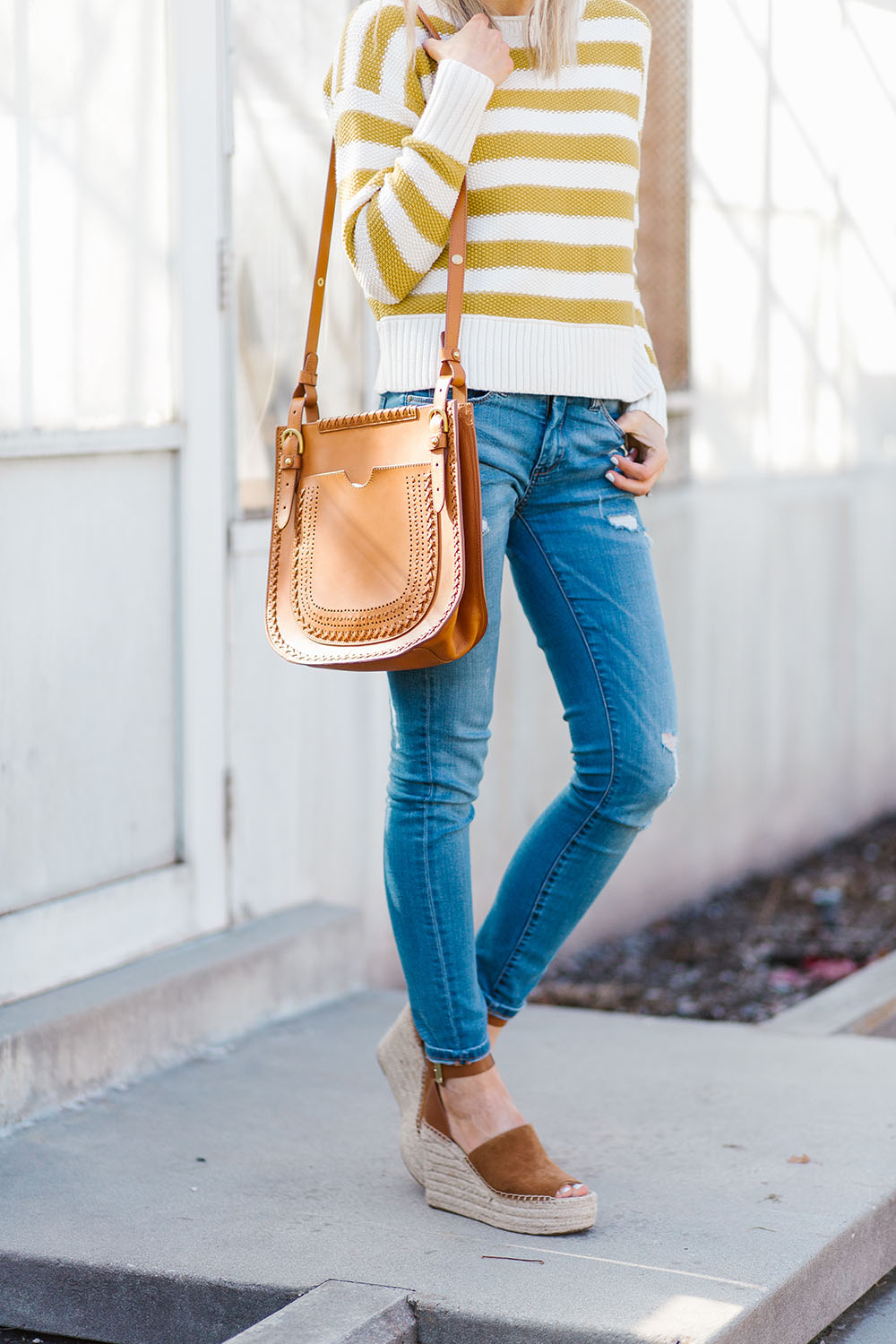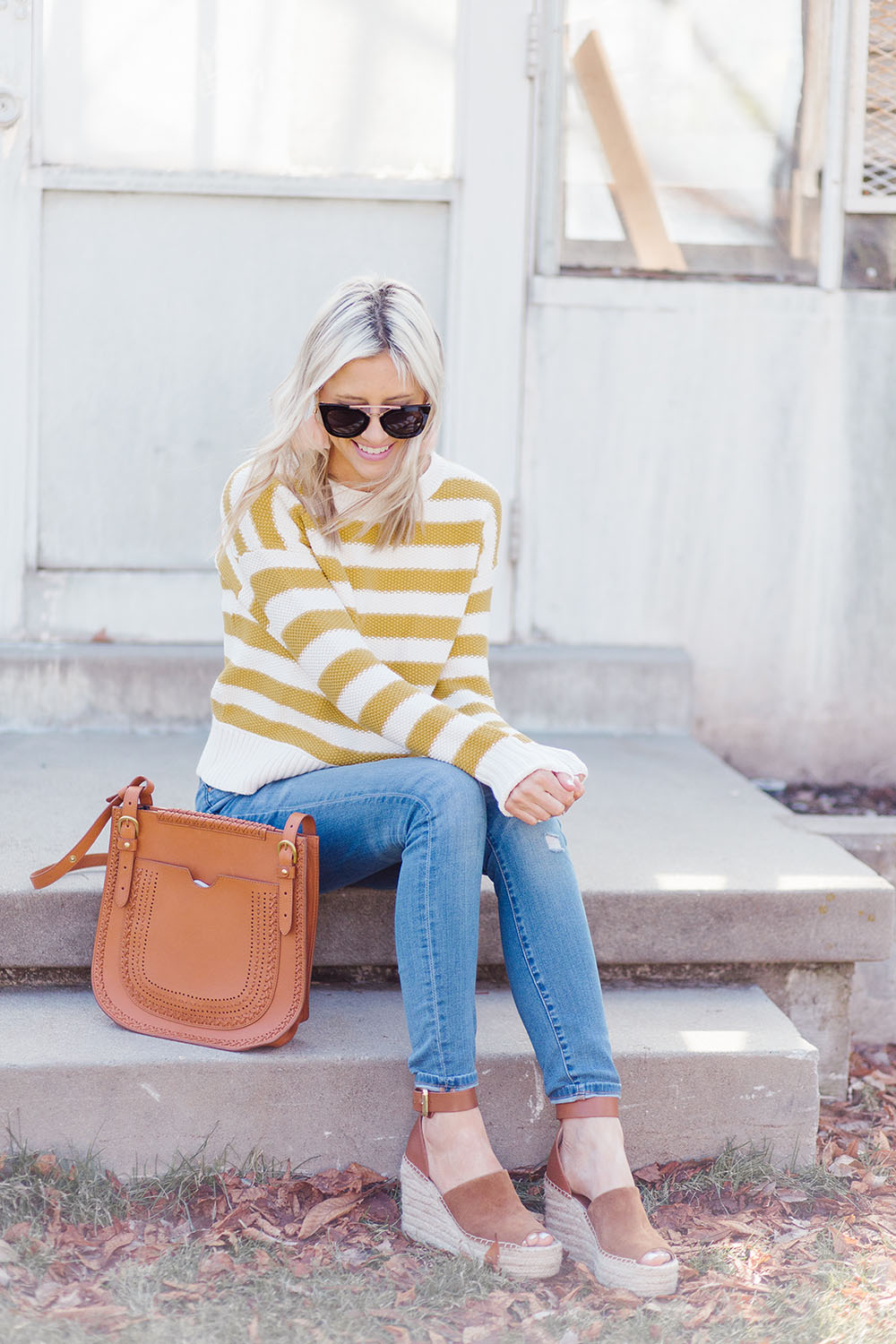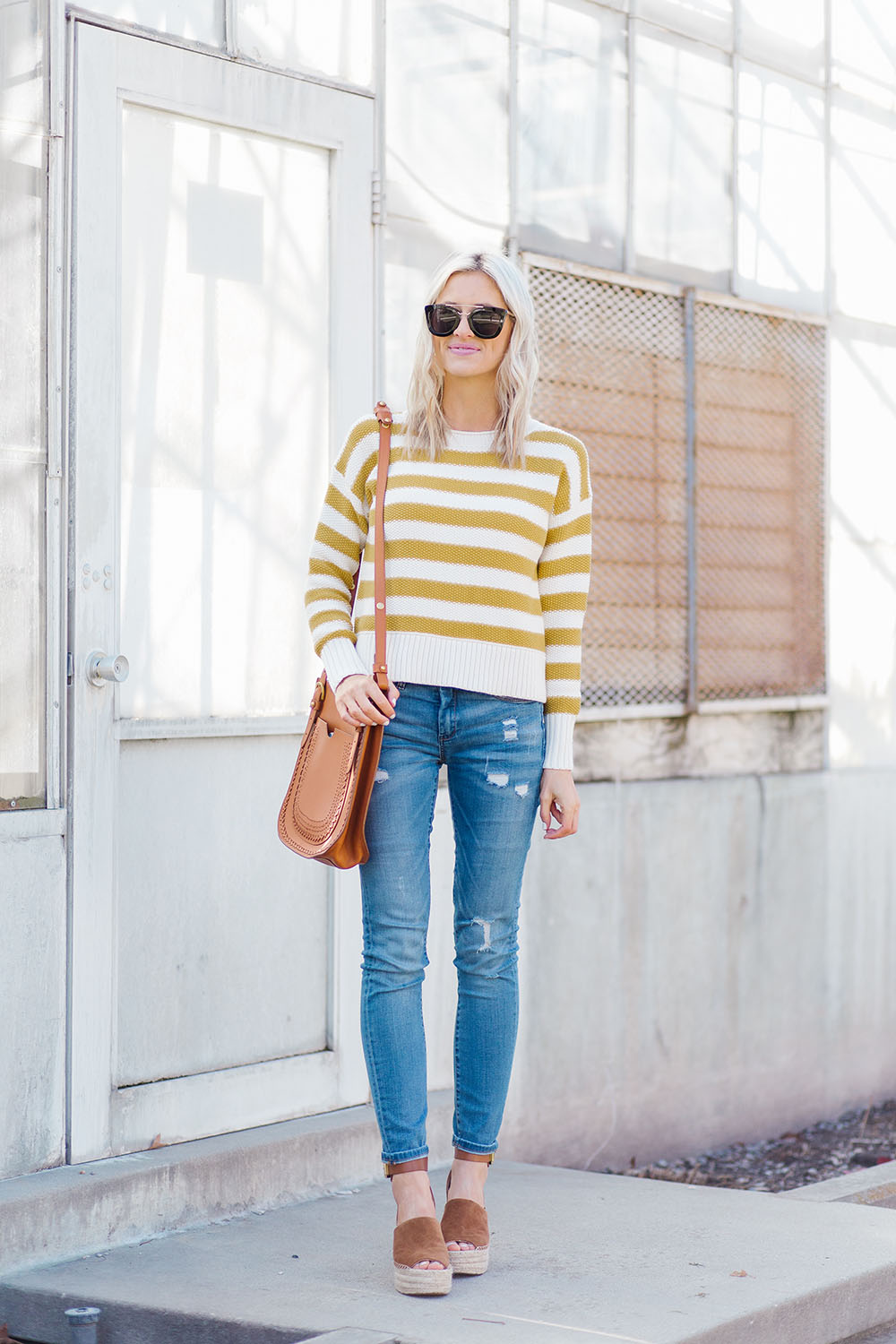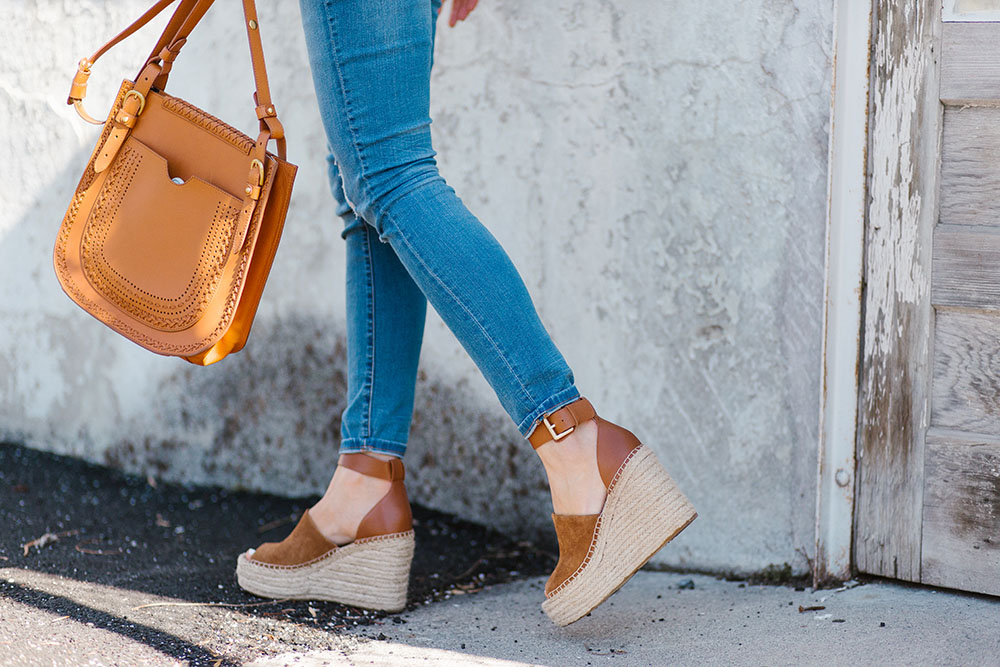 WHAT I'M WEARING
j.crew striped sweater {on sale! + similar here + here} | blank nyc jeans {my most-worn pair} | marc fisher wedges {just purchased this taupe pair} | anthropologie saddle bag {old; super similar bag here} | nasty gal sunnies {similar here + here via Amazon!} | j.crew petal earrings {sold out but super similar pair here!} | mac lipstick in "saint germain"

You may not believe this, but after I bought these wedges last summer, I hated them for a while. I already decided I was going to sell them this spring and then a bunch of people started featuring them again as a hot item all over social. So I felt compelled to give them another chance.
Here's why I changed my mind (and bought another pair – what?!)…
Am I a Behemoth?
Okay, I admit it. I am a bit more image-conscious than I believe most people are (something that started way back in my childhood). For some reason, these shoes, while I loved the outfits I wore them with last summer, they initially made me feel HUGE. I'm 5'7″ and luckily have a husband who's tall enough that I can confidently wear tall shoes, but I just felt like a giant clobbering around in my big platform wedges. I'm not sure what changed in the past 6 months, other than I've really been working on my health: healthy eating, healthy body, healthy self-talk, healthy self image.
Legs for Days
Once I got over my "issues" (truth be told, I was probably still learning to love my postpartum body), I gave the wedges another try, starting with my favorite jeans. Then I began to notice something–these shoes actually made me feel tall and thin. They reminded me of my favorite flatform wedges in 9th grade that I wore to the last thread. Those were a favorite because they made my legs look so long and lean (just what a 9th grader should be thinking about, right? [insert plam-t0-face emoji]).
Timeless Neutral Colors
The other thing that sold it for me was the color. I am super picky when it comes to finding dupes for designer items. I really liked the $700 Chloe wedges from last season (other than that price tag, sheesh!) and I searched for days to find the exact same color. These cognac wedges are as close as they come, even though the shade is darker. Regardless, they pair well with so many colors, especially pretty spring pastels. And the taupe pair I recently purchased is no exception. I'm excited to wear these through the summer and into fall.
Should You Buy?
So, should you purchase these wedges? Depends how you see yourself. The older I've gotten (and the more I've been blogging), the more I realize I can't buy things because other people say I should. If it doesn't fit with my style, my personality and all the real-world quirks and insecurities that come with that, then I'll never get my money's worth because I probably won't ever wear them.
Whether or not you have my same body-image issues, these are definitely worth a dressing room session. And some other general knowledge… The fit is super comfortable. I typically wear 8.5 or 9 and went with 8.5 in these. I did get a blister wearing my new pair through the airport a few weeks ago, but keep in mind, it was the first time I'd worn them and I was walking pretty aggressively. I haven't had any issues since. Also, a nice golden tan makes me feel better in everything, so you can try that out as well (I use this self-tanner). One more thing – I surprisingly did not like the blush color in these wedges. It reminded me of Band Aids. Band Aids make me cringe.
Hope this helps as you decide which spring shoe trends are a fit for you. For more ideas on how to wear, check out these blog posts and stay tuned for another post next week.
Good luck!
Photos by The High Pines.