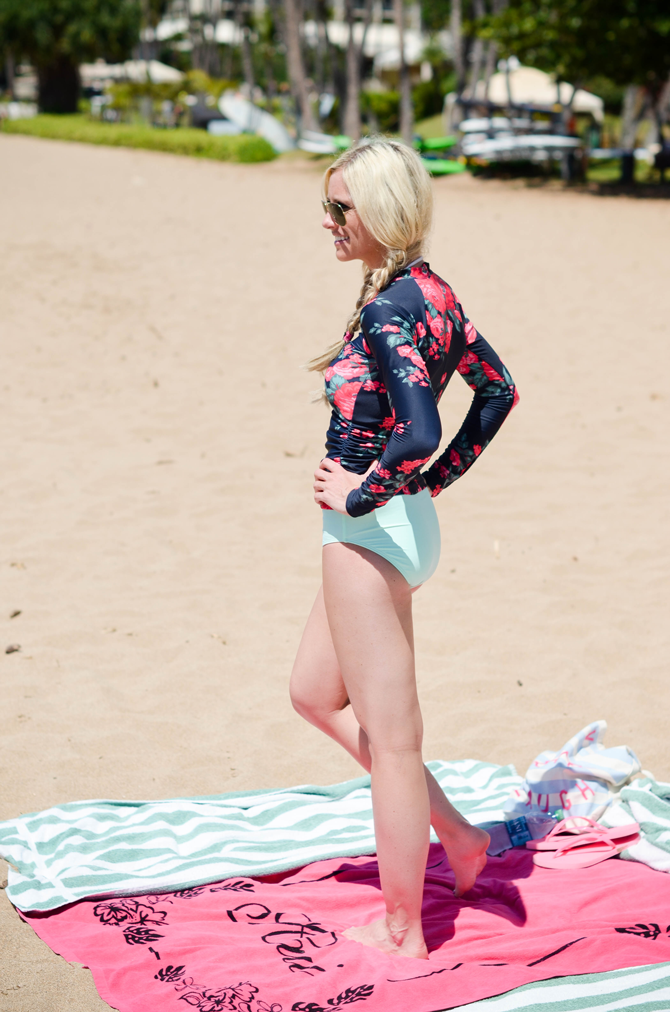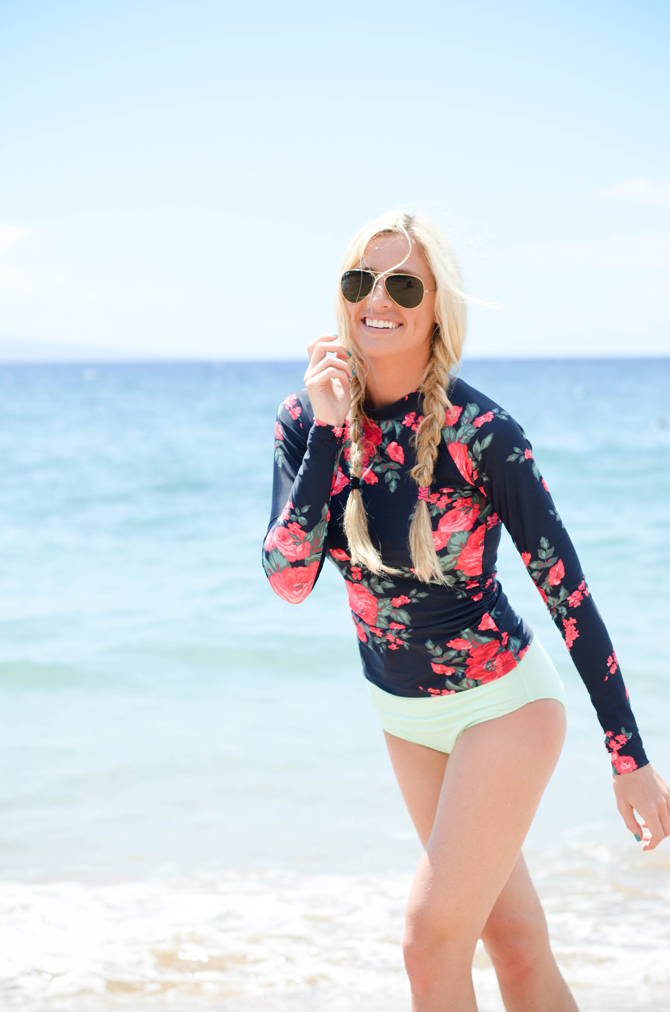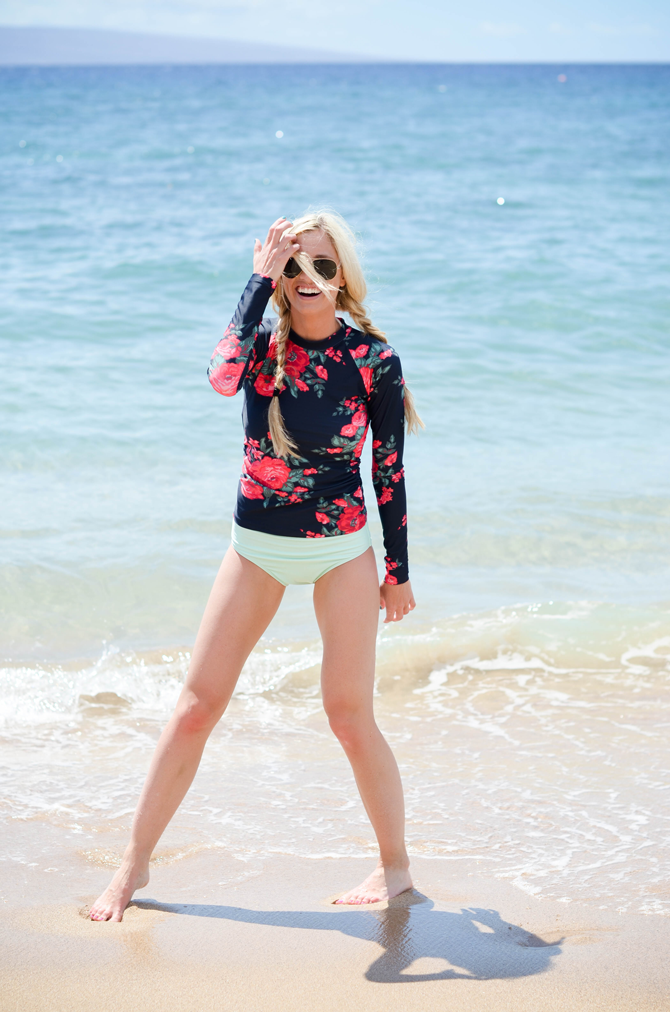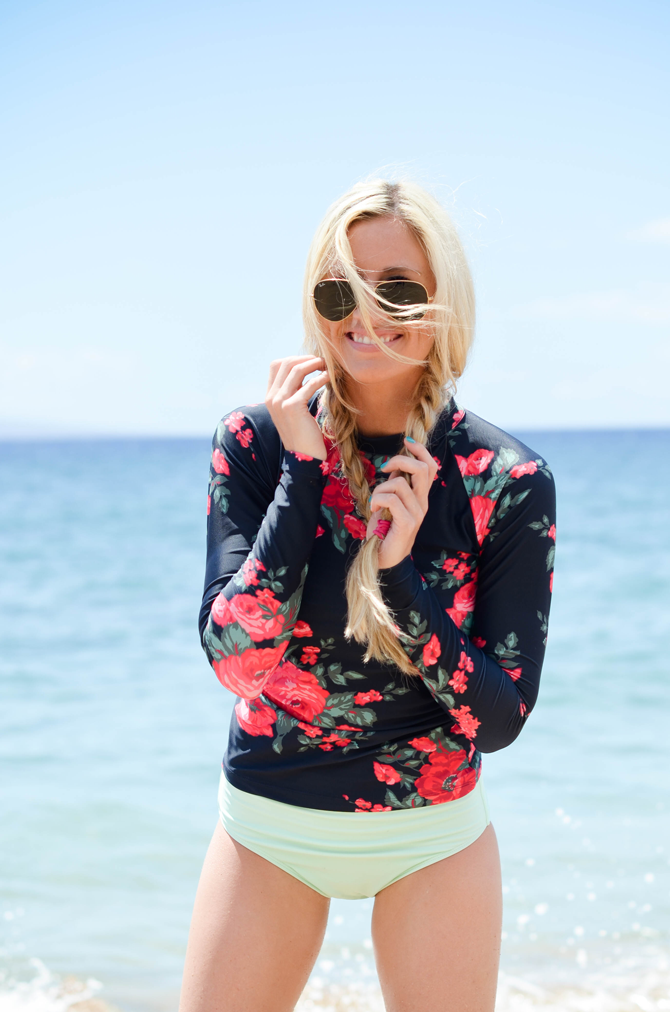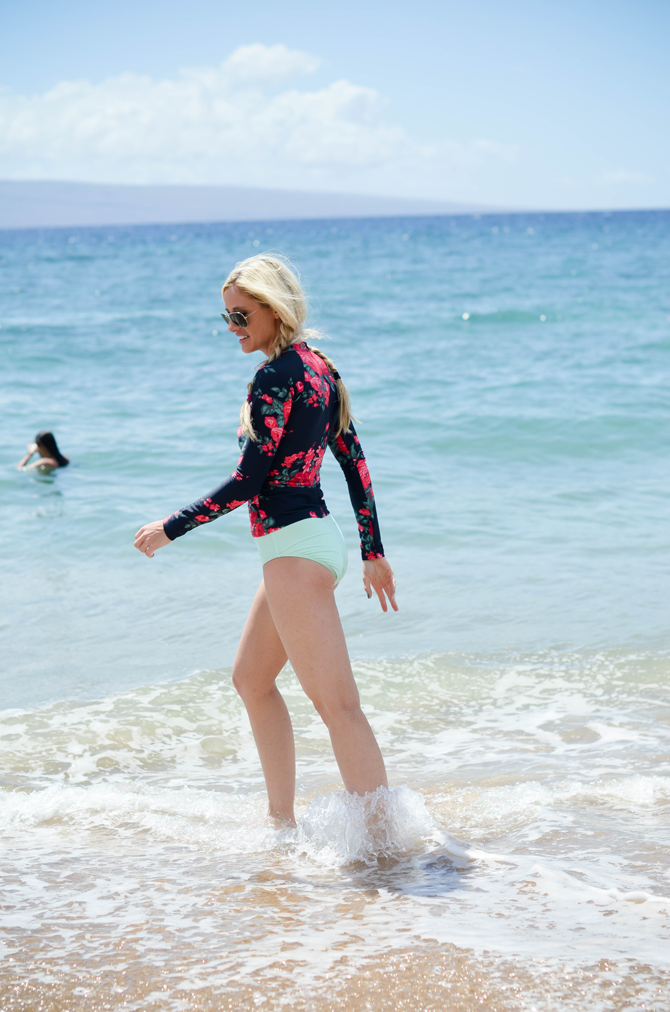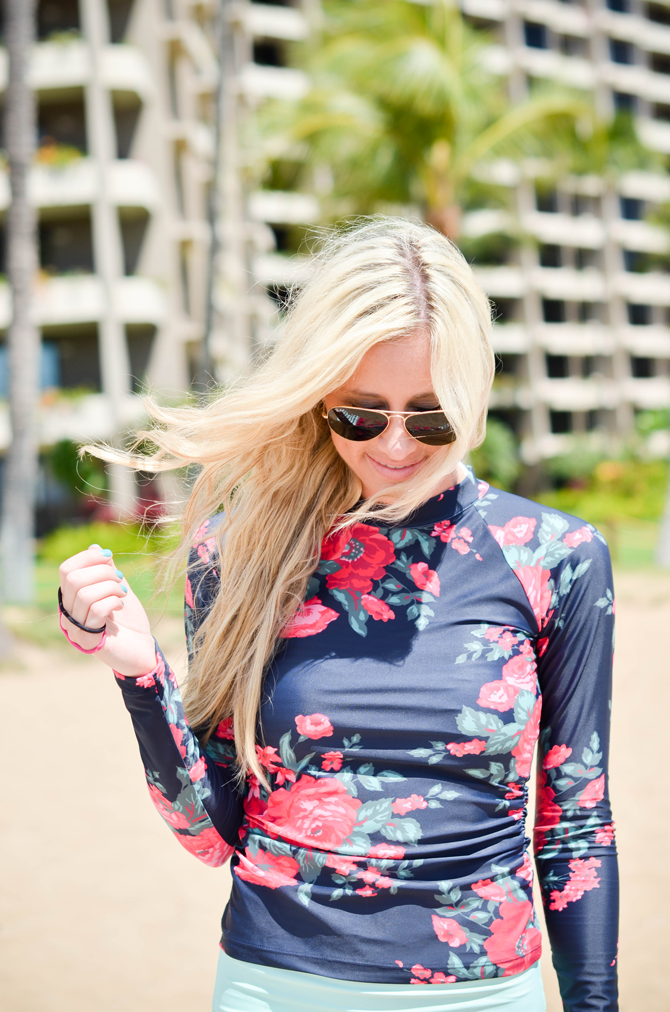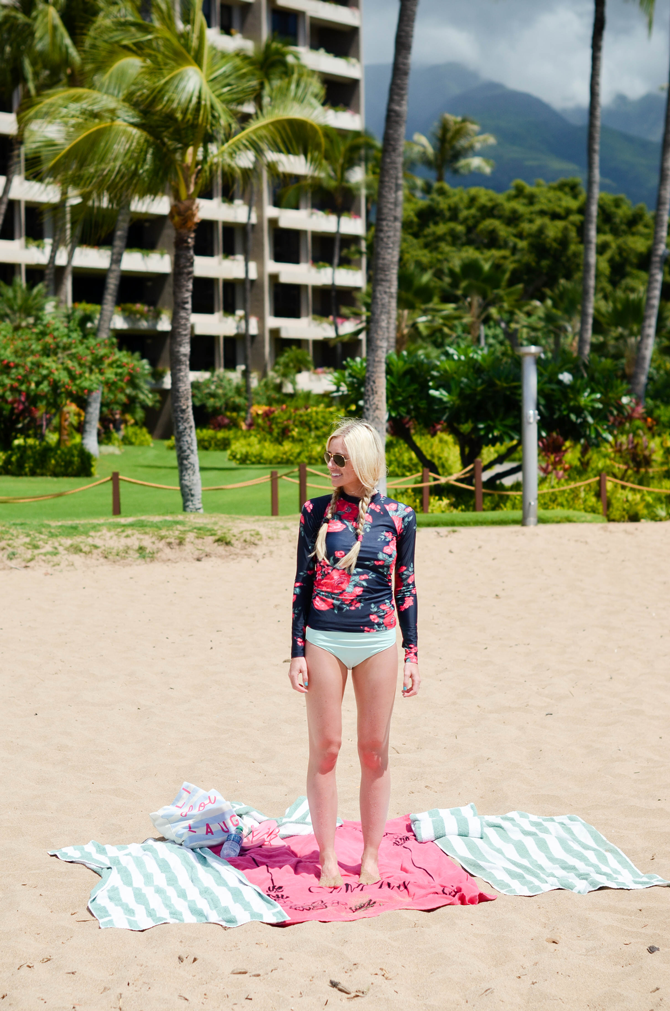 rashguard: albion fit c/o | swim bottoms: albion fit c/o | sunnies: ray-ban
Not that you would notice, but I didn't exactly hit my "most fit and toned I've ever been" goal before Maui. I felt pretty okay about it, though, thanks to a solid week of disciplined eating and workouts right before we left. This one short week reminded me how much progress you can make in a brief amount of time with nothing but pure, honest determination.
I spent a lot of time on weight-training (I'm now an even bigger believer in seeing faster results with weight training), but used the stairmaster for cardio instead of my typical running routine. I was also reminded that sometimes fitness is just a state of mind. I obviously didn't transform my body in one week, but my consistency with making good choices also caused me to forget all the "bad" choices I had made the weeks prior. Which helped me see myself as a fit person instead of a person wishing to become more fit.
The turning point was the Monday before we left when my mom threw a family pizza party for my grandma and Matt and I decided not to partake. It had it's awkward moments–I think every one of my siblings thought something was wrong with us (they also know how much we love pizza so our timing seemed a little off), but overcoming that one temptation empowered us and made this daunting idea of discipline seem like no big deal the rest of the week. Of course it helped that we knew we'd be indulging in all our favorite junk foods in a matter of days (one reason I believe in cheat meals…but we'll cover that in another post). I have often found that overcoming just one difficult food temptation leads to easier resistance with the next one, giving you the confidence to continue "taking control of your machine" (as Chris Powell would say). Just be sure to stop and give yourself credit for the victory.
I am happy about what I accomplished (mentally and physically) in this week before our vacay because it kept me motivated to workout while we were on vacation and gives me confidence that I can pick things back up now that I'm home, and keep moving forward toward my goal.
Here's a quick snapshot of my workouts the week before we left (I typically do 3 sets of 15 reps with each exercise):
Sunday
Cardio: 20-min stairmaster on "fat burner" mode, Level 12
Weights: squats, lunges, calf raises, hip abduction, hip adduction, leg extension, dead lifts, glute kickbacks
Monday
Cardio: 35-min stairmaster / fat burner / L12
Weights: bicep curls, tricep pullovers, tricep kickbacks, shoulder raises, standing rows, shoulder press, upright rows
Tuesday
Cardio: 30-min stairmaster / intervals / L10-12
Abs (4 sets of 25): roman chair, oblique crunches with 35-lb weight, scissors
Wednesday
Cardio: same as Sunday
Weights: same as Sunday
Thursday
Cardio: same as Monday
Weights: same as Monday + added some abs from Tuesday
Friday
Cardio: same as Tuesday
Abs: same as Tuesday + added wall sits and jump squats w/ 10-pound dumbbells
Saturday
Cardio: same as Sunday
Weights: same as Sunday + some abs from Tuesday
Here's to another great weekend of setting goals for the coming week!
Special thanks to Albion Fit for partnering on this post.