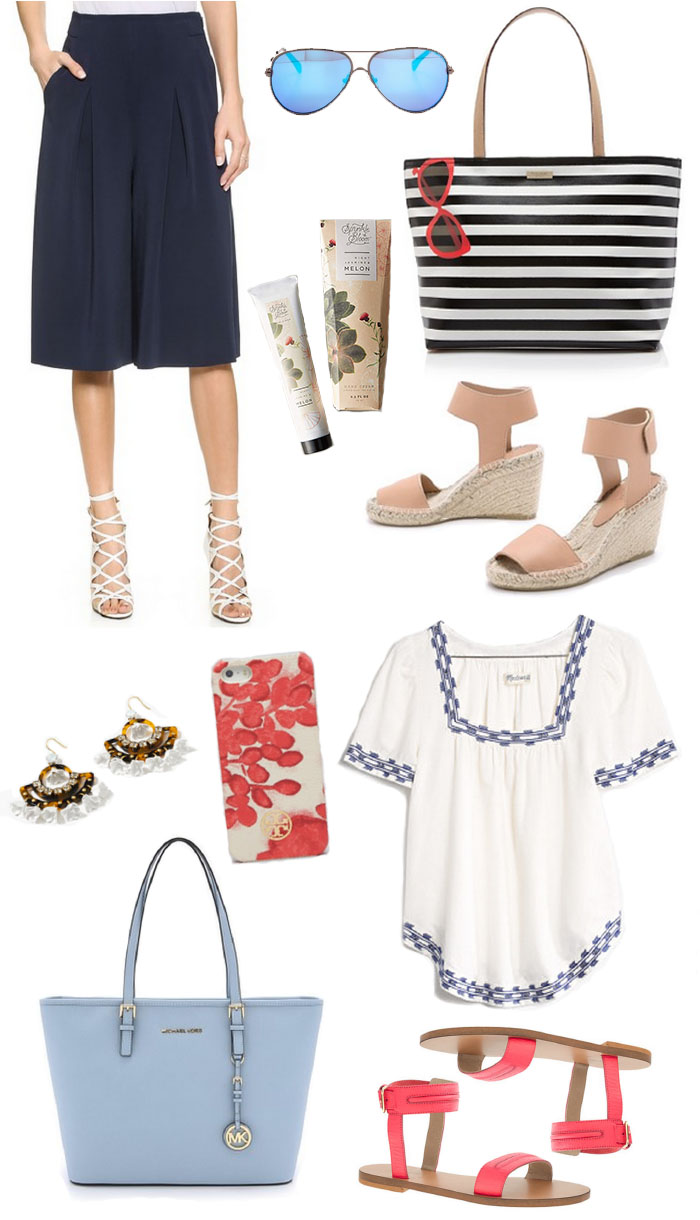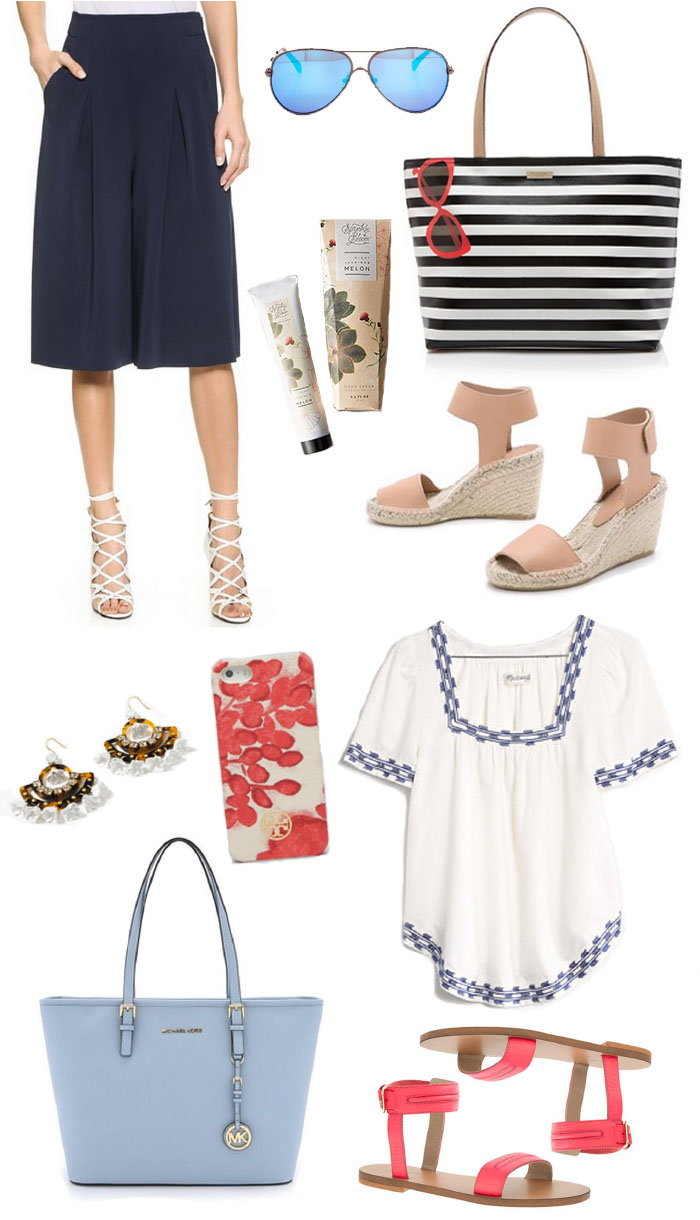 SHOP THE COLLAGE
culottes // sunnies // hand cream // striped tote // espadrille wedges //
earrings // iphone case // shirt // blue tote // red sandals
I always get an itch to shop this time of year. I don't know if it's the extra holiday energy or if it's the amazing sales… probably the latter… but I love finding great deals on items like this bag from Bloomingdales, these shoes from J.Crew (I bought them in both colors!) and this top from Madewell. Navigating all of the sales, however, can get overwhelming and you'll probably hate when you get to the part where you have to narrow down your shopping cart and make decisions on what to actually buy. So, here are a few tips that always help me with these kinds of sales:
For department stores, like Bloomingdales, just focus on the handbags. You can get a great designer bag that will carry you through all four seasons of the year and you'll feel great about not having paid full price.
For stores like J.Crew, Anthro and Shopbop, I typically look at the shoes first. You can find a variety of coveted styles at J.Crew, and Anthro and Shopbop offer a nice selection of various brands.
When shopping J.Crew Factory and Madewell, look for items that can carry you through the next few (hot) summer months, but also transition well into fall. I always look first for dresses, skirts, tops and jewelry, and then if I haven't worn myself out, I'll quickly browse the pants and long sleeve shirts/sweaters. Keep in mind, most of the warmer items will likely go on sale again when the fall collections launch in August.
Hopefully this helps you navigate the MANY sales happening this weekend so you can shop efficiently, feel good about your purchases and most importantly, spend your free time with your family and not on your computer. 😉
Here are my 7 favorite sales from some of the stores I frequent most…
Anthropologie // Extra 20% off summer tag sale

Bloomingdales // 20-65% off select items // Ends July 5

J.Crew // Extra 40-60% off final sale (new items added) // Code: LONGWEEKEND // Ends July 6

J.Crew Factory // 50% off everything + extra 20% off select styles // Code: HOTSALE // Ends July 5

Madewell // Extra 20% off all sale styles // Code: META20 // Ends July 6

Shopbop // Tons of new items added to sale; 30-70% off

Yumi Kim // Extra 30% off all sale styles // Code: FIREWORK // Ends July 6