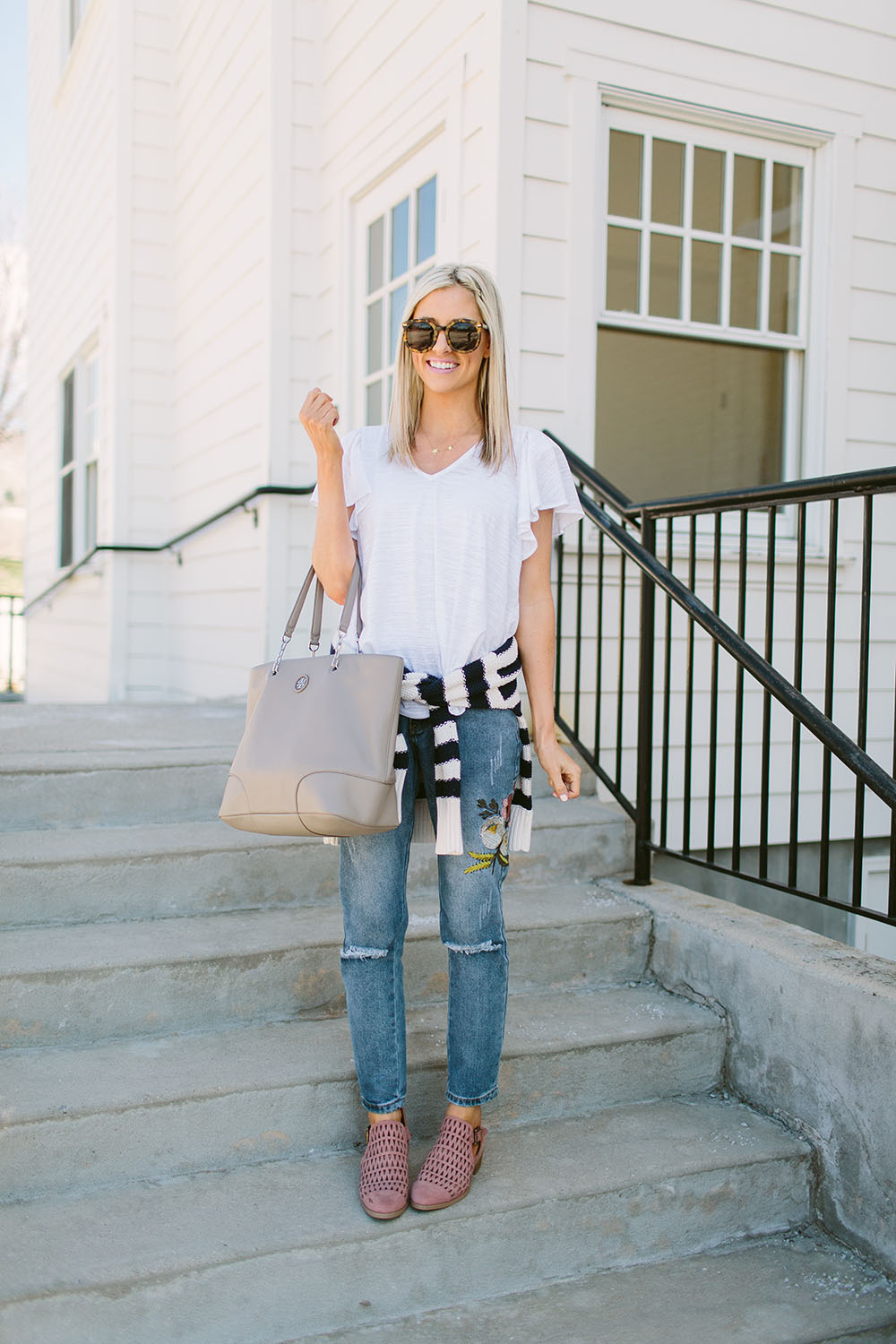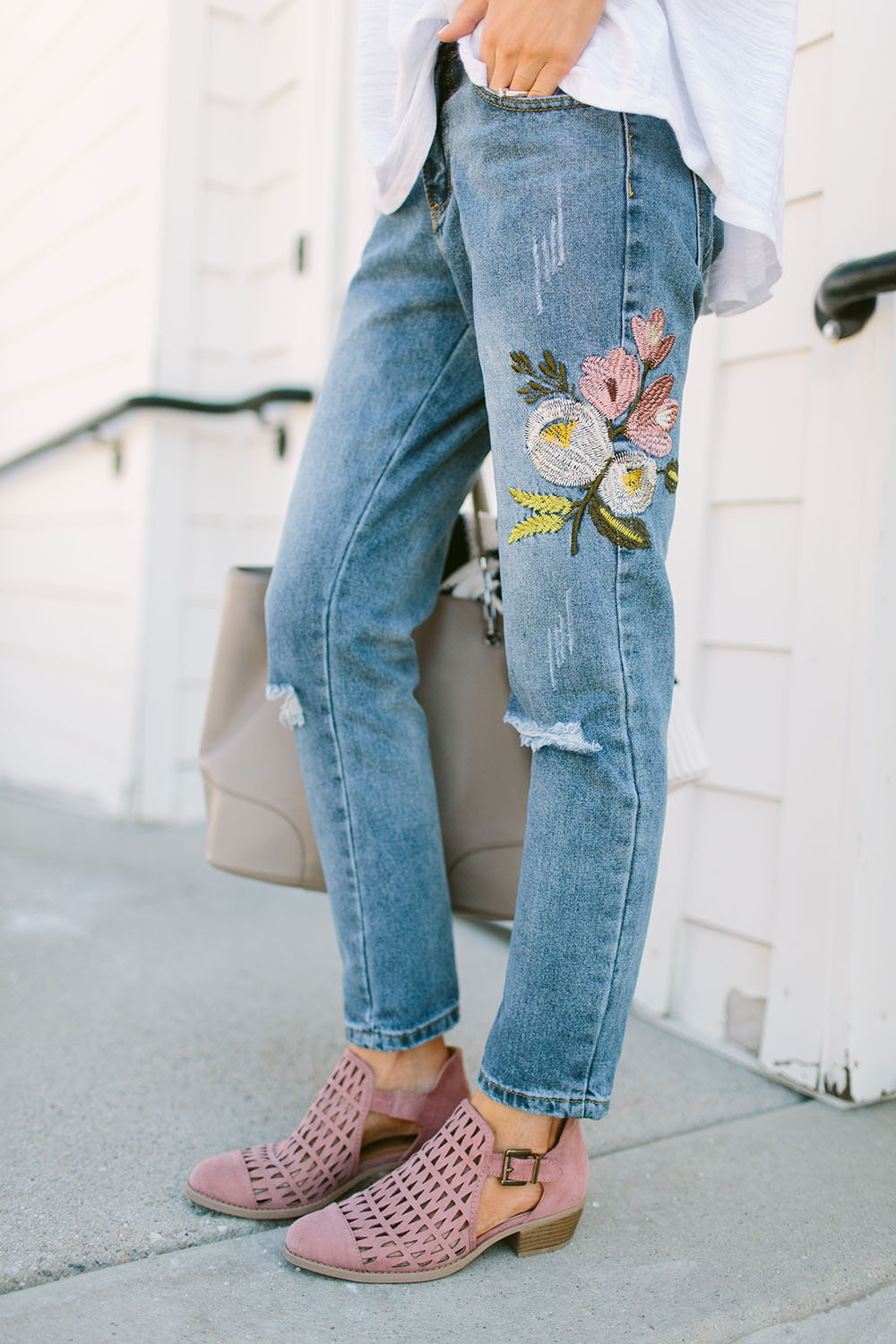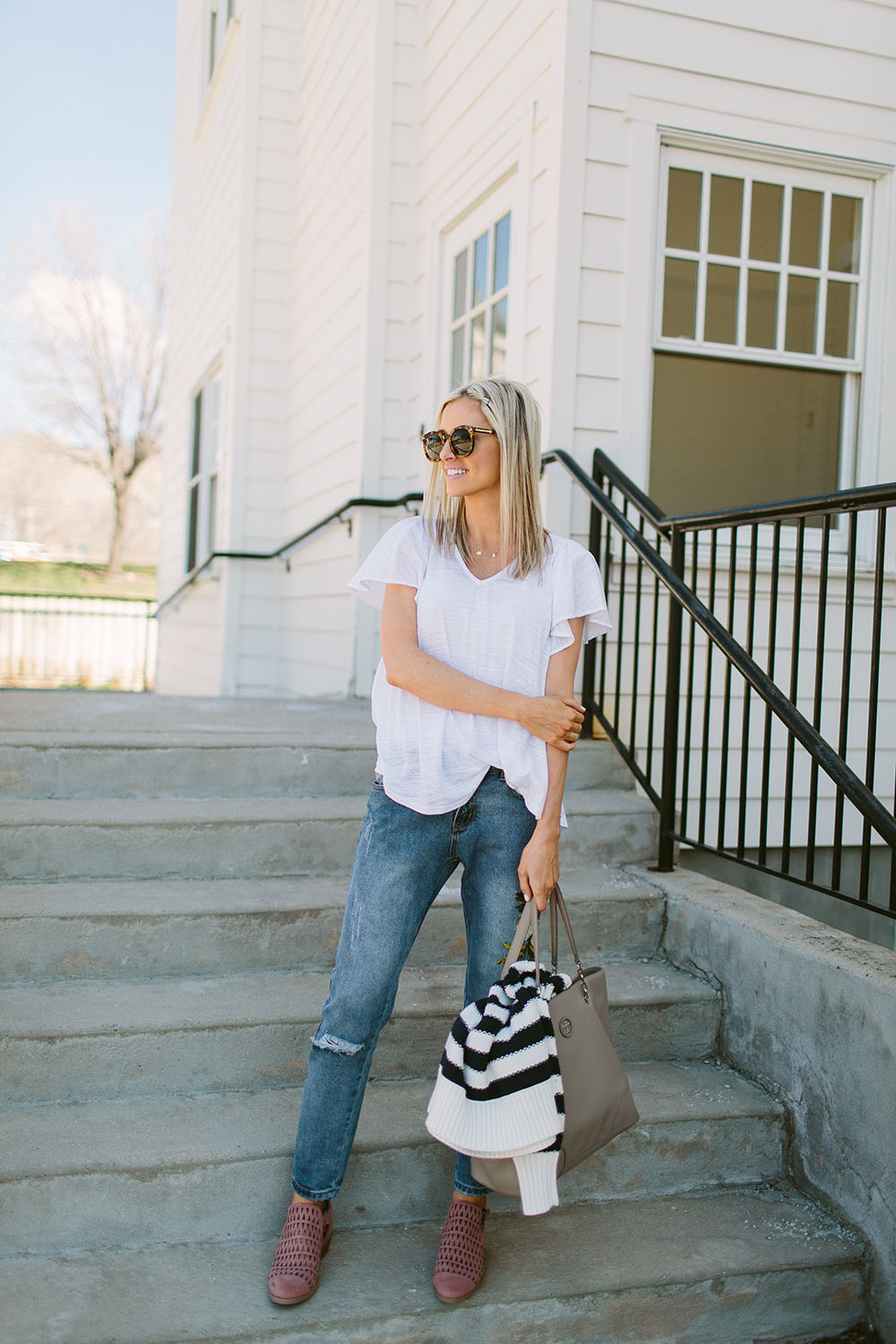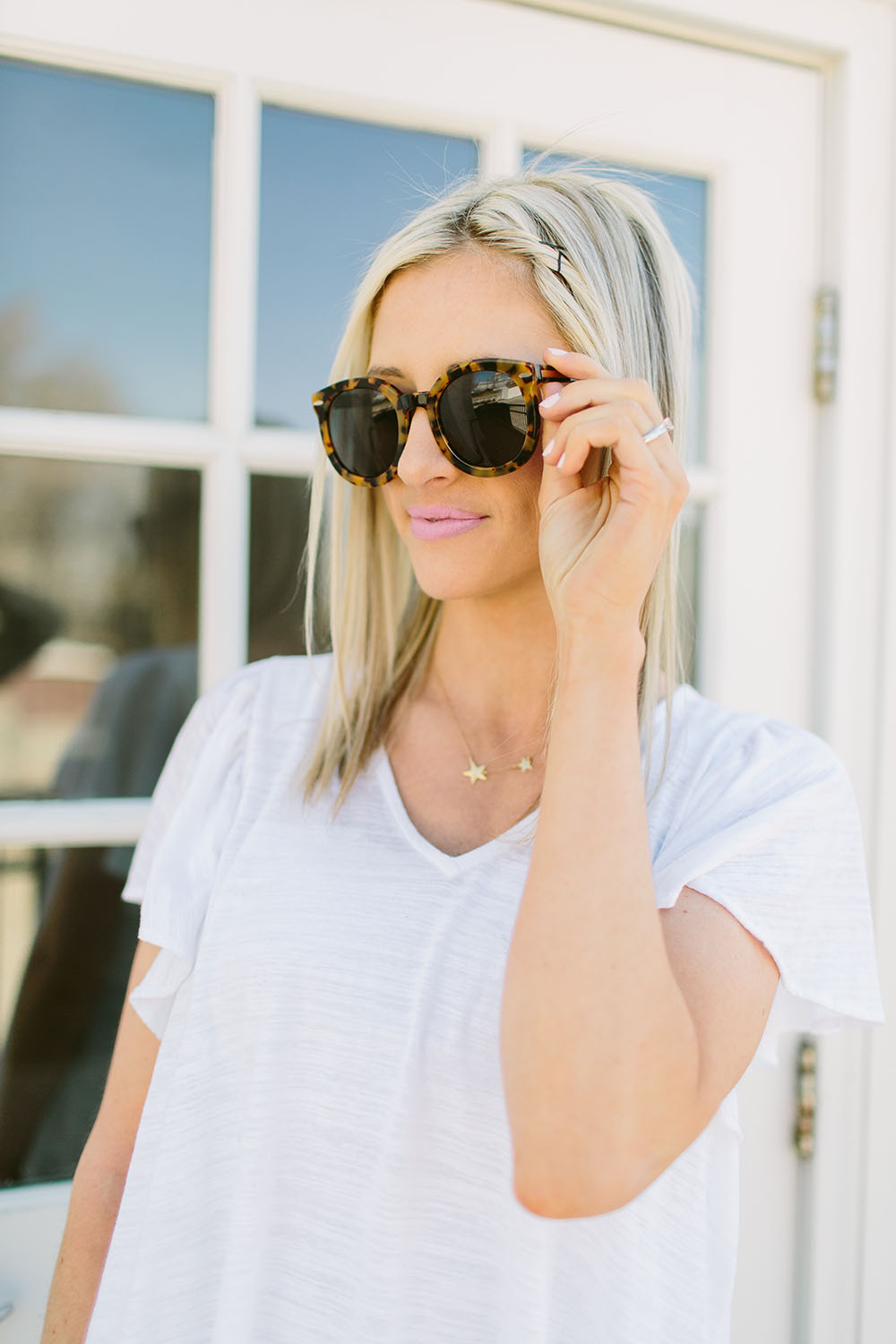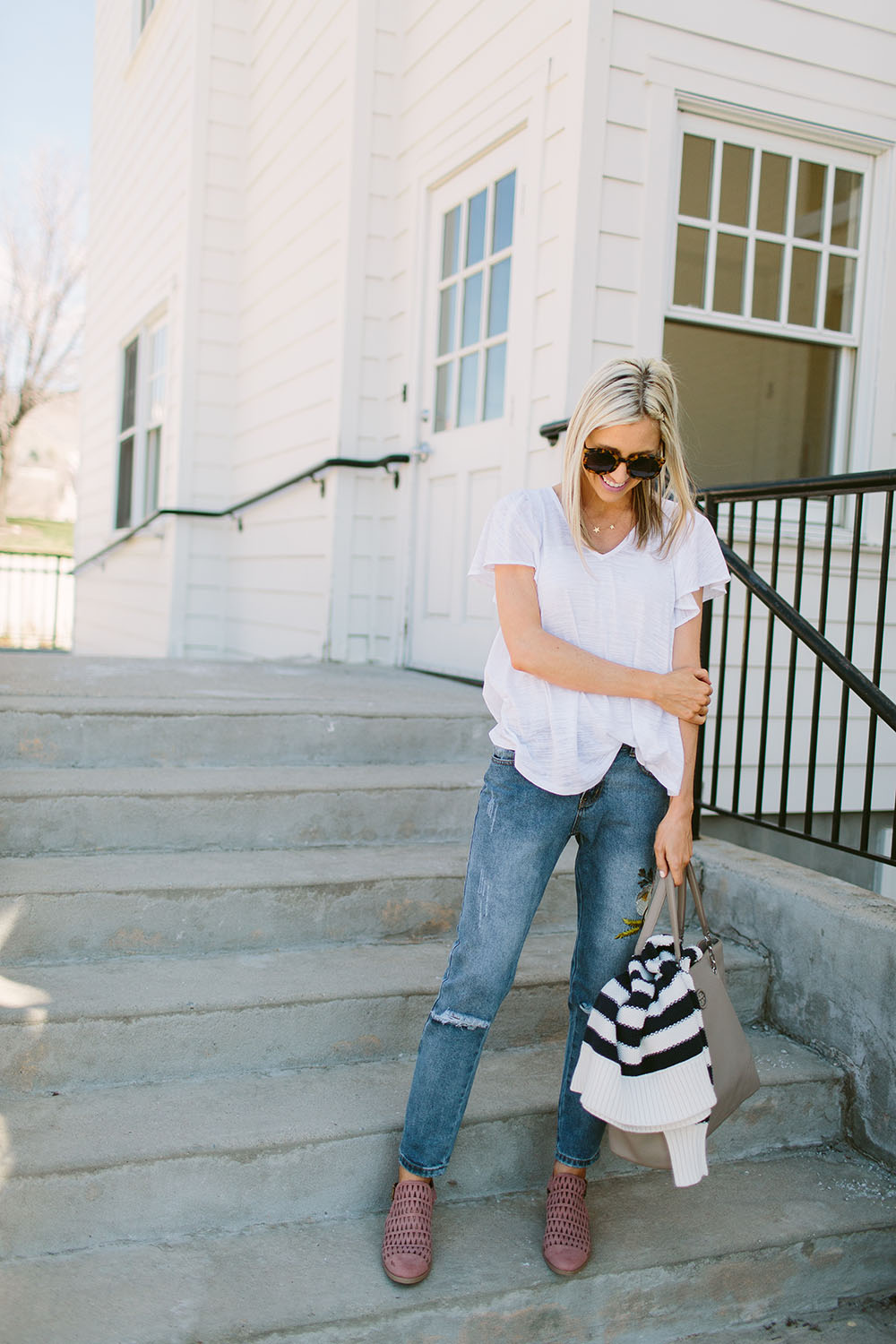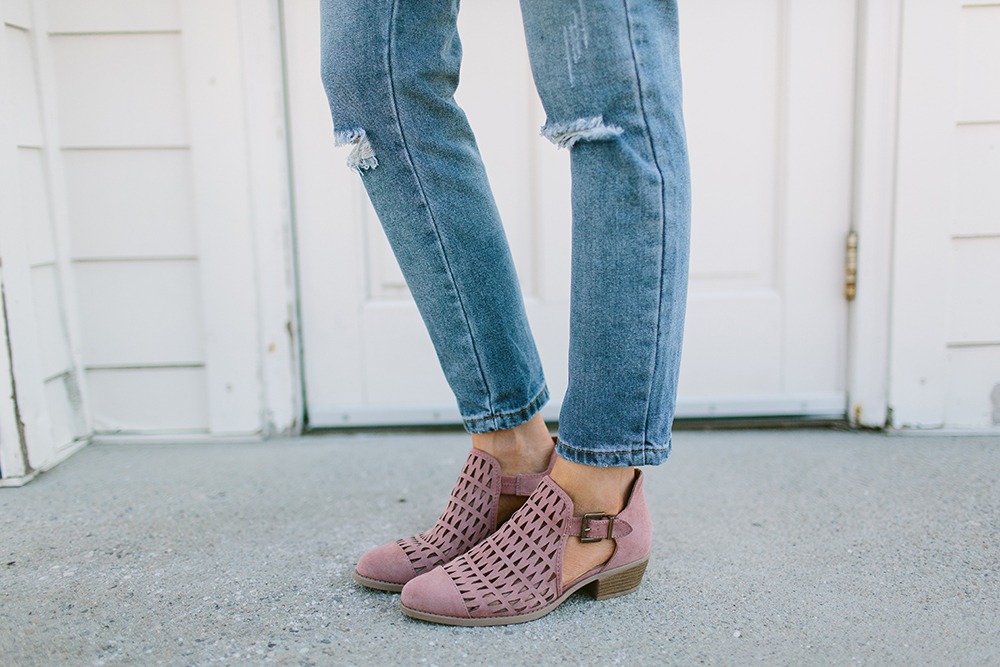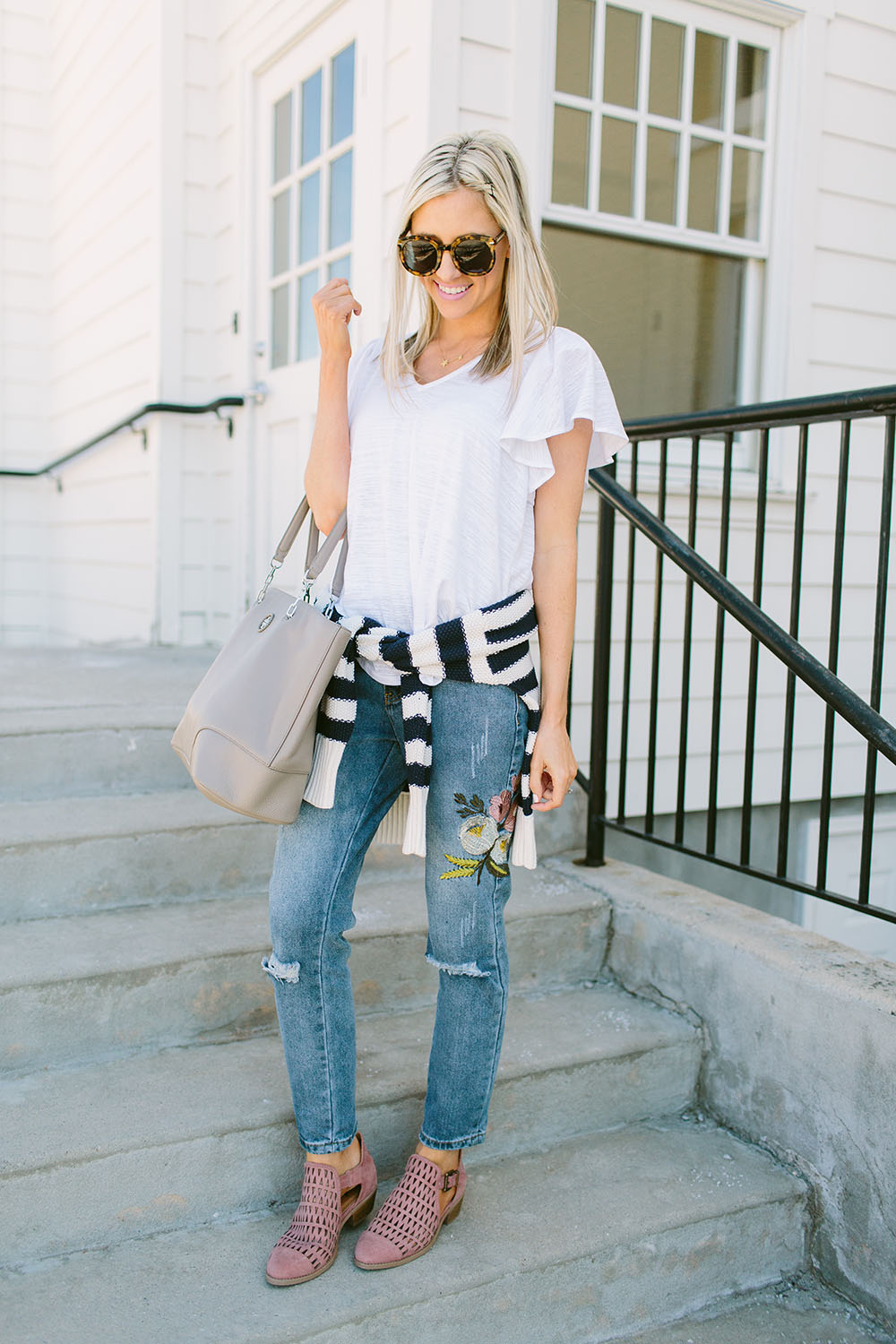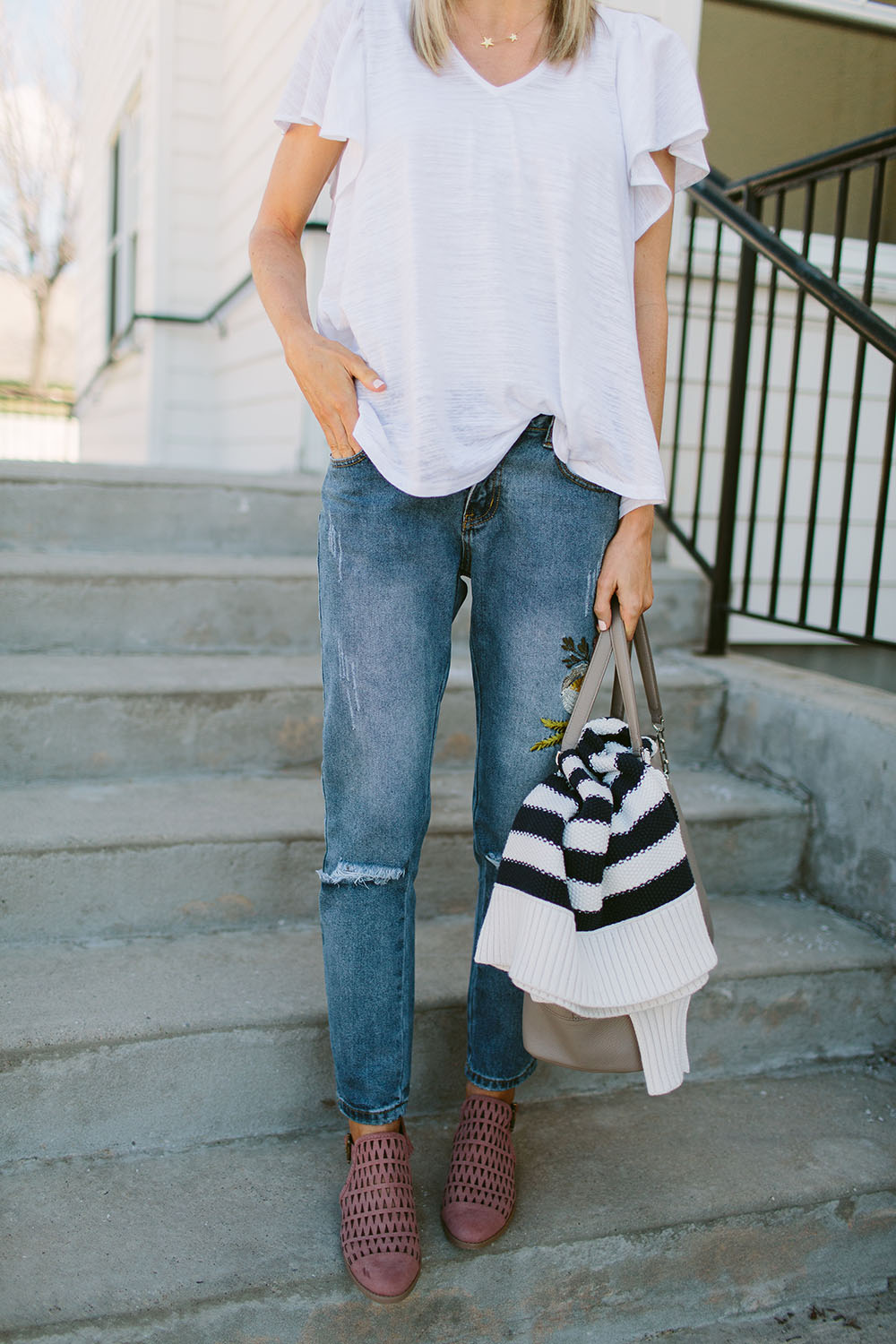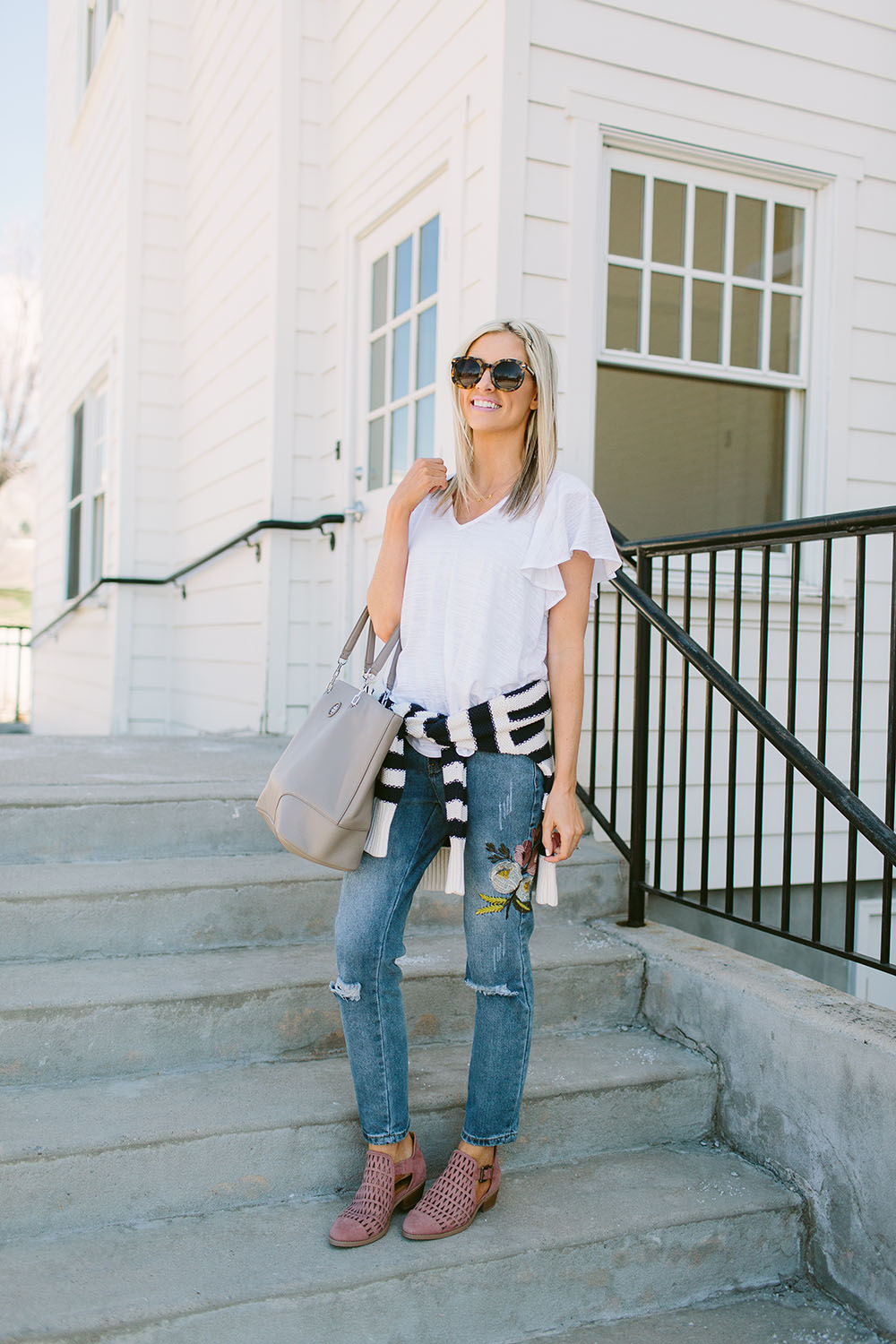 WHAT I'M WEARING
anthropologie ruffle-sleeve tee {old; identical style here} | clad & cloth embroidered jeans {wearing size M; similar styles here + here} | daisy love boutique mauve booties c/o {sized down a half size to 8 + restock coming next week – see discount code below!} | jcrew navy striped sweater {low stock; similar here} | tory burch tote {old; similar here + here via Amazon!} | karen walker sunnies | gorjana star necklace | mac lipstick in "saint germain"

I'll be the first to admit I'm more cautious when it comes to investing in new fashion trends, such as the 70's-inspired bell sleeves, bell bottoms, statement belts and ruffles upon ruffles upon ruffles we're seeing this spring. Overall, I love 70's fashion, it's just not entirely practical for my daily life and I'm not interested in buying clothes I'll never wear.
Maybe you feel the same.
One 70's-inspired trend I did fall quickly in love with this spring is embroidered denim. Jeans are my go-to outfit staple, so finding a fresh take on my often over-worn distressed favorites is energizing. Finding the right pair of embroidered jeans can be challenging, however, so I've put together a quick list of things to look for…
DO:
Stick to boyfriend-style or skinny jeans. The casual appeal of the boyfriend jean adds balance to the otherwise "girly" embroidered embellishments. The simplicity of skinny jeans allow the embroidered details to make a statement without competing with other elements in your jeans, such as flares or overly distressed details. Plus, flares can take your look from 70's-inspired to just plain 70's. But hey, whatever floats your boat.
Keep the embellishments to a minimum. Let's not overdo it. It doesn't take much to make a statement with embroidered jeans. Like a tattoo, you convey an entirely different style and personality when your entire pant leg is covered in embroidery vs a small patch here and there. There's a delicate balance.
Look for muted colors (pastels, faded hues, etc.). The louder the colors the more of a statement you'll make with your embroidered jeans. If you're drawn to more vibrant colors in general, go for it. Just ensure there's some harmony with the amount of embroidery so the outfit isn't too noisy.
Simplify your look. You could argue that my top and shoes above are "statement" pieces – they certainly have personality on their own – but if my top had a busy print and my shoes were a bright, vibrant color, your eyes would be drawn in too many directions, detracting from the beautiful detail of the embroidery. Keeping it simple means your other clothing items and accessories aren't competing with your jeans for attention.
DON'T:
Do the opposite of the do's above. 😉
Are you loving embroidered denim? What's holding you back from trying some of the latest spring fashion trends?
I'd love to hear your perspective in the comments!
PS – To get my mauve booties for 20% off, use code FEARLESS at checkout and purchase through this link. (The discount applies to your entire order so feel free to browse around. I wear this top and this top regularly.)
Photos by The High Pines.