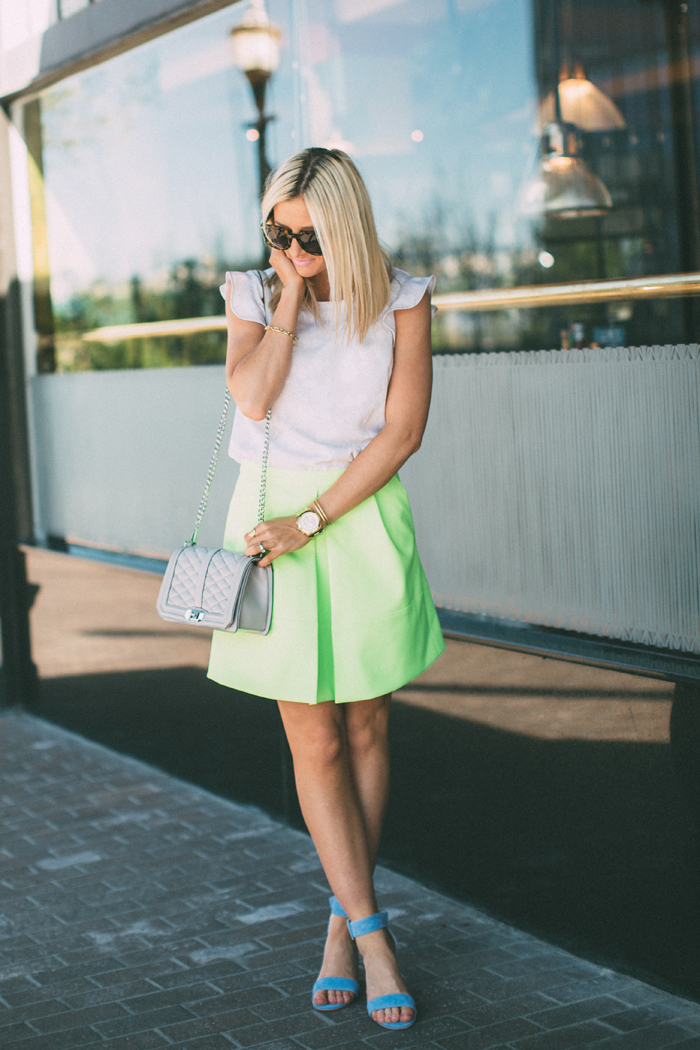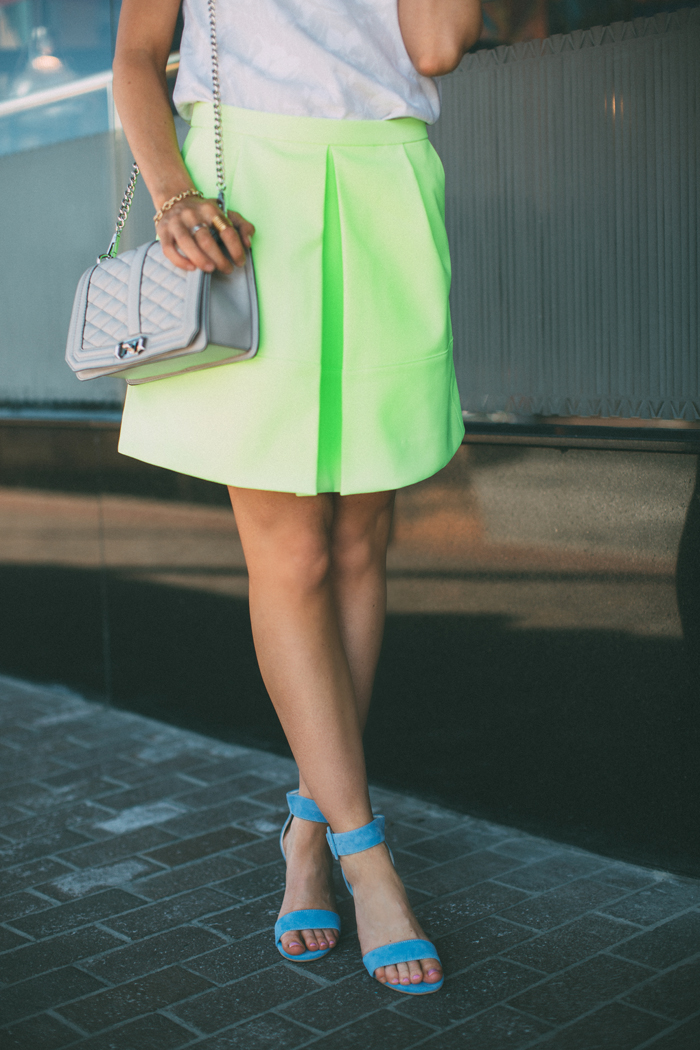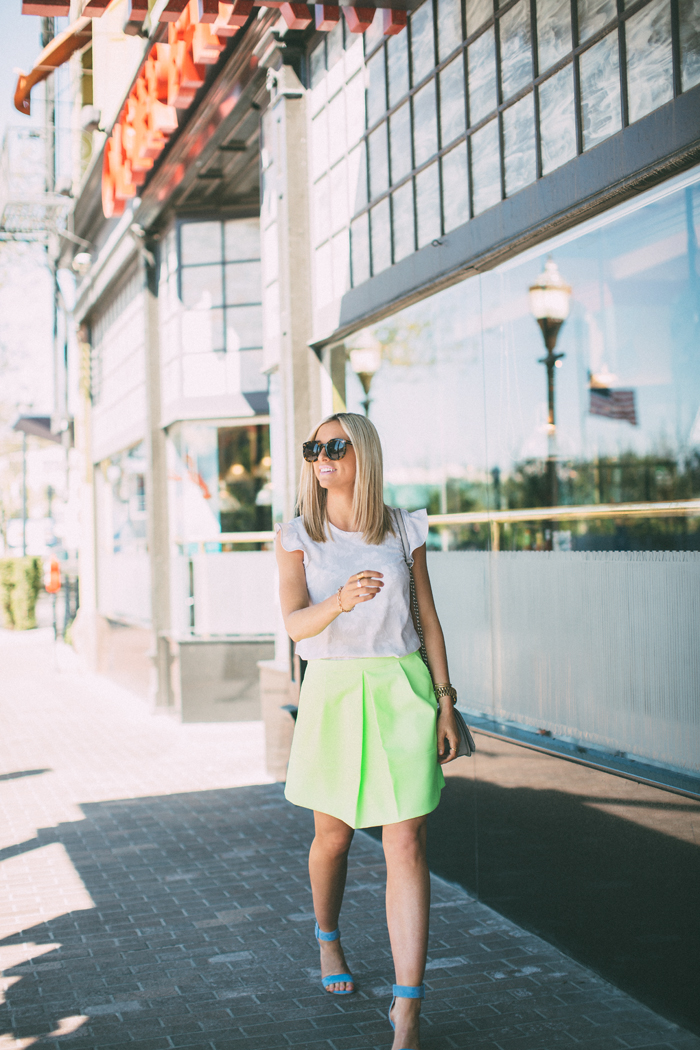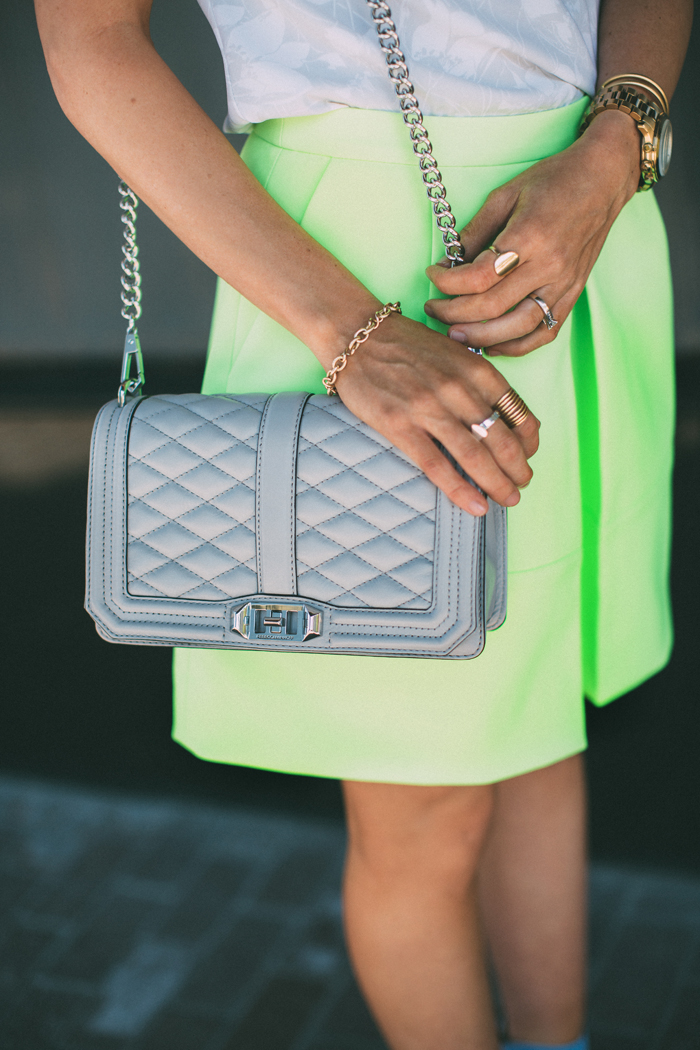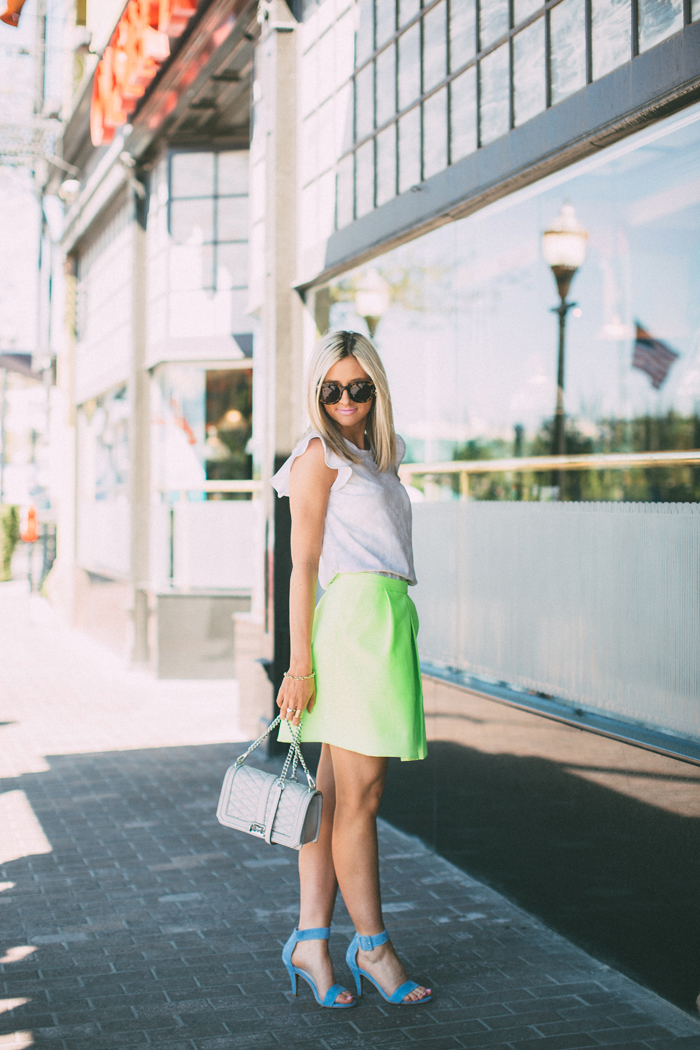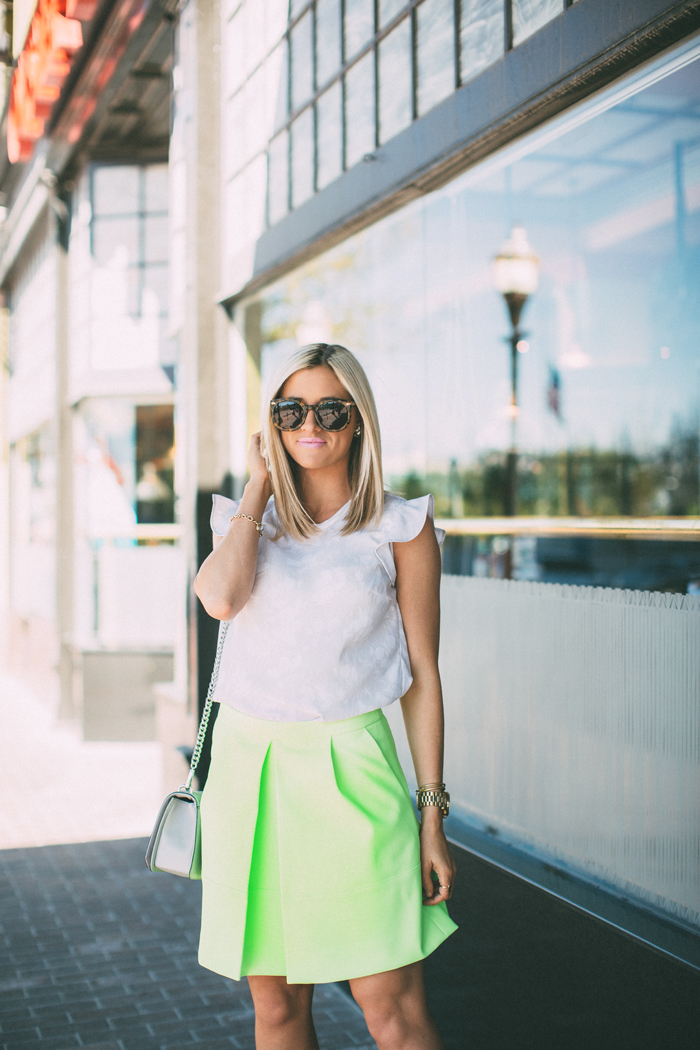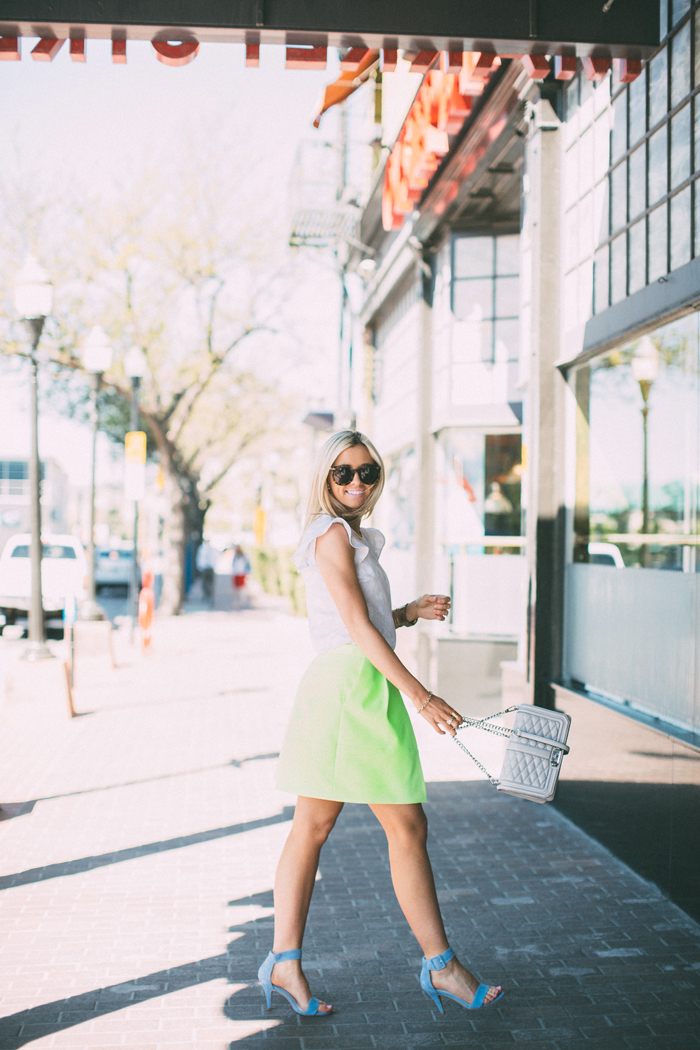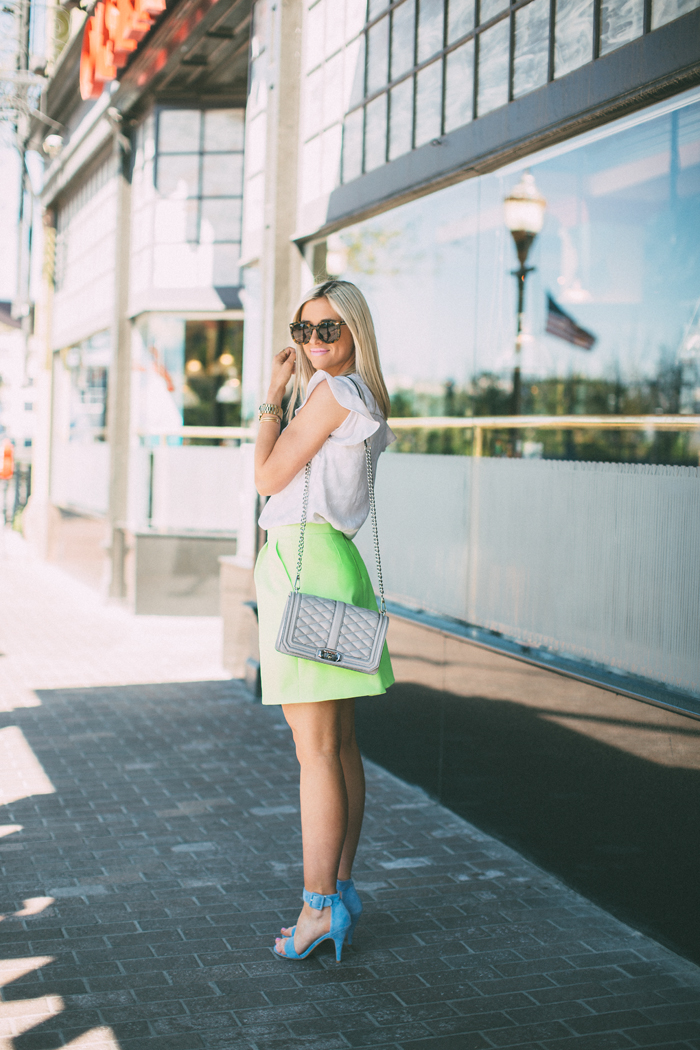 SHOP THE LOOK
top: jcrew factory | skirt: jcrew {similar here} | shoes: jeffrey campbell | bag: rebecca minkoff | glasses: karen walker | watch: michael kors | bracelets: madewell, gifted | rings: madewell, jcrew, gucci | 'st germain' by mac

The rewardStyle Conference in Dallas this weekend was filled with classes, keynotes, networking opportunities with brands and days of mingling with other bloggers (some of whom became amazing new friends!). I learned a lot about blogging best practices, tips for improvement and the nitty gritty side of blogging as a business. But I especially learned things about myself. If you're a blogger, here are a few takeaways to apply to growing your blog:
Write a mission statement for your blog to keep you focused on your long-term plan/goals.
You have to say NO to opportunities sometimes to stay on brand and true to yourself. (If they didn't pay you, would you still say yes?)
Create a shot list for taking better photos (note your favorite locations, best angles, favorite product shots and activities, etc.).
Many successful bloggers still have their husbands or friends take their photos for them. Don't feel left behind if you're not working with a professional photographer yet. Do what works best for you and find ways to always improve your process.
Regardless of who your photographer is, communication is key. You need to be on the same page to get the end result you're going for (lighting, location, angles, etc.).
Need help with your photo editing? Adobe Photoshop, Lightroom and PicMonkey were the tools I heard about most from other bloggers.
These other takeaways are things I discovered after the conference was over. I had moments where I felt completely out of place. I felt like I had nothing in common with a lot of the girls, mostly because I feel there is so much more to me than the clothes in my closet and learning how to pose perfectly for photos. I didn't expect to feel this, but I also didn't want to leave with a negative taste in my mouth about blogging, so I looked for the lessons in the not-so-enjoyable moments at the conference. Here's what I learned:
We're all in this together.
People are more than they appear on Instagram. None of us is one-dimensional. I was pleasantly surprised by the kind and fun-loving personalities of many of the bloggers I met. I didn't know that side of them from their Instagram accounts.
Networking is good for business, but be real. If you befriend someone just because of where you think they can get you, everyone will eventually figure out that you're only there to use them. Appreciate people for who they are, not what they have.
Value yourself for who you really are. Don't define yourself based on who you think you are in comparison to others. We don't all have to be the same to be successful!
Create your life. Choose to feel good about your unique perspective. Don't be afraid to see what you see!
You have to think positively in blogging (comparison is the thief of joy). Follow people who inspire you and stop following those who don't (especially if you start comparing yourself to them instead of being inspired by them).
Progress not perfection. Even the most successful bloggers have photos they don't like of themselves (hard to imagine sometimes, right?). They judge the quality of their own Instagram feed, too. We are all imperfect. The key is to always keep trying to improve and be the best version of ourselves.
If you're like me and feel like you've got too much going on to truly be successful with your blog, take comfort in knowing there are other girls out there who work full time, have a husband, have kids, exercise and eat healthy, and still manage to find time to run their blog business. This is the number one thing that scares me the most: burnout. I'm not a mom yet, but I have so much respect for those women who find reasons why they CAN instead of reasons why they can't. You just have to go at your own pace.
If it doesn't bring you joy, don't do it. Or change the way you look at it. Life is too short to be miserable, especially if it's because of your blog. Find out what makes you happy and go live there.
Overall, I'm really glad I attended rStheCon 2015. It gave me a lot to think about, a new perspective and some great tools for blogging. I'm mostly grateful for the friendships I made with other bloggers, brands and the amazing rewardStyle team.
If you have any questions, feel free to ask away in the comments. I'd be happy to share more of my experience with you.
Thanks for reading!
Photos by JessaKae.