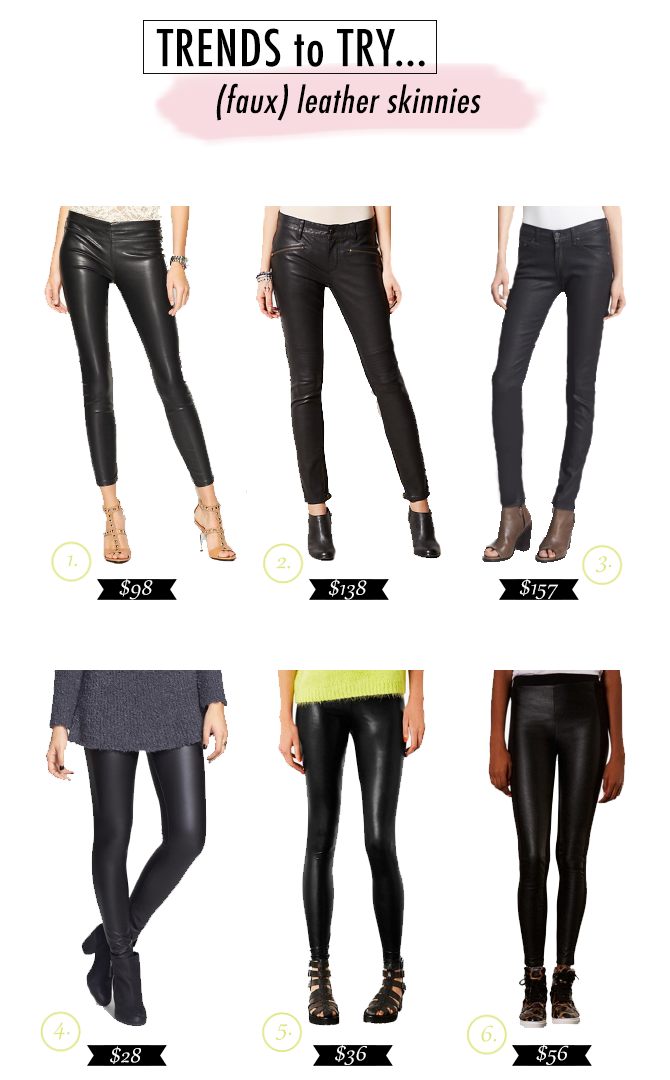 If you're the cautious type and haven't tried leather skinnies yet, I am here to tell you they are worth it. They are versatile, on-trend and allow you to slip out of those skinny jeans and mix things up. The misconception with leather skinnies is that they're only flattering for the 'extra skinny' body type (insert
Friends episode
where Ross practically suffocates in his new leather pants…baby powder anyone?). The truth is, leather skinnies are actually quite slimming and if you buy the right fit, at the right price, you'll wonder why you waited so long.
I found my first pair of leather skinnies at
Target
. They were $10 on sale. I've worn them a few times (
here
+
here
+
here
), but they don't have enough stretch to them (either that or I need to get started on my new year resolutions a little early). I've been eyeing each of these pairs above, and while I've seen brand-name styles for $500-$1,000 (not worth it IMO), I am ready for a new pair and just about have my heart set on
#1
. I recommend buying a less expensive pair first if you aren't quite sold on this trend.
One other tip:
Topshop
is a great place to look for faux leather skinnies at great prices (also,
#6
above is front-coated only, so the back is stretchier like a regular jean/legging material).
How are you wearing your faux leather skinnies? Leave a link to your outfit post in the comments!
xo